If you're at all familiar with the acoustic guitar world, you've probably heard of the Baby Taylor. Taylor is one of the most popular acoustic guitar builders in America, and the Baby Taylor is a scaled down take on their solid top dreadnought acoustics.
Today we'll be taking a look at the Baby Taylor BT1, a classic-looking dreadnaught with an interesting twist. You get the bright, balanced sound of a solid spruce top, and the layered walnut sides add an earthy, warm touch to your sound.
Things to Consider Before Buying a Travel Guitar
The travel guitar market has grown considerably since its inception, and there are plenty of models available -- you can even find scaled-down travel electric guitars. But before you commit to one, it's a good idea to ask yourself a few things:
Our Picks for Review
Features and Benefits
Now let's get into some of the main features of the BT1 Baby Taylor:
Body Style and Bracing
As you could likely tell from the picture, the Taylor BT1 is a dreadnaught. The dreadnaught is one of the most popular body styles, largely because it can produce significant volume and tonal variation. Of course, the Baby Taylor is a 3/4 size guitar, so the body is somewhat smaller than that of a full-size guitar. Its scale length is 22.75".
As for bracing, Taylor opted for a
traditional X bracing
beneath the Sitka spruce top. This produces a balanced tone. If you want to hear the Baby Taylor BT1 for yourself, check out this video demo.
Tonewoods and Build Quality
When it comes to the sound and feel of any acoustic guitar, the tonewoods used are one of the most important things. The top of the Baby Taylor BT1 is solid Sitka spruce, one of the classic acoustic guitar tonewoods. Sitka spruce is good for creating sparkling, detailed tone. However, Taylor chose something a little less common for the back and sides of the BT1 -- walnut. Walnut is a wood whose tonal character is essentially between that of mahogany and rosewood. It's also aesthetically pleasing and has a somewhat striped appearance.
You may already know that Taylor guitars with non-solid back and sides have back and sides made of layered wood. This design makes them sound a little more natural than laminate, although not quite as good as all-solid acoustic guitars.
The neck is made of mahogany, which adds a touch of warmth to the tone of the BT1. It also has a relatively slim profile, making it easy for even those with very small hands to play comfortably. And lastly, the bridge and fingerboard are made of ebony, which contrasts beautifully with the natural-finished Sitka spruce top.
On the whole, we're impressed with this guitar's build quality. While the Taylor BT1 is more expensive than some travel-sized acoustic guitars, it's important to remember that cheaper guitars often aren't subjected to the same rigorous quality-control measures that higher-end guitars are. If you want to check out the Taylor BT1 up close, check out this video review.
Finish and Additional Appointments
You probably don't ever choose a guitar based on finish alone, but the type of finish used matters to some extent. The Taylor BT1 has a varnish finish, which is a matte finish. The finish shows off the grain of the Sitka spruce top, and it also gives the guitar a higher-end look. Taylor has kept the BT1's looks very traditional -- the BT1 has the classic acoustic guitar look of plain dot inlays and a simple rosette.
The other appointments are also high quality. If you've ever played a very inexpensive guitar, you probably know that the tuners are rarely reliable -- they may not hold tune well, and they may also be prone to breakage. However, the Taylor BT1 has Taylor-made die cast chrome tuners. Die cast chrome has a distinctive shiny finish, and it's less prone to corrosion and eventual wear.
But the die cast chrome tuners aren't the only nice appointment the Taylor BT1 comes with. The nut and saddle are both made of Tusq, a composite material that is meant to sound similar to ivory. Tusq also has the benefit of being permanently lubricated, so you don't have to worry about strings getting caught on the nut or saddle. If you want to hear the difference between a plastic nut and a Tusq one, check out this interesting video.
The guitar also comes with a gig bag. While it isn't as protective as a hardshell case, the bag nonetheless will protect the Taylor BT1 from scratches on your travels. Of course, if you want to upgrade the gig bag, you can purchase a hardshell case from Taylor.
Social Proof of the Guitar
Before you decide you want to purchase the Baby Taylor, you likely want to see what other guitarists have to say about it. We went looking for reviews, and what we found was largely positive:
This review is brief, but it echoes what may other reviews of the Taylor BT1 have said -- that this is a great-sounding small guitar that's an excellent value for the price.
This review is especially useful because the reviewer compares the BT1 Baby Taylor to a Martin D18, which is arguably one of the best acoustic guitars ever made. Like most reviewers, this one thinks that the Baby Taylor sounds surprisingly good.
This one highlights the fact that the Baby Taylor, while it sounds almost as good as a full-size guitar, is also a suitable acoustic guitar for kids.
Alternatives to Baby Taylor BT1
Before you commit to the Taylor BT1 Baby acoustic guitar, you may want to take a look at some of the other travel guitar options out there. Here are a few that we found:
Cordoba Mini M
How it Compares to Baby Taylor BT1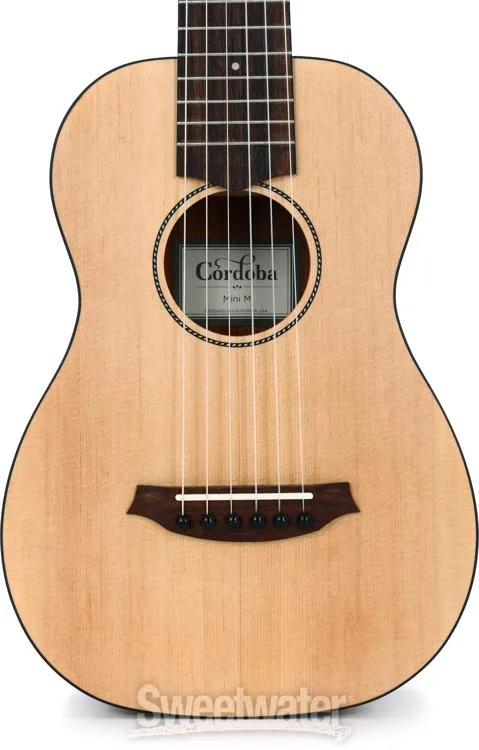 Review
If you're looking for a portable nylon-string guitar, this one might just be your answer. This one has a smaller scale length at 20.07", and it has a solid spruce top. This is remarkable, since this guitar is just over $200. Like many classical guitars, this one has traditional fan bracing. And if you're looking for a small guitar for a child to learn on, this one has the added benefit of being easier on the fingers.
If you want an affordable mini guitar that's great for classical music, make sure you check this one out!
Luna Safari Koa Supreme
How It Compares To Baby Taylor BT1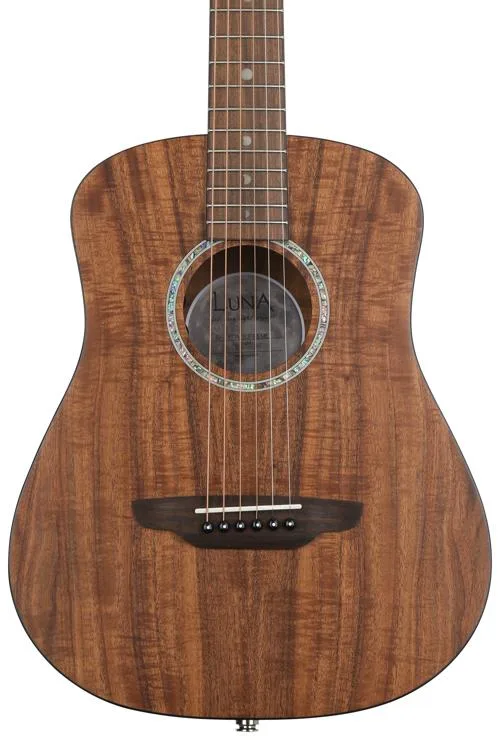 Review
This acoustic-electric travel guitar is an affordable alternative to the Taylor BT1 that also lets you plug in and play. With a solid koa top and laminated koa back and sides, this little guitar has a balanced tone that leans toward the bright side. Fishman Sonitone electronics give you decent live tone at a fair price, too.
If you like the look of exotic wood and want something with electronics, make sure you check this one out!
Martin LXK2 Little Martin
How It Compares To Baby Taylor BT1
Review
The Little Martin is Martin's answer to the Baby Taylor. And like the Baby Taylor, the Little Martin has several different versions. This one is made entirely of Martin's high-pressure laminate (HPL) patterned to look like koa. Despite being all-laminate, this guitar sounds pretty good, and it does resist humidity and temperature changes well. It doesn't sound as natural or full as a solid-top guitar, but it sounds surprisingly good for an all-laminate model.
If you're looking for an extremely durable travel guitar, be sure to check this one out!
In Conclusion
If you've been on the fence about which travel guitar to buy, we think the Taylor BT1 is an excellent choice. While this is a short-scale guitar, it's big-bodied enough to sound like a full-size dreadnought. Plus, it has a solid Sitka spruce top, which is tough to find on a smaller guitar. If you want a little guitar with a big, memorable sound, click here to check it out!