If you're looking to reach your potential as a classical guitarist, a quality instrument is a must. That said, "quality" doesn't have to mean "very expensive." You can find solid-top, well-built classical guitars for less than $1000. If you're ready to move beyond entry-level instruments, our list of picks for best classical guitar under 1000 dollars might help you choose the right instrument for you.
Our Top 7 Picks for Best Classical Guitar Under 1000 Dollars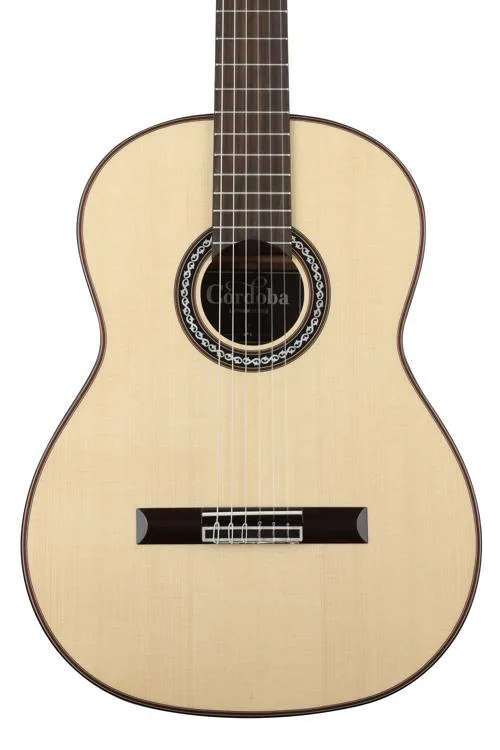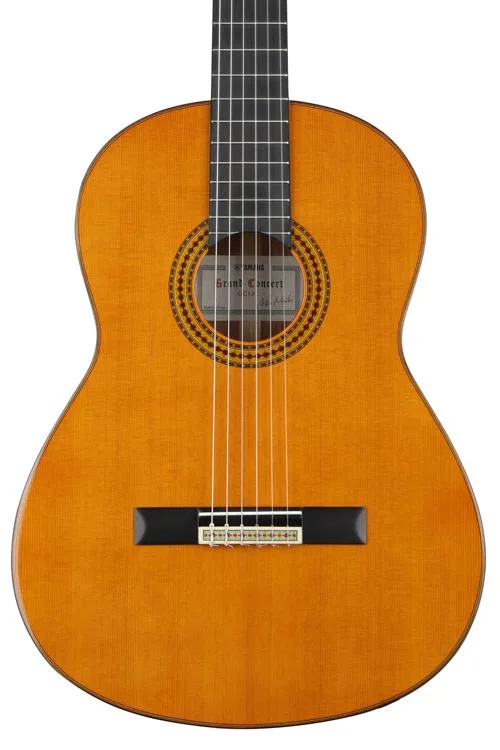 Review of our Top Picks
Yamaha GC12C--Best Value
Important Features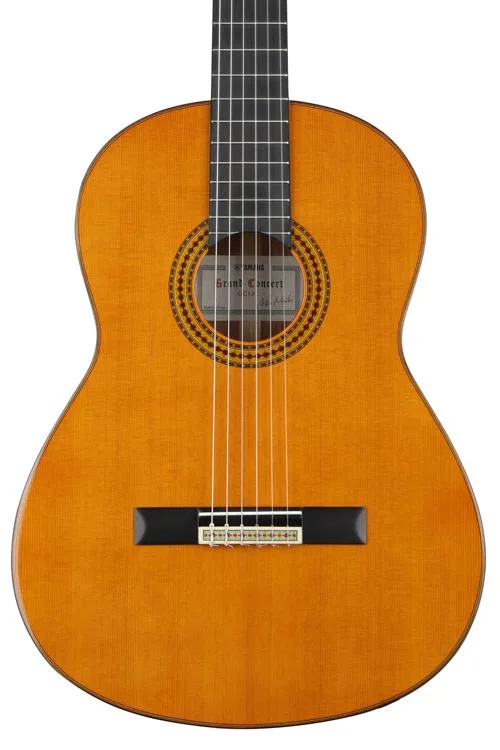 Pros & Cons
Brief Review & Star Rating
Review
You probably already know that Yamaha is known for producing quality guitars for relatively affordable prices. And while they have several lower-priced student models, the GC12C is an all-solid-wood step up. With a top of solid cedar and solid mahogany back and sides, it produces a dark, warm tone with a focus on the midrange.
It's also extraordinarily playable--the lightweight African mahogany neck is topped with an ebony fretboard. Ebony is known for its fast, slick feel, so even rapid changes up and down the neck become easy. The neck has a matte finish, which has a much faster feel than the gloss necks on many lower-end instruments.
Our Star Rating
We think this beautiful guitar is a great choice when it comes to both tone and playability. We give it five out of five stars.
Yamaha SLG200N NT--Best Guitar for Practice
Important Features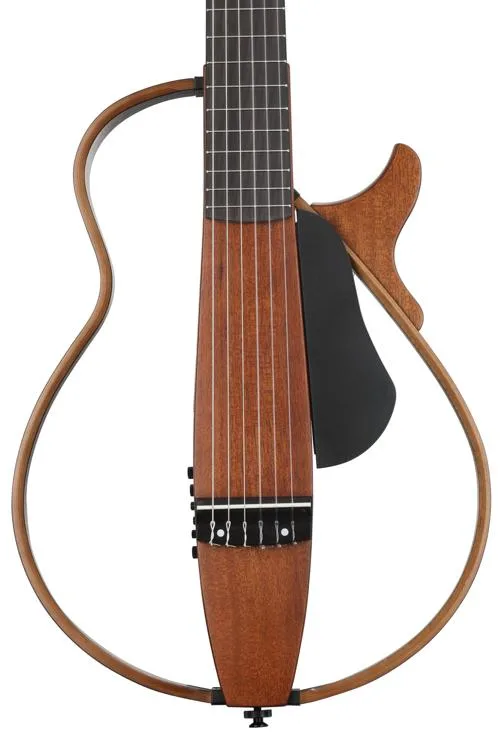 Pros & Cons
Brief Review & Star Rating
Review
If you want to master classical guitar in an apartment or shared living space, practicing without disturbing others can be challenging, especially if you prefer to play at night. Yamaha's Silent Guitar is an ingenious solution to this common problem. It has a very minimalist body that's easy for travel, and you can still get full acoustic sound when playing through headphones.
And while it might not look like a regular guitar, the Silent Guitar has another advantage--you can plug in and play live without having to worry about troublesome feedback. With a quality mahogany neck and removable maple and rosewood back and sides, this unusual guitar also is made with premium tonewoods.
Our Star Rating
This is a great solution for practice, playing live, and even recording, but it isn't a classical guitar in the traditional sense. We give it four out of five stars.
Cordoba C9 SP/MH--Best for Multiple Styles
Important Features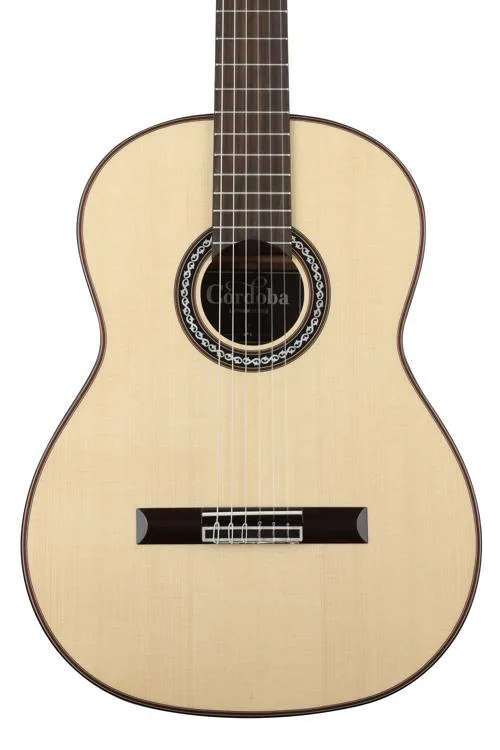 Pros & Cons
Brief Review & Star Rating
Review
Plenty of players prefer the well-rounded brightness of spruce, and this quality guitar from Cordoba pairs it with the warmth of mahogany. The C9 is made of all solid wood and is made with traditional fan bracing, so you get the rich, nuanced tone of a well-made guitar.
The bone nut and saddle help create noticeable sustain, and the African mahogany neck with rosewood fingerboard are supremely playable. This is a responsive, great-sounding instrument that's also a great value.
Our Star Rating
This is a high-quality, responsive guitar that sounds and plays like much more expensive instruments. We give it five out of five stars.
Ortega Guitars R158SN-TSB--Best Distinctive Look
Important Features
Pros & Cons
Brief Review & Star Rating
Review
Ortega is a somewhat lesser-known manufacturer, but this guitar from the company's Feel Series offers both unique looks and great playability features. It has a solid Canadian spruce top for responsive sound with bright highs. The back and sides are made of laminated rosewood.
It also has a slim profile mahogany neck that feels a lot faster than most traditional classical guitar necks, and the rosewood fretboard both adds warmth to the tone and complements the guitar's aesthetic. In terms of looks, this guitar is also a rarity--it has a sunburst finish, which you almost never see on a classical guitar.
Our Star Rating
While this guitar isn't all-solid, it's still a playable, great sounding instrument. We give it three and a half out of five stars.
Cordoba Iberia Series GK Studio--Best Live Performance
Important Features
Pros & Cons
Brief Review & Star Rating
Review
This distinctive guitar is the Gipsy Kings signature model, and it's built for performance. With Fishman electronics and an onboard preamp, this is a classical guitar that you can plug in and play. It also features a cutaway for easier fret access. The GK Studio has a solid European spruce top for bright and balanced sound, and the traditional fan bracing helps support great tone.
The back and sides are made of laminated cypress, and the solid mahogany neck and rosewood fingerboard impart noticeable warmth to the sound. The neck is a C shape, which is narrower than that of most classical guitars--this makes it more playable. The rosewood binding and hand-inlaid rosette make this a truly beautiful instrument, too.
Our Star Rating
This is a somewhat unusual guitar, and it's a great option for performers. We give it four out of five stars.
La Patrie 45419 Etude QI--Best Non-Traditional Tonewood
Important Features
Pros & Cons
Brief Review & Star Rating
Review
You may not have heard of La Patrie Guitars, but the company is a branch of Godin. This classical guitar is built a lot like Seagull (also a branch of Godin) acoustics. It has a solid cedar top, and the back and sides are made of laminated wild cherry. This may seem like an unusual tonewood choice, but wild cherry has a bright sound that projects easily, similarly to maple.
The headstock is similar to the signature tapered headstock of Seagull guitars--this design creates a straighter pull on the strings and contributes to greater tuning stability. This beautiful guitar also comes with Quantum I electronics. While there isn't an onboard preamp, the electronics make the Etude easy to play live.
Our Star Rating
This is a beautiful and unique classical guitar that's great for playing live. We give it four out of five stars.
Kremona Fiesta-FS Artist Series--Best Aesthetic
Important Features
Pros & Cons
Brief Review & Star Rating
Review
Kremona is a Bulgarian guitar manufacturer, and many of their guitars are made with top-quality, carefully-sourced tonewoods. This one has a solid European spruce top and back and sides of beautiful East Indian rosewood. Rosewood creates rich overtones with defined lows and shimmering highs, and it pairs very well with spruce.
The Hinduras cedar neck is a unique tonewood choice that adds warmth to the sound, and the rosewood fingerboard is highly playable. It has a bone nut and saddle, which add harmonics and contribute to its great tone.
Our Star Rating
Though this isn't a very famous brand, this is a beautiful and great-sounding guitar. We give it five out of five stars.
What Should You Think About Before Buying?
Any guitar is an investment, but once you move beyond entry-level instruments, buying a new guitar is even more of an investment. In this section, we'll cover some of the things that are most important to consider before you make your choice.
Don't Let the Brand Make the Choice for You
When shopping for a guitar, the brand is somewhat important--after all, you probably don't want an instrument from a manufacturer with a reputation for poor quality. However, assuming that you've determined all the brands you're considering are reputable, be sure that the brand isn't the only thing driving your purchase. A lot of finding the right classical guitar involves finding one that sounds good to you. You might want a well-known brand because of the name on the headstock, but if a lesser-known brand sounds better to you (or has more playability features you like, etc.), that's probably the one you should choose.
Take the Time to Specialize
If you're buying a guitar in this price range, chances are good that you know what type of music you want to play. Maybe you want to play flamenco, or maybe you want a nylon-string guitar that departs from the traditional classical design. Make sure to take your own preferences into account--you want to find a guitar that inspires you and helps you grow as a player.
The same goes when it comes to tonewood preferences. You might like the brighter sound of spruce, or maybe your music calls for the signature warmth of a cedar soundboard. If you aren't very familiar with tonewood options, it might help to research them and listen to sound demos to help you narrow down your guitar choices.
Think About Playability
If you've ever had a guitar that was difficult to play, you know just how frustrating it can be. The playability of any guitar you consider is of prime importance. Neck profile is a vital consideration. Many traditionally-built classical guitars have wide, somewhat thick necks that help players perform the often-complex fingerings needed for classical guitar music.
However, if you like the sound of a nylon-string guitar but want to play contemporary music, you might consider a guitar with a narrower fretboard (similar to a steel string guitar) and a slimmer neck profile. These features are especially helpful if you have smaller hands.
While the action on a guitar and the strings use also impact playability, these things can be adjusted with a good setup. Once your new guitar arrives, it's often a good idea to invest in a professional setup--this will help with playability.
Do You Need Electronics?
Most classical guitar performers play into a microphone, as this produces the most natural sound. However, if you want to perform and think you'll be doing so in noisier environments like coffee shops or bars, you might want to buy a guitar with built-in electronics.
It's worth noting that pickups are relatively uncommon in true classical guitars. You're more likely to find them in nylon-string guitars that depart from the design traditionally used for classical guitars.
In Conclusion
While you can't really go wrong with any of the guitars on the list, we think the best choice is the Cordoba C9. This is a guitar with all solid wood construction, traditional fan bracing, and incredible playability. We also think that the Yamaha GC12C is a great runner up, especially if you prefer the darker, warmer combination of cedar and mahogany.
And if you love the classic combination of spruce and rosewood, the Kremona Fiesta-FS is a great option as well. Whichever guitar you choose, make sure to carefully read specs and listen to sound demos, and you'll be well on your way to continuing your classical guitar journey.