If you enjoy hearing uniquely textured songs or want a challenge, learning to play fingerstyle guitar can be a rewarding pursuit. And while you can technically play fingerstyle on any type of guitar, smaller bodies, as a general rule, tend to have the projection ability, clarity, and tonal balance necessary to make fingerstyle playing sound the best it can.
At A Glance: Our Top 5 Picks For Fingerstyle Guitars
Before we get to our list of top picks for best fingerstyle guitar, it's important to note that you can also easily play fingerstyle on nylon string (or classical) guitars. However, our list covers steel-string instruments, since they are incredibly versatile and are used in most mainstream musical styles.
Quick Comparison: Top Picks For Best Fingerstyle Guitar
IMAGE
PRODUCT

Best Acoustic - Electric

The price is extraordinarily good for an all-solid wood guitar
Wood choice and body style are ideal for fingerstyle playing
Neck is designed with playability in mind

VIEW ON AMAZON →

Best Electronics

The pickup has an option for a stereo output for incredible live sound or easy stereo recording
The body is close to that of a slightly larger concert-style acoustic for a perfect balance of resonance and articulation
Given its excellent build quality and playability, this guitar is an excellent value

VIEW ON SWEETWATER →VIEW ON AMAZON →

Best High-End Guitar

Excellent build quality produces great tone
Ideal wood configuration for fingerpicking or fingerstyle
Included high-end pickup lets you play live with ease

VIEW ON SWEETWATER →VIEW ON AMAZON →

Best Budget Model

This guitar is very affordable, but it still has a quality build
It's made of mahogany, which is ideal for fingerstyle
Concert-style body is portable as well as ideal for fingerstyle playing

VIEW ON AMAZON →

Best Playability

Ideal wood configuration for fingerstyle playing
Bone nut and saddle improve tonal quality
Pinless bridge and easy to play neck improve your playing experience

VIEW ON SWEETWATER →VIEW ON AMAZON →

Best Bundle

Fairly affordable given the build quality
Spruce/mahogany all-solid construction is great for fingerstyle
Comes with electronics and hardshell case

VIEW ON AMAZON →

Best Live - Performance

All-solid construction helps create good tone
Quality onboard electronics make playing live easy
Concert-style body is great for fingerstyle playing

VIEW ON SWEETWATER →VIEW ON AMAZON →

Best Smaller Guitar

It's an economical acoustic-electric that works well for new performers
Its X-bracing and wide lower bout offer plenty of low end despite its small size
The solid top will open up and sound even better with time

VIEW ON SWEETWATER →

Best Classical Guitar

High-end appointments make it a visual standout
For a solid-top guitar, it's fairly affordable
It offers many of the benefits of both a classical guitar and a steel-string acoustic

VIEW ON SWEETWATER →VIEW ON AMAZON →

Best - Intermediate Players

It's a uniquely affordable genuine Martin
Body style and solid top make it especially suited to fingerstyle playing
HPL back and sides are resistant to temperature and humidity changes, so it's great for travel or playing outdoors

VIEW ON SWEETWATER →VIEW ON AMAZON →

Best Modern Design

For an all-solid acoustic-electric, it's very affordable
The smooth, midrange-focused sound adds a lot of warmth to your playing
Slim C neck profile is designed to play as easily as a Stratocaster

VIEW ON SWEETWATER →VIEW ON AMAZON →

Best Multimedia Recording

Unique features make this a good choice for experimental musicians
Quality tonewoods help create Godin's signature tone
Solid cedar and mahogany construction help to create quality tone

VIEW ON AMAZON →
Review of our Top Picks
Yamaha LS16: Best Value Acoustic - Electric 
Important Features
Pros & Cons
Brief Review & Star Rating
Review
Yamaha may not enjoy the reputation of guitar manufacturers like Martin or Taylor. However, they are known for making well-built instruments that are available at a reasonable price range. The acoustic guitar has a concert-style body and is made with all solid wood--the top is responsive Engelmann spruce, and the sides and back are made from warm-sounding rosewood.
The wood is treated with Yamaha's A.R.E. treatment, which increases resonance. It comes equipped with an S.R.T. Zero Impact passive pickup, making it easy to play and perform live.
Our Star Rating
The acoustic guitar is an extraordinary value, especially when you consider the quality of the guitar you get for the price tag. We give the Yamaha is a 5-star guitar for fingerstyle.
Ibanez ACFS300CE -- Best Electronics
Important Features
Pros & Cons
Brief Review & Star Rating
Review
At first glance, the Ibanez ACFS300CE is a truly stunning guitar. The creamy Engelmann spruce top is finished in a lovely open-pore semi-gloss finish, while the five-piece African mahogany and pau ferro neck is capped with a beautifully patterned Macassar ebony fingerboard. Its thin C profile is perfect for quick, effortless playing and offers playability similar to that of an electric.
This guitar is also part of the brand's Artwood Fingerstyle Collection -- it has been designed specifically for fingerstyle players. Even its unique electronics have been optimized to capture the full range of fingerstyle techniques. The ACFS300CE actually has two pickups built-in. First is the Block Contact pickup.
This one is mounted in the guitar's neck block -- right where much of the energy of the strings transfer to the guitar body. The other pickup is a T-bar, piezo-style undersaddle pickup. This one helps capture palm hits, percussive strumming, and more.
A minimalist onboard preamp lets you control the relative volume of both pickups for a personalized sound. The guitar also has a stereo output for massive, surround-style live sound.
Our Star Rating
We think that this one is the best fingerstyle guitar when it comes to electronics, and we give it 4.5 out of five stars.
Taylor 322CE: Best High-End Guitar
Important Features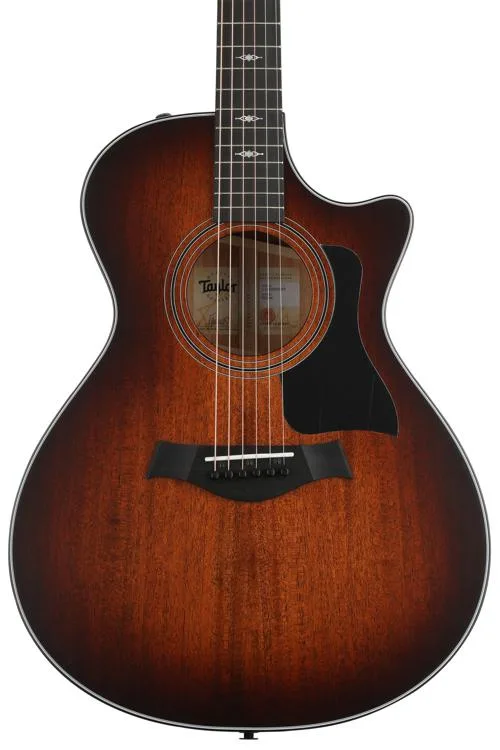 Pros & Cons
Brief Review & Star Rating
Review
Taylor is known for its incredibly high-quality guitars, but they aren't affordable for everyone. Though the 322CE is somewhat expensive, it has a great build quality. It's made with Taylor's revolutionary V-Class bracing, a system that increases sustain and volume.
This concert-style guitar has a solid top, but the back and sides are made of Tasmanian blackwood, which is an unusual choice. However, blackwood is tonally somewhat similar to mahogany, so it's a logical choice for a fingerstyle instrument.
It's also fitted with Taylor's Expression System 2, a pickup system that's uniquely faithful in reproducing an instrument's sound.
Our Star Rating
If you have the money to spare, we think the Taylor 322CE is a guitar worth looking at. We give it four out of five stars.
Ibanez PC12MH: Best Budget Model
Important Features
Pros & Cons
Brief Review & Star Rating
Review
When you're a guitarist on a budget, it can be disheartening to scroll through lists where the "budget" offering is close to $1000. We chose the PC12MH from Ibanez because it's a genuinely affordable instrument that still produces a quality tone.
While it is made of laminate wood, this concert-body instrument is made of mahogany, giving it the mellow, midrange-focused sound many players love. It has an understated yet elegant aesthetic that many players will be happy with.
Our Star Rating
This guitar is an excellent pick for those who don't have a lot of money. And it's still a nice-sounding fingerstyle guitar. We give it four out of five stars.
Takamine GD20-NS: Best Playability
Important Features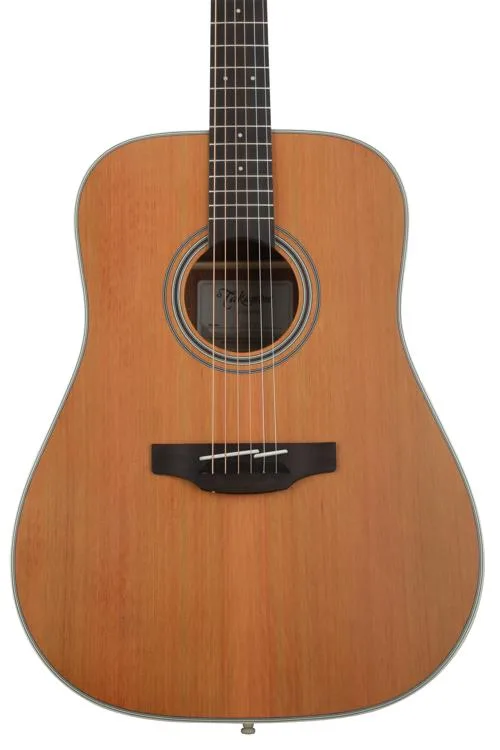 Pros & Cons
Brief Review & Star Rating
Review
Takamine has long been a maker of quality acoustic guitars, and this one is uniquely suited to fingerstyle playing. While it's a dreadnought, which may not be the best body style for the job, it has a solid cedar top and mahogany back and sides.
This combination gives the ideal warm tone many fingerstyle players seek. This guitar's pinless bridge gives you perfect intonation (and it also makes string changes much more comfortable), and it's highly playable neck lets you play for hours without fatigue.
Our Star Rating
This guitar's unique playability features are great for those new to the guitar as well as to those who just want to play without fatigue. Because of its unique design, we give it four out of five stars.
Fender Paramount PM-3: Best Bundle
Important Features
Pros & Cons
Brief Review & Star Rating
Review
This is a guitar that is especially suited to singer-songwriters. Its 000 body is very similar to concert body instruments.
And with solid Sitka spruce top and solid mahogany back and sides, it produces the ideal tone for playing fingerstyle. It has a Fishman-designed preamp and comes with a deluxe hardshell case.
Our Star Rating
Because it comes with both a custom-built deluxe hardshell case and a limited lifetime warranty, we think this guitar is the best bundle purchase. We give it four out of five stars.
Martin GPC-11E: Best Live - Performance Model
Important Features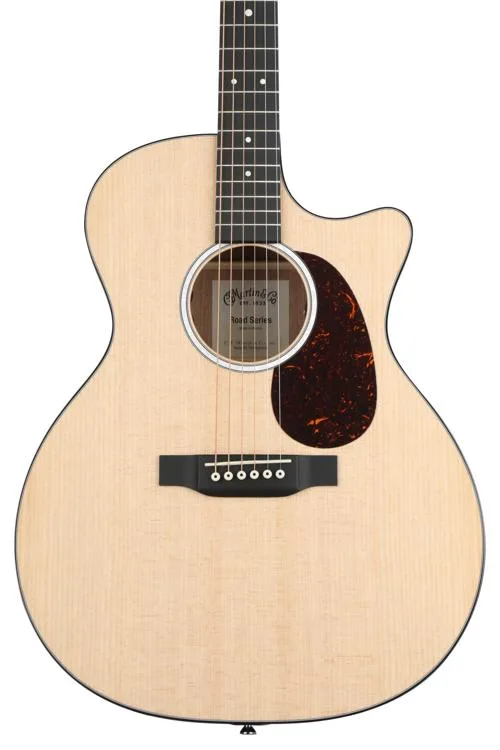 Pros & Cons
Brief Review & Star Rating
Review
Martin is a legend when it comes to acoustic guitar manufacturing, and this no-frills model is perfect for those who want to save some money while still getting Martin playability.
This concert-style guitar is made with a solid Sitka spruce top and Sapele sides and back. While the back and sides are solid, too, Sapele is a cheaper tonewood that may not have the full resonant qualities of mahogany or rosewood. It comes equipped with Fishman MX-T electronics, which will automatically mute playback when tuning.
Our Star Rating
Because it's built to be tough on the road and has performance-focused electronics, we think this is one of the best instruments for playing live. We give it four out of five stars.
Epiphone L00 Studio -- Best Smaller Guitar
Important Features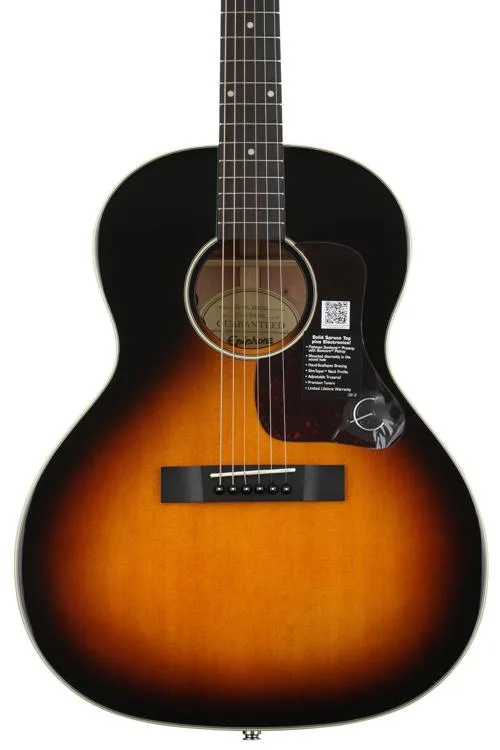 Pros & Cons
Brief Review & Star Rating
Review
If you love Gibson's 00-style guitars but need something more affordable, the fingerstyle-friendly Epiphone L00 is a perfect choice. Its solid spruce top will sound better over time, and its mahogany back and sides add some warmth to its sound without breaking the bank. The mahogany neck also creates more warmth in its sound. It's made with X bracing, and that feature combined with the wide lower bout results in a tone that has surprisingly present bass for such a small instrument.
The Epiphone L00 works well for smaller players too -- it has a narrower 1.68" nut width as well as a SlimTaper D neck profile. And of course, the small parlor-style body is more manageable if you have a smaller stature. The smaller body also makes it an especially comfortable guitar for songwriting on the couch or taking on trips.
As is the case with many more economically-priced guitars, this one has a mixture of decent and sub-par components. The Grover Mini Rotomatic tuners help keep you in tune and support intonation. However, the plastic nut and saddle don't do much for tone at all. However, these are easy to upgrade if you wish.
The rosewood bridge is similar to the bridges of higher quality guitars, but the Indian laurel fretboard is an inexpensive rosewood alternative. These aren't necessarily bad things, and the L00 Standard is still a decently appointed guitar for the price.
Our Star Rating
We think that this affordable 00 is the best smaller guitar on the list, and we give it four out of five stars.
Cordoba C4-CE -- Best Nylon-String Acoustic
Important Features
Pros & Cons
Brief Review & Star Rating
Review
No list of fingerstyle guitars would be complete without at least one nylon-string option. Even if you don't play classical guitar, the warm, mellow sound of a nylon string can be perfect for fingerstyle playing. The Cordoba C4-CE is effectively a crossover guitar, meaning that it incorporates elements of both classical guitars and traditional steel-string acoustics.
Its fan bracing gives it the incredibly nuanced tone that great classical guitars are known for -- an ideal choice for the fingerstyle player. But its slim neck is more characteristic of a steel-string guitar -- that feature and its smooth cutaway make it highly comfortable to play.
This guitar is also a very affordable acoustic-electric ideal for performers. It comes with the Fishman Sonitone Classical pick up -- this isn't the best pickup out there, but it provides decent and reliable live sound. And its relatively high-end appointments also make it especially stunning on stage.
The C4-CE's stunning Edge burst finish on the solid African mahogany top is especially beautiful. The bone nut and saddle support intonation and give it a classic look. And the beautiful abalone rosette glimmers under stage lights. And lastly, the Cordoba gold tuners with pearl buttons look great while keeping you reliably in tune.
Our Star Rating
We think that the C4-CE is the best nylon-string guitar on the list. We give it four out of five stars.
Martin 000-X2 -- Best for Intermediate Players
Important Features
Pros & Cons
Brief Review & Star Rating
Review
Many of Martin's legendary dreadnaughts like the D-18 and D-28 are most at home with flatpickers. But the versatile auditorium-style Martin 000-X2 is an excellent choice for fingerpickers. This smaller instrument has a solid Sitka spruce top for a responsive, bright-leaning tone that opens up over time. The back and sides are made of Martin's economical and lightweight high-pressure laminate (HPL) material. On this guitar, the HPL is patterned to look like mahogany.
The 000-X2 is an affordable way to own a genuine Martin, and its stripped-down aesthetic has a somewhat modern touch. The natural satin finish is accented with a tortoise-patterned pickguard and a simple rosette, while the chrome close-geared tuners add a classic touch while keeping you in tune.
And even though it's affordable, it's still a highly playable instrument. Like many Martin acoustics, this one has a select hardwood neck with a High Performance Taper neck profile. Plus, the somewhat smaller auditorium body is a little shallower than a dreadnought, so it's an excellent option for performers of smaller stature.
Tonally, the 000-X2 is especially well-suited to fingerstyle playing. It strikes the ideal balance between projection, focus, and resonance. And just like with Martin's legendary dreadnoughts, its X bracing adds some punchiness to the tone and brings out a deep, tight low end.
Our Star Rating
We think this great-playing yet affordable instrument is the best choice for intermediate players looking to upgrade. We give it 3.5 out of five stars.
Fender Newporter Special -- Best Modern Design
Important Features
Pros & Cons
Brief Review & Star Rating
Review
From the first look, the Fender Newporter Special is different. The Strat-style neck and headstock are virtually never seen on acoustic guitars, and the solid-painted body is certainly a rarity as well. For players who want to stand out on stage, it's an excellent choice.
But this guitar isn't a gimmick -- it's actually a very well-built instrument. It's made of all solid woods with a Sitka spruce top and mahogany back and sides. The body style is similar to that of a grand concert body. It offers a somewhat unique tone -- unlike "jangly" sounding acoustics like Taylors, this one sounds more "smooth," meaning there's less note separation and more warmth. This tonal style will be appealing to some players and unappealing to others.
Some of that unique sound comes down to Fender's proprietary bracing technology -- it's meant to create more stiffness. A bone nut and saddle increase sustain. Even the electronics are specially designed for this model -- Fender
Much of this instrument's appeal comes down to its playability. Its neck is a slim C profile like Fender electrics, so it's easy to play -- especially if you have small hands.
Like most of the guitars in Fender's colorfully eclectic California Series, the Newporter Special comes in a matte black finish with a contrasting gold pickguard. But if you'd prefer a more natural look, it also comes in a mahogany finish that shows off the grain of the wood.
Our Star Rating
This great-looking, great-playing acoustic is the best fingerstyle guitar for those wanting a modern design. We give it 3.5 out of five stars.
Godin 012817: Best For Multimedia Recording
Important Features
Pros & Cons
Brief Review & Star Rating
Review
The Godin 012817 is a somewhat unique choice. It has a chambered body and can be played acoustically, but it also can be connected to selected synthesizer models using a MIDI connector.
Its solid mahogany and cedar body mean it has the potential to create a beautifully dark, warm tone, and its slightly wide neck gives you a little more space. If you enjoy recording or making synth-driven music or just experimenting, this guitar's extra features may be a great choice.
Our Star Rating
We think this guitar has an interesting design that's great for those who want to blend different musical styles. We give it three out of five stars.
Buying Guide: What Makes A Great Fingerstyle Acoustic Guitar?
The best fingerstyle guitars might look different depending on who you are. However, it's vital to make an educated decision when selecting your guitar for fingerpicking or fingerstyle playing. Below are some of the broad categories to consider as you choose your fingerstyle guitar.
Typically, the acoustic guitars used in fingerstyle playing haven't been your classic dreadnoughts or jumbos. Generally speaking, it's the smaller-sized guitars--like orchestra and concert models--that are used in fingerstyle playing.
There are a few reasons that these smaller bodies are preferable. One of the most important ones is responsiveness. A "responsive" guitar is one that doesn't need a lot of force to create a sound. An acoustic guitar makes a sound when string vibration displaces air inside of the instrument. Since smaller-bodied guitars have less air inside, they can pick up the sound even from very gentle picking.
Smaller-bodied guitars also are generally better at projecting individual notes. Larger acoustic guitars tend to have a more overtone-rich sound. The rich sound isn't necessarily a bad thing, but it does make it challenging to pick out individual notes. For a pure, clear tone, the smaller bodies of the grand concert, concert, and orchestra guitars are an ideal choice.
Lastly, a relatively distinct advantage of these smaller bodies is that they're easier to carry and play. Many also include cutaways. While a cutaway does reduce the overall volume of a guitar, it does offer the advantage of making frets further down the neck easier to access.
Typically, when you're selecting a fingerstyle guitar, you want it to be made of a tonewood that's well-balanced or midrange-focused. The material used in the construction is because some woods tend to emphasize either bass or treble response. If you're strumming a guitar, this sort of imbalance may not matter as much. But when you're picking individual notes, it's much easier to tell if your guitar over-favours one end of the sonic spectrum.
Below are some of the common tonewoods seen in guitars meant for fingerstyle playing:
Mahogany is a tonewood that's known for favouring the midrange. It's less bright than spruce while still being responsive, so you do sometimes see it used for soundboards as well as for back and sides. Mahogany is slightly less sensitive than spruce as a soundboard material (since it isn't quite as hard), but most players seem to think the mellow warmth it adds to your tone makes it worthwhile.
This tonewood is typically seen used for back and sides. It's a commonly-chosen "budget" tonewood because it's fairly affordable and readily available. However, while it's a slightly harder wood, Sapele is sonically similar to mahogany. While it's rare, you may occasionally see a guitar with a sapele soundboard as well.
Spruce is a classic when it comes to tonewoods, especially those used for soundboards. While Solid Sitka spruce is the most common, some fingerstyle guitarists prefer Engelmann spruce, which is lighter in weight and often more responsive.
The spruce top/rosewood back and sides acoustic guitar is a classic in terms of design. That's because rosewood is a very dense wood that also is very resonant. Warmth and resonance are two sonic characteristics that you likely want your guitar to have, and rosewood is an excellent choice to help that happen.
Especially when used as a soundboard material, cedar is often favoured by guitarists who play fingerstyle. The content is favoured likely because it has many of the desirable characteristics of spruce, but without the extra high end that most fingerstyle players dislike. It's also a little warmer, which helps it produce a balanced tone perfect for fingerpicking or fingerstyle playing.
"Playability" means different things to different guitarists. Your specific definition of playability may be different. However, for many fingerstyle players, low action is desirable. When a guitar's action is low, the strings sit close to the neck, making it much easier to fret chords and individual notes.
Especially if you have larger fingers, paying attention to the fretboard width and the spacing between strings may be helpful. Many classical guitars have wider fretboards, and some steel-string guitars have wide fretboards compared to others. When you have more space, it becomes easier to fret chords and notes without accidentally causing other strings to buzz.
Lastly, you probably know that you don't need an installed pickup to enjoy playing fingerstyle. But if you want to play live (and want to avoid the hassle of playing into a microphone), it can be beneficial to have a built-in pickup with an onboard preamp.
If you perform live regularly, be sure to check the quality of the installed pickup before you buy. Cheap electronics are disappointing, and it's even easier to notice them when you're fingerpicking as opposed to strumming. Of course, you can always purchase a better pickup and have it installed, but this involves more hassle and money than many people are willing to spend.
In Conclusion
You can't go wrong with any guitar on this list, but we think the winner is the Yamaha L-Series LS16. This all-solid model is remarkably affordable, and the specially-treated top gives you far more resonance than you'd get with an untreated guitar. The result is a tone that's stunningly balanced and beautiful.

The Ibanez ACFS300CE is a great runner up. It's a guitar made for fingerstyle players, and its unique combination of an undersaddle pickup and a block pickup helps capture every nuance of any playing style. Plus, it gives you an option for a stereo out -- something that's incredibly rare in both electric and acoustic-electric guitars.

Keep in mind that you can play fingerstyle on any type of guitar -- it doesn't have to be one specially designed for this style. But when you choose an instrument that brings out each nuance in your playing, the final product will be much more beautiful.