If you're new to classical guitar or just want something that's affordable and sounds great, the Cordoba C5 is an excellent option to consider. Cordoba Guitars is known for making high-quality acoustic instruments in the Spanish tradition, and the C5 is designed to be a more affordable version of some of their high-end nylon-string models.
Its solid Canadian cedar top exudes warmth and presence, and a slim neck makes it an optimal classical instrument for players who are used to steel-string acoustics or electrics. 
Cordoba C5 Classical Guitar
PRO's & CON's Of Cordoba C5
Before we jump into our Cordoba C5 review, let's take a look at some pros and cons.
Pros
Solid Canadian cedar top is a traditional choice for classical guitars, and you don't always see it in this price range.
Laminated mahogany back and sides keep this guitar affordable.
Traditional fan bracing is supportive but allows the top to vibrate freely, producing a tone that's more naturally resonant.
The Slim neck makes it comfortable to play for guitarists of all ages.
Cons
Many buyers have said that the C5 guitar arrives with fret buzz issues.
For some players, it's difficult to get the intonation on this guitar exactly right.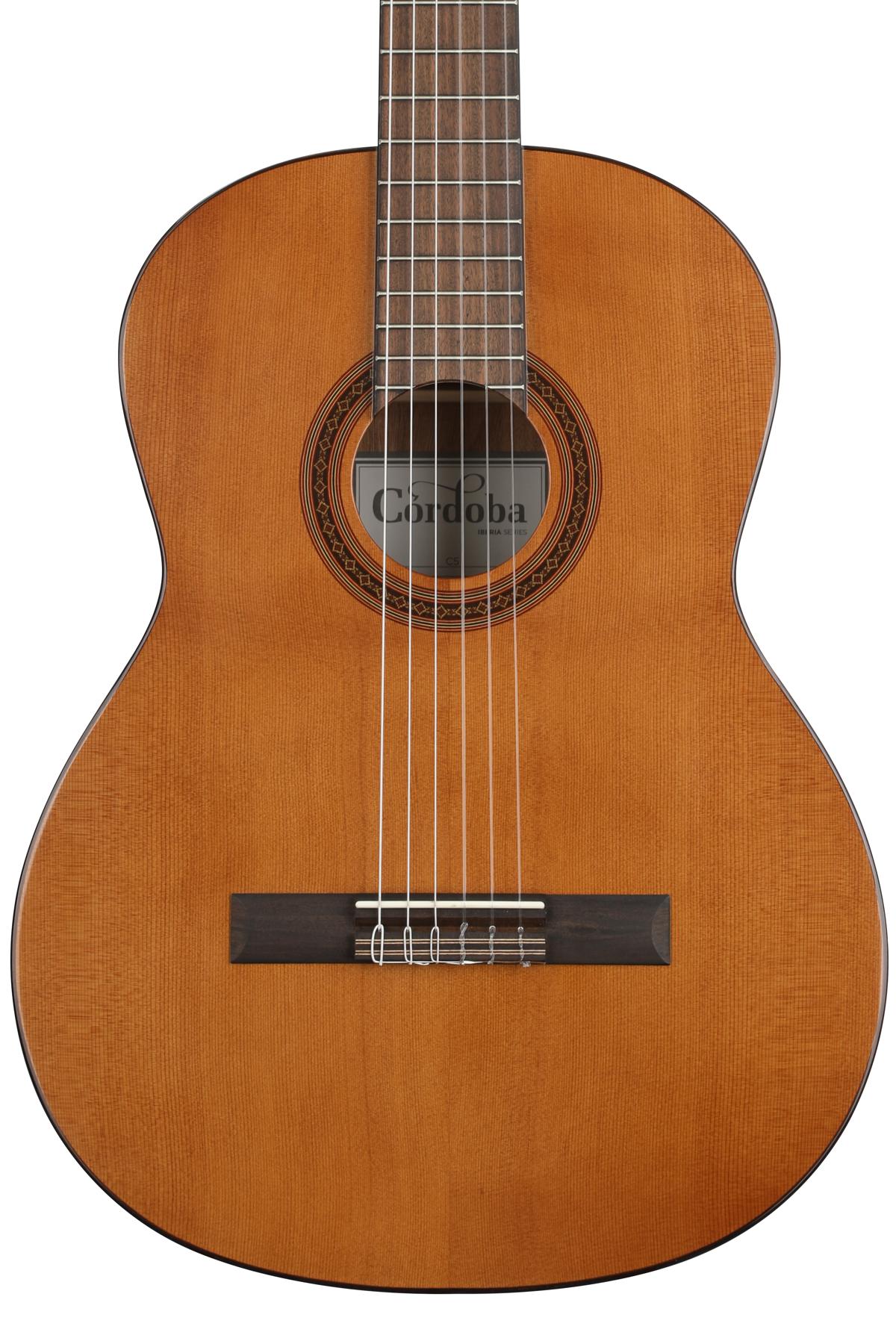 Cordoba C5
An Affordable Classic Guitar
Solid Canadian Cedar Top for greater resonance and sustain.
Laminated mahogany back and sides.
Fan Bracing.
The Cordoba C5 classical guitar is an excellent entry-level instrument, and it has a surprisingly great tone for a relatively inexpensive guitar. Let's take a closer look at some of its features.
Tonewoods And Body Style
In many ways, the Cordoba C5 is an excellent example of a traditional classical guitar. Its body style is the traditional Spanish classical shape. This rounded body resembles the concert-style body of some steel-string acoustics. And like most nylon-string guitars, this one does not have a cutaway.

Most classical bracing has traditionally been different from the bracing that you see on steel-string acoustics. The Cordoba C5 uses fan bracing, which is one of the most common bracing choices for the classical guitar. Fan bracing gives the tone of a guitar an earthier character, and it's incredibly nuanced.

Of course, the tonewoods used in any acoustic guitar are central when it comes to sound. The Cordoba C5 classical guitar comes with a solid Canadian cedar top. The solid top gives this guitar greater resonance and sustain, and over time, it will "open up" and sound more full.
Cedar is known for creating a tone that is warm and mellow but still powerful. It doesn't have quite the brightness of a spruce top. If you want to hear the difference between two solid top guitars — one guitar with a solid cedar top and one with a solid spruce top — check out this video for a comparison.
In this price range, you won't usually see a guitar with a solid back and sides. The Cordoba C5 has laminated mahogany back and sides. This wood adds some additional warmth to the guitar's sonic character, although it isn't as tonally complex as solid wood. However, the laminated mahogany back and sides are very resistant to changes in humidity and temperature. The neck is also solid mahogany for added warmth.
Sound Quality And Playability
Before selecting the Cordoba C5 classical guitar, you'll probably want to make sure that it's a guitar that sounds good to your ears. We think that, sonically, it's a great guitar for the money. The highs are clear and articulate, and the low end is just warm enough.
There's enough resonance to carry you through a song, but individual notes still ring clearly. Thanks to its cedar top, it has an expressive warmth that sets it apart from other guitars in its price range. If you want to hear what it sounds like played by a professional classical guitarist, check out this sound demo.
Playability is also important. And if you're buying for a new player, the nylon strings may be advantageous even if the player doesn't intend to specialize in classical music. A nylon-string guitar will be easier on players' fingers, making the playing experience more comfortable. The scale length of 25.6″ is also fairly standard for acoustic guitars.

However, as is the case on most classical guitar models, the nut width on this one is a bit wider than that of your average steel string. The 2″ nut width allows enough space between strings to fret notes accurately. However, if you have smaller hands, the increased width may make it harder to fret both notes and chords.

It's worth mentioning, though, that the neck is slimmer than most classical guitar necks. This is a great benefit for those newer to the classical guitar (or to guitar in general). The thicker necks on most traditional Spanish guitars can be difficult for a beginner to handle. And if you're familiar with steel-string acoustics or electrics but a beginner in the classical world, the slimmer neck will make the transition that much easier.
Appointments And Finish
Cordoba makes quality instruments at every price point, and we've been impressed with the appointments on the Cordoba C5 classical guitar. The lighter body is framed by beautiful dark Indian rosewood binding. Indian rosewood is typically found on guitars in a much higher price range — most similarly-priced instruments have plastic binding.

The nut and saddle are made of bone, which is a traditional material that helps shape this guitar's vintage sound. Bone has enough density to support sustain and resonance, and it isn't likely to develop pitting or other issues from string pressure over time.

The C5 is also equipped with quality tuning machines. Like most traditional Spanish guitars, this one has gold tuning machines with attractive Pearloid buttons. They tend to hold tune very well. As a side note, though, players unfamiliar with nylon strings may not know that these strings take a bit of time to finish stretching out. The guitar may need to be frequently tuned for a few days before the strings fully settle.

Notably, the C5 also comes with a truss rod. Many classical instruments don't, as the nylon strings exert much less tension on the neck. But having a truss rod in the neck is a great thing — if your guitar runs into issues with the neck bowing or warping, it can be difficult or impossible to adjust it without a truss rod. For people who want a guitar that will stay playable for a long time, a truss rod is a great thing to have.

The C5 has a couple of other surprisingly high-end appointments for its price range — the neck is capped with a rosewood fretboard, and the bridge is also solid rosewood. Rosewood is increasingly rare, and many manufacturers are turning to rosewood alternatives, especially on lower-end instruments.
However, the rosewood fretboard is comfortable to play and gives this instrument a classic look. Rosewood is also stronger than most woods marketed as alternatives, so the fretboard isn't likely to undergo pitting and other issues.

And lastly, the finish on this instrument is designed to show off the natural grain of the wood. It has a natural gloss polyurethane finish that gives it an elegant look. If you want to get a closer look at the C5, check out this video review.
Social Proof of the Guitar
Before you decide whether the Cordoba C5 classical guitar is right for you, you probably want to know what other buyers think of it. Purists will often tell you to try out any guitar in person before buying it. And while this is generally good advice, plenty of people in the market for mid-range guitars like this one find themselves unable to try them before they buy. We've gathered some reviews of the Cordoba C5 to help you decide.

This Cordoba C5 review is especially helpful because it points out why the C5 is a great option for a first classical guitar. It also points out the fact that this guitar has a truss rod, which makes it less likely that the neck will warp over time.

This review outlines what makes the Cordoba C5 a great classical guitar for beginners and intermediate players. It has an excellent low end, and it's a lot of fun for most guitarists to play.
This review characterizes the sound of the Cordoba C5 well. Its tone offers a great balance of warmth and clarity, which you don't always get with a classical guitar in this price range.
All in all, we think the Cordoba C5 is a great value. It's made by a company known for incredible classical instruments. The combination of a solid cedar top and traditional fan bracing gives it an incredibly resonant sound with great sustain. Whether you're a classical guitar beginner or want an affordable and versatile nylon string guitar, we think this is a great guitar for the money. Click here to check it out!