If you're relatively new to learning guitar or are just getting into worship music, you're probably on the lookout for easy but meaningful songs to play. You're in luck — plenty of worship songs are based on relatively simple chord progressions, but there's plenty of space for improvisation or playing leads once you get more comfortable. 
Even if you're a new guitarist, you'll be able to start strumming your favorite worship songs in no time. Let's take a look at some easy worship songs on guitar.
9 Easy Worship Songs on Guitar
1. Amazing Grace
"Amazing Grace" is a Christian staple. This song has been around for centuries — it was first published in 1779 and has been recorded by many famous musicians, including Johnny Cash, Aretha Franklin, Elvis, and Ray Charles.
If you play worship guitar for a church, you'll probably get to play this song at some point. It's a beautiful song of praise that has stood the test of time.
It's also an easy Christian song for the guitar and perfect for new players to learn. As with many worship songs, "Amazing Grace" can be found in several different arrangements. But if you're very new to guitar and are looking for a relatively simple way to play, this video lesson shows you a way to play it with three chords. 
Those three chords are G, C, and D — three of the first chords you'll learn as a guitarist. This particular version is in the key of G, although you can find arrangements in many different major keys. This arrangement is ideal if you want to try a little bit of fingerpicking or learn how to improvise a lead over a backing track.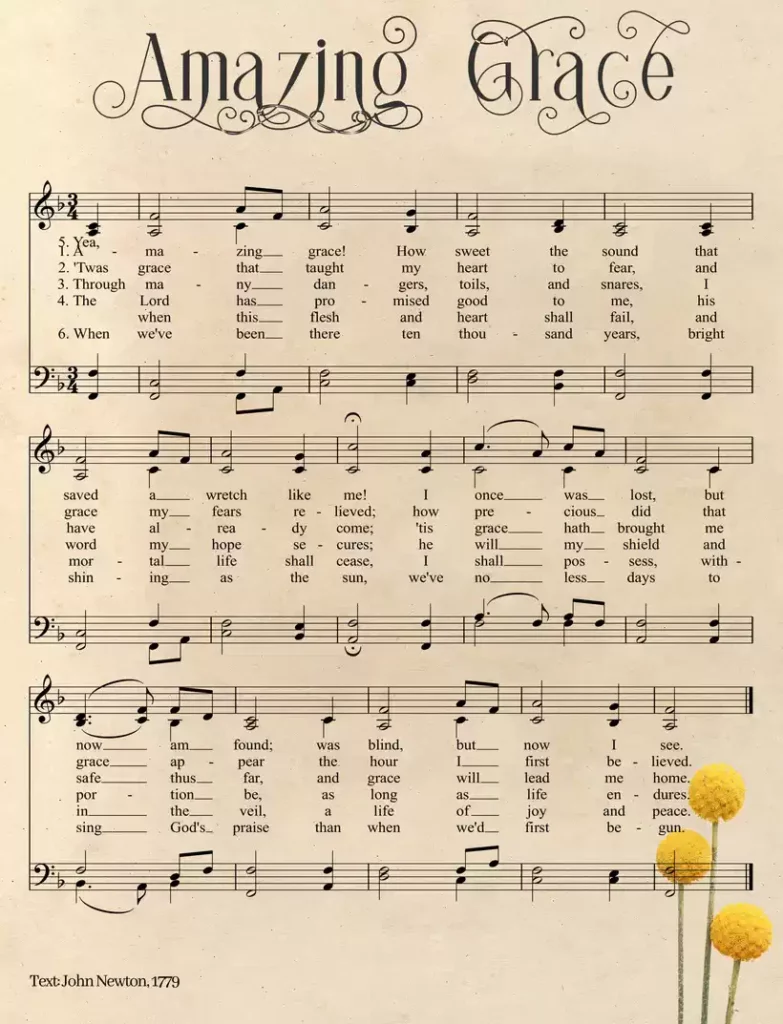 2. How Great Is Our God
If you're already a fan of contemporary worship guitar, you've probably heard "How Great is Our God." At one point, it hit #1 on Billboard's Hot Christian Songs list. It has won GMA Dove Award for Best Worship Song twice — once in 2006 and once in 2008. "How Great is Our God" is something of a modern classic, and it's frequently played in churches across the country.
The song is written and performed by Chris Tomlin, one of the best-known contemporary Christian songwriters and performers. Check out this video of Chris Tomlin performing it live to hear the song. Though the lyrics to this song are fairly straightforward, it's a powerful way to unite a Christian congregation in praise.
That's a major reason behind the song's lasting success. Learning this song is a great idea for the new worship guitarist. Since it's performed in churches all over the country, it's one of the most easily-recognizable contemporary worship songs out there.
Even if you're fairly new to guitar, you shouldn't have too much trouble playing this song. The chords are fairly straightforward –you just need to know C, Am, F, and G. Just like most other easy Christian songs on our list, there are no fast chord changes.
If you're very new to guitar and want to make sure you remember all the chords needed to play this song (and other guitar songs), you may want to get a chord chart. This way, you can easily refer to it if you need a reminder.
3. Holy Spirit
This is another contemporary worship song performed by Bryan and Katie Torwalt, a husband and wife music duo. Their songs are often characterized by harmony, and the chord progressions are easy to play but exude emotion.
They are signed to Jesus Culture records, and their catchy melodies are great for any guitarist looking to expand their worship guitar repertoire. This song, "Holy Spirit," captures what it's like to invite the presence of God and the Holy Spirit into one's life. You can see the couple perform the song live in this video.
If you prefer down-tempo worship songs that still carry a lot of power, "Holy Spirit" is a great one to learn. The chords for the verses and chorus are fairly easy — you need A, D, and Bm. However, for newer players, the bridge gets a little trickier.
If you're learning songs by looking up tabs and chords online, most songs will have a "simplified" version that will help you get through the song with easier chords. This is a great way to turn almost any worship song into an easy Christian song to learn.
4. This Train
Christian worship songs generally fall into two camps — older, traditional songs and contemporary worship songs. This easy Christian song is another traditional folk worship song with a bit of a bluesy twist, and it's easy to adapt to your ability level.
The original used D, A7, G, G7, and D7. None of these chords are particularly difficult to play, but if you're very new to guitar, you can ignore the 7th chords — just play A7 as A, G7 as G, etc. As you learn, you can add in the 7th chords.
This song is also remarkable because it was famously performed by Sister Rosetta Tharpe, a pioneer of both rock music and traditional songs. Sister Rosetta started out singing gospel songs while playing a resonator guitar.
She fronted big bands and collaborated with boogie-woogie artists. And in the 1950s, she became known as a rock star, playing a Gibson SG guitar on stage. She was later inducted into the Rock 'n Roll Hall of Fame.
5. Turn! Turn! Turn!
You probably recognize the name of this song, and if you hear the chorus, you'll almost certainly recognize it. That's because The Byrds made it famous with their cover of it in 1965. And because of its fame, you might not think of "Turn! Turn! Turn!" as a Christian song. It was originally written by Pete Seeger, who wrote the lyrics after being inspired by Ecclesiastes 3:1-8. Here's an excerpt:
To everything there is a season and a time to every purpose under the heaven:

A time to be born, and a time to die; a time to plant, and a time to pluck up that which is planted;

A time to kill, and a time to heal; a time to break down, and a time to build up;

A time to weep, and a time to laugh; a time to mourn, and a time to dance;

A time to cast away stones, and a time to gather stones together; a time to embrace, and a time to refrain from embracing;

A time to get, and a time to lose; a time to keep, and a time to cast away;

A time to rend, and a time to sew; a time to keep silence, and a time to speak;

A time to love, and a time to hate; a time of war, and a time of peace.
These verses match up almost exactly with the lyrics of the song — you can watch (and hear) it live in this video. "Turn! Turn! Turn!" is one of the easiest guitar songs on the list to play. You only need the chords E, D, and A. It may seem more like a popular song than a worship song, but its ties to the Bible and reassuring message make it a great addition to any worship service.
If you want an easy Christian song with some secular appeal, "Turn! Turn! Turn!" is ideal.
6. Cornerstone
This worship song is done by Hillsong Worship, a church collective that performs and records Christian music. Like the music of Chris Tomlin, the music of Hillsong has reached a good bit of acclaim in Christian music circles, and our list wouldn't be complete without a song from them. This song is one that sounds especially encouraging, and when played live, it has a lot of power to it — you can see it played live in this video (below left). 
It's an especially good song for those looking to reinforce or renew their faith. The title of the song refers to the idea that Jesus is a cornerstone — a piece essential to a structure's stability.
If you're new to playing Christian music (or music in general), this is likely to be a relatively easy Christian song to learn. The chord progression is C, F, Am, G. As you learn, you may want to incorporate your own strumming patterns. This video tutorial (above right) will take you through different strumming patterns used, and it also includes useful advice for changing the key (which you may need to do if you intend to sing along with your playing). 
Like most Hillsong tracks, this song has a lot going on in the recorded version. But don't let that discourage you — this elegant melody takes on a different life when played acoustically.
7. Here I Am To Worship
Plenty of players want big-sounding, easy Christian worship songs to play, and this contemporary song by Tim Hughes is a great choice. When it's played live (you can hear it in this video [below left]), there's a slow build — it starts with just voice and acoustic guitar, and other instruments are added in. 
This makes it a great song to play in a group and fill out with bass, drums, and lead guitar, but it also works well when played on solo guitar. The refrain of "I love the King, and the King loves me" is a powerful way to bring worshippers together, and this is one of the best songs to praise Jesus that we've found.
The chord progression for this one isn't terribly hard to follow, but one of the necessary chords may be unfamiliar for beginners. "Here I Am to Worship" only has three chords throughout the song.
You need C, G, and F/C. F/C may be new for some, but it's an open chord represented in a slash chord format you shouldn't have too much difficulty with. The slash chords are used to represent the chord inversions. F/C denotes the F major chord, with C as the bass note, i.e., the second inversion of the F chord.
Luckily, it's relatively easy to find video lessons that will take you through the song on an acoustic guitar when it comes to popular guitar songs for worship. This video lesson (above right) will show you strumming patterns and chords for this easy Christian song and walk you through vocals, too.
8. Amazing Love
If you play the simplified three-chord version, this is one of the easiest songs on the list. This is another song from Hillsong, one of the giants of contemporary Christian music, along with Chris Tomlin, TobyMac, and others.
And while you might pick this song to learn because it's an easy Christian song, you'll likely come to appreciate it for its message — it's about the love Christ has for everyone on earth and how Christians are liberated because he died for their sins. Hillsong aims to extend its ministry through music, and "Amazing Love" is a great way to spread the news of Jesus's love to believers and secular people alike.
If you want to learn the simplified version of the song, it shouldn't take too long to master. The chord progression throughout this song is G, C, G, D. Of course, once you've mastered strumming that, you might want to learn the full version. Generally, fuller versions of worship songs have a little more nuance and depth.
9. 10,000 Reasons
This song is by Matt Redman (check out the lyrics video), & it's arguably his best one — it's won two Grammys, & it got to the #1 spot on the Billboard Christian chart in 2012. Matt is originally from the UK, but much of his musical work has been done in the United States. He even worked to plant Passion City Church in Atlanta along with Chris Tomlin.
Matt converted to Christianity at the age of 10, and since he began leading worship and performing music at the age of 20, he has impacted Christian music worldwide.
The recorded version of this easy Christian song is very piano-focused, but you can hear an acoustic guitar being strummed, too. "10,000 Reasons" sounds great played on an acoustic guitar alone.
The chords to this song are fairly easy to play, too — it's the classic chord progression of G, D, A, Bm. This is a simple yet beautiful song with heartfelt lyrics, and it doesn't have the same highly-produced feel that songs from Hillsong and other big churches sometimes have.
Final Thoughts
There's a whole world of easy Christian worship songs out there, and our list is just the beginning. Whether you want to play contemporary songs or prefer the feel of traditional spirituals (or both), we hope you've found our list helpful. What do you think? Let us know if we forgot any easy worship songs on the guitar in the comments, and please don't forget to share if you found this article helpful!
Other Guitar Songs Related Articles