If you're looking for a semi-hollowbody guitar, you may be surprised by the sheer variety of semi-hollow guitars out there. The Epiphone Wildkat is a decently affordable, P-90-equipped semi-hollow guitar with vintage-inspired looks. It comes in unique and stunning finishes, and there are even some limited-edition colors for those looking for something unique
Things to Think About Before Buying a Semi Hollow Body Guitar
Before making a purchase, it's a good idea to first take a few things into account. One of the most important things to ask yourself is whether a semi hollow body is the right choice for you. This body style doesn't have quite the sustain of a solid-body electric guitar, but it doesn't have the same potential feedback issues as a completely hollow guitar.
It's also worthwhile to think about whether you would prefer single coil or humbucker pickups. Many semi-hollow guitars come with humbuckers, which are especially good for achieving an overdriven blues sound. Single coil pickups have a somewhat less "thick" sound. However, the Wildkat comes with P-90s (which are also found on many classic Les Paul models). 
While these are technically single-coil pickups, they have many of the tonal qualities of both single-coils and humbuckers. Of course, if you ultimately don't like the pickups a guitar has, you can switch them out after buying, but many players prefer to choose a guitar whose pickups they at least somewhat like.
Our Picks for Review
Epiphone Wildkat
PRO's & CON's of Epiphone Wildkat
Before we delve into our Wildkat review, let's check out some of the pros and cons of this model.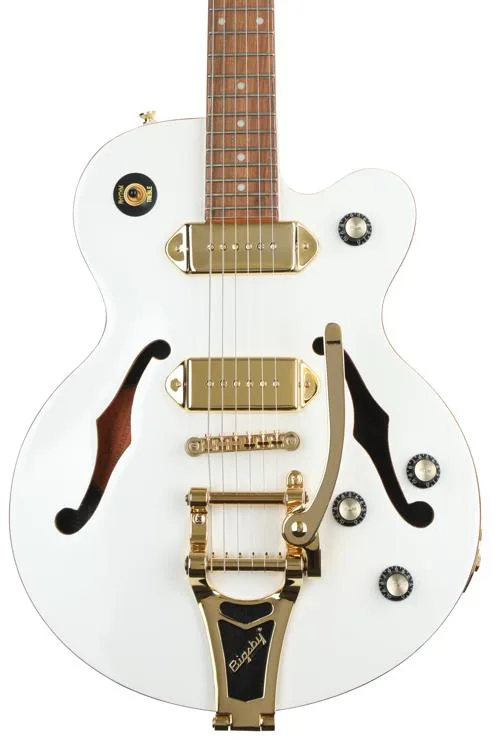 Features and Benefits
When evaluating this guitar from Epiphone, we were thoroughly impressed with it--in fact, when looking for online buyer reviews to include in this article, we had trouble finding any serious qualms or issues that buyers had with it. In this section, we'll take you through some of the highlights of this interesting instrument.
Body Material and Tonewoods
As a semi-hollow guitar, the Wildkat has a solid wood block through the middle of the body. This increases the guitar's sustain over that of fully hollow electric guitar options, and it also reduces the risk of feedback problems when plugged in. The body is made of mahogany, a warm-sounding wood that suits this guitar's look.
The flame maple veneer gives it a mesmerizing look, and the small amount of maple on the top gives it a little extra tonal bite. Mahogany is a great body material for guitarists who prefer a mellow, warm tone--many semi-hollow and hollow-body guitars are made of maple, which has a more crisp, biting tone.
The neck of a guitar doesn't matter too much when it comes to tone, but the maple neck of the Wildkat is especially dense and resists warping. The neck also has a slim profile, making it relatively easy to play even for those with smaller hands. It also has a long 24.75" scale length, giving you more space and tonal options.
Some guitarists may prefer the lesser string tension that comes with a shorter scale length, but the longer scale offers more frets, which expands what you can play. The rosewood fingerboard makes it especially comfortable to play, and it adds a high-end look to a surprisingly affordable guitar. If you want to hear what a maple neck sounds like, this video compares a few different neck materials.
Pickups and Sound Quality
If you've been playing guitar for any length of time, you may already have a favorite type of pickup. Like many Epiphone guitars, this one offers pretty impressive value--both the bridge pickup and neck pickup are Alnico V P-90s. These pickups sound somewhere in between what most people think of when they imagine a single coil pickup and a humbucker.
This makes them especially versatile, and they can handle just about genre of music. However, these pickups aren't well suited to very high-gain distortion--if you're buying a guitar to play metal on, the Wildkat may not be the best idea. However, this guitar handles clean tones, overdriven tones, and everything in-between--it's more versatile than most semi-hollow guitars we've encountered.
If you're not too familiar with P-90s and want to learn a bit about them before you buy, this interesting video discusses how they differ from other pickup types.
It's also worth mentioning that the Wildkat comes with a Bigsby B70 tremolo. These high-end tremolo systems let you add plenty of nuance to your playing. Some players may prefer to play a non-tremolo guitar, as tremolo systems can sometimes make tuning stability less reliable. However, most buyers of this guitar have commented that it holds tune well, even with frequent tremolo use.
Finish Options and Limited Editions
This guitar has a gorgeous flame maple veneer top. You can choose Antique Natural finish, which makes the guitar look like a played-in model, or the Wine Red finish that is a deep, complex red.
If you're a player who likes the look of a custom, limited-edition axe, the Epiphone Wildkat Royale might be right for you. This guitar has the same P-90s and Bigsby B70 as the original Wildkat, one option has a custom white finish with dazzling gold hardware, and another finish is a bright candy-apple red. It's only slightly more expensive than the original version, making it a unique and affordable guitar for those who want an eye-catching semi-hollow model. This video demo shows off the white version.
Social Proof of the Guitar
We've been pretty impressed with the Wildkat from Epiphone, but before you decide on a given model, it's wise to do some reading on your own to make sure you're choosing a guitar that suits your playing style. We've gathered a few reviews of the Wildkat to let you get a sense of what other players have said about it:
This useful review goes over some of the great features you can find in this guitar. This player, like many guitar buyers, was unable to try out the Wildkat before buying, but they were nonetheless impressed with the purchase.
This next review covers many of this guitar's strong points. The Bigsby B70 tremolo system rarely goes out of tune, and the pickups work well for a variety of genres.
Like many reviewers, this person was also especially happy with the Wildkat. As some others have also mentioned, this guitar is good for multiple genres, but it isn't ideal for high-gain distortion.
Alternatives to Epiphone Wildkat
Before committing to the Epiphone Wildkat or any other guitar, it's a good idea to check out some potential alternatives. Here are three similar guitars you may want to compare to this one.
Ibanez Artcore Series AF75G
How it Compares to Epiphone Wildkat
Review
Ibanez is another manufacturer of relatively affordable, great-sounding semi-hollow guitars. This Artcore model is made entirely of maple, so it has a more crisp sound than the mahogany and maple Wildkat. A mahogany neck helps warm up the sound, and this guitar is equipped with Ibanez Classic Elite pickups for warm yet balanced tone. 
If you want to save a little extra money and don't need a tremolo system, make sure you give this guitar a look!
Gretsch G2420T Streamliner
How It Compares To Epiphone Wildkat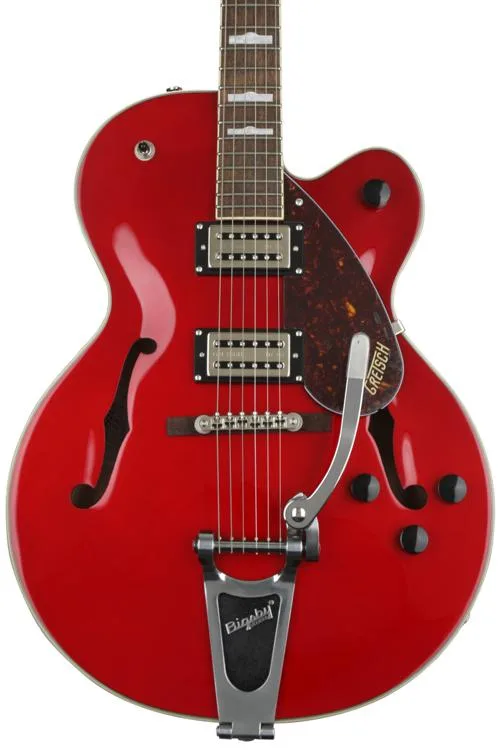 Review
If you would prefer a fully hollow electric guitar, the Gretsch Streamliner is a great choice. This guitar is slightly more expensive than the Wildkat, and it has a Broad'Tron humbucker bridge pickup and neck pickup. These pickups are great for rockabilly and country, and they also work well for a variety of other genres. The Streamliner has a slim, playable U-shaped neck, and it's equipped with a Bigsby tremolo. 
If you're looking for a guitar with a hollow body shape and love the signature Gretsch sound, make sure you check this one out!
PRS Paul Reed Smith SE Zach Myers
How It Compares To Epiphone Wildkat
Review
This semi-hollow guitar has a slightly different look than the Wildkat. It's styled a lot like a Les Paul, but it has a single F-hole. With a mahogany back and a beveled maple top, this guitar has an excellent balance of brightness and warmth. It has two SE 245 pickups, and the fat neck is easier for those with larger hands to play.
If you prefer a slimmer double-cutaway body shape, make sure you check this one out!
In Conclusion
We think the Wildkat is a great guitar--whether you're a performer or just someone who likes to jam at home, this is one of the best values out there for a semi-hollow guitar. With truly excellent pickups and the added bonus of a Bigsby, you have a whole world of tone at your fingertips. Click here to check it out!