If you've already begun your search for an entry-level acoustic guitar, you probably have seen that most affordable acoustics don't come with electronics. This is usually perfectly fine when you're learning. But if you want to perform live or experiment with effects and pedals, you might want something that's acoustic-electric.
The Fender FA135CE is a guitar that, despite its low price, offers many of the features that performers look for. It's lightweight with a clear tone, and the onboard Fishman electronics are surprisingly high quality for a guitar at this price point. In this review, we'll look to see if it's all it claims to be.
Things To Consider Before Buying An Entry-Level Acoustic-Electric Guitar
Usually, if you're shopping for an acoustic-electric guitar in an entry-level price range, you want something that's a good value. At an inexpensive price, you can't usually expect top-quality tonewoods or world-class electronics.
However, it is possible to get a guitar that sounds fairly good and stays in tune for under $200. Not all entry-level guitars are created equal, and in order to get a good deal, you'll need to research possible purchases carefully. In the next section, we'll take you through the details of the FA135CE--this will help you evaluate whether this guitar is a good choice for you.
Our Picks for Review
Features and Benefits
When it comes to overall quality, the FA135CE from Fender is on par with most guitars at this price range, but there are some important differences to consider before you buy. Here's what you need to know.
Tonewoods And Sound Quality
If you're familiar with acoustic guitar construction, you know that a solid top is often favorable--it provides a richer tone and more sustain. However, when you're buying a guitar at this price point (and especially if you want an acoustic-electric as opposed to standard acoustic), it's difficult to find a guitar with a solid top. While this guitar's all-laminate construction hinders its tone somewhat, it would be unreasonable to expect a guitar this affordable to have a solid top.
That said, it probably doesn't come as a surprise that the FA135CE's top is made of what's arguably the most popular tonewood when it comes to acoustic guitar tops: spruce. Spruce has a bright, airy sound, which is part of what makes it a lasting favorite.
However, its back and sides are made of a less common material. They're made of basswood, which is an inexpensive and light wood. It's important to note that, despite its reputation of being cheap and somewhat lacking in sonic character, basswood has been used by some manufacturers even in higher-end guitars. However, since it appears here in laminate form, it may not add much to the sound of the FA135CE.
This guitar's neck is made of nato, which is another lightweight tone similar to basswood. Since both of these woods emphasize midrange and higher-end sounds, this is a guitar that favors these as opposed to bass.
Whether a guitar's tone is "good" is, of course, somewhat subjective. If you're not sure if you'd like the tone of the FA135CE, you can hear this guitar for yourself in this video.
Body Style
The FA135CE's body style is another thing that contributes to its tonal quality. It's a concert-style body, meaning that it's smaller and somewhat rounder than the commonly-seen dreadnought. This build is similar to that of a parlor guitar, but its larger size produces a tone that is well-balanced.
This guitar also has a cutaway, making it easier to reach frets that are further down the neck. It also features X-bracing, which both contributes to the instrument's durability and increases tonal quality. This bracing style also increases volume and makes it easier for your guitar to project, which is helpful when you're playing something with a smaller body.
Saddle, Bridge, And Nut
When it comes to the saddle and nut on a less expensive guitar, many players assume that they'll be made of cheap plastics. This tends to be the case with most guitars at this price point. But surprisingly enough, this guitar's nut and saddle are made from Graph Tech's patented Tusq composite.
Tusq is designed to mimic the tonal properties of ivory, and even switching a guitar's nut from cheaper plastic to Tusq yields a noticeable difference in tone. If you ever get the chance to drop both a regular plastic nit and a Tusq one on a table, you can hear the difference yourself--the cheaper material sounds dull, while Tusq materials have a noticeable resonance.
The bridge on the FA135CE is made of a laminated wood (the manufacturer doesn't specify which), but it has a unique and eye-catching design--it curls up slightly at the ends. Together with the guitar's pearloid rosette, this feature helps the guitar stand out from the competition.
Electronics
When it comes to buying acoustic-electric guitars, it's important to do more than simply verify that the instrument comes with electronics. This guitar's electronics come with the Fishman Ion-T preamp. If you're unfamiliar with guitar electronics, it's important to understand that the preamp is what lets you shape your guitar's tone before sending it to an amp. This one has a three-band EQ, which lets you tailor your sound to suit any amp or PA system you use. This preamp has a feature that most players will find useful--a built-in tuner. This means you don't have to worry about losing or breaking a clip-on tuner, and it lets you tune up anywhere, even in noisy environments.
Fishman is one of the most well-respected guitar electronics manufacturers. And while the Ion-T isn't one of their high-end products, it's nonetheless a quality addition to any entry-level guitar. And as you'll see in one of the reviews linked below, some purchasers even say that this guitar sounds better plugged in than it does acoustically.
Finish Options
The color of a guitar isn't really the most important part. But having an aesthetically pleasing guitar is a bonus for most guitar enthusiasts. Luckily, the FA135CE comes in three color options:
Social Proof of the Guitar
Reading buyer reviews is often a great way to get a feel for whether a guitar lives up to its manufacturer's claims. Of course, a single guitar can't possibly be the right choice for everyone, but reading different players' experiences can help you decide whether it might be right for you.
In this section, we've gathered a few reviews from FA135CE buyers and players:
The above review is useful for getting a sense of the guitar's capabilities. As expected, this buyer is someone who is pleased with the quality of the electronics. While this buyer's opinion that the guitar sounds like a toy when unplugged may be a bit harsh, it is important to understand that a guitar this affordable probably won't sound as good as a higher-end or even midrange instrument.
One of the challenges when reading reviews of entry-level instruments is that many reviewers are new to playing. This isn't a bad thing, but people new to guitar probably haven't played higher-end instruments to compare a less-expensive guitar to. However, this review is especially useful because this person has played high-end instruments and still sees this one as being of decent quality considering the price.
This is another review from someone who has played professionally, and who sees this guitar as having a decent sound for the cost.
Alternatives to Fender FA135CE
As you shop for an affordable acoustic-electric guitar, it's important to compare your options--you don't want to just choose the first one you see (or make a choice on price alone). Here, we've included three possible alternatives to the Fender FA135CE:
Yamaha APX600
How it Compares to Fender FA135CE
Review
If you want a guitar that's similar in appearance to the FA135CE but is a little more expensive, this one is worth a look. It has a similar concert-style body, but it's a thinline. A thinner acoustic guitar is lighter and easier to play live, but it does sometimes lack the resonance of a more traditionally-built instrument.
This guitar from Yamaha, like the FA135CE, is made of all-laminate construction. It has a spruce top and mahogany back and sides. Mahogany is generally regarded as a better tonewood than basswood, and this model also has a transducer pickup that's designed by Yamaha.
If you're looking for a similar guitar with slightly better build quality and can spare the cash, this may be a guitar worth buying--check it out today.
Ibanez PF15ECE
How it Compares to Fender FA135CE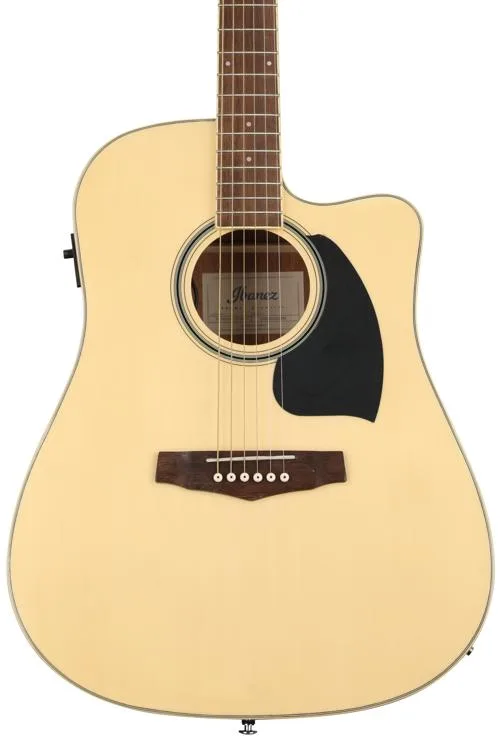 Review
While it isn't as well-known as Fender, Ibanez is still regarded as a good manufacturer for those who want solid entry-level or midrange acoustic-electrics. Like the FA135CE, it has Fishman electronics, and it also features a cutaway to help you reach frets further down the neck.
However, unlike the FA135CE's smaller concert body, this guitar is a dreadnought, meaning it will have greater sustain. Like the Yamaha model above, this one also has back and sides of laminate mahogany, which helps balance out the brightness of the spruce top.
If you like the idea of the FA135CE but would rather play a dreadnought, give this guitar a look.
Alvarez RF26CE
How it Compares to Fender FA135CE
Review
Alvarez is a brand known for making high-quality beginner guitars, and this one is no exception. If you're learning guitar and prefer something that's more tailored to folk-style playing, this is a great model to choose.
Like many guitars on the list, this one has a spruce top and mahogany back and sides, giving it a well-balanced tone for many genres of music. It's made with a slightly thinner neck than standard acoustics, making it easier for newer players and those with small hands to fret notes and chords.
If you want an affordable acoustic-electric guitar and play or want to play folk music, make sure you check this one out.
In Conclusion
In conclusion, while it may leave something to be desired in terms of tone, the Fender FA135CE is a quality and affordable acoustic-electric, especially for beginners. And particularly if you're a smaller person, its concert-style body is easier to handle, play, and transport.
With quality electronics and decent playability, it's a great instrument to choose if you're just beginning your guitar journey.