This innovative piano app helps you learn how to play the piano. Though it is more suited for those players who have never played piano before, it can help beginners, intermediate, and returning players alike in honing their piano playing skills.
The particular feature that really sets it apart from others, in our opinion, is the flow mode. With this feature, the app listens to you play (whether it's via a MIDI keyboard or your device's microphone) and then waits for you to play each note before continuing. Hence, it works equally well with acoustic piano, digital piano, or a keyboard.
Things to Consider Before Signing Up for an Online Piano Course
If you want to learn to play the piano, the good news is that there's no shortage of online piano lessons out there. However, every site offering piano lessons is a little different. Before you commit, it's a good idea to first think about what you want out of a course.
Reading sheet music? Do you want to learn how to play with music sheets? Some courses make it a point to teach you how to read sheet music, but not all of them do. With this course, you'll see the sheet music for the songs you're playing, but there isn't a huge amount of lesson time dedicated to learning to read music.
What are your learning goals? Lots of people want to learn to play the piano in order to play some of their favorite songs. If this is your goal, too, Flowkey might be a good option for you. However, if you want a very solid grounding in music theory, you may want to check out another course with a lot more focus on basic music theory lessons or enroll in one of the music theory courses separately.
What about instrument compatibility? In many piano learning apps, if you want to get instant feedback on your playing, you'll need a MIDI-connected keyboard. One thing we like about Flowkey is the fact that you can either connect an instrument or let your computer microphone capture the sound of your playing. This way, you can get receive instant feedback and real-time tempo adjustment, even if you're playing on an acoustic piano.
What's your budget? Given the fact that there are so many piano learning sites on the internet, more and more sites have made an effort to offer quality education at an affordable price. Plus, most sites also offer monthly payment options, but you can also pay upfront for several months at a time if you want to save money over time.
Flowkey – Online Piano Lessons
In our Flowkey review, we'll take you through some of this site's main features, to let you decide if this piano learning app can really help in your objectives. But before we dive into our review, let's look at some of the pros and cons:
Pros
Flow mode slows down to let you follow along so you don't get lost
Lessons show you a video of a pianist playing a song, lit-up keys, and sheet music all at once
It's a very affordable option if you want to learn piano online
You get to choose the songs you learn to play, which makes it easy to stay motivated
Cons
You don't get an in-depth knowledge of theory, which may become an issue if you want to play at an advanced level
While the videos show you which keys to play, you don't get to learn a lot about piano technique
Flowkey does not have the built in metronome feature to help you keep the consistent tempo.
Now we'll get into the features that really make Flowkey stand out. While this platform isn't especially focused on reading sheet music or mastering the basic music theory, it includes enough of these topics to get any player started.
What You Get for Free
Flowkey doesn't have an official free trial, but you do get some free access, though fairly limited. You can practice the first few lessons from most courses (complete access to the course introduction to the piano and partial access to courses like "Intermediate Piano Playing" and "Playing with both hands")and you also have access to a few songs (eight free songs to be exact) from the song library.
It's more of a sampler than a free trial — if you find you like the interface, you might consider getting a paid membership.
Courses
Lots of the press around Flowkey centers on its huge music library, which we'll get to in a minute. However, we think the backbone of any site focusing on piano lessons is the lessons themselves. Flowkey includes several courses that can help you build a foundation. To help you make a selection, these courses are divided into a few different categories:
Introduction to the Piano (8 Courses)
Playing With Both Hands (7 Courses)
Intermediate Piano Playing (6 Courses)
Mastering Chords (5 Courses)
Improvising With Chords (5 Courses)
Music Reading Training (8 Courses)
Playing Scales (10 Courses)
Playing Scales II (12 Courses)
As you can see, Flowkey includes a number of courses that are great for those who are just starting to play the piano. Music theory courses offered are of the very basic levels only good to start the learning process.
While advanced players might enjoy some of the song tutorials in the song library as a way to expand their repertoire, it looks like much of the site is designed with beginning and intermediate players in mind. 
Song Library and Practice Modes
One of Flowkey's major selling points is its impressive song library. You get access to over 1500 songs with new songs getting added with amazing regularity. You can either go through their lists of popular songs, pop hits, classical, film & TV, or search by both genre and difficulty level.
You can search and learn how to play your favorite songs on the piano by browsing through the list of famous songs divided into categories. The categories include – romantic, classical music, pop hits, film & TV, game music, jazz, kids, melancholy, evergreens, rock, groovy, Christmas, traditional, R&B, energetic, mellow, Asian pop, and smooth.
One thing we especially like is the fact that, if you're looking to learn a longer classical piece, you have the option to study the piece one movement at a time.
Each song library tutorial has several features designed specifically to make learning songs easier for you. To start, you get to see a video of a pianist performing the selected song on the piano. There's also an on-screen keyboard where the keys you need to press will light up. And lastly, you'll see the music sheet for the piece you're playing scroll, as the song progresses.
You don't necessarily need to know how to read sheet music to learn songs on the piano, but we like that sheet music is incorporated nonetheless. If you take Flowkey's available courses on reading sheet music and also make sure you pay attention to the sheet music as far as the songs you learn to play, you can learn a good bit. (As we've mentioned, though, if you want a course that covers a lot of music theory, you may want to look around for other courses.)
That said, plenty of sites for learning how to play piano include these features. We think that Flowkey really stands out because of its practicing features that include playing along.
Wait mode — This is a feature that you'll be hard-pressed to find on any other piano learning app. In wait mode, when you play with a connected keyboard or let the app listen via device microphone, the highlighted keys and sheet music will wait for you to play the correct note. This feature is especially good for your first run-throughs of new songs, whereby you start playing the notes at your own pace.
Flow mode — This one is similar to wait mode, but it's good to use as you build proficiency on a given song. With this mode, you don't see the lit-up notes change until you play the correct note
Slow mode — This is an important mode for piano learning, especially if you're just getting into faster pieces. Slow mode slows down the tutorial until you can play it proficiently, and you can then up the tempo a bit. You can slow down the song by 50% or 75%.
Select a hand — Learning to play piano with both hands is one of the biggest challenges for those new to piano playing. With this feature, you can choose to follow along with the part for the right hand, left hand, or both hands.
Loop feature — Sometimes the best way to really get a piece down is to play along over and over. With this feature, you can put a lesson or song tutorial on loop and play along until you've gotten the hang of it.
The fast mode allows you to play songs at the tempo you hear them on any device. Usually, when you begin learning songs, you start with the wait mode with one hand using the loop feature, then move to flow mode followed by slow mode, eventually culminating in the fast mode. The same process is repeated with the other hand, leading to playing with both hands in fast mode.
If you want to see what it's like to learn a song with Flowkey, check out this sample video tutorial on Pachelbel's Canon in D.
Cost and Membership Levels
We think that Flowkey is an effective way to learn piano at your own pace. We mentioned earlier that the free version does get you a sense of what the site is like, but if you're serious about learning, you'll probably want to upgrade from the free version.
Luckily, this site offers a few different payment options. If you want to pay by the month with no commitment, the monthly plan is probably the best option. For $19.99 per month, you get full access to all courses and can learn as many songs, and you can cancel anytime.
If you want to save a bit over the monthly rate, you might prefer the annual plan. This plan is $119.88, which is billed upfront and gives you full access for a year.
If you're really committed, the lifetime membership might be for you. With this one, you pay $329.99 one time and receive full access to the site forever. As a bonus, you'll get access to all future site upgrades, too. This might seem like a huge investment, but if you're very committed to learning piano and see yourself using the site for a long time, it just might be the right choice. If you're still considering signing up, check out this video that offers some insight into membership.
Social Proof of the Course
Flowkey does offer a free trial of sorts — you get to access a limited number of music lessons and eight songs for free. However, if you're considering signing up for full membership, it might help to read some reviews by actual people who have used the site. Here are some Flowkey review snapshots we've found that we think may help you make a decision: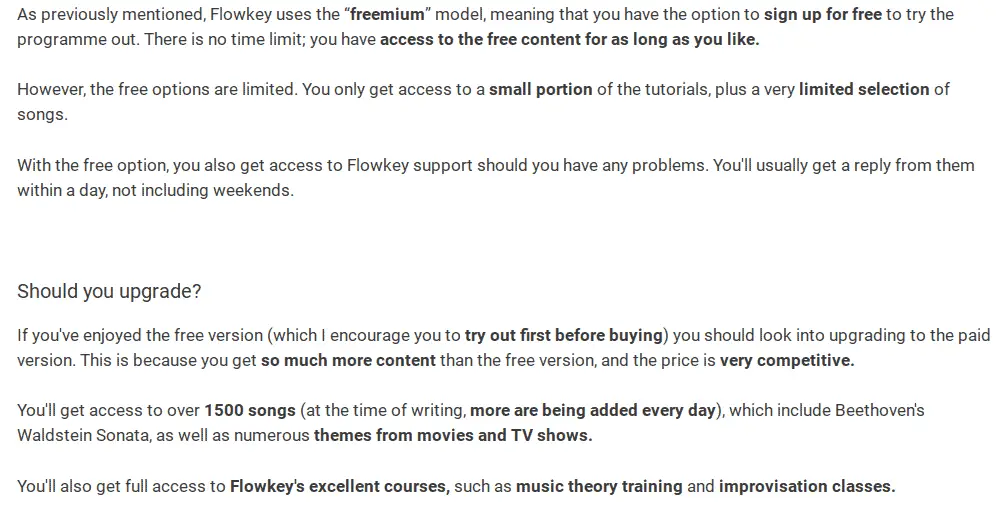 This review focuses on some of the great features you can get with a free membership as well as when you upgrade. Flowkey sometimes gets a bad rap because some users don't realize that the site offers in-depth courses as well as song tutorials. However, to access most courses (and most of the songs), you'll need a paid membership.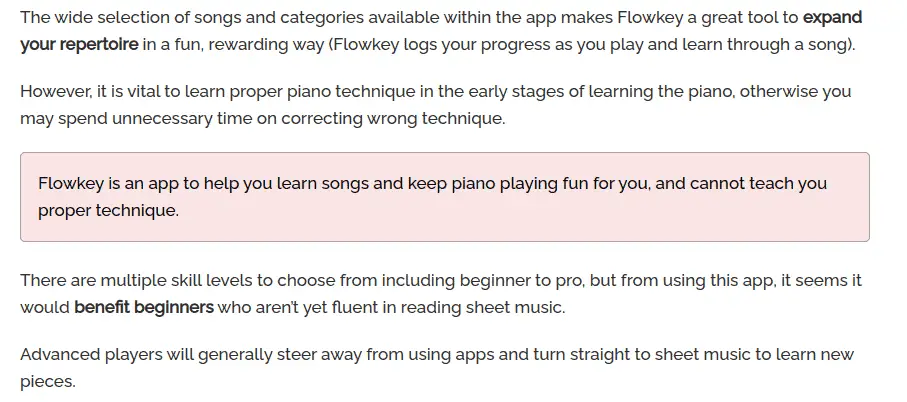 This snapshot is from another review site that focuses on piano courses and piano-related products. This Flowkey review does well with bringing up some of the site's strengths as well as its limitations. For example, while the site does very well with teaching you to play songs, it can't teach you proper piano techniques, which is very important when you're new.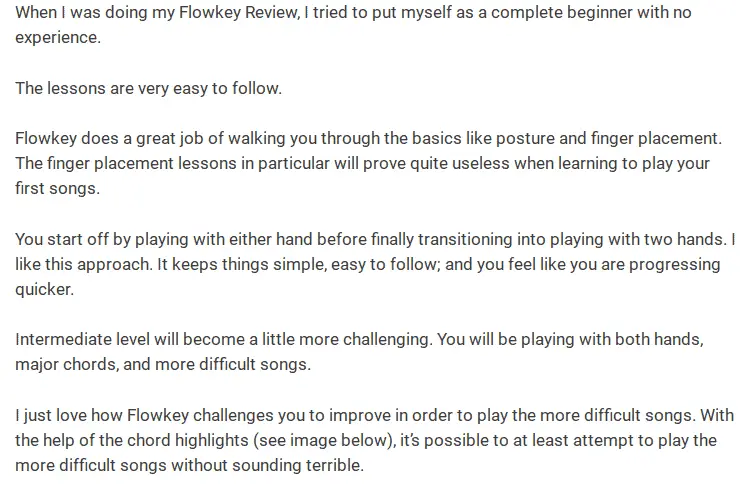 The reviewer in this last review snapshot found that the courses were thorough and logically organized, and they found the site to be very motivating, too.
In Conclusion
All in all, we think Flowkey is a great site for those new to piano, those looking to learn to play specific songs (or those looking to expand their repertoire). We like the in-depth lessons on essential skills and the impressive song library, and we also like that you can learn to play with or without reading sheet music.
Flowkey's wait mode, flow mode, and slow mode features can help you master even difficult pieces fairly quickly. It's always a good idea for beginners to learn piano basics and make sure that their technique is correct (either from a piano teacher or an experienced friend who plays). We think that Flowkey has what many players need to build a strong foundation on the piano.