The Gibson Hummingbird may well be one of the most recognizable acoustic guitars in history. First made in 1960, the Hummingbird continues to be a popular choice for discerning guitarists. In our Gibson Hummingbird review, we'll help you decide whether this is the right guitar for you.
Things To Consider Before Buying A High-End Acoustic Guitar
If you're looking to buy a guitar like the Gibson Hummingbird, you'll probably want to make sure it's the right option for you. Here are some things to keep in mind before you buy:
What body style is best? The body style of a guitar has a huge impact on tone. The square-shouldered dreadnought is probably the most popular guitar body shape, but it isn't right for everyone.
What about electronics? If you want to play live, you'll probably want to choose a guitar with great, natural-sounding electronics. Poor electronics can quickly ruin a performance.
What about playability?  The most playable guitar will look a little different for everyone. Consider playability features you value — maybe you prefer a fretboard with rolled edges, or maybe you want a slim-profile or satin-finished neck.
PRO's & CON's Of Gibson Hummingbird
But first, let's look at some pros and cons:
Pros
All-solid spruce and mahogany build offers a warm, balanced sound that works across genres.
Square shoulder dreadnought design with hand-scalloped X bracing offers incredible responsiveness and rich sustain.
The visually stunning design makes this guitar a real standout.
L.R. Baggs VTC electronics give it nuanced, faithful live sound.
Cons
Tone and projection-wise, this guitar may not be the best suited to unamplified fingerpicking.
It's very expensive, which may put it out of reach for some players.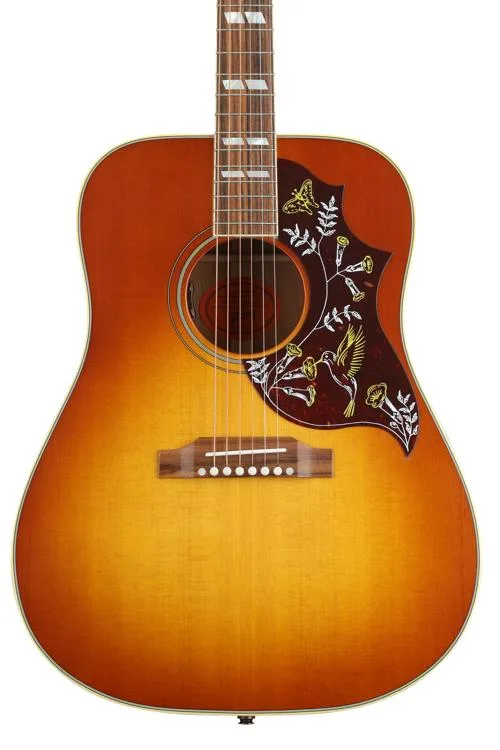 Gibson Hummingbird
High-End Acoustic Guitar
Square shoulder dreadnought design with hand-scalloped X bracing.
All-solid spruce and mahogany build.
L.R. Baggs VTC electronics.
The visually stunning design.
Now, let's take a look at some of the key features of the Gibson Hummingbird.
Body Style And Build Quality
The Hummingbird is a square-shouldered dreadnought guitar. This dreadnought style is an easily recognizable one, and it produces an excellent bass response. However, the tone of a square shoulder dreadnought is also well-balanced, making this body style great for many styles of music.
Of course, the tonewood configuration of any acoustic guitar is also important when it comes to sound. The Hummingbird has a solid Sitka spruce top and mahogany back and sides. This is a versatile tonewood configuration. Guitars made of mahogany have both warmth and decent punch, making them suitable across genres. And, of course, spruce produces both sparkling highs and incredible responsiveness.
And lastly, the bracing also makes a difference when it comes to tone. The Hummingbird has scalloped X bracing, which means that the bracing has been shaved down to allow better responsiveness from the soundboard. If you want to hear the difference between scalloped and non-scalloped bracing, this video offers a great comparison.
Sound Quality And Playability
Like most acoustic guitars, this one has 20 frets, which is standard. The scale length is 24.75″. The Hummingbird has a mahogany neck to match the mahogany back and sides, and the neck has a rounded profile. It isn't quite as slim and fast-playing as the Advanced Response neck profile found on some other Gibson acoustic guitars, but it's true to the original Hummingbird design of the 1960s.
Despite the rounded neck, this guitar is still incredibly playable. The neck is topped with a smooth, comfortable rosewood fretboard, and it has rolled edges for extra playing comfort. The Hummingbird also comes with a Plek setup at the Gibson factory. 
This machine setup helps the guitar achieve ideal playability — fret buzz is eliminated, frets are smoothed, and the guitar's action is made as comfortable as possible. The Plek machine is able to quickly accomplish a setup that's similar to what a master luthier could do.
In terms of sound quality, the Gibson Hummingbird is one of the best. You get a pronounced midrange with defined lows and highs, but the tone is both balanced and responsive. Like most Gibson guitars, this one also has an impressive presence and sustain. If you want to hear the Hummingbird, check out this demo video.
Finish And Appointments
The finish on a guitar probably isn't what makes you want to purchase it, but most players want a guitar that's beautiful to look at. The Gibson Hummingbird is made in two finishes — heritage cherry sunburst and antique natural. The cherry sunburst finish is the one that's traditionally associated with the Hummingbird, but the antique natural finish is good for those who want a classic acoustic guitar look.
The Hummingbird, of course, comes with its iconic etched pickguard with a picture of a hummingbird and a flower. It's a distinctive design that really stands out, and combined with the bright cherry sunburst finish; it makes this guitar very easy to recognize.
In terms of appointments, the Hummingbird is also a standout. The multi-ply top and back binding give the body a finished look, and the rosewood fingerboard is made with mother-of-pearl parallelogram and crown inlays.
The mother-of-pearl touches are just enough — inlays like this can look gaudy, but on the Hummingbird, they're simply a nice touch. The truss rod can be accessed through a removable truss rod cover on the headstock, which has "Hummingbird" engraved on it.
The Hummingbird's Gotoh Keystone tuners and other hardware are gold, giving it a distinctive look. And true to the original Gibson Hummingbird models, both the nut and saddle are made of bone. The rosewood bridge is Gibson's classic "belly up" design.
Lastly, like most high-end Gibson guitars, the Hummingbird comes with a hardshell case. This is a significant cost saving, as good hardshell cases are often very expensive. If you want to get a closer look at the Hummingbird and its beautiful appointments, check out this video review.
Electronics
The Gibson Hummingbird may well be one of the best acoustic guitars out there. But if you pair a great guitar with cheap electronics, that great sound won't really come through when amplified. Luckily, like most higher-end Gibson models, this one comes with L.R. Baggs Element VTC electronics.
This pickup system has a highly sensitive under-saddle transducer that reproduces the guitar's tone faithfully. This design eliminates the "quack" sound that comes with many piezo pickups, and you get a much more detailed live sound.
One of the advantages of this system is the fact that it doesn't have a bulky onboard preamp. Instead, it has a small volume control located right inside the soundhole. For those who like to perform live, this excellent electronic system is one of the most important features. If you want to learn more about this pickup system, here's a helpful video review.
Social Proof of the Guitar
If you can't try out this beautiful guitar in person, the next best thing is to read reviews by other players. Here are some helpful reviews we've found: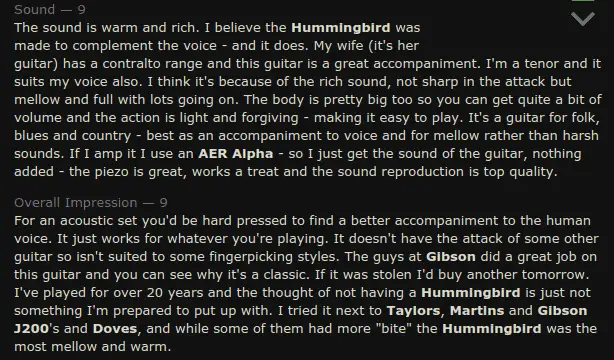 This review excerpt is a great endorsement of the Gibson Hummingbird. For this person, this guitar is excellent for accompanying your voice. It's also a testament to the overall quality of the guitar.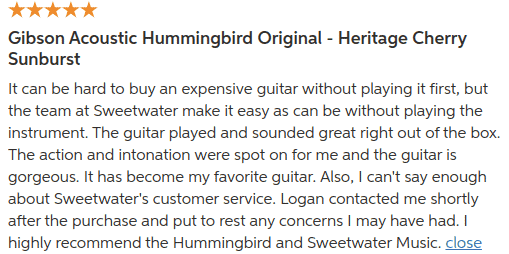 This review echoes the sentiment of most reviews we found — the Hummingbird is both a beautiful and great-playing guitar.
This last Gibson Hummingbird review highlights the versatility of the Hummingbird. But like some other reviewers, this person found that the Hummingbird may not be the ideal fingerpicking guitar.
Alternatives To Gibson Hummingbird
Before investing in a guitar like the Gibson Hummingbird, you'll probably want to make sure it's the right one for you. Here are three alternatives you may want to consider:
Gibson Acoustic Songwriter Standard
How It Compares To Gibson Hummingbird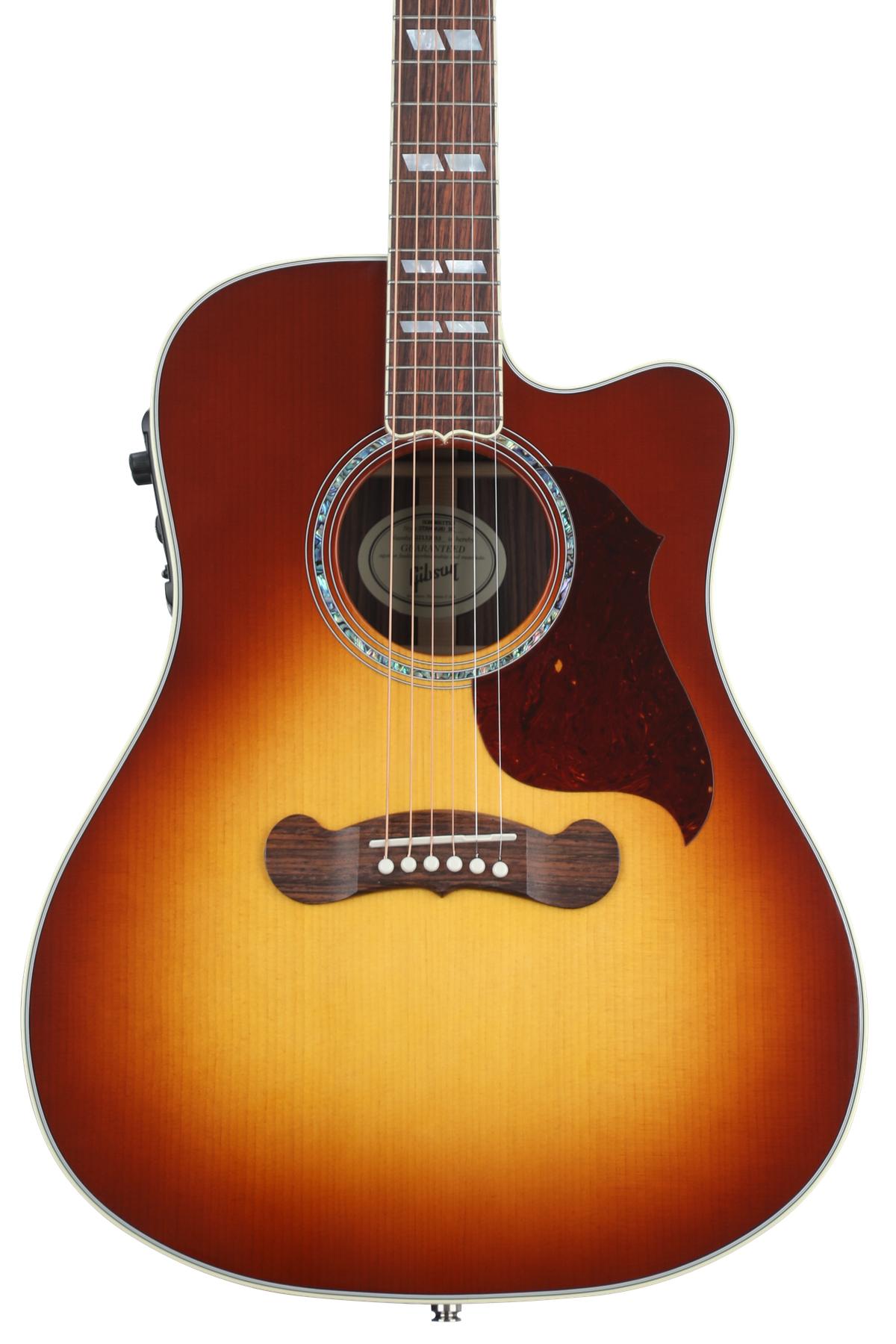 Spruce and rosewood build produces sparkling, nuanced sound.
Hand-scalloped X bracing provides excellent sustain and tonal response.
Fishman Prefix Plus-T system includes controls for brilliance, treble, bass, and contour.
It's a bit less expensive than the Hummingbird.
Review
If you're looking for an eye-catching guitar that's great for live performance, this is a great option. Like the Hummingbird, it's a square shoulder dreadnaught. It has the classic combination of a solid Sitka spruce top and solid rosewood back and sides. It's also equipped with a Fishman Prefix Plus-T system.
If you want a highly playable guitar that lets you take charge of your live sound, make sure you check this one out!
Gibson Hummingbird Studio
How It Compares To Gibson Hummingbird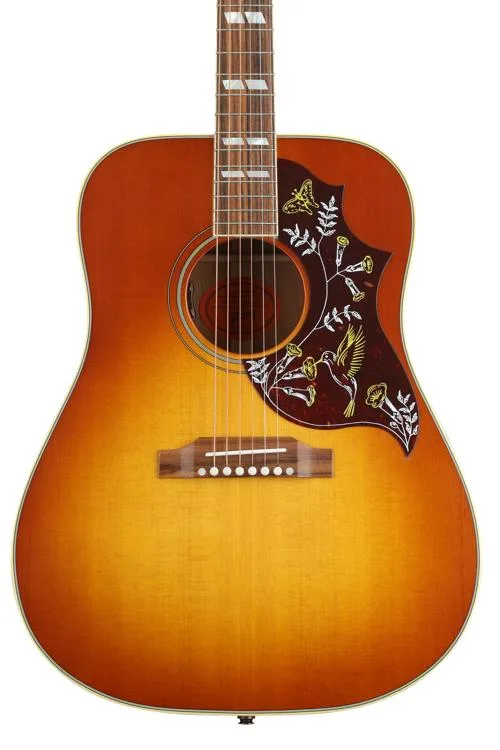 Walnut back and sides don't have the warmth of mahogany, but they produce a nearly-equal combination of bass, treble, and midrange.
Fishman Sonitone pickup isn't as good as the L.R. Baggs VTC system.
Scalloped X bracing gives it a similar tonal response to the Hummingbird Standard.
It's significantly more affordable than the Hummingbird Standard.
Review
If you like the look and sound of the Hummingbird but want a more affordable version, then the Hummingbird Studio might be for you. This model has walnut back and sides instead of mahogany, and it comes with Fishman Sonitone electronics.
If you like the Hummingbird but need a more affordable take, make sure you give this one a look!
How It Compares To Gibson Hummingbird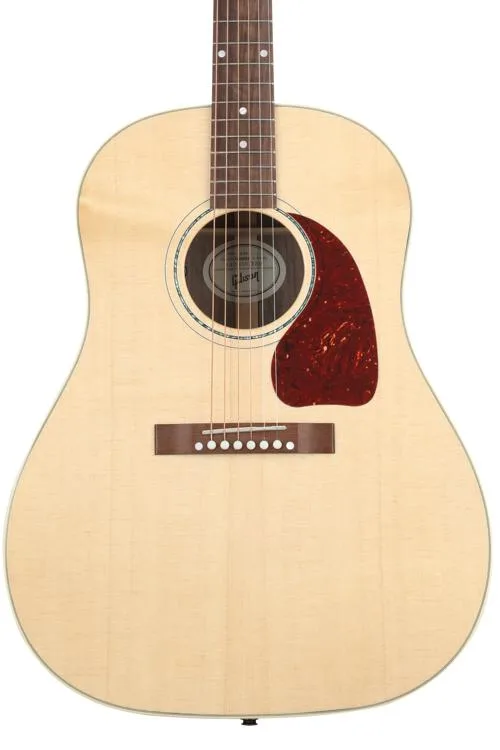 The round-shoulder dreadnought body has a different tonal profile than the square-shoulder Hummingbird.
Spruce and walnut build has a balanced tone that's different from spruce and mahogany.
L.R. Baggs VTC system provides dynamic, authentic live sound.
The compound dovetail neck joint contributes to this guitar's distinctive sound.
Review
The J-15 is a descendant of the legendary J-45. This round-shouldered dreadnaught has a walnut back and sides and a slim-profile maple neck. Traditional X bracing gives you a full, warm tone that's perfect for folk music, and this model comes equipped with L.R. Baggs VTC electronics.
If you'd prefer a round shoulder dreadnaught that's more affordable, make sure you check this one out!
In closing, we think that the Gibson Hummingbird is an excellent choice. It's a stunning piece of music history, and it's also an extraordinarily versatile guitar. If you're looking for the guitar of a lifetime, check out the Hummingbird today!