Lots of people dream of becoming a rock star, or at least about playing guitar like one. However, the learning curve can be steep, and plenty of would-be guitar players give up before they even really get started. Or they get started, but they get overwhelmed and give up.
An online guitar course might be the answer for some players, and Guitar Mastery Method is a standout course for players who want to learn rock guitar. It was started by Paulie Z, a guitarist who has played with KISS, Alice Cooper, Twisted Sister, and plenty of other bands. Guitar Mastery Method promises to have you playing countless songs in 60 days, but does it deliver? Let's find out.
Things to Consider Before Purchasing an Online Guitar Course
As you've likely seen, online guitar lessons are becoming more and more popular. We all lead busy lives, and the hassle and expense of getting to in-person classes often aren't worth it. If you want to play guitar, there are seemingly endless course options out there. To make sure you get the most out of whatever you choose, here are some things to consider before committing to anyone course:
What genre do you want to play? Most online guitar courses have at least some kind of genre specialization, and it can help to have a sense of what genre you want to play. Some examples of course specializations are folk, pop, rock, metal, and country. Guitar Mastery Method is a rock-focused course.
Do you want to focus on lead, rhythm, or a combination of both? Some courses focus strictly on rhythm guitar or lead, while others strive to give you a solid foundation in both areas. What you need will depend on your goals for your playing.
Do you play electric or acoustic? Generally speaking, you can learn just about any genre while playing an electric or acoustic guitar. However, some guitar types lend themselves to certain genres. For instance, it may be difficult to learn to shred on a thick-necked classical guitar.
How much experience do you have? In order to make sure you get the most out of the course you choose, be sure you choose one that works with your experience level. If you've played for a while, you'll probably be frustrated with courses designed for new beginners. Similarly, if you take an advanced course when you're not ready, you're likely to get overwhelmed.
What's your price range? Since there are so many types of guitar lessons available online, there also seems to be a course for every price range. Before choosing a course, it's a good idea to set your budget. Many online courses are fairly affordable, so there's a good chance you'll find what you need at a price that you can afford.
PRO's & CON's Of Rock Guitar Mastery
Now, let's look at some of the pros and cons of the Rock Guitar Mastery Method. Hopefully, this will help you decide whether or not this is the right course for you.
Pros
It was created by someone who has played professionally with top-level bands and who has been a guitar teacher for 20 years.
The course effectively adapts the well-known and proven Suzuki method of playing guitar.
According to the course creator and many students, this course can take you from beginner to expert-level player in 60 days.
It comes with a 60-day money-back guarantee, so you can try it risk-free.
Cons
If you want to play in genres other than rock, you might be better off choosing another course.
While it's still fairly affordable, this isn't the cheapest course out there.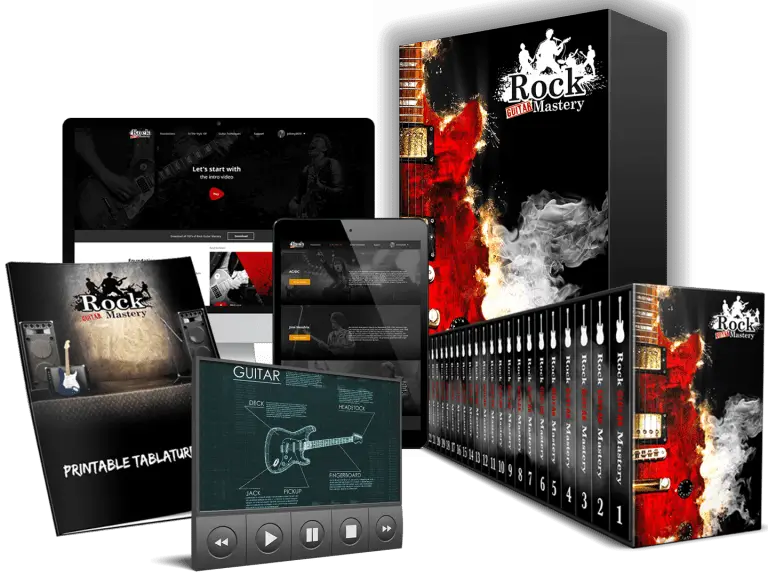 What features do you absolutely need in a set of online guitar lessons? What features could you do without?
These are good questions to ask yourself before diving into the specifics of any given course. In this section, we'll break down some of the most important features of these lessons.
How Much Progress Can I Expect?
Almost as soon as you get on this course website, you'll see headlines claiming you'll reach guitar mastery in 60 days. And in one of the course's promotional videos, a customer says that he was playing like a professional in just a few hours.
These claims sound a bit sensational, but that level of progress isn't unheard of. It's important to be realistic, though. If you're someone with a lot of musical aptitudes or guitar experience, you'll probably catch on faster than someone who doesn't naturally take to music.
It's important to remember that learning music is not a race–if you don't sound like a professional in two months, don't give up. Different people learn at different speeds. Plus, this isn't a course that charges a monthly access fee–you just pay a one-time fee and get lifetime access. You won't save any money if you learn faster.
One thing that we saw mentioned a lot in reviews of the course is the instructor's demeanor. The course is taught by guitarist and singer Paulie Z, who has performed with some of the world's most legendary bands. He's also taught guitar for 20 years. In order to develop this unique program, Paulie Z says he effectively reverse-engineered the method used by professionals that enables them to learn songs quickly.
This, combined with his own adaptation of the Suzuki Method of learning music, gave rise to this truly remarkable course. If you're curious to see and hear the instructor for yourself, you can see Paulie Z live in concert with KISS in this video (below left).
All these credentials (and the thought behind the course) might seem intimidating, but Paulie Z is far from that. In his lesson videos, he takes his time to explain everything without becoming pedantic. He explains what you need to know and demonstrates each song thoroughly. He has a calming voice to listen to, which always helps. You can see him teach a lesson in this video (above right), where he'll show you how to play the intro to "Highway to Hell" by AC/DC.
Who Is It Made For?
According to Paulie Z (you can hear him talk about it in this interview), one of the things that makes this course special is the fact that it works at multiple levels at once. 
For each song that you learn, there are three different levels. Level 1 involves simplified versions of riffs or chords–it will still sound a lot like the song you're playing, but it's accessible enough for new players. Level 2 is an intermediate level that is still somewhat simplified, and Level 3 is played just like the original song is played.
As a bonus, the course comes with jam tracks, which are live-recorded backing tracks for the riffs you learn in the course. This lets you practice alongside a live band. Regardless of your skill level, you can also improve your playing ability by accessing a particular section of the course. For example, you can look at the "chords" section to learn more complex chords, check out the "techniques" section in order to learn new playing techniques, and more.
What Does a Lesson Look Like?
One of the appealing things about this method is that it doesn't require you to learn theory, chords, or even the names of notes. Of course, some players may want to learn these things, and that's fine–this just may not be the ideal course for them.
Most lessons in this course are broken down into smaller, more digestible chunks of work. In many cases, a lesson is simply Paulie Z showing you how to play a riff or part of a song. He'll set you up, show you what you need to know, and then demonstrate, and you can then play the same riff. It's almost like taking in-person guitar lessons. You can see what a sample lesson looks like in this video tutorial (below left) that will teach you to play the famous song "Sweet Child O'Mine."
What About the Money-Back Guarantee?
If you still aren't sure whether or not this course is for you, this interview with Paulie Z (video above right) might help you make the decision. But even if you think this course is right for you, you probably want to know how much it costs.
According to Paulie Z, if everything in this course were sold at full price, it would cost over $1500. However, this course is available at a very deep discount. You get access to the whole course for a one-time payment of $67.
If you're hesitant about starting the course, you probably want to know a bit about the money-back guarantee. Every online guitar course is shrouded in some level of mystery–after all, the course creators can't give away every secret before you make a purchase. But if you decide at any point within 60 days that this isn't the course for you, you can reach out.
Social Proof
Choosing guitar lessons online can be difficult, and a big part of that difficulty is that you often can't see how each lesson will go until you've paid for the course. So to help you choose the right course, it's often helpful to read what players who have already taken the Guitar Mastery Method or another course have to say about it.
To give you a feel for what this course is like, we've gathered together a few review snippets:
This snippet is from a full Guitar Mastery Method review in AussieMuso, an online Australian music site. This reviewer was impressed with Guitar Mastery Method, and they especially liked the instructor's relaxed, laid-back teaching style. They also found that the pacing of the lessons was just right–they didn't seem too fast or too slow. The lessons are also self-paced, so you can pause or rewind as needed.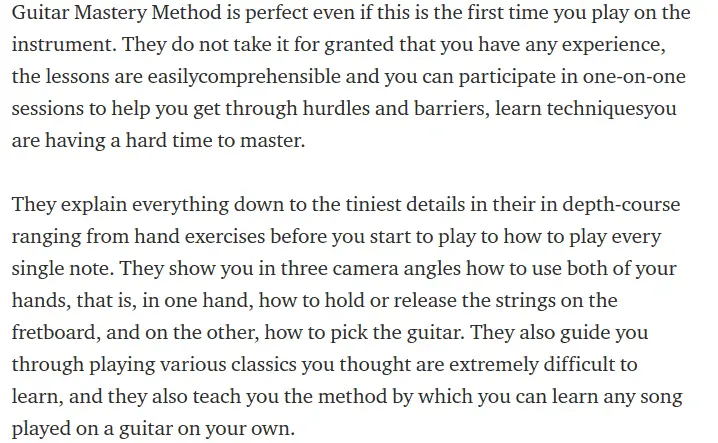 This Guitar Mastery Method review snippet comes from Medium.com, and it covers one person's experience. Like most reviewers we found, this person was especially happy with the guitar lesson method and structure found here. This course is especially suitable for beginners and those new to the rock genre, but it also includes levels that are challenging enough for intermediate guitarists too.

This is a short review snippet, and it comes from the Guitar Mastery Method site itself. This snippet highlights the fact that this course is great for players of all ages–in this case, the purchaser chose to share the course with other family members.
After thoroughly investigating this course and reading all the Guitar Mastery Method reviews we could find, we can now say confidently that we recommend this course. The lessons are expertly taught and expertly paced, the course is affordable and offers instant access, and you get to start playing songs almost as soon as you start.
We think this course is a great investment for any guitarist wanting to really delve into the rock genre, especially if you're new to rock or even new to guitar in general. This is a purchase we think you won't regret. Click here to check it out!