Hollowbody electric guitars have a tonal character all their own--you get the signature warm tone of an electric guitar with the sweet resonance of an acoustic. And while many hollowbody electric guitars are fairly expensive, we've found one that manages to combine excellent, versatile tone with a truly surprisingly affordable price. The Ibanez AF75 is a member of the Artcore series, a line of dependable hollowbody guitars.
Things to Consider Before Buying a Hollowbody Electric Guitar
A hollowbody electric guitar can produce some pretty impressive tone, but these guitars aren't necessarily for everyone. Here's what to consider before buying:
Our Picks for Review
Ibanez Artcore Series - AF75
PRO's & CON's of Ibanez AF75
Before we jump into our review of the Ibanez AF75, let's check out some of this guitar's pros and cons: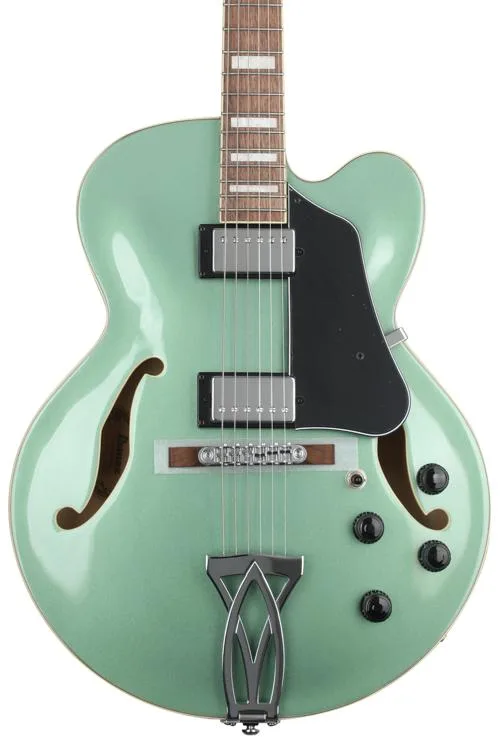 Features and Benefits
Tonewoods
While you probably want to play plugged in to get the full effect, you can also play the AF75 hollowbody guitar unplugged. Either way, the wood used makes a difference. This guitar is made of linden, which some players may not recognize. Linden is another name for basswood, a less-expensive tonewood usually found in less-expensive guitars. This wood is somewhat polarizing--some players hate it, and others don't see much of an issue.
If you aren't sure how you feel about basswood, check out this video--it's a blind tone test of an alder guitar against one made of basswood.
The wood used for a guitar's neck doesn't have as much of an effect on tone. The Artcore AF75 has a nato neck. You may recognize nato as a wood commonly used for the necks of value-priced guitars. It's a strong wood that sounds somewhat like mahogany. The neck is capped with a laurel fretboard--this is a less-expensive material that still looks nice and is durable. The pearl block inlays are likely to be appealing to most players.
Pickups and Sound Quality
Tonewoods have an effect on the sound of any electric guitar, but you can't ignore pickups when evaluating tone. The Artcore AF75 uses Ibanez Classic Elite humbuckers, which are largely responsible for its rich tone. These pickups are specially engineered to avoid feedback issues, and they seem to sound equally good either clean or with some overdrive. Most Ibanez Artcore guitars come with Ibanez-designed pickups, so if these aren't your cup of tea, it might be helpful to check out some other Ibanez Artcore guitars.
While the Ibanez Artcore AF75 hollowbody seems to be reviewed well pretty much everywhere, we were still blown away by its sound. This guitar is capable of soft, sweet clean tones, but it also handles overdrive in stride. The sound demo in first video below shows off its clean tone abilities with a little reverb. The demo in second video below doesn't use any pedals, but you can hear the amp go into a bit of overdrive on certain notes.
Aesthetics and Finish Options
At first glance, the Ibanez Artcore AF75 looks more expensive than it is. Like many in the Ibanez Artcore series, it has vintage-inspired looks that many players will find appealing. Exciting finish options and attractive pearl block inlays help give the AF75 hollowbody electric guitar its charm. Ibanez is a company that is known for creating affordable guitars that still have high-end finish options. While every Ibanez Artcore AF75 dealer may not have the same finish options, we found several unique finishes available:
Ultimately, when it comes to aesthetics, the AF75 is a real standout. Of course, looks shouldn't be the major factor when choosing a guitar. But having a beautiful instrument around is a sure way to motivate you to practice more.
Social Proof of the Guitar
If you like the AF75 hollowbody electric guitar but are unable to play it before you buy, reading reviews by those who have purchased and/or played it is a great start (as is listening to some sound demos). We've found a few online reviews to share with you:
This review highlights what many AF75 hollowbody electric guitar reviews seem to echo: even without taking price into account, this is an outstanding guitar.
Like many who have purchased the AF75, this buyer says that it's an excellent value.
This review is positive overall, but for this person, one pickup wasn't particularly usable. Like a couple of other reviewers we found, this person also had some trouble with fret buzz.
Alternatives to Ibanez AF75
We already think this particular Artcore Ibanez model is pretty great, and maybe you do too. That said, it's still wise to look at a few other models before committing to a given guitar. Here are three alternatives you may also want to consider:
Gretsch G2420 Streamliner
How it Compares to Ibanez AF75
Review
If you've spent some time already looking for a hollowbody electric guitar, you may already be aware of the Gretsch Streamliner. Gretsch is one of the best-known hollowbody electric guitar manufacturers, and this guitar is an affordable instrument that still sounds great.
It comes equipped with Broad'Tron BT-2S humbuckers, and the laminated maple body gives your tone a little extra bite. Like the Artcore AF75, it has a sturdy nato neck that's slim and comfortable to play. Its high-output pickups make it an attractive option if you're looking for a hollowbody electric guitar to play rock or any genre that requires a lot of gain.
If you want a hollowbody electric guitar that's more than ready to handle aggressive rock tone, make sure you check this one out.
Ibanez Artcore Vibrante AS63T
How It Compares To Ibanez AF75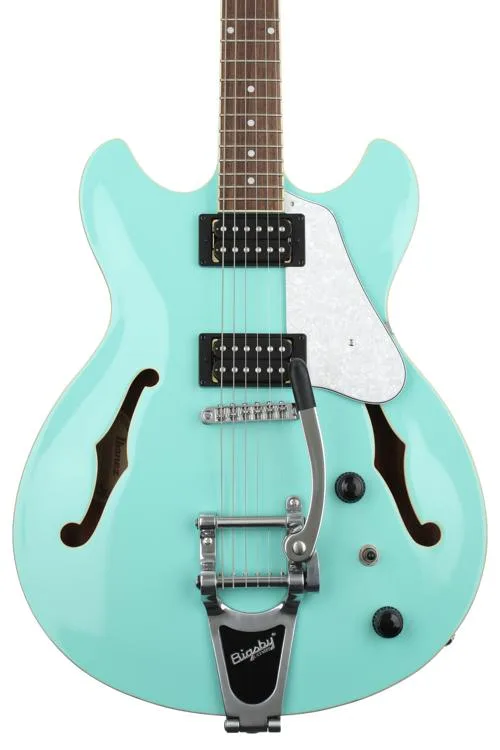 Review
This double-cutaway hollowbody electric guitar from Ibanez is a tremolo-equipped option for those who prefer a guitar with a whammy bar. This guitar is only slightly more expensive than the Artcore AF75, and its sapele body produces a warmer sound than the linden (or basswood) used on the AF75, and the AS63T also has a strong yet playable nato neck.
Two Ibanez Infinity R humbuckers deliver sweet tone that's especially good for jazz. This guitar comes in several bright and pastel finishes, making it great for players who want to stand out. If you like the Ibanez Artcore series but are looking for something with a top-notch tremolo, make sure you check this one out!
Epiphone Sheraton II Pro
How It Compares To Ibanez AF75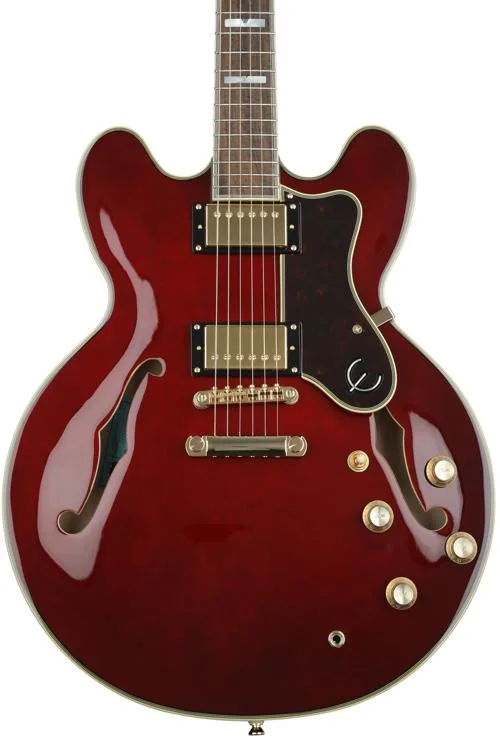 Review
Like Ibanez and Gretsch, Epiphone also has some respectable yet affordable hollowbody electric guitars to offer. The Sheraton II Pro is a bit more expensive than the other options listed, but it has the notable feature of coil-tapping, which makes it supremely tonally versatile.
This guitar has a laminated maple body, and its thinkin' design makes it especially easy to play. It's fitted with Epiphone's well-known ProBucker pickups, too. If you have a little more to spend and want a hollowbody with coil-tapping, make sure you give this one a look!
In Conclusion
The Ibanez Artcore AF75 has plenty of fat hollowbody tone, vintage good looks, and great value. We especially appreciate its clean tones, which are quite good for something in this price range. The Artcore series is remarkable as a whole, but the Artcore AF75 is ideal for those looking to get into playing hollowbodies. Click here to check it out!