Plenty of guitarists love the versatile tone of a good semi-hollowbody guitar. However, a good semi-hollowbody is often more expensive than a well-made solid body electric guitar. Thanks to the affordable yet stunning Artcore series from Ibanez, more players than ever can get their hands on a high-performing and beautiful instrument.
Things to Consider Before Buying a Semi-Hollowbody Guitar
Semi-hollowbody guitars are highly versatile instruments--unlike completely hollow electric guitars, they don't tend to experience feedback issues and
can be played clean or distorted
. But before you purchase one, it's a good idea to keep a few things in mind:
At A Glance: Our Top 5 Picks For Ibanez AM93 & Its Alternatives
Quick Comparison: Top Picks For Ibanez AM93 & Its Alternatives
IMAGE
PRODUCT

Our Top Pick

Tonewoods used (either quilted ash/quilted maple or macassar ebony, depending on exact model) are both aesthetically unique and tonally versatile
Compact design offers full tone along with great playing comfort
Alnico Super 58 pickups can play anything from smooth jazz to gritty blues

VIEW ON SWEETWATER →VIEW ON AMAZON →

Alternate Choice 1

All-sapele design isn't as high quality as the maple/ash or macassar ebony used on the AM93
Budget-priced pickups don't offer the same sound quality as the Alnico 58 pickups
This guitar's neck doesn't have the easy-playing Artcore Expressionist profile

VIEW ON SWEETWATER →VIEW ON AMAZON →

Alternate Choice 2

Included tremolo system expands your tonal and expressive options
Single-cutaway design may be more appealing to some guitarists
Broad'Tron pickups are especially good with over driven tones, but they deliver memorable cleans as well

VIEW ON SWEETWATER →VIEW ON AMAZON →

Alternate Choice 3

Vintage design is great for players who like the look of 1960s jazz guitars
Versatile P-90 single-coil is good for many genres, although it isn't ideal for use with distortion or large amounts of overdrive
Fully hollow body has enough unplugged volume to be played without an amp, too

VIEW ON AMAZON →
Our Picks for Review
Features and Benefits
Especially given its affordable price, this Ibanez Artcore Expressionist model has a surprising range of features. In this section, we'll take you through some of the highlights of the AM93.
Tonewoods
Interestingly, this Ibanez model comes in two different subtypes--the AM93QM and the AM93ME. The QM stands for quilted maple--AM93QM electric guitars are made with a quilted maple top and quilted ash body and sides. Ash is a tonewood that is very common in electric guitar builds. It's very versatile and has excellent harmonic content.
Maple is known for clarity, and the maple top on this guitar will help give your tone some bite. Of course, if you haven't seen quilted maple up close, e sure to take a look--this visually stunning top material is sure to make your instrument stand out. The video demo (below - left) shows off the maple/ash version of this Ibanez.
The ME stands for macassar ebony, a rare and beautiful type of ebony that has a striped appearance. This tonewood has a defined low end with less emphasis on the midrange, somewhat like rosewood. The video demo (above - right) lets you get a good look at the macassar ebony version of this Ibanez Artcore Expressionist model.
Body Shape
The Artcore Expressionist series from Ibanez often takes classic designs and revamps them in some way. With the AM93, you get a semi-hollow electric guitar that is easier to play and handle, especially for smaller players. The body is the classic double-cutaway design seen in famous guitars like the Gibson Dot, but it's a thinline build. The body itself is a little smaller than most double-cutaway, semi-hollow guitars.
Like many Artcore Expressionist models, this instrument also incorporates some vintage features. The neck is designed in the style of older guitars, so it's fairly thick and substantial. Ibanez calls this neck shape the "AM Expressionist." It isn't quite as clunky as the V-shaped necks found on some vintage guitars, but it likely won't be as fast-playing as a Strat or Tele neck.
The AM93 has a three-piece neck that's made from nyatoh and maple. This is an especially sturdy combination that is unlikely to cause warping or wear issues down the line. On both versions of this Artcore Expressionist model, the neck is capped with a beautiful bound ebony fingerboard.
While the thicker neck may not be right for every guitarist, we think the smaller, thinline body sets this instrument apart--it's essentially a portable, easy-playing jazz box. If you want to see the guitar's shape up close, the video below on the left shows it off.
Pickups and Sound Quality
The pickups on this Ibanez are part of what makes it such a great value. It comes with Super 58 pickups, with one at the neck and the other at the bridge. (You can hear these pickups demonstrated on another Ibanez, the Ibanez AS 93, in the demo in video above on the right.)
These pickups are especially useful because of their unparalleled versatility. You may think of them as jazz or blues pickups, but they still produce fat humbucker tone when played through an overdriven amp. Some players who purchase this Artcore model opt to swap out the pickups for something else, but the Super 58 design is one that's relatively well-respected.
Social Proof of the Guitar
While the Artcore series (and its Artcore Expressionist subseries) as a whole seems to be favorably reviewed, it's usually a good idea to check out what other players are saying about any guitar you're considering. We've gathered a few Ibanez AM93 reviews from around the web.
This buyer is reviewing the macassar ebony version of this Ibanez Artcore Expressionist guitar. Like most reviewers seem to be, this person was very impressed with the guitar's sound. While they do point out some shortcomings, this person seems satisfied with the guitar in general.
This useful review touches on some of the tones that this Artcore Expressionist model is capable of. Like many reviewers, this person found the AM93 to be highly versatile.
While this reviewer was impressed with the overall quality of this guitar, they ultimately decided that some issues with the frets meant it needed to be returned. A few other reviewers have noted mild issues with the neck and/or frets.
Alternatives to Ibanez AM93
While you can find a decent selection of hollowbody and semi-hollow guitars that are affordable, it's still wise to compare your options in order to find the best guitar for your situation. We've found three alternatives you may want to consider alongside the AM93.
Ibanez AS53TF
How it Compares to Ibanez AM93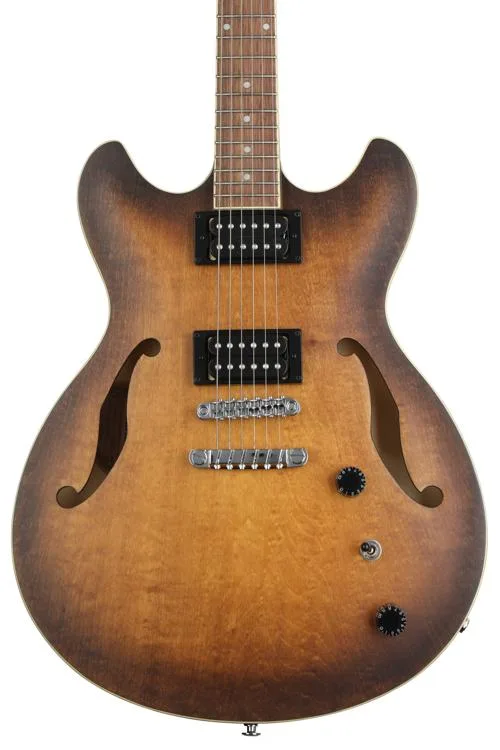 Review
If you like Ibanez semi-hollow guitars but are on a tight budget, this one is worth looking into. It's less expensive than the AM93, largely because the top and body are made of sapele, a less-expensive tonewood. The AS53 also comes with two humbuckers, although they are Ibanez Infinity R humbuckers. This guitar doesn't have quite the versatility or the full sound of the AM93, but it's still an excellent value for the price.
If you want decent hollowbody tone on a budget, make sure you check out this guitar!
Gretsch G2420T Streamliner
How It Compares To Ibanez AM93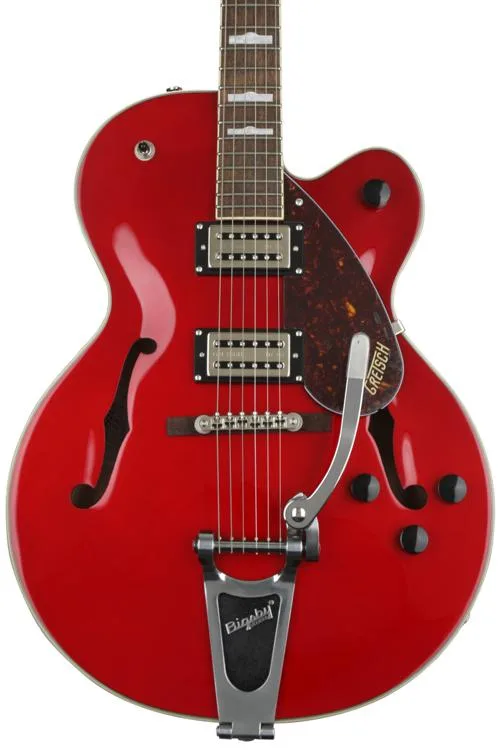 Review
If you've been eyeing the Ibanez Artcore Expressionist series, you may already be familiar with some of the other major manufacturers of the semi-hollow and hollowbody electric guitar. Gretsch offers hollow and semi-hollow guitar models for just about every price range, and the Streamliner is slightly less expensive than the AM93.
The Streamliner is made of maple, and Broad'Tron pickups give you bold, versatile sound. This guitar also comes with a Bigsby tremolo system, making it a great choice for those who want to add an expressive edge to their music. If you prefer the Gretsch sound to that of Artcore Expressionist models, make sure you check out this guitar!
Epiphone ETCNVSNH1
How It Compares To Ibanez AM93
Review
If you want a hollowbody guitar made in the style of old jazz boxes, this unique Epiphone guitar might be for you. This guitar is equipped with a single-coil P-90 pickup. This is a highly versatile pickup, but it isn't ideal for those who prefer to play with a lot of dirt. Like many hollowbody guitars, it has a maple top and body.
If you want a guitar that excels at jazz and blues but doesn't break the bank, make sure you check this one out!
In Conclusion
If you find yourself in need of a capable semi-hollow electric guitar, we think the Ibanez AM93 offers beautiful aesthetics, versatile tone, and great value for your money. Plus, you can choose whether you'd prefer the unique combination of quilted ash and quilted maple or the distinctive look of macassar ebony. Whether you play many different types of music or want an electric guitar to play a specific genre, this Ibanez Artcore Expressionist model is sure to inspire you to keep playing. Click here to check it out!