For guitarists in search of an incredibly versatile electric guitar, a semi-hollow model might just be the right choice. These unique guitars are essentially semi-acoustic--they can sometimes be played unplugged and sound a lot like an acoustic guitar, but they're also equipped with pickups that sound great played clean or with some dirt. You might think that a good semi-hollow guitar is going to be expensive, but the Ibanez AS73 is a prime example of an affordable yet great-sounding semi-hollow guitar. As a member of the company's Artcore Series, this guitar is ideal for sonic explorers on a budget.
Things to Consider Before Buying a Semi-Hollow Body Guitar
Semi-hollow electric guitars have a unique sonic character. They're commonly associated with country, rockabilly, and similar genres, but you can find semi-hollow guitars in almost any musical genre. Before you buy, it's a good idea to keep the following things in mind:
Our Picks for Review
Ibanez AS73
PRO's & CON's of Ibanez AS73
Before we go any further with our Ibanez AS73 review, let's look at some of this guitar's pros and cons: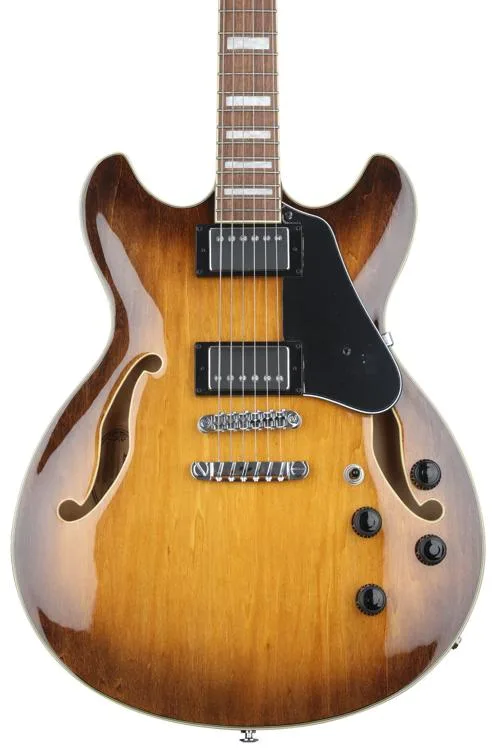 Features and Benefits
As a member of the Artcore series, this guitar is designed to be a useful tool for any musician, whether you're new to playing or have plenty of experience. In this section, we'll take you through some of this guitar's key features.
Pickups and Sound Quality
If you've done any research on the Ibanez AS73 on your own, you may have noticed that many buyers praise its sound. Almost every review we found noted that this guitar exceeded buyer expectations in terms of tone--it can handle sweet, clean tones just fine, but it can also be played through effects. This video demo lets you hear it for yourself.
This Artcore guitar comes equipped with two Ibanez Classic Elite humbuckers. Of course, the pickups you choose will depend on your personal tastes and playing style. Some players love this guitar's stock pickups, while others find that they don't do the guitar justice. However, it's worth mentioning that you get a volume and tone control for each individual pickup, along with three-way pickup switching. This feature gives you plenty of options when it comes to tone-shaping, which you don't often see on very affordable models.
Build Quality
If you read a few reviews of this guitar and then take a closer look at the specs, you might be surprised. This guitar has the look of something much more expensive, but the body is made of Linden. While you might think that this is an unfamiliar tonewood, Linden is simply another name for basswood. Basswood is inexpensive, soft, and lightweight, and it doesn't tend to have great sonic character, but it's often used on less-expensive guitars.
Similarly, the AS73 has a nato neck. Like basswood, nato is relatively cheap, but it's hard and durable, making it a good choice of neck wood when manufacturers need to keep costs lower. The fingerboard is walnut, and acrylic block inlays give this guitar a higher-end look. The neck profile is fairly slim and tapered, making it relatively easy to move up and down the fretboard as needed. If you're used to playing guitars with Strat or Tele-style neck profiles, this one might be a slight adjustment, but it's significantly thinner than most acoustic guitar necks.
While the build materials aren't top-notch, we still think the AS73 manages to achieve classic semi-hollow tone while remaining affordable. The above video shows one musician's setup of his AS73, and it lets you get a closer look at each component of the guitar.
Social Proof of the Guitar
Many players prefer to try out a guitar in person before buying. However, when this isn't an option, finding an online review selection to read is often the next best thing. While researching the Artcore AS73, the reviews we found were almost all positive. Here are a few we found to be especially helpful:
This reviewer's sentiment seems to echo the feelings of many people who have purchased this guitar. While the price point makes it more affordable than many semi-hollow guitars, the sound and appearance make it seem much more expensive than it is.
This Ibanez AS73 review addresses many of the strengths of the Ibanez AS73, but it also addresses one of this guitar's potential downsides--the pickups are house-made by Ibanez, and while some players like them, others may feel that better pickups may help the guitar reach its full potential.
This one is especially useful because the reviewer has experience with relatively high-end guitars and still sees this Artcore model as a good choice. When reading reviews of more affordable guitars, it's good to keep in mind that reviewers may or may not have experience playing instruments of different quality levels.
Alternatives to Ibanez AS73
Like other guitars in the Ibanez Artcore series, we think the AS73 is a great value and an exceptionally well-made guitar for the price. However, it's always good to consider similar electric guitar options before settling on one. In this section, we've included three guitars you may want to consider alongside this one.
Squier Affinity Starcaster
How it Compares to Ibanez AS73
Review
You likely already know that Squier is Fender's budget brand. Some guitarists think Squier models offer great bang for your buck, and others don't, but the Starcaster is another viable option if you're looking for an affordable semi-hollowbody electric guitar. This one has two Squier humbuckers and an offset double-cutaway body, so it's somewhat similar to the AS73. However, this guitar has a laminated maple body, which gives it a bit of a sonic edge over the Linden body of the AS73.
If you're looking for a slightly less expensive option, make sure you check out this vintage-inspired electric guitar from Squier!
Grote Jazz Guitar
How It Compares To Ibanez AS73
Review
Grote isn't a well-known guitar manufacturer, but this inexpensive fully-hollow guitar is reviewed favorably by many. It's made of solid maple and has a single P-90-style pickup, and many buyers say that it sounds like guitars that are priced much higher. Since it's fully hollow, this guitar may be more prone to feedback issues when plugged in, but it's a great find for jazz or blues players on a budget.
If you're in the market for a real bargain, make sure you check this one out!
Gretsch Streamliner
How It Compares To Ibanez AS73
Review
Many guitarists think of Gretsch when they picture a hollow or semi-hollow electric guitar, and for good reason--this company is known for quality yet affordable instruments. The Streamliner is a fairly affordable double-cutaway semi-hollow option. Though it is a bit more expensive than the Ibanez AS73, it has a laminated maple body and Broad'Tron humbuckers, both of which are usually considered to be higher quality than what you get with the AS73.
If you have a little more to spend and want something from a classic brand, make sure you give this guitar a look!
In Conclusion
Though some may be wary of the Ibanez Artcore AS73 because of its lower price tag, we think this guitar offers unbeatable quality for the price. It looks, plays, and sounds like something that costs hundreds more. If you want a great guitar but don't have a fortune to spend, we think this is a great option, especially if you play multiple genres or enjoy experimenting with tone. While some players think the pickups could be better, you can always upgrade them down the line. Click here to check out this great bargain!