If you want to learn to play the guitar using online lessons, you might think that every lesson site is the same. And while there are plenty of options when it comes to online lessons, each site is different, and some have more to offer you than others. Today, we'll be looking at JamPlay, which we think is one of the best options out there.
JamPlay offers courses taught by famous musicians and Berklee instructors alike. You can choose from over 450 established courses, stream artist masterclasses, take daily live courses and more.
Things to Consider Before Signing Up for Online Guitar Lessons
Whether you just got your first guitar or want to take your guitar playing to the next level, we think that online lessons are great for those who want to learn more. That said, we've mentioned just how many guitar lesson sites are out there. Before you sign up, it's a good idea to ask yourself a few things before you start:
What are your goals? If you are learning how to play guitar for the first time, just about every major online lesson site has a core program designed for the complete beginner. If you're an intermediate or advanced guitarist, you'll probably want to choose something that will keep you challenged. Some sites (like this one) include lessons aimed at developing specific guitar skills and techniques, as well as song tutorials. This can be a fun way to expand your repertoire.
How much do you want to learn? Some online courses are somewhat limited in what they offer. Others offer comprehensive courses in just about every genre imaginable. If you have a single genre that you really want to dive into, you may want to choose a genre-specific site. But if you really want to genre-bend or branch out significantly, a bigger site with more course options might be the right choice.
Would you prefer a free trial? Some sites offer a free trial, which lets you test-drive the lessons before committing. However, most sites (including JamPlay) that don't offer a trial do offer a one month money-back guarantee. Some sites also have a limited amount of free content for everyone — JamPlay's Weekend Warrior section has some quality free content, even if you aren't a member.
Do you do better with one guitar teacher or many? Many smaller sites have lessons taught by the same instructor. Sometimes, having the same guitar teacher while learning the guitar can make things easier. But if you prefer getting different insights from different instructors, you might prefer a site with many teachers. On these sites, you may find an instructor or two who are especially helpful — you can then focus on their courses in particular.
What about extra resources? As the online lesson market has exploded, lots of sites include bonus resources like chord libraries, online tuners, and focused toolkits. Some even include bonus learning games to help you retain information. If you see yourself wanting to use some additional learning tools, make sure to look for these while you're considering lesson sites.
Do you want individual feedback? We know that one of the main downsides of online learning is the fact that you don't have a teacher with you to point out any mistakes you make. However, some sites offer an opportunity or two to receive direct feedback. As you search, look to see if there are opportunities for one-on-one instruction. Just be aware that some sites charge extra for this type of instruction on top of your membership.
Jamplay – Guitar Learning Program
PRO's & CON's of Jamplay
But before we get into the specifics, let's take a look at some of the pros and cons:
Pros
The site has a huge variety of courses for players of every skill level
Given how much you get, we think it's a great value
You get opportunities for live instruction and feedback — a rarity in the online lesson world
There are many instructors to choose from, and many are famous musicians and expert educators
Cons
Annual memberships can be somewhat expensive
Since there are so many courses available (and even many beginner courses), it can be hard for new members to know where to start learning.
In some cases, online guitar lessons offer just one straightforward program of study. JamPlay is a complex platform that offers several different features. Let's take a closer look at each one.
Learning Paths
When you first log on to JamPlay, it's easy to get overwhelmed. There's a lot to choose from, but one of the best ways to start is to select a course and go. When you sign up, you can create your own learning path using the skills and/or genres you want to develop. And don't worry — if you're just learning to play guitar, you can choose from the many courses of beginner lessons they offer.
JamPlay offers more than 450 courses in 20 genres. It's too much to list everyone here, but here are some of the interesting courses offered:
Rocking on Acoustic Guitar
Rock Guitar for Beginners
Modern Telecaster Shred
Tapping Into Creative Fingerstyle
Mastering Bluegrass Flatpicking
Modern R&B Grooves
One of the things that make JamPlay easy to navigate is the fact that lessons are divided by ability. You have Phase 1 lessons, which are those designed for beginning players. And it really does work for even the newest players — there's even a lesson on holding the guitar properly.
Phase 2 and 3 are for intermediate and advanced guitar players. Specifically, Phase 2 lessons are for players with a little more experience, and Phase 3 lessons are for advanced players looking for a challenge. You can also take master classes taught by accomplished artists. This is a great option if there's a particular guitarist you want to emulate.
One of the nice things about this site is that it's something you can use throughout your life — there's something for every guitarist, from the brand-new player to the accomplished musician. If you want to know more about the growing library of over 450 courses and 6,500 lessons, check out this video review.
Teachers
JamPlay features over 100 guitar instructors. The site divides instructors into those primarily teaching electric guitar and those teaching acoustic guitar. Perhaps surprisingly, many instructors are famous artists, and many of them offer an inside look into the creation of their hit songs.
We won't list every single instructor, but here are a handful listed on the site:
Lita Ford (of The Runaways)
Kaki King
Tyler Grant
Tosin Abasi
Bumblefoot (of Guns 'n Roses)
Phil Keaggy
Steve Stevens (of Billy Idol)
Robb Flynn (of Machine Head)
Shane Gibson (of Korn)
It's an interesting mix of instructors across genres, and we think that JamPlay's mix of instructors is one of its strengths. While you can easily search the site for genre-based courses, you can also take courses focusing on a specific playing style or technique that you want to master.
If you find an instructor who you especially like, you can view all courses and lessons taught by that instructor. The right instructor makes all the difference when you're learning, so we think it's worth it to find someone whose video lessons really help you understand guitar concepts.
As a side note, JamPlay is also constantly adding to its list of guitar instructors. This is one of the many things we like about the site — there's constantly new content available.
If you want to see what a typical lesson entails, check out this video of a screencast lesson.
Live Courses
Just about any article on course review will mention that JamPlay is one of the giants of guitar lessons in online mode. However, despite its large size, this site still manages to give each member individualized attention. You have two options when it comes to live instruction.
Each day, there is a live class that lets you interact with an instructor and ask questions. And if you miss one, no worries — the lessons are all archived so you can watch them later. If you want to check one out, here's a recording of a live video from JamPlay's Guitar 101 course.
This is great if you have a quick question or want to clarify something. The teaching instructor responds quickly, and one of the other students may also have the same questions you do.
The other live instruction option is the daily open Q&A. For over eight hours per day, you have webcam-to webcam access to an instructor. You can ask questions and get live feedback on your playing. And if you want to practice performing, the site also has regular open mic nights.
We think that, for an online learning platform, this one does a lot to foster community and help keep people learning guitar connected with each other.
Progress Reports
One of the harder things to do with taking lessons online is to maintain accountability. Without an in-person instructor, it can be difficult to make sure you're making the progress you want to.
However, JamPlay includes progress reports, which is where an instructor can critique your playing and award your progress badges. You can follow your progress and set new goals on your membership dashboard (check out this video for an inside view of the membership dashboard).
If you're a JamPlay Pro member or have an annual membership, you also can request a one-on-one consultation with an instructor. We think this is a great option, especially if you value being able to check in with an experienced teacher from time to time.
We also want to point out that while other sites allow you to request one-on-one lessons, many charge an additional fee. Depending on demand and the instructor's level of qualification, these can sometimes be very expensive. We like that, at least for annual and Pro members, the one-on-one lessons are included in your membership.
Video Quality
Most online music lessons rely on video lessons. But as you may have found, there are great-quality video lessons and there are lessons whose quality isn't so great.
Luckily, we've found that JamPlay lessons are some of the best quality in the business. They are available in quality up to 4K on supporting devices, and multi-angle filming helps you easily see fingering. The site also offers a variety of tools you can use with each lesson:
Slow-motion — this lets you slow down any video, which can be extremely helpful when you're trying to master a tricky solo.
Bookmarking — You can add virtual bookmarks with your own notes to any lesson, which makes it easier to revisit tougher topics.
Looping — You can set up a lesson or a portion of a lesson to play on a loop, making it easier to play along.
Interactive tabs — Each lesson includes an interactive tab to help you efficiently and effectively learn the material. These tabs also feature virtual instruments.
If you want to check out a lesson sample, take a look at this clip from Hawkeye Herman's popular course.
Extra Resources
Many of the best online guitar lessons have bonus resources available to members. New for 2020, JamPlay has added a whole collection of guitarist toolkits, which you get for free with an annual membership. These toolkits can serve as practice guides, as mini-courses for learning new skills, or as guidance as you get into recording. Here are the toolkits you can choose from:
The 2020 Practice Plan
Gear, Tone & Studio
Modes, Melody & Theory
Blues & Rock
Acoustic Learning
Electric Learning
Country & Bluegrass
Fingerstyle & Americana
These toolkits are made up of a few different things. Some include lessons, jam tracks, and song tutorials, among other things. Most of them are made up of exclusive content, so they really do offer you something in addition to what you already get in your membership.
The site also has a number of resources for members (and some even for non-members). Here's what else you can find on JamPlay:
Weekend Warrior — This is a collection of courses and commentary that are 100% free, even if you aren't a member. However, if you try out this material and then decide to join, you can get a discount.
Chord library — This useful resource helps you find many different voicings for almost any chord out there.
Chord Finder — If you play something that sounds good and isn't sure what it is, the Chord Finder can help you out. With this tool, you just enter the notes you're playing on the on-screen fretboard and discover the name of the chord.
Online guitar tuner — This tool uses your device's microphone to act as a guitar tuner. It's a great resource, especially if you don't have a guitar tuner or if you misplace it.
Metronome — Playing in time can be tough at first, but this online metronome will help you do it.
Articles and Guides — You can access over 100 articles, many of which are written by JamPlay instructors.
The site also includes libraries and additional learning tools, both of which can be useful to consult in between lessons:
Chord library
Scale library
Jam Track library
Lick & riff library
Training games
Of course, some of these resources sound awfully similar to other sites. If you want to see what makes JamPlay different, check out this video comparison done by a user who has used both JamPlay and Guitar Tricks. You can also read our article on head to head comparison between Jam Play and Guitar Tricks here. and with Truefire here.
Membership Levels And Pricing
Like many sites, JamPlay offers many different levels of membership. Here's what you have to choose from:
Free
This isn't really a "free membership," but as we mentioned above, even non-members can access JamPlay's Weekend Warrior section. If you want to get a sense of what the site is about without committing, this is a great place to start.
Monthly
If you're like many people, you might be more comfortable paying each month as opposed to paying once for a year-ling membership. With the monthly membership, you pay $19.95 per month. You get most features, but you don't get access to guitarist toolkits or one-on-one instruction.
Annual
The annual membership is about $225 per year, although the site periodically runs promos that offer you significant savings. With an annual membership, you get just about all site features, and you also get to access all Guitarist Toolkits for both 2020 and 2021. You get one-on-one consultation once, and you also get 25 ownership credits.
Ownership credits are credits that allow you to download lessons. When you download with these credits, you own the lesson for life, even if you discontinue your JamPlay membership.
Annual Pro
If you want to access all that JamPlay has to offer, you may want to try out the annual pro membership. For $299 (outside of promotions), you get full site access with some useful extras. With this membership, you get two one-on-one consultations per year. You also get all 2020 and 2021 toolkits and 50 ownership credits. As a bonus, you also get a free JamPlay shirt.
If you aren't sure whether or not membership is worth it, check out this video review, which covers some reasons to purchase (and some reasons to not purchase) a membership.
We really like that JamPlay offers an unconditional money-back guarantee. Whatever your membership level, if you aren't satisfied, you can request and receive a 100% percent refund within 30 days. According to JamPlay, they only get refund requests on 0.12% of purchases, so it looks like most people are pretty happy with the purchase.
Social Proof
Since JamPlay doesn't offer a free trial, you probably want to know what other players think before you commit. We've taken the time to scour the internet for reviews. Here are a few that might help you make a decision:

This snapshot comes from Lisam F.'s review at Music Grotto. Like us, he thinks that this site is an excellent tool for guitarists of any level.

This snapshot comes from The Guitar Lesson. This reviewer, a professional guitar teacher, points out one of the key benefits of the site: you get at least some individual instruction for a fraction of the cost of seeking a professional tutor.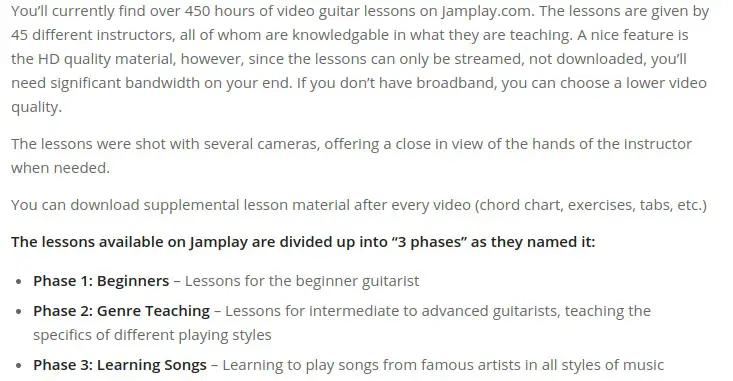 This last review snapshot comes from Learn Music Easy. They do a great job of clarifying why the site works well for players of any ability — you can choose Phase 1 beginner lessons, Phase 2 intermediate lessons, or Phase 3 advanced lessons. (The site also has a beginner course designed specifically for kids who are learning guitar for the first time.)
Conclusion
We know our review of JamPlay is longer than many, but there's a lot to learn about this site before you decide to join. After carefully considering its merits and potential drawbacks, we can see why this is one of the giants of online instruction — and we can also see why it has such a low refund request rate.
In short, we think this is a great option for just about anyone. You get courses for everyone from the new guitarist to experienced players who want to branch out. And with a star-studded cast of teachers and individualized instruction, we think it offers better value than just about any course. Check it out today!