If you're a rock or metal player (or want to be one) and you're looking for maximal value in a guitar, Mitchell has plenty of offerings that just might suit you. Today, we'll be taking a look at the Mitchell MD400, an extraordinarily ergonomic and affordable guitar that also sounds great.
Things to Consider Before Buying a Guitar for Rock or Metal
As you likely know, certain body styles, tonewoods, and pickups tend to be suited to one genre (or group of genres). Here's what to think about before choosing a guitar for hard rock or metal:
Our Picks for Review
Features and Benefits
Body and Neck Design
The double cutaway body is a staple in almost any musical genre. However, with this guitar, Mitchell has beveled each cutaway. This means that you get deeper fret access than you would on an instrument with a dual cutaway design. It looks cool, too.
As for the tonewoods used, the body is made entirely of solid mahogany, as is the neck. When used for rock and metal electric guitars, mahogany is sometimes described as being "punchy," and it has excellent sustain. The string-through body design also enhances sustain, and it makes changing strings a lot easier. If you're interested in learning more about it, this video offers a detailed comparison of string-through vs. top-loaded guitars.
You might be surprised to see mahogany used as the neck wood on such an affordable guitar--many brands default to nato or other cheap woods on their more budget-friendly models. It's also notable that this guitar uses a set-in neck design, which can dramatically increase sustain. Most less-expensive electrics have bolt-on necks (although you can find plenty of high-end guitars with bolt-on necks, too).
The neck is a shallow-C design, which makes for fast, effortless playing. It's capped with a beautiful Indian rosewood fingerboard, and Tusq nut helps preserve tuning stability and, once again, increase sustain. All in all, it's a pretty impressive build given the price.
Pickup Configuration
Many rock and metal guitars come in dual-humbucker pickup configurations. This guitar is a bit different--the neck pickup is a mini Alnico V humbucker, and the bridge pickup is a standard Alnico V. These pickups help reduce excess noise and microphonics, and three-way pickup selection gives you plenty of tonal versatility. Each pickup has its own volume knob, which lets you blend outputs to sculpt your sound. You can access coil tap by pulling the master tone knob.
The three control options (master tone, neck pickup volume, and bridge pickup volume) give you plenty of tonal control without being overwhelming, which is ideal for newer guitarists working toward finding their own sound.
If you're new to pickups, it may be helpful to know that the Alnico V name refers to the type of magnet used within each pickup. This helpful video offers a comparison between a few magnet types.
Sound Quality
The Mitchell MD400 is a very reasonably-priced guitar, but its tone would suggest otherwise. It's capable of screaming metal tone, and we think it sounds equally good on leads as it does when playing power chords. But don't take our word for it-- this video demo lets you hear it for yourself.
Finish Options and Aesthetics
If you've already been reading about the MD400, you may have seen that certain finish options have a different top wood. Depending on the specific finish you choose, you may end up with an all-mahogany model or a model with maple veneer. While the maple veneer is largely decorative, it may add a bit of bite to your sound. Here are the finish options we were able to find:
On the whole, the fit and finish on these guitars makes them standouts, especially at their price point. Patterned black/cream binding gives them a higher-end look, and distinctive black nickel hardware sets them apart. Black nickel has a slightly darker look to it than traditional nickel hardware, and it seems especially well-suited to rock/metal guitars.
Social Proof of the Guitar
While most buyers of electric guitars want to try playing them before they buy, this isn't always possible. We've found some online reviews of the MD400 to help you make your decision.
While this review does point out some quality control issues, this buyer was very pleased with the versatility of this guitar (and especially impressed with the coil tap feature, which isn't often found at this price point).
This detailed review outlines some of the pros and cons of these guitars. While this buyer's second MD400 worked fine, their first purchase had several quality control issues. Like some other reviewers, this person has noted that tighter quality control by Mitchell would help prevent flawed guitars from being released.
This brief but helpful review points out some of this guitar's surprising features (like the Indian rosewood fretboard) and points out that it's an excellent value for the price.
Alternatives to Mitchell MD400
While we think the MD400 is a great value, it's still generally wise to check out similar guitars before you commit to one. We've found three alternatives that you may also want to consider:
Mitchell MS400
How it Compares to Mitchell MD400
Review
This similarly-named Mitchell guitar is a single-cutaway design that's reminiscent of a Les Paul. This build features a carved mahogany body that has Alnico V pickups like the MS400. These pickups are also coil-tap equipped, so you can split either (or both) into single-coil pickups. Each pickup has its own volume control, which lets you dial in just the right sound. 
If you like Mitchell guitars and want one that looks like a Les Paul, make sure you give this one a look!
Dean ZX
How It Compares To Mitchell MD400
Review
The Dean ZX, which is Dean's answer to the Gibson Explorer, was released in the late 1970s, and it continues to be an affordable rock/metal instrument. It has a string-through basswood body and is equipped with two Dean humbuckers with three-way switching (no coil-tap). While this guitar is decently affordable (it's a little less expensive than the MD400), it has some surprisingly high-quality appointments, including Grover tuners and a Tune-O-Matic bridge.
If you love Explorers and want a similar looking (but affordably priced) guitar, make sure you check this one out!
Ibanez GRG
How It Compares To Mitchell MD400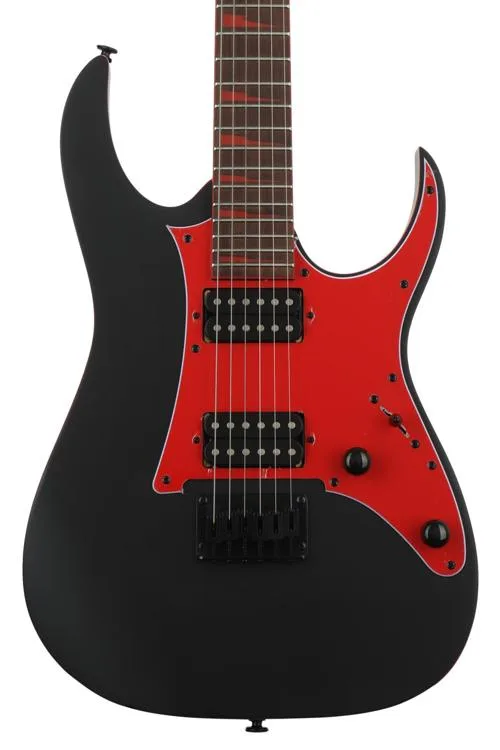 Review
This guitar is a member of the Ibanez GIO Series, which is a line of affordable yet high-performing guitars meant for newer players or those on a budget. It's made of poplar, which is a softer tonewood that's commonly found in budget-priced metal guitars. The GRG comes with Ibanez Infinity R humbuckers.
While there's no coil tap available, three-way pickup switching gives you plenty of tonal options. The GRG is a bit less expensive than the Mitchell MD400, making it a great option if you're on a budget. It's also an especially eye-catching guitar, and the Ibanez signature shark-tooth fretboard inlays make it stand out from the crowd.
If you want a great metal guitar on a budget, make sure you check this one out!
In Conclusion
When you're on a budget, it can be a challenge to find a capable hard rock or metal guitar that still manages to be affordable. We think this ergonomically-build guitar from Mitchell is one of the best affordable options. With its unusual yet effective pickup configuration and classic double cutaway build, we think this is one of the best guitars for the money out there. Click here to check it out!