If you've ever thought about learning piano, now is an easier time than ever to do it. With online piano lessons, you can learn a valuable new skill without ever having to leave your home. And today, we'll be learning about Skoove, a site that offers great online piano lessons for beginners and intermediate players alike.
Things to Consider Before Signing Up for Online Piano Lessons
Before signing up for an online piano learning program, it's a good idea to make sure it's right for you. Here's a list of questions to ask yourself before you make a selection:
Do you want instant feedback? Many online piano programs have an option to connect a USB or MIDI keyboard and receive instant feedback on your playing. A few also offer feedback by using your device microphone to listen as you play an acoustic piano. However, this feature isn't foolproof, and it does sometimes have a lag.
What about sheet music? Different piano lessons have different focuses on reading music. Some emphasize teaching you to read music, and some don't. Some also have sheet music PDF downloads, which can be a great help if you want to practice on your own.
Do you need courses? Just about every course designed to teach you to play the piano starts out with a course or two for beginners. After that, though, it differs from program to program. Some of them have intermediate courses, and others have a la carte lessons and song tutorials once you've completed the initial course.
What about extra features? Some sites have different features that are designed to optimize the learning experience. One of these features is the ability to slow down the tempo, which can help you get the hang of a piece before playing it at the right tempo. Another is the ability to practice the right hand part and the left hand part of a song separately. These might not be must-haves, but they can make the learning experience a little smoother.
What about instructor attention? Some sites for people who want to learn piano, especially smaller sites, have one instructor. That instructor sometimes can offer one-on-one consultations or individual feedback. Some sites, like this one, have a staff of piano instructors who can answer questions as needed. In some cases, no feedback is available.
PRO's & CON's Of Piano Online Skoove
But is Skoove right for you? In our review, we'll take you through some of the site's key features to help you decide whether it's right for you. But first, let's look at some pros and cons:
Pros
Smart listening through your device's microphone means you can get instant feedback even when you play an acoustic piano. You can also connect an electric keyboard.
Lessons have both an on-screen keyboard that shows you what note to play and sheet music that helps you learn how to read music.
With over 400 lessons and over 19 courses, there's plenty of material to learn.
Actual piano instructors are on hand to answer any questions you have, and this doesn't cost extra.
Cons
There isn't an option for printing out sheet music, and you can't really see more than a line at a time.
You can't change the tempo or use a metronome, which can be tough in the early stages or when practicing an especially challenging piece.
Now, let's take a look at some of the key features of Skoove. We think it's a pretty impressive site on the whole, but we'll let you be the ultimate judge of that.
Curriculum
When you first visit the Skoove piano site, you'll learn how many lessons they have available — there are over 400, and they regularly expand the selection. This is something you see with a lot of online courses, but not all of them regularly update their libraries.
Here are some of the piano courses you can take on Skoove:
Piano Beginner 1 — This course is for those who are brand new to playing piano. If you already have some experience, you may want to skip over this one and move on to Beginner 2. In Beginner 1, you'll learn posture, rhythms, and the basics of music theory and reading musical notation. You'll even get introduced to some improvisation, which can be a lot of fun.
Piano Beginner 2 — This course expands on what you learned in Beginner 1. You'll learn some new hand positions and out them to use. Most importantly, you'll begin to practice playing with your right hand and your left hand at the same time. This can be intimidating at first, but Skoove introduces it slowly and gives you plenty of time to practice.
Piano Beginner 3 — This course will begin teaching you about intervals, and you'll learn four songs. You'll learn the songs a line or two at a time, but by the end of this course, you'll have four new songs to add to your piano repertoire.
Beginner Theory: Sightreading — We think a solid foundation in music theory is important, especially if you want to build a very solid foundation as a pianist. Skoove lists this course as optional, but we don't think you should skip it. Sightreading is a valuable skill, and once you've mastered it, you'll be able to play your favorite piano pieces from sheet music.
Piano Songs Beginner — This isn't really a course, but it's a collection of songs you can learn to play. We like that the Skoove song library is divided by ability, which makes it easier to find songs that are just challenging enough. The beginner library has 89 songs, which we think is pretty impressive.
Piano Intermediate 1 — Once you move on to the intermediate courses, you'll start to connect things that you've learned in the beginner courses. Intermediate 1 will introduce you to key signatures and start you out playing chords. You'll also learn more about accidentals and how they connect to key signatures.
Piano Intermediate 2 — In this section, you'll learn more about key signatures. You'll discover time signatures and playing dynamics, and you'll also learn some new chords. In this course, you'll also learn about chord inversions, which can really add life to your playing.
Piano Intermediate 3 — This course will seriously add to your skills. You'll learn some natural scales, which can dramatically improve your dexterity. You'll also learn to harmonize a melody. You'll discover diminished chords, and you'll also learn how to transpose music.
Piano Songs Intermediate — Once you've completed the intermediate course, you'll be ready to practice some more challenging song. This song library has 73 songs, and they also come with chord tabs.
Classic Piano — This is one of Skoove's genre-specific courses. It'll take you through some famous classical songs. However, this course stands out from most classical courses — there's a section that encourages you to play with dynamic expression. This is a great tool to let you make any piece you play your own.
Pop Piano — Lots of people want to find a way to learn piano that lets them play their favorite songs, and this course lets you play some pop hits. However, it also teaches you some new skills. You'll play some power chords and harmonizing chords. You'll also have an opportunity to improvise a solo, which can be a lot of fun (and great practice if you want to really get good at improvisation or write your own songs).
Blues and Boogie Woogie Piano — This is a course that's good for both beginners and intermediate players. You'll get to play riffs written by Fats Waller, Fats Domino, and other blues and boogie woogie legends. You'll also learn blues scales and chord progressions, and you'll get to practice playing at quick tempos, too.
Piano Songs Advanced — This is a smaller library of just 19 songs, many of which are famous hits. However, these songs are likely too easy for truly advanced players, but they're more advanced than the intermediate library.
Chords and Scales — This is likely a course that you'll want to take fairly early on, as knowing chords and scales is vital to being able to play the piano well. Most of these are taught as a part of songs. This can make it fun and interesting, but practicing scales on their own also has its merits — it can improve your finger dexterity and playing speed, which becomes more essential as you advance as a player.
Keyboard for Producers — We really like this course, and many sites designed to improve your piano learning don't include anything for producers. This course gets into some more advanced music theory, and you'll also get to practice some hits.
We think this is a pretty impressive list of courses. If you want to hear one student's impression of the site, check out this online review.
What's in a Lesson?
We've just covered many of the courses offered by Skoove, but you probably want to know what a typical lesson looks like before you go ahead and sign up.
We've been pretty impressed by the way lessons are laid out on the screen. You get a scroll of sheet music at the top, and on the bottom, you can watch a pianist play the song. The right keys light up when you're supposed to play them. (If you want to see what a typical lesson looks like, check out this lesson (Video below left) on how to play Taylor Swift's "Love Story" on the Skoove YouTube channel.)
Skoove also lets you connect a USB or MIDI keyboard, and the site will give you feedback as you play. This is a fairly common feature, but Skoove also can listen to you play an acoustic piano via your device microphone and offer feedback that way. This is a less common feature, and so far we have only found one site, Flowkey, that has this same feature.
Many lessons also have a feature that gives you a full-band backing track. This can make practice sessions a lot of fun, and it has the added benefit of preparing you in case you do want to perform with a full band or other musicians in the future.
However, we do wish that Skoove had a few other features. Namely, we think it would be nice if you could slow down the tempo as you practice a song. We also wish that more lessons let you practice just the right hand or the left hand — some of them do this, but they don't all have that option.
We also think that the inclusion of a metronome would be helpful, especially for players who want to practice playing in time. And lastly, while Skoove will give you a line of sheet music at a time while scrolling, there's no option to download and print full sheet music for each song.
Despite these drawbacks, we still think that Skoove's lessons are well put together and worth trying. If you want to hear an impression of Skoove from a piano teacher, check out this video review (above right).
Memberships and Pricing
If you want to play your way to piano proficiency, we think Skoove is a great site. It also has several different pricing options, which is always nice.
The first membership option here is the free one. This is a great way to start playing the piano, especially if you want to make sure it's something you enjoy. This membership lets you access 25 lessons, which is likely enough to help you decide whether or not this site is for you. You don't get support from the piano teacher staff at Skoove, and you also don't get access to special courses. The free membership has no time limit, though, which is nice.
If you decide you are serious about playing the piano and want access to all of the courses, you'll want a premium membership. This gives you access to all 400+ lessons. Songs and lessons are updated monthly, and you'll be able to access these new additions. You also get one-on-one support from instructors, which is a nice touch. Sometimes, special courses are added, and you can access these two.
There are a few different payment options for this membership. If you want to pay each month, a monthly membership is $19.99 per month. If you want to commit to three months, you can pay $13.99 per month upfront, which comes to $41.97. And if you're really committed, a 12-month subscription costs $9.99 per month upfront, which comes to $119.88.
These options all come with a money back guarantee. The guarantee is 14 days, which is shorter than some we've found. However, if you aren't satisfied for any reason, you can simply send an email and receive a full refund.
If you're ready to play your way through a piano site, you might be wondering how this site compares to other piano sites. If you'd like, you can check out this comparison of Skoove and four other piano sites.
Social Proof of the Course
No online piano course is the right choice for everyone. Before you decide whether Skoove or any other site is right for you, it's a good idea to check out some reviews. We went ahead and scoured the internet for some reviews of Skoove to help you decide whether or not this is the site for you.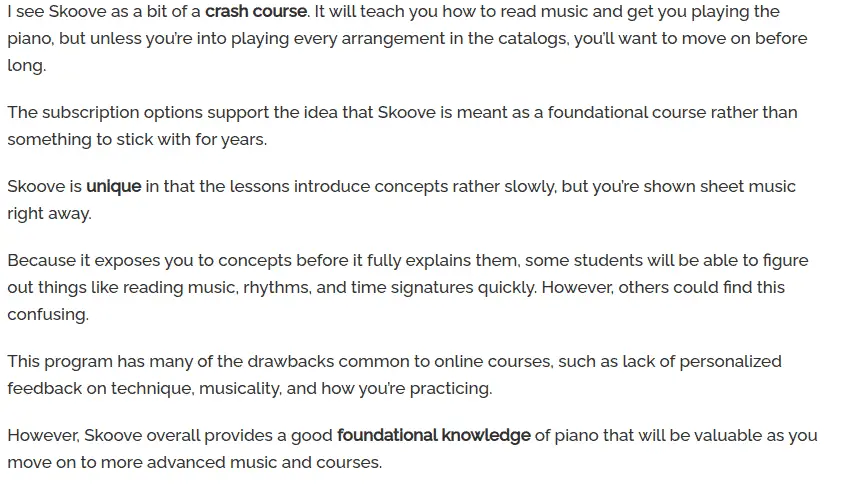 This Piano Online Skoove review snapshot comes from Piano Dreamers. We think it succinctly covers some of the benefits and drawbacks of the site — its organizational style can be a little confusing for some users, but it nonetheless will give most people who want to learn the piano a solid foundation.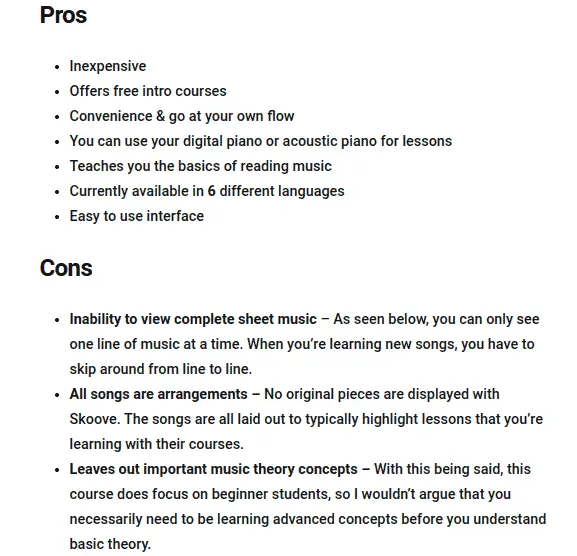 This review snapshot is from Keyboard Kraze. We think it covers some of the benefits of this site, and it also outlines some of the important drawbacks.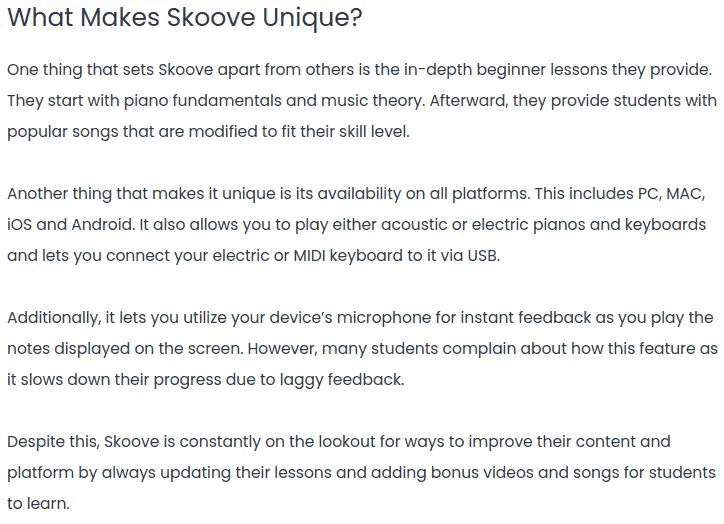 This last one comes from SoundFro, and it outlines what sets Skoove apart from other piano sites — namely, its ability to give you instant feedback on your playing even when you're playing an acoustic piano.
After carefully looking at Skoove, we think this is a great way to learn to play the piano. We especially love the instant feedback you get when playing a connected keyboard or an acoustic piano. We also like how lessons get you to apply everything you learn immediately. However, since there isn't a lot of focus on developing finger dexterity via scales, it might be good to use Skoove in conjunction with a scale book. If you're ready to learn piano and have fun doing it, check out Skoove today!