If you want to learn how to play piano online, the good news is that there's no shortage of options out there. That said, with the sheer number of online piano courses available, it can be tough to know which one to choose. That's where Playground Sessions comes in.
It was co-created by Quincy Jones, legendary artist and producer, and lessons are taught by Grammy and Emmy winner Harry Connick Jr. This innovative piano learning software platform breaks down and applies music theory to classic and popular songs alike, and you can balance out your practice with learning games and lots of free resources. 
Things to Consider Before Signing Up for an Online Piano Programs
If you're ready to learn the piano, one of the most important decisions you can make for your learning is to choose the right course for you. Some players might simply prefer to use free video tutorials on YouTube. This might work for learning to play popular songs or for some particular skills, but these video tutorials don't offer a cohesive learning process. To learn effectively, it's a good idea to select a platform of lessons.
But as we mentioned, there are plenty of platforms out there, and it can be difficult to know which one to choose. Before you commit, here are some things to ask yourself:
Do you have a genre focus?
Many new players want to start out with a general approach, and there's nothing wrong with that. However, if you have a specific genre you want to specialize in, it might be a good idea to seek out a genre-specific course. You can find plenty of sites geared toward jazz, classical, blues, and other genres.
What are your goals?
If you want to play on a serious level, you might want to seek out a course with a thorough grounding in piano and music theory. However, if you want to play more casually or just want to play your favorite songs more quickly, plenty of online learning programs can help you do this.
What about gamified learning?
Plenty of sites now help you in the learning process with the help of gamified learning. This is just what it sounds like — using elements of games to help you retain information. Some sites (like Playground Sessions) even light up on-screen keys in green or red depending on whether or not you play a note correctly.
What's your budget?
Thanks to the proliferation of sites that help you learn to play, you can find quality instruction for a great price. Some sites do charge more than others, but you can almost always find a decent learning program for a fair price.
What do you need in a piano teacher?
Some sites like this one hire famous musicians to teach video lessons, and there are plenty of students who like the idea of learning from a famous instructor. Some sites also have a wide range of instructors. This can be beneficial, as it lets students choose a piano teacher who they find especially helpful.
What about one-on-one instruction with the piano teacher?
In some cases, a program will offer you the option of a consultation with a piano teacher. Some sites will include this in your membership price, some will let you purchase consultations for a fee, and some don't offer this feature at all.
PRO's & CON's Of Playground Sessions
Is this the site for you? Does the Playground Sessions method really work? Will it make you a piano maestro? Hopefully, our Playground Sessions review will help you find out answers to all these questions. But first, let's get into some pros and cons.
Pros
Founded and taught by world-class musicians like Quincy Jones and Harry Connick Jr.
Good balance of musical concepts, music theory, and practice sessions in learning piano — you'll play songs from day one.
Gamification: Probably taking a cue from Guitar Hero, Playground Sessions measures your piano playing accuracy and awards you the scores correspondingly. 
Tracking your progress: You can track your piano playing progress and monitor many parameters like total time spent practicing, lessons completed from each tour, your current level, and points & stars earned.
Backing Tracks – All the songs and even the lessons are accompanied by a backing track of popular musical instruments like guitar, drum, strings, etc to give you the exact feel of playing in the band.
Most lessons include video tutorial, which helps you get a feel for playing piano the right way.
Extensive Song Library allows you to select popular songs from different genres – classical music, Pop, Rock, Christian / Gospel, Country, Latin, etc. 
Cons
Some piano players find the arrangements used in most piano lessons to be overly simplified and somewhat lacking on the theoretical front. 
If you want to learn extra songs, you need to pay more, on top of the monthly fee.
Interactive lessons will not work with acoustic pianos.
Some users feel that the interactive tracking features dwell only on accuracy alone and ignore the musical side.
Benefits & Features – Playground Sessions
Now, in our Playground sessions review, we'll start getting into the specifics of how the Playground Sessions work. These online piano lessons clearly have a lot of thought behind them, and we think they can help just about anyone who learns to play. These lessons also seem to focus on incorporating fun, which can help you stay motivated even through difficult topics.
Meet the Teachers
Part of the appeal of these video lessons is their connection to several music industry stars. Playground Sessions was co-founded by Quincy Jones, a legendary producer who has worked successfully in nearly all musical genres. Quincy Jones is also the most Grammy-nominated artist in history (Jay-Z recently tied his record).
That said, Jones doesn't teach any of the lessons, and his role appears to be somewhat hands-off. Lessons are taught primarily by Harry Connick Jr. and David Sides. Harry Connick Jr. is a Jazz musician and an actor who has won Grammys, Emmys, and Tonys for his performances, and he's a remarkably charismatic instructor.
Lots of students at Playground Sessions have mentioned that his lessons are laid back and helpful, and most seem to appreciate the fact that they're peppered with funny personal anecdotes.
David Sides is a pianist who has worked with Mariah Carey and other celebrity recording artists, and he's also a YouTube sensation who has amassed over 190 million views. While Connick and Sides are the most prominent instructors on the platform, Playground Sessions has a cast of other accomplished musicians to help you learn how to play, too.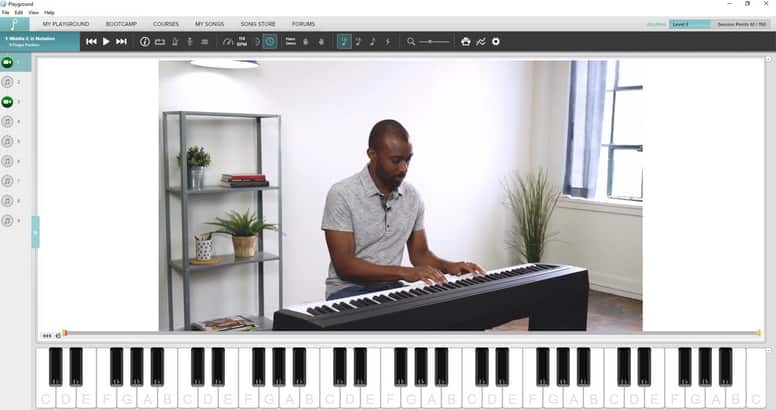 While Harry Connick Jr. is the face of the program in many respects, we like that there are lots of teachers. Often, different teachers can frame things in different ways, and you may find some teachers on the platform to be especially helpful to you.
If you want to know a little more about Playground Sessions and its instructors, check out this introductory video featuring Harry Connick Jr.
Video Lessons Structure
We think one of the most important things to consider when evaluating any site offering video lessons is the overall structure of the program. It's of course important to evaluate the quality of individual lessons (more on that in a minute), but a well-designed program will have a clear path to learning.
These piano lessons in Playground Sessions are divided into three sections: Bootcamp, Courses, and Song Store. The courses section contains the supplementary lessons that get unlocked during your journey with the curriculum.
The sections are largely progressive, but we like that you can also access different levels of songs in the song library at any point during your learning.
The main concepts are introduced through the video lessons, followed by a number of interactive lessons. These interactive lessons take a deeper look at these concepts and provide you with enough opportunities to practice them at your own pace. However, more interactive lessons than actual piano video tutorials might be difficult for some students.
You can also get the printable sheet music if you intend to carry out the piano practice for a few songs without using the Playground Sessions interface by only reading music.
Bootcamp Lessons
The Bootcamp section is where you'll start to build your knowledge of music theory, but all theoretical concepts are illustrated with an example from a popular song — something that we think is a major plus. The Bootcamp video lessons will teach you to read sheet music, play piano by ear, and play rhythms.
Bootcamp is divided into Rookie, intermediate, and advanced sections. This is a great option for those new to Playground Sessions — if you already have some experience or need a refresher, you can start at intermediate or advanced levels.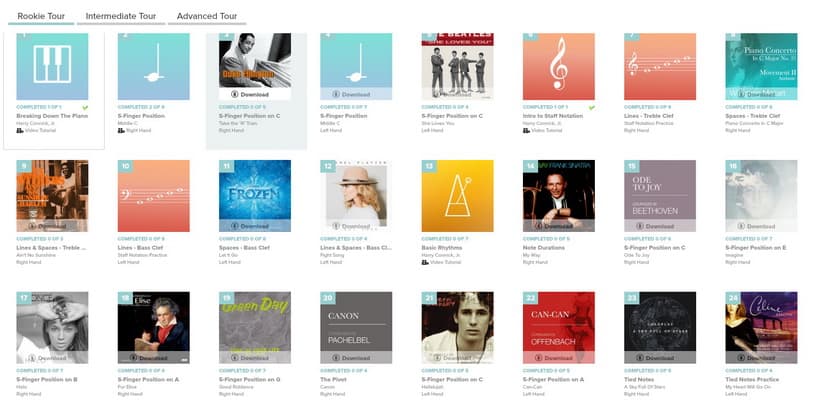 While music theory is an integral part of Bootcamp, you'll also learn essential piano skills that will help you tremendously going forward. Here's a sampling of the skills you'll learn here:
Hand positions
Coordinating playing with both hands
Practice techniques
Changing positions
Pivoting
Pedaling
If you want to learn more about Bootcamp, check out this helpful video overview.
It's worth mentioning that Playground Sessions has a somewhat unique approach to theory. Many sites for learning piano front load chords, scales, and music theory.
This can be dull for some students, and we understand why Playground Sessions prefers to start you off playing songs early. However, in many cases, music theory and certain useful skills aren't covered until much later, which can make it harder to build a solid theoretical foundation.
Courses
Playing the piano well takes time, and the Courses section of Playground Sessions is designed to build on the foundation you get at Bootcamp. As stated earlier, the courses contain supplementary teaching materials that get unlocked as you progress through the main curriculum.
As the name suggests, this section takes the form of several courses, and the course library is regularly expanded. You'll start with courses in scales and chords — these may sound like dull topics, but they're essential for you to progress as a player.
After these courses, you can branch out a bit. There's a course dedicated to honing your ability to read sheet music, and there's also one on playing with both hands. One especially fun course teaches you 50 famous piano melodies.
If you want to learn more about courses and how they work, check out this helpful video review.
Song Store
Lots of players want to play the piano so they can learn to play songs they like. And while the Bootcamp section does incorporate famous songs, the Playground Session's extensive song library lets you choose full-length songs you want to learn.
These practice songs are categorized into Beginner, Intermediate, and Advanced levels, so you can start learning songs even if you're still new. Some songs come with video lessons, and some come with interactive sheet music that lets you follow along.
Of course, you probably noticed that this isn't a song library like some sites have — it's actually a song store. Depending on your membership level, you'll have some free songs to download each month. However, if you want to learn more songs, you'll need to pay to individually download each one. This is a potential downside, but memberships are fairly affordable.
Gamified Learning
Plenty of players set out to play the piano with lots of enthusiasm, but that enthusiasm sometimes fades. Playground Sessions takes this into account, and they've built-in elements of gamified learning, similar to Guitar Hero and Rocksmith, to help you stay motivated and continue to progress.
You can compete with your friends by playing the same song and see who gets the maximum score.
One element of gamified learning that we like is course unlocking — as you progress, you'll gain access to new courses. You'll also earn badges for progress. On your user dashboard, you can view your current progress in "My Playground", which we think is somewhat motivating in itself.
When learning songs from the Song library, you also have the opportunity to earn stars. You can earn up to three stars per song — your score depends on accuracy. In order to earn stars, you'll need to practice in Performance Mode. Once you've earned a certain number of stars, you can get free song credits.
If you want to learn more about playing songs and earning stars, check out this informative video overview.
Lesson Quality
Lessons are highly customizable with plenty of features. While most lessons aren't filmed in HD, we think this is a small tradeoff given the features you get:
Adjustable tempo — If you want to practice something slowly at first, the sheet music scroll and metronome will slow down too. Once you're comfortable, you can adjust the tempo back up.
Instant Feedback mode — In the real-time feedback mode, also known as the instant feedback mode, the notes on the on-screen keyboard or the sheet music light up as green or red depending on whether you've played them correctly. This is a fairly unique feature, although you do need to have a keyboard that is USB or MIDI connected to get this real-time feedback.
Demos — For each track, you learn, you can listen to the full demo or a demo of either hand. This can be very important when trying to master all parts of a song.
Annotation — You can add note names or finger numbers to your on-screen sheet music, which makes it easier to remember how to play a song you're learning.
Backing tracks — Many songs that you'll learn come with optional backing tracks. This can make the learning experience fun, and it's also useful if you want to play in a band or with accompaniment at some point.
It is worth noting that this platform doesn't use nearly as many visual learning aids in its lessons as some other platforms. There isn't much in the way of key highlighting or other helpful visuals. Also, once you get into the Song library, most song lessons don't include a video lesson, which can make it harder for visual learners.
If you want to get a look at a video lesson, check out this sample lesson from the Bootcamp section.
Platform Compatibility
Before signing up for any site that teaches you how to play the piano, you'll want to make sure that lessons will work on your device. Luckily, Playground Sessions is compatible with both Mac and Windows computers.
It also works with the iPad. Of course, you have to first download the Playground Sessions piano learning app onto your device. Individual lessons of any piano course on the site are not downloaded with the app installation. You need to download them as and when you need them.
Some users have pointed out that the iPad setup is often the best choice. Due to the iPad's small size, it can easily be placed on a music stand, which simplifies your practice setup. However, any of these systems can work.
Of course, if you want to be able to use all interactive features, you'll need to make sure you have a keyboard you can connect to your device — we'll address this in the next section.
If you aren't quite sure how to set up the Playground Sessions app on your device, don't worry — this video from the platform shows you how.
Instrument Compatibility
Playing the piano is the same whether you're on an acoustic or digital piano, and it's possible to use an acoustic piano when learning on Playground Sessions. However, if you want to be able to use the interactive features and earn stars, you'll need a keyboard that can connect to your computer or iPad.
Most digital piano and keyboard options can connect to your device. You'll need a MIDI to USB cable if your keyboard is MIDI equipped. If it isn't, you may be able to connect it via USB.
For your keyboard or digital piano to be recognized by the piano learning app, you will be required to download the instrument driver from its manufacturer's website. If you want some guidance on setting it up, check out this helpful video tutorial.
If you need a keyboard, Playground Sessions offers affordable bundles that include keyboards, headphones, and cables. Some even include music stands and other accessories.
You can choose digital piano options from known manufacturers, but you also can select Playground Sessions branded instruments. These keyboards are optimized for use with the platform, and they have the added bonus of being especially affordable.
Pricing and Membership Options
Compared to other courses for learning the piano, Playground Sessions is very affordable, and it also has several different membership levels.
The monthly membership is only $17.99 per month. It includes Bootcamp (you can unlock courses after completing Bootcamp), and you get five free songs from the Song library per month (although you can purchase more). You also have access to free classical songs.
The annual membership comes with the same perks, but you save money over time — it costs $9.99 per month and is billed annually in one payment of $119.88.
If you're really committed, you can get a lifetime membership, which grants you lifetime access to the site. This plan is $289.99. It comes with all the perks of the monthly and annual plans, but you get 40 free songs from the song library.
One unique aspect of this site is that you also can purchase a family plan. Family plans are discounted bundle memberships where you can purchase two, three, or four memberships. We like that you can find family plans at the lifetime and annual levels. Playground Sessions also regularly runs promotions where you can often save a considerable sum.
If you still aren't quite sure whether this is the site for you, check out this interesting video — it shows off one adult beginner's progress over the course of a year with the site.
Social Proof of the Course
One downside of online piano lessons is the fact that you often don't fully know what you're getting into before you sign up. However, by looking at reviews written by other musicians, you can get a sense of what it's like to take a given course.
We've scoured the internet for helpful Playground Sessions reviews. Here are a few that we think can be useful:

This Playground Sessions review snapshot comes from Top Ten Reviews. This reviewer points out that you can unlock more courses as you learn, which is an excellent motivator. The fact that lessons work with a MIDI keyboard is nice, but if you don't have a MIDI keyboard already, you might see needing to purchase one (especially if you already have an acoustic piano) as a downside.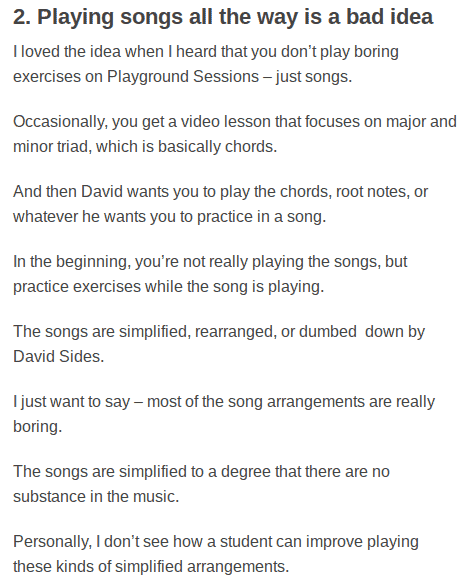 This snapshot comes from the Bathroom Singing Crew. While we found that Playground Sessions has been largely positively reviewed, this site has some worthwhile criticism to offer. While this reviewer likes the idea of jumping into playing songs, they point out that many arrangements are overly simplified.
The song focus is often a selling point of Playground Sessions, but in this reviewer's opinion, this focus can make it harder to build a foundation as a pianist.

This last Playground Session review snapshot comes from Ways to Learn Piano. Like many reviewers we found, this one also appreciates the fact that players get to quickly learn essential concepts in the Bootcamp section by playing songs.
Playground Sessions may not be the most traditional piano lessons out there, but that's part of why we like it. With gamified learning, a lesson program that focuses on playing songs quickly, and quality instruction, we think this is a great way for beginning and intermediate players to improve piano skills quickly. Playground Sessions is able to match the benefits of in-person lessons to a significant level with its instant feedback system.
We do have one reservation, though — for those who want to play at a serious level, we think that a program that has a stronger musical concepts focus may be more appropriate. But if you want to learn piano and have fun doing it, we think Playground Sessions is a great choice. Check it out today!