Have you ever wanted to learn how to play the piano? Or maybe you used to play, and you wish you could brush up on your skills? If so, we might have found an option for you.
Today, we'll be taking a look at Rocket Piano, an online learning system that seems like the real deal. Rocket Piano offers a free beginner course, and you can take their other courses for a very low cost. But before that, let's take a look at some of the things you may want to think about before choosing a course.
Things to Consider Before Buying an Online Piano Course
How much experience do you have? Many online lesson programs are designed for beginners. With RP, you can start at an intermediate or advanced level if you have some experience playing.
What genre do you want to play? In some courses, lessons are tailored to a particular genre. With some other courses like this one, you can choose a specialty genre once you've established some fundamentals.
Do you need to learn to read music? Reading music is essential for many musicians. Some courses make a point to teach you how to read music, while others do not.
What format do you need? Many online lesson programs use video lessons, and others supplement with virtual books.
Rocket Piano – Online Piano Course
PRO's & CON's of Rocket Piano
Before we get into the specifics of this course, let's take a quick look at some of the pros and cons of Rocket Piano:
Pros
A free beginner course lets you try it out before buying anything.
Purchased courses have a money-back guarantee.
The progressive program also has specialized courses in different genres, so you can specialize your playing if you want
This system has been used by 90,000 people and has been favorably reviewed by many.
Cons
While it was created by multiple people, you just have one instructor the whole time.
Just like with any online program, you don't get the benefit of a teacher who can see the mistakes you make and correct them.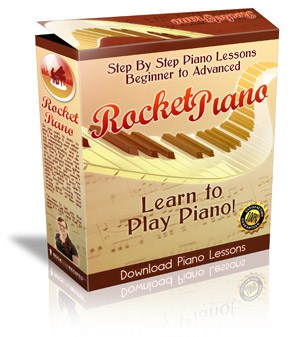 In this section, we'll take a closer look at some of the key features of RP. With this knowledge, you'll be equipped to decide whether or not this is the right piano course for you.
Who Started the Program?
This unique program was started by Ruth Searle, a pianist who specializes in classical music. However, Ruth has expertise in several different genres, and she has 15 years of piano experience. 
She recruited a team of other pianists to help develop this program, and she is the teacher in all 57 video lessons. If you want to check out Ruth's teaching style, check out this sample lesson video.
Core Materials
We think that RP is an intelligently designed program that will help you learn how to play. On the course site, the founder claims that you can do more and get farther with short, intentional practice sessions than you can be practicing for hours a day.
This may sound unbelievable, but we think RP's guided practice approach is a good one. As you move through the books, you're guided through video lessons and audio files. In the absence of an in-person teacher, these videos and files can help you check your sound and technique and ensure you're on the right track.
In terms of the books, you can start where you need to. RP's core curriculum is made up of three books:
Beginner Book — This book is designed for those who are new to the piano or those who have some experience but need to brush up on skills. You'll learn good techniques and the fundamentals of playing, and you'll also get to play both original and classic songs.
Intermediate Book — This course builds on the fundamentals. You'll learn more about practical music theory, and you'll also learn more complicated rhythms that will help you play in different genres. You can start with the intermediate book if you already know the basics, or you can move up after the beginner book.
Advanced Book — With this book, you'll work toward becoming an advanced player. You'll further develop your ability to read music, and you'll also learn sight reading, improvisation, and even some of the basics of songwriting.
If you find yourself wanting to go deeper into learning a specific genre, RP also has a few specialized books:
The Jazz Book — This exciting book is great for aspiring jazz pianist. You'll learn about the history and foundations of the genre, and you'll also develop skills and playing styles that will help you play just about any jazz piece with ease.
The Gospel, Spiritual, and Hymns Book — For players wanting to play for a church, this is an ideal course. You'll learn genre history and focus on pentatonic and blues scales, which will equip you to play hymns, spirituals, and gospel music.
Jam Tracks and Quizzes — This isn't really a book, but it's a great course for learning how to play with a band or rhythm section. It's made up of 26 songs, and you'll be able to hear each song with a piano and without. To help you check your progress, this section includes several quizzes for you to check your knowledge along the way.
For many newer players, learning to read sheet music is intimidating. This review offers some insight into the program, and it has a special focus on learning to read music.
Bonus Materials
Makers of online music programs know that the competition is stiff. This benefits you, the learner — in order to make themselves stand out, courses will often include several bonus features to help you learn. Here's what you get at RP:
The Metronome — You may already know this, but a metronome is a fantastic tool for players to learn to keep time. When you purchase RP, you get a free digital metronome. Some included lessons ask you to use this tool, and you can also use it in independent practice.
Jayde Musica Pro — This interestingly-named tool will soon become an indispensable part of any player's musical journey. Jayde Musica Pro is designed to work as a game, but it's designed to teach you how to read music. Whether you've never read music or just need to brush up, we think this is a great tool to have.
Chordinator — This is another included game that has a purpose. As the name might suggest, Chordinator teaches you to read chords off of sheet music. This is a skill that's essential for sight-reading, and RP says even a few short sessions with it will help you learn a lot.
Advanced Learning Techniques for Piano — This bonus tool is an ebook designed to help you learn as efficiently and effectively as possible. Whether you want to master sight-reading, learn multiple genres, or just improve as a player, this book will give you insight into the learning process.
Perfect Your Pitch Pro — This interactive tool is designed to train your ear. Exercises range from easy to very difficult. In time, you'll be able to transcribe songs that you listen to. Accurate transcribing is a very useful skill, and Perfect Your Pitch Pro makes it easy to learn, too.
Of course, reading our review and visiting the course website can only tell you so much. If you want to learn more, this video review takes you behind the scenes and into the members' area of RP.
How Much Does It Cost?
Despite all that you get with RP, this program is remarkably affordable. But before we get into the purchased program, we'll briefly look at the free option, which we think is great for those who want to try it out before paying anything.
First, you get a weekly newsletter, the LaunchPad. The newsletter provides a useful introduction to the world of piano. You'll get interviews with composers and performers, playing tips, and motivational videos to get you going.
You also get a short beginner piano course. The course is made up of seven video lessons. These lessons build you up to playing a song.
Of course, this is a small sampling of what RP has to offer. The full program has 57 video lessons and nearly 300 audio files. But we think this little course is a great start, especially for the complete beginner.
If you do decide to purchase RP, the price might surprise you — you get access to all books and tools for a one-time purchase of $39.95. And for the uncertain learner, there's a money-back guarantee. For eight weeks after your purchase, if you aren't satisfied, you get a 100% refund.
We think this is one of the most affordable and thorough options for online music learning. If you still aren't quite sure, you might want to check out this video testimonial.
Social Proof of the Course
If you're looking to learn how to play the piano, you may already know that there are plenty of course options out there. So before you settle on one, it's a good idea to first look at a few customer reviews to get a feel for the course.
We found that just about every review we found was a positive one. Here are some that we saw along the way: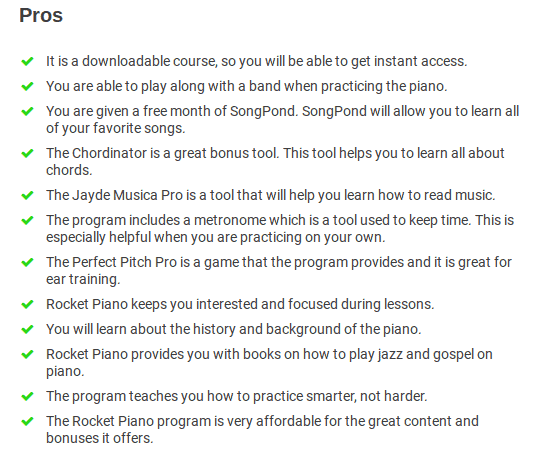 This snapshot is from the review site Old Time Music. This site has done a great job of listing out some of the many pros of RP — aside from the many available courses, you also get a handful of games that keep you entertained as you learn.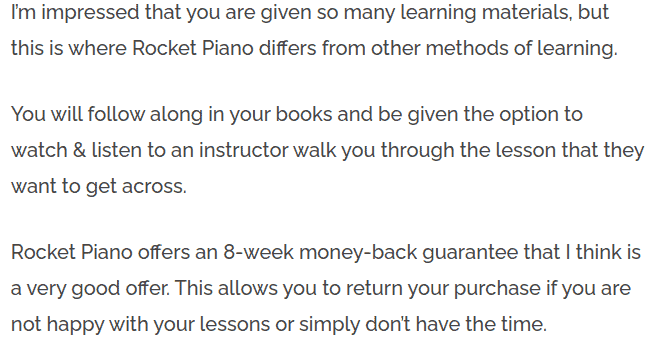 This review excerpt is from the site Keyboard Kraze. We think it succinctly lays out the teaching methodology and organization of the course. Like many reviewers, this site was also impressed.

This last review snapshot is from Piano Lesson Critic. This one also does well with outlining some of the many benefits of this affordable course.
There are plenty of online piano lessons out there. But we think this one sets itself apart. We like the fact that you get a free beginner course without paying anything, and we also like RP's systematic approach to learning to play. And lastly, we appreciate the fact that RP, while being thorough, is one of the more affordable courses we've come across (and the paid membership comes with a money-back guarantee). Think it's right for you? Click here to check it out!