Every product made by Taylor is a work of art, but the Taylor 414CE R is really something special. This visually stunning Grand Auditorium sounds as good as it looks — with a Sitka spruce top, Indian rosewood back and sides, and the revolutionary V-class bracing pioneered by Taylor Guitars, this is one you won't want to miss.
Things To Consider Before Buying A Smaller Guitar
An acoustic-electric guitar is a great thing to have in your arsenal — you can get great acoustic sound unplugged, but if you perform, you can easily plug in and play. Here are some things to think about before making a purchase:
What's your ability level? If you're just learning, you may not need a high-end guitar. However, if you're committed, there's nothing wrong with buying a high-end guitar you can grow into. Of course, if you're a high-level player, you'll probably do better with a very well-made guitar.
What genre do you play? Generally, dreadnaughts are great for flatpickers, while grand concert guitars are better for fingerpicking. Somebody styles, like the Grand Auditorium, are good for both.
What tonewoods are best? Especially once you get into the world of higher-end guitars, there's a whole world of tonewoods to choose from. Make sure you do your research and listen to sound demos before settling on one.
PRO's & CON's Of Taylor 414CE-R
But before we get too far into our review, let's look at some pros and cons:
Pros
V-class bracing supports the harmonic agreement and gives you excellent sustain.
Solid Sitka spruce and solid Indian rosewood offer an incredibly resonant, nuanced tone.
It comes equipped with Taylor's top-notch ES2 electronics.
Its beautiful yet tasteful appointments include Italian acrylic inlays, West African ebony fretboard, and bridge, and classic Taylor nickel tuners, making it a visual standout.
Cons
The high price of this guitar may be too much for some guitarists.
Dedicated flatpickers might prefer the sound of a dreadnaught.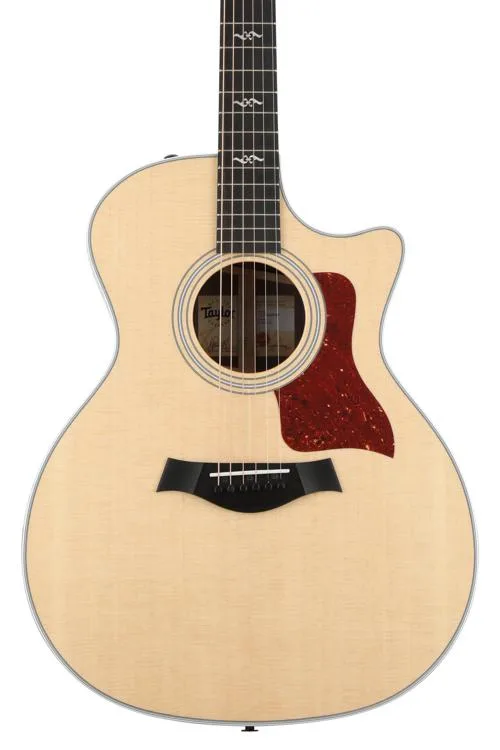 Taylor 414CE R
A Smaller Grand Auditorium Guitar
A Grand Auditorium Guitar.
Sitka Spruce & Indian Rosewood Body.
Taylor's ES2 Electronics.
It is a visual standout.
Now, let's take a closer look at the 414CE R V class.
Body Shape And Bracing
Both of these features are worth discussing since they have a major impact on the sound and versatility of the 414CE R V class. This guitar is made in the Grand Auditorium shape, which was designed to be an intermediate shape between the dreadnaught and the grand concert.
The smaller waist and slightly compact size give it the projection capability to be great for fingerpicking, but it's still deep enough to deliver the right sound for flatpicking, too. If you want to learn more about the Grand Auditorium and how it fits into the spectrum of guitar body styles, check out this interesting video.
The V-class bracing is also incredibly important. This is a design pioneered by Taylor. A guitar soundboard must be stiff enough to support sustain yet flexible enough to create resonance. The V-class design strikes a balance by adding plenty of stiffness under the strings but leaving the outer edges of the soundboard free to vibrate.
This bracing also encourages harmonic agreement, which means that the notes played will sound more in tune with each other.
Tonewood Selection
In terms of tonewoods, the 414CE R V class is classic. The soundboard is made of solid Sitka spruce. This wood delivers an excellent balance of bright and mellow tones, and it's incredibly responsive.

This acoustic-electric guitar is made with Indian rosewood back and sides. Indian rosewood is an overtone-rich wood that delivers an excellent balance of tones — highs are clear, lows are tight and well-defined, and mids are warm. Guitars with Indian rosewood back and sides are becoming increasingly rare, but a rosewood back and sides complement a spruce top beautifully.

Both the fretboard and bridge are made of solid West African ebony. Ebony is an excellent wood for a fretboard, as it stays naturally slick. This creates a great playing experience down the entire fretboard. If you want to see how and where Taylor sources their ebony, check out this fascinating video.
The neck of the 414CE R is made of tropical mahogany, which adds some warmth to the sound. Tropical mahogany is sometimes used as the back and sides of acoustic guitars, but it tends to have a less defined sound. On guitars like this one, though, tropical mahogany adds just enough warmth to balance out rosewood's tightness.
Appointments
The 414CE R is incredibly well-appointed. This guitar's sound is further enhanced by a black graphite nut and micarta saddle. Black graphite is an excellent nut material because it stays permanently lubricated, which reduces the risk of strings getting "stuck" at the nut.
The micarta saddle is much denser and stronger than most other saddle materials, and strings are less likely to notch it over time. This video from Taylor describes how high-quality nut and saddle materials can make a difference in a guitar's tone.
The entire fretboard is adorned with Italian acrylic Renaissance inlays, which add an understated yet beautiful touch. The white binding has two black pinstripes, which illustrates the attention to detail that went into making this guitar. The white binding also contrasts beautifully with the darkness of ebony. And lastly, classic-looking Taylor nickel tuners with a 17:1 ratio round out the picture.
Sound Quality And Playability
Taylor guitars are known for their incredible playability, and the 414CE R is no exception. The slim neck makes it easy to play along the entire fretboard, and its responsiveness is second to none. Plus, the slim-waisted body is incredibly easy to hold while playing, standing, or sitting.
The tone of this guitar is well-defined and sparkling. The high-end is clear, and the mids are present without being overpowering. Rosewood adds a little bit of punch when strumming (even though mahogany is the wood most commonly associated with "punch," and the lows are clearly defined when flatpicking or fingerpicking.
That said, if you prefer a guitar with a heavy bass response, this one may not be ideal for you — bass, treble, and mids are fairly well-balanced in the 414CE R. If you want to see and hear it for yourself, check out this great video demo.
A discussion of sound quality wouldn't be complete without mentioning electronics. This acoustic-electric guitar is equipped with the Expression System 2, which is a behind-the-saddle pickup that delivers high-fidelity amplified sound. The Expression System 2 has three onboard controls: two for tone and one for volume.
More: Best Taylor Guitars
Social Proof of the Guitar
If you can't try out an acoustic-electric guitar before buying it, the next best thing is to read what other players think of it. We've gathered a few reviews of the 414CE R in order to help you make your decision:

This helpful review outlines how 414CE R can actually help guitarists improve. Thanks to its incredible responsiveness, it encourages players to fret notes and chords accurately each time.

In any guitar, playability is vitally important. If your guitar isn't comfortable to play, chances are that you'll be dissuaded from playing. However, this reviewer praises the 414CE R as being extremely easy and comfortable to play.

To this player, the 414CE R has an amazingly full sound. It's especially noteworthy that barre chords sound just about as full as open chords.
Alternatives To Taylor 414CE R
Before you decide that the 414CE is the guitar for you, it may be a good idea to look at some potential alternatives. Here are three other acoustic-electric guitar options you might like:
Gibson Hummingbird Studio Rosewood
How It Compares To Taylor 414CE R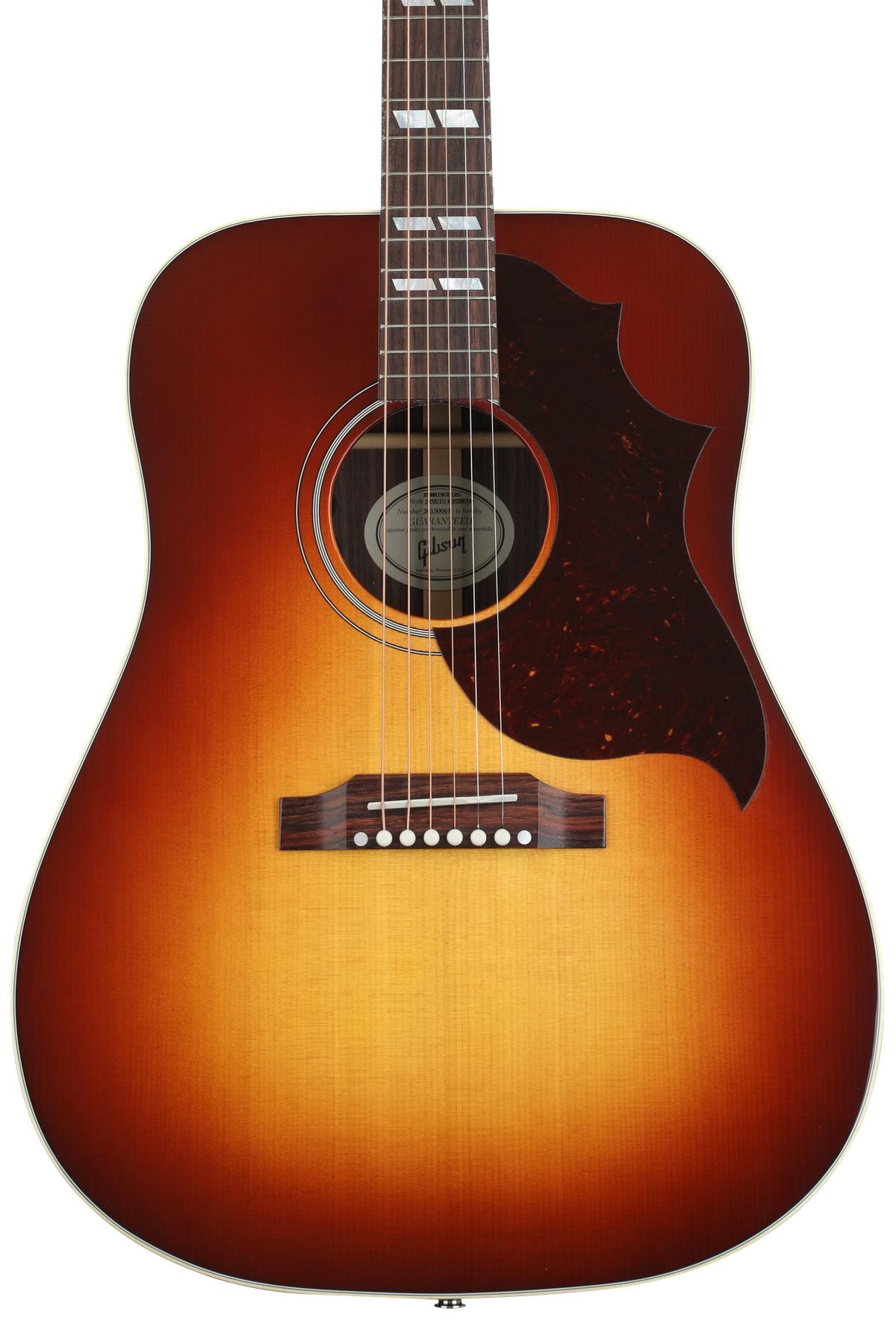 The square-shouldered dreadnaught build offers more bass response than the Grand Auditorium body shape.
It also is made of all-solid wood with a Sitka spruce top and rosewood back and sides.
It comes with Fishman Sonitone electronics, which aren't usually considered to be as good as the ES2.
Price-wise, it's about $200 more than the 414CE R V class.
Review
Gibson's Hummingbird is a legendary acoustic guitar, and this modern version is ideal for players who prefer the sound of rosewood. Unlike the 414CE R, this guitar is a square-shoulder dreadnought made with scalloped X bracing instead of V-class bracing.
If you want a rosewood version of a Gibson classic, make sure you give this one a look!
How It Compares To Taylor 414CE R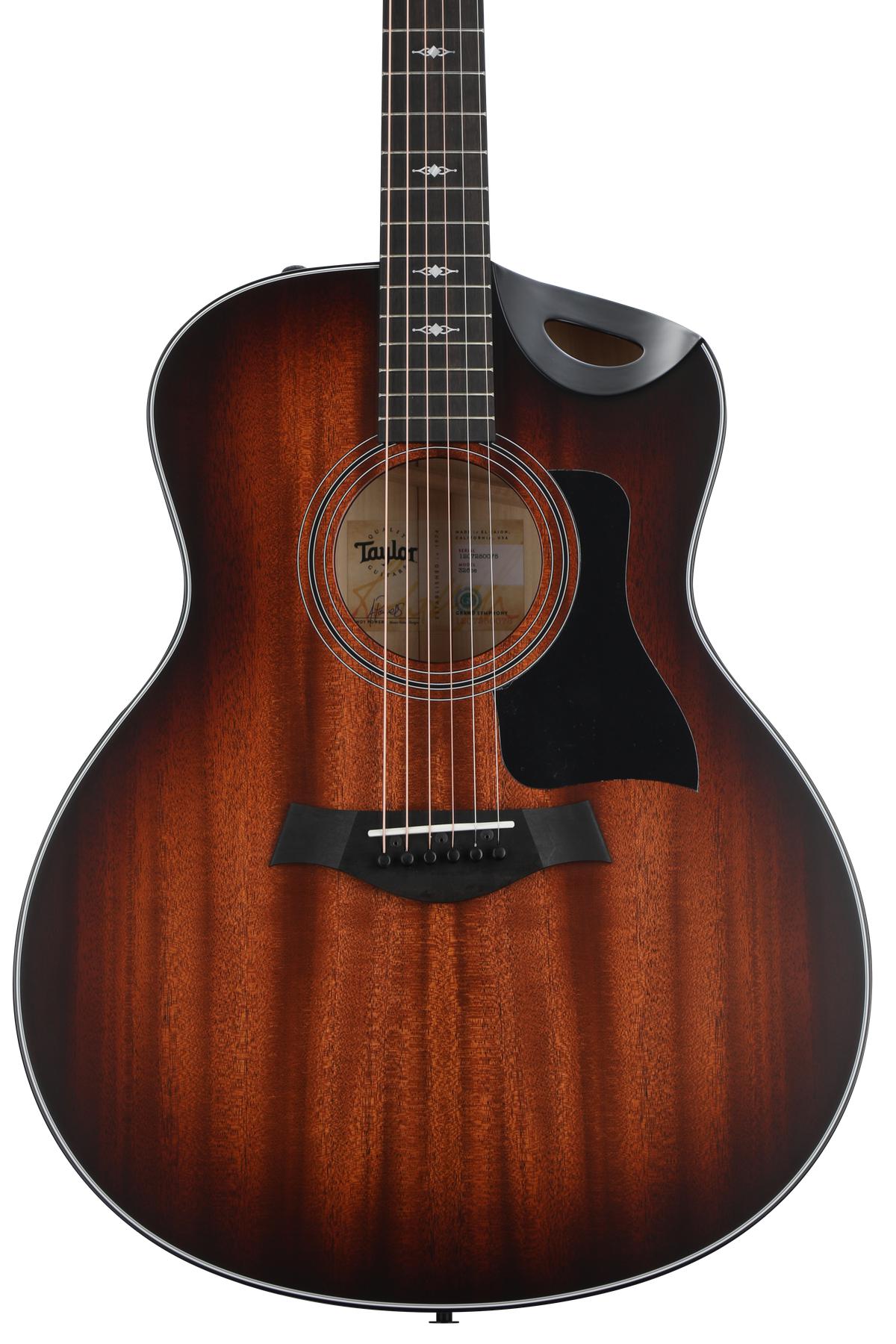 The Grand Symphony body is deeper and louder than a Grand Auditorium.
It's also made with V-class bracing and comes with Taylor ES2 electronics
Soundport cutaway offers upper fret access while also increasing resonance.
In terms of price, it's about $100 less than the 414CE R V class.
Review
When you look at this guitar, the first thing you'll notice is probably the sound port cutaway. This is essentially a cutaway that also incorporates a second soundhole. It improves tone and resonance, and it's an innovation you don't often see. It has a mahogany top and ash back and sides — this build offers a tone that's nuanced and well-balanced.
If you're looking for an uncommon tonewood combination with an uncommon soundhole innovation, make sure you take a look at this one!
Gibson Parlor Modern EC Rosewood
How It Compares To Taylor 414CE R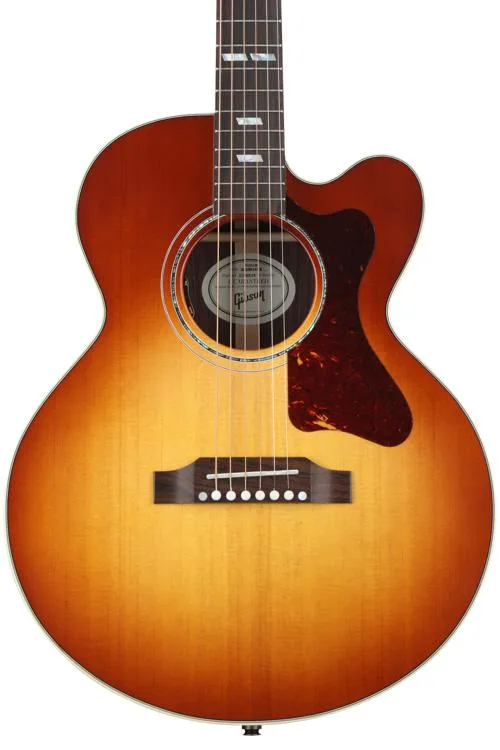 It also has a solid Sitka spruce top and solid rosewood back and sides.
It comes with L.R. Baggs VTC electronics, which are about the same quality as Expression System 2.
It's made with hand-scalloped X bracing instead of V-class bracing.
Price-wise, it's about $200 less expensive than the 414CE R V class.
Review
At first glance, this guitar looks like a J-200, but it's a small-bodied guitar with a similar shape. It's somewhat similar to a Grand Auditorium, and it's also equipped with a Venetian cutaway for easy upper fret access. 
If you'd prefer an eye-catching parlor guitar, make sure you check out this one!
All in all, we think that the Taylor 414CE R is an incredible guitar that's worth buying. It's all-solid and made with traditional (and high-end) tonewoods, and it comes equipped with world-class electronics as well. On top of that, the Grand Auditorium-style body and V-class bracing give it a sound you really must hear to believe. Click here to check it out!