All of Taylor's guitars are high quality, but their high-end instruments are truly something to behold. Today, we're looking at the Taylor 814CE DLX, a beautifully-appointed Sitka spruce and rosewood acoustic-electric. It has the tone to match its stunning looks, too — from sparkling, clear bell-like highs to a defined low end.
Things To Consider Before Buying An Acoustic-Electric Guitar
Before you click add to cart on a guitar, it's a good idea to triple-check whether it's the right one for you. Here are some things to keep in mind before you buy:
What body style is right for you? Some players like the sound of a classic dreadnought. Others like the projection offered by a concert body. Some manufacturers, like Taylor, offer unique body shapes like the Grand Auditorium.
What about tonewoods? A Sitka spruce top and rosewood is a classic tonewood combination, as is spruce and mahogany. However, there are other tonewood combinations that might suit your playing style — be sure to choose the one that's right for you.
Consider electronics —  In any acoustic-electric guitar, it's important to make sure that the electronics are of high quality. Most people don't plug in a guitar to record, but if you play live, a good plugged-in sound is a must.
PRO's & CON's Of Taylor 814CE Dlx
Before we get further into our review, let's look at some pros and cons:
Pros
All-solid Sitka spruce and Indian rosewood build delivers a top-notch classic acoustic tone.
Taylor's game-changing bracing design, patented V class bracing, supports sustain and improved intonation over an older version of the 814CE.
The comfortably playable Grand Auditorium body offers you the best of both dreadnoughts and concert-style guitars in terms of tone.
It comes equipped with Taylor's Expression System 2 electronics for beautifully clear live sound.
Cons
It's a very expensive guitar, which may put it out of reach for some players.
More traditional players might prefer the sound of a dreadnought.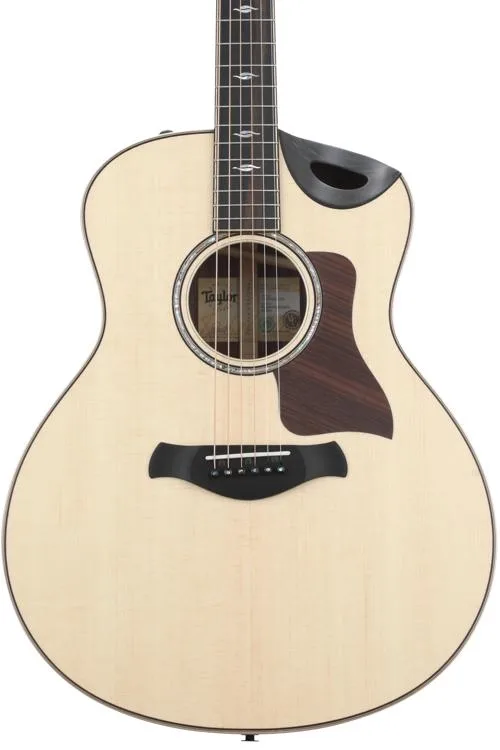 Taylor 814CE Dlx
A High End Acoustic-Electric Guitar
A high-end Grand Auditorium Acoustic-Electric.
The current models have a V-Class bracing.
Solid Sitka Spruce & Indian Rosewood.
Equipped with the Taylor's Expression System 2 electronics.
Now, let's take a closer look at some of the features of this remarkable guitar.
Body Style And Bracing
The 814CE DLX is made in Taylor's most popular body style, the Grand Auditorium. This shape is essentially a cross between a dreadnought and a grand concert guitar. It's designed to avoid the pronounced low end you get with a dreadnought. However, it also has the projection capabilities of a grand concert.
The Grand Auditorium is designed to accommodate fingerpickers and flatpickers alike, and its slim waist is incredibly comfortable to play with. However, the real innovation here is the use of patented V-class bracing. This game-changing bracing design adds extra stability to the soundboard parallel to the strings, which supports sustain and improved intonation.
It adds flexibility to the rest of the soundboard, which adds greater resonance. Older models of the 814CE DLX were made with traditional X bracing, but current models come with V-class bracing. If you want to hear a sound comparison between an 814CE DLX with X bracing and V-class bracing, check out this video comparison.
Notably, this guitar also has a radius-style armrest. This helps protect your arm from irritation and fatigue, especially when playing for long periods of time. The armrest itself is a beautiful addition to the guitar — it's made of maple.
Tonewoods, Sound Quality, And Playability
Tonewood-wise, this acoustic-electric guitar is impressive. It has a solid Sitka spruce top paired with Indian rosewood back and sides. It's important to distinguish Indian rosewood from Brazilian rosewood. Indian rosewood tends to have a bit of a thicker, more midrange-heavy tone, but both woods sound similar.
Indian rosewood is a good match for the Sitka spruce top — spruce leans toward the bright side, and rosewood has a lovely defined low end that balances out the tone.
The neck is made in Taylor's standard profile, and it's made of tropical mahogany. This adds a little warmth to the sound. The 814CE is incredibly playable — the action is low, and the naturally slick West African ebony fingerboard is comfortable and creates an ultra-smooth playing experience.
This is an acoustic-electric guitar you really have to hear to believe. Its highs are glittering, its lows have just enough presence, and there's a full midrange. All in all, it's incredibly tonally balanced, and it sounds equally good, strummed, flatpicked, or fingerpicked. If you want to hear it for yourself, check out this helpful video demo.
Electronics
This guitar comes equipped with Taylor's Expression System 2 electronics. This system is essentially an improvement on the under-saddle piezo pickup. Taylor's research found that the saddle doesn't move up and down when the strings move — it moves slightly back and forth. The ES-2 changes the piezo setting from under the saddle to behind it. This results in a much more natural sound when you plug in and play.
If you're someone who hesitates to purchase an acoustic-electric guitar because you don't like the look of bulky preamps, the ES-2 has a feature you might like — instead of a full-mounted preamp, it has three knobs mounted on the side of the guitar. There's also a phase switch to suppress feedback. If you want a closer look at the ES-2, check out this interesting video from Taylor.
Appointments
We've so far focused on the sound and playability of the 814CE DLX, but this is a stunningly appointed guitar, too. The West African ebony fretboard is adorned with mother-of-pearl element inlays, and the single-ring abalone rosette is edged in rosewood. A solid West African ebony bridge matches the fingerboard. Notably, the pickguard on this guitar isn't plastic — it, too, is made of genuine Indian rosewood.
As one of Taylor's higher-end acoustic-electric guitars, this one comes with deluxe features like maple binding, and the armrest features rosewood trim. It also comes with chrome-plated Gotoh 510 tuners which help you stay effortlessly in tune. The saddle is made of micarta, and the nut is Teflon-infused graphite for both tuning stability and impressive durability.
More: Best Taylor Guitars
Social Proof of the Guitar
Often, before buying an acoustic-electric guitar, it's a good idea first to see what other players think of it. To help you make a decision, we've found three helpful reviews of the 814CE DLX:

This is a glowing review, but it helps detail what the 814CE DLX sounds like. The intonation is spot-on, and the V-class bracing creates a sound that's very tonally balanced.

In our research, we had trouble finding any negative reviews at all for this guitar. This reviewer found that it both sounded great and was highly playable.

This reviewer noticed the improved volume from the V class bracing. This feature makes the 814CE DLX a great acoustic to play unplugged, but the Expression System 2 also works well with it to create a clear, natural, amplified tone.
Alternatives To Taylor 814CE Dlx
The 814CE DLX is a once-in-a-lifetime guitar. And before you decide it's the right one for you, it's a good idea to look at some potential alternatives. Here are a few you might like:
Gibson Acoustic Songwriter Standard EC Rosewood
How It Compares To Taylor 814CE Dlx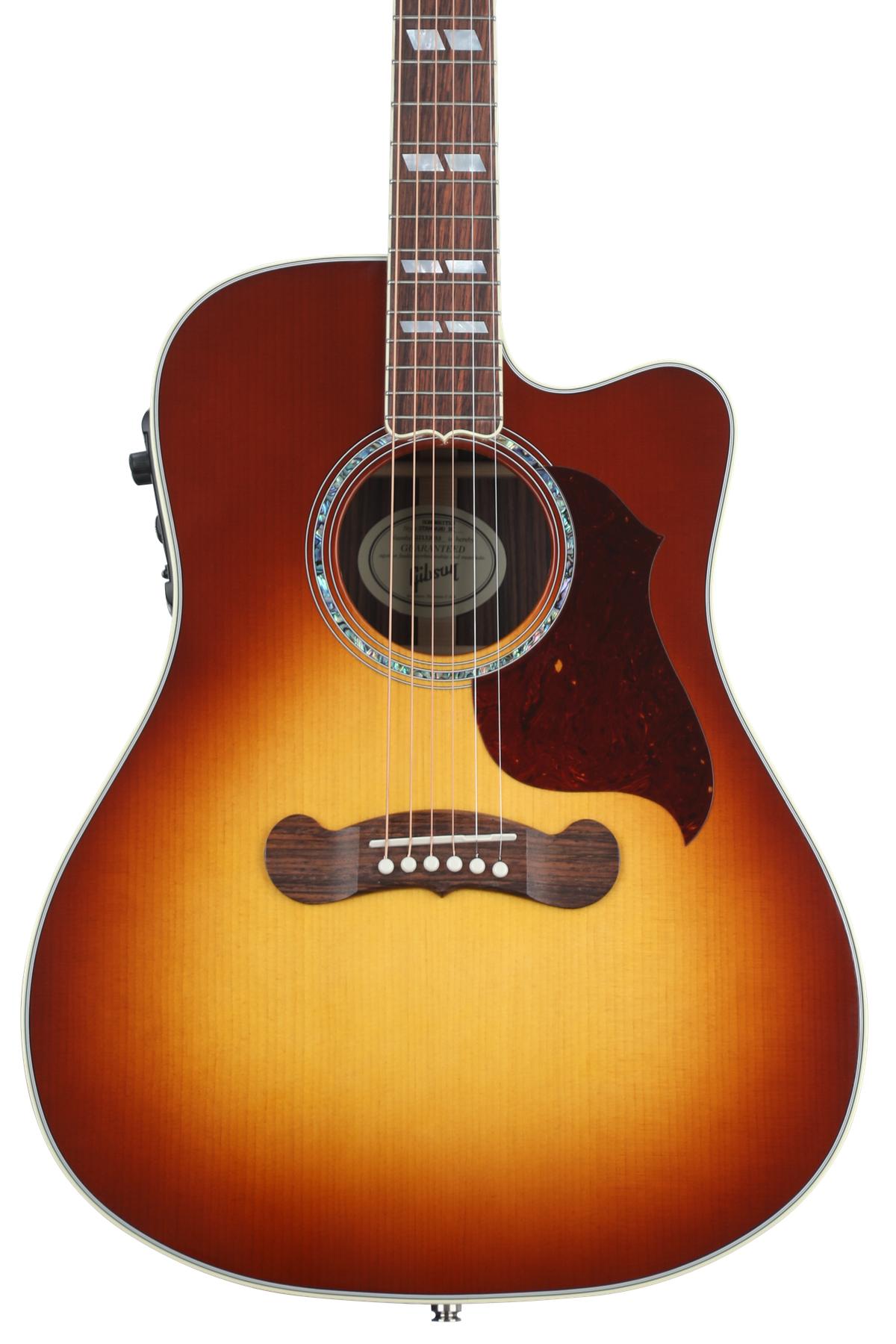 All-solid build with hand-scalloped advanced X-bracing offers a powerful yet nuanced tone.
Fishman Prefix Plus-T Preamp with brilliance, bass, contour, and treble controls makes it easy to dial in your preferred sound onstage.
The square-shouldered dreadnought build offers more bass response than the 814CE DLX.
Price-wise, it's about $750 less than the 814CE DLX.
Review
Structurally, this guitar is a little bit like the 814CE DLX since it has a solid spruce top and solid rosewood back and sides. However, this is a square-shouldered dreadnought with a cutaway instead of a Grand Auditorium.
If you think you'd rather play a dreadnought, make sure you give this one a look!
Taylor 614CE Builder's Edition
How It Compares To Taylor 814CE Dlx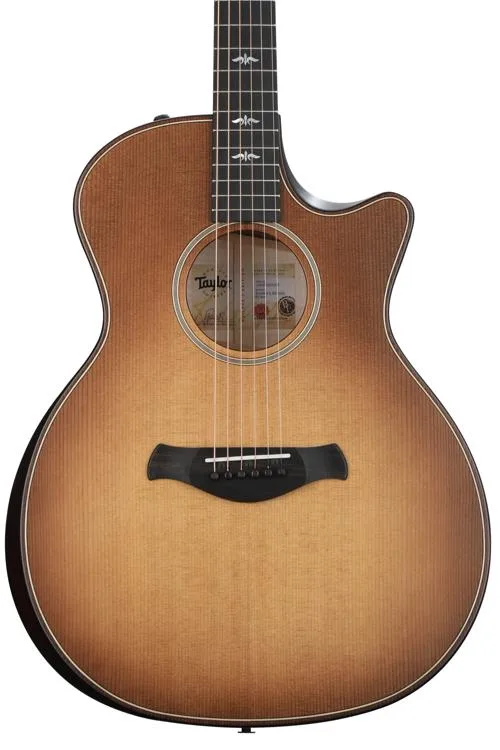 It's also a Grand Auditorium made with V-class bracing.
Torrefied Sitka spruce top won't take as long to sound "played in"
Figured bigleaf maple back and sides have a brighter, crisper sound than rosewood.
It's almost exactly the same price as the 814CE DLX.
Review
Taylor's Builder's Edition guitars come with premium touches, and this beautiful acoustic-electric guitar is a prime example. 614CE Builder's Edition has a torrefied Sitka spruce top, which is aged to sound like a played-in guitar right out of the box. The back and sides are made of figured bigleaf maple, which offers clear bell-like highs. 
If you prefer the sound of maple to rosewood, make sure you check this one out!
How It Compares To Taylor 814CE Dlx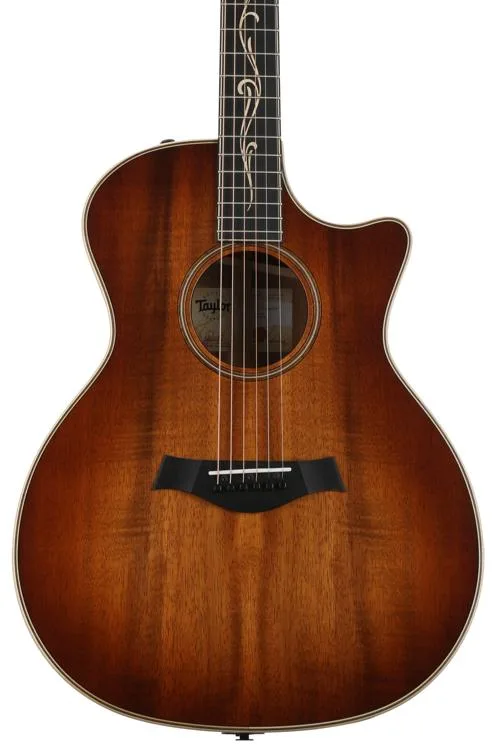 It's also a Grand Auditorium acoustic-electric guitar made with V-class bracing.
All-solid koa build starts out sounding bright and gradually opens up over time.
It comes with the Expression System 2 for excellent live sound.
In terms of price, it's about $1000 more than the 814CE DLX.
Review
If you love the distinctive sound of koa, then this guitar is an ideal choice. It's made entirely of solid, highly-figured koa. Like the 814CE DLX, it's also made with V-class bracing. This well-appointed instrument has an African ebony fingerboard graced by a unique spring vine inlay, making it one of the most visually stunning guitars we've seen.
If you have some more to spend and love the sound of koa, make sure you check this one out!
While the Taylor 814CE DLX is certainly more expensive than most acoustic-electric guitars, we think it's well worth the investment if you can afford it. From the solid Sitka spruce top and solid Indian rosewood back and sides to the incredible tone produced by V-class bracing, we think this isn't one you want to miss. This guitar delivers an ultra-smooth playing experience you won't soon forget. And with looks to match its nuanced tone, it's a collector-worthy guitar, too. Click here to check it out!