If you want to learn the ukulele, you may have tried teaching yourself. And while teaching yourself is possible, most new ukulele players benefit more from a course with some structure.
That's where apps like "Uke Like the Pros" come in. This unique online ukulele lessons site features courses for beginners, intermediate and experienced ukulele players alike, and it covers multiple genres. 
Things to Consider Before Signing Up for an Online Uke Course
As you likely already know, choosing to learn the ukulele online can save you a lot of money over taking in-person lessons. However, before you select a course, it's a good idea for you to ask yourself a few questions:
Do you need a comprehensive course? Many online platforms offer at least a beginning course, and some have courses that continue on for more advanced players. Other sites offer lots of a la carte lessons, which can be good if there are specific skills you want to develop.
What genre do you want to play? As with any instrument, you can play just about any genre on the ukulele. Most online uke courses offer several genres, but if there's a specific one you want to play, you'll want to make sure the site offers enough courses in your chosen genre.
What about instructor access? Not every online course offers you access to an instructor. However, some, like this one, let you talk to the instructor in live Q&A sessions. Others even let you schedule individual video lessons, although this usually costs extra.
What about bonus features and tools? Some platforms have a song library comprising video tutorials for different songs. Others come with online metronomes, tuners, and even learning games. These things may not be essential to learning, but they can be a nice bonus.
PRO's & CON's Of Uke Like The Pros
Today, we'll be doing a site review to help you decide whether this is the right site for you to master the ukulele. But first, let's look at some pros and cons:
Pros
The instructor, Terry Carter, is highly educated and is a relaxed, laid-back teacher.
There's a huge variety of lesson content across many genres, and new content is added regularly.
With Live Q&A sessions, you can talk to Terry and ask him questions directly.
You can opt for a less-expensive basic membership or a full-access membership.
Cons
It can be tough to find what you need — there doesn't appear to be a site-wide "search" feature, and you can only search for what you need within a course.
Compared to some online ukulele sites, this one is a little expensive.
Now, we'll get into some of the important features of the Uke Like The Pros site.
Layout and Site Overview
This is one of the most aesthetically pleasing online music sites we've seen. The background is a beach scene, and the site has a very intuitive layout.
It's worth mentioning that Uke Like The Pros also has a strong social presence with its regularly updated YouTube channel and Facebook page. It has an exceptionally active online community with daily contributions from community members.
The Pros community sometimes hosts competitions like the Fingerstyle Challenge, where students can post videos of themselves performing songs on the uke. (You can see one student's video here.)
The site founder teaches all lessons, which can be a good thing — even online, it's nice to feel like you have a rapport with your teacher. The Uke Like The Pros founder, Terry Carter, is also definitely qualified to teach. Terry earned a Master of Music from the University of Southern California, and he also has a Bachelor of Music from San Diego State University.
He is based in San Diego and is a singer, songwriter, guitarist, and ukuleleist. He has worked with several high-profile musicians, including Weezer, Josh Groban, Robby Krieger of the Doors, Duff McKagan of Velvet Revolver and Guns 'n Roses, and the Los Angeles Philharmonic.
Terry Carter has a very laid-back teaching style, and his lessons go into a good amount of depth — even when introducing a chord, he makes sure to give you helpful pointers and explain when it's best to use that chord.
Most videos are shot in high-definition, and many of the video lessons are even in 4K. We like that you get a close-up view of the neck and of Terry's fingers — if you want to really improve your ukulele playing, you need quality instruction, and these videos definitely deliver it.
Courses offered by Uke Like The Pros Site
One of the most important parts of any online music or music reading course is the content. This site has a pretty wide collection of courses. Beginners can choose to start with a free ukulele fundamentals course. This free ukulele fundamentals course goes through all the basics that an aspiring ukulele player must know.
Here are some highlights of all the courses on the Uke Like The Pros platform:
Beginning Ukulele Bootcamp — The Beginning Ukulele Bootcamp is designed for brand-new players. You'll learn everything from how to hold your ukulele to how to begin to play notes & different chords. It currently has 25 core video lessons.
Master the Ukulele 1 — This is the logical next step after Ukulele Bootcamp. It's the beginning of a two-part comprehensive course that can really help you improve your skills on the uke. Videos in this section will guide you through different fingerpicking techniques & strum patterns, eventually leading you to the song playing. Completing this section will take you from a beginner to an intermediate-level player.
Master the Ukulele 2 — This is the second course in the two-part series, and it will give you a solid foundation as a ukulele player. This part explores advanced techniques, different styles, and genres.
These three courses are essentially the core curriculum of the site. We think it's a good idea to take all three — this set of ukulele lessons will give you a great base as a uke player. From here, you can branch out into new genres and skills, and this site offers several other courses you may want to take:
Ukulele Blues Mastery — If you want to learn the blues, this course will make you a master fairly quickly.
21 Popular Songs for Ukulele — Song tutorials are popular with players of all instruments, and this course will let you learn some of your favorites.
Baritone Blues Mastery — The baritone ukulele isn't the most popular size, but it's tonally versatile and sounds especially good when you're playing the blues.
Jazz Swing Mastery — This is another genre-based course that the site offers.
Guitar Fundamentals — This isn't a uke course, but for aspiring guitar players, this is a good place to start.
Fingerstyle Ukulele Mastery — Fingerstyle playing is beautiful to listen to, and this course will help you get started.
Beginning 15-Day Fingerstyle Course — If you want a more intensive fingerstyle course, this is great.
Beginning Baritone Ukulele Bootcamp — If you prefer the baritone uke, this is a great beginner course.
Beginning Music Reading — Not all ukulele players want to learn to read music. If you do, this course will show you how.
23 Ultimate Chord Progressions — If you want to get into writing your own music, this course is a great primer for learning chord progressions.
Guitarlele For Guitar and Ukulele Players — If you have a guitarlele (a guitar/uke hybrid), this course will help you get started with it.
One of the things we like about the lessons and courses here is the fact that you have a couple of different purchase options — you can sign up for an all-access membership and get access to all of the many courses, or you can purchase individual courses. If you aren't sure whether these ukulele lessons are for you, you might want to purchase an individual course before signing up.
Another thing we like about the site is that the lessons are divided into categories, which makes it easier to select a course. Here are the categories you can choose from:
Start here — This is a collection of courses like Beginning Ukulele Bootcamp where you can learn the basics when you're just starting out.
Songs — In this section, you can find tutorials for playing popular and classic songs.
Blues — Blues on the ukulele has a remarkable sound, and if you want to play it, this section has all the resources you need.
Fingerstyle — Even if you've never played fingerstyle before, it's not too difficult to learn on the uke. This section will take you through progressions and common fingerpicking patterns.
Scales — Drilling scales may sound dull, but once you learn your scales, you'll be able to improvise leads on the fly. This section covers major, minor, pentatonic, and whole-tone scales.
Advanced techniques — If you want to learn advanced picking and strumming techniques, this section will help you take your playing to the next level.
If you want to get a sense of what it's like to take one of these courses, check out this video — it's the first lesson in 23 Ultimate Chord Progressions.
Other Learning Resources
The courses are an important part of this site, but the site has a couple of other valuable learning resources. One is the Workshops section. In this section, you can sign up for workshops. These are intensive courses with a specific focus, and they're a bit more expensive than many standard courses. Currently, the site has two workshops — Circle of 5ths and Music Theory/Major Scales.
The other unique learning resource is the Live Q&A option. These Q&As happen each week, and during them, you can tune in via video and ask Terry questions. Sometimes, Terry invites another uke player to help with these — in this live Q&A, he invited James Hill.
Social Aspects of the Site
This website is somewhat unique in that it's very connected socially. The site YouTube channel is very active and has regular uploads — some are samples from the courses, and some are uploads of additional content.
The site also has a pretty active pros forum — this is where you can find announcements about ukulele giveaways, performance challenges, and more. You can also connect with other people working to learn the uke, which is a nice touch. On the forum, you can ask questions, and Terry can answer them, too.
Pricing and Membership Options
There are a few different Uke Like The Pros membership options. If you want a lower monthly payment, you can opt for a standard membership. This one gives you limited access to the lessons, but you can still do the Live Q&A and participate in ukulele giveaways. You get a free T-shirt, and this membership comes with a seven-day free trial.
If you want full access, you can opt for a premium membership. This one gives you everything you get with a standard membership, but you get full access to all courses. The premium membership is $19.95 per month, but you can also pay for an annual premium membership with a single payment of $188.
According to the site's FAQ, you can cancel the membership anytime. With the annual membership, if you cancel anytime before the year is up, you will get a prorated refund.
The site has a money-back guarantee, too — there's no definite timeframe, but Terry Carter says that if you are dissatisfied for any reason, you can reach out to him and receive a full refund. This is one of the most generous money-back guarantee policies that we've seen.
This site is a bit more expensive than other online ukulele platforms we've found, but we think it's worthwhile. The Beginning Ukulele Bootcamp is a fantastic course to get you playing quickly, and there are enough subsequent courses to keep you playing for a long time.
If you're still considering this site but aren't quite sure if it's the one for you, check out another lesson sample — in this one, Terry shows you three great strumming patterns for the uke that isn't the famous "island strum."
Social Proof of the Uke Like The Pros
Before jumping in and paying for a membership, you probably want to know a little about what other uke players think about the Uke Like The Pros site. We've gathered some helpful reviews that we think will help you make a decision: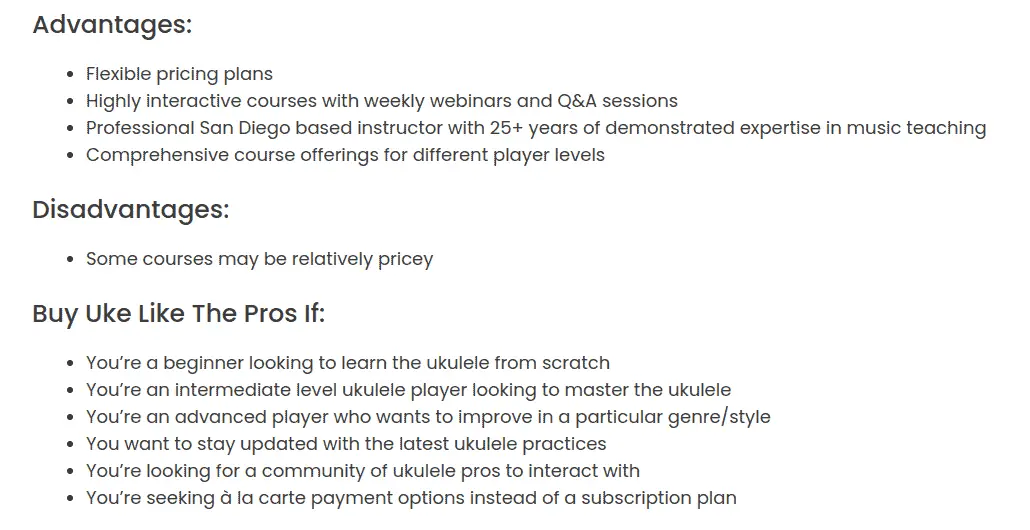 This review excerpt comes from Ukulele World Like most reviews of the site we found, this one seemed to think that this is a great option for ukulele lessons for beginners and intermediate players.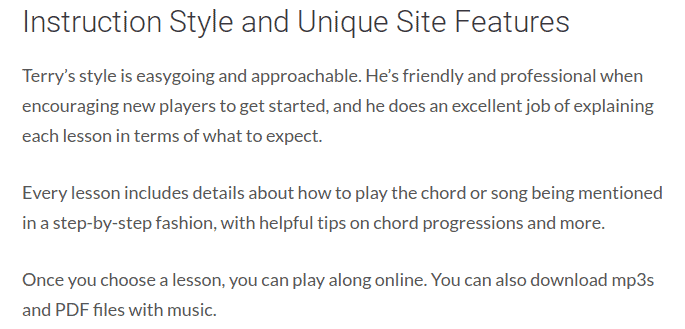 This review snapshot comes from Ukulele Music Info. This review site has praised this site for its in-depth lesson style, and they also like that most lessons come with PDFs to help with learning music reading.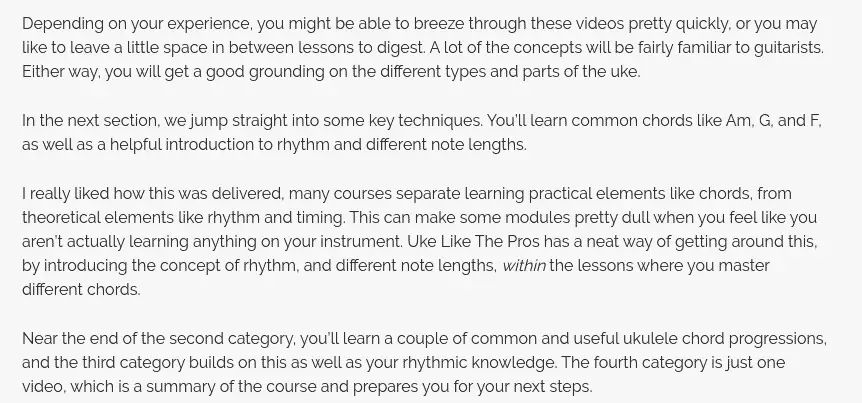 This last review comes from Know Your Instrument, and it does a good job of taking you through some of the specifics of beginner lessons. It makes a good point: this site integrates playing techniques with notes and chords, making learning more fun and effective.
Final Thoughts Of Our Review
In closing, we think Uke Like the Pros is a great option for ukulele lessons for beginners or intermediate players. With helpful Live Q&A sessions and a whole wealth of lessons for just about every level, this is a site that can really help you improve your uke skills fast. Plus, there's a wealth of full courses and single lessons to choose from. If you're ready to learn the ukulele, click here to check it out!