Whether you're a solo performer who could use a backing track or just someone who wants to change up your practice routine, a looper guitar effect just might be what you need. The Donner Deluxe Looper is a pedal that goes beyond your standard looper's typical functionality and is also available at a fraction of the cost.
Things To Consider Before Buying Looper Pedal
Before buying a looper or any other guitar effect pedal, it's wise to make sure the pedal fits in with your sound. Here are a few things to keep in mind before making a purchase:
Mono or stereo? — Playing in stereo almost always involves more gear than playing with a mono rig. However, playing in stereo is an incredible experience and lets you create beautifully nuanced soundscapes. If you play in stereo and are planning on putting a looper at the end of your signal chain, a stereo looper guitar effect may be worth it.
Do you need built-in effects? — The most basic loopers simply play back recorded phrases, but some (including the Deluxe Looper) allow you to alter playback for a more unique experience.
Is it easy to use? — If you're a player who prefers very straightforward pedals, it's a good idea to make sure the looper you choose is logically designed. Some loop pedals are designed to take up very little space on your board, but these effects also tend to be less intuitive.
Do you have space on your board? — If you're just starting a pedalboard build, this might not be much of a concern. But if space is tight, double-check that a pedal will fit before making a purchase.
PRO's & CON's of Donner Deluxe Looper
Before we take a closer look at the Donner Deluxe Looper guitar pedal, let's look at some pros and cons:
Pros
Stereo input and output options make it easy to integrate into your stereo rig.
Unlimited overdub capability makes it ideal for players who want to create layered backing tracks.
Players can upload music to the looper from a computer so that you can play along with pre-recorded tracks.
You can loop at faster or slower speeds, and you also can play a loop back in reverse.
Cons
Some players have noted that the user manual is somewhat hard to understand.
Since Donner is dedicated to making very affordable pedals, the sound quality of this looper may not be as good as loop pedals from more expensive brands.
Donner Deluxe Looper
Looper Guitar Effects Pedal
With an easy-to-use interface, 10 minutes of looping time, and onboard effects, the Deluxe Looper is a great option if you need a looper but don't have a lot to spend. You can loop at faster or slower speeds, and you also can play a loop back in reverse.
If you've ever played with a compact loop pedal, you may have felt like the design was somewhat non-intuitive. Looper pedals are a great resource for new and experienced players alike, and a pedal with a clear interface will be easier to use. In this section, we'll go through what sets this looper apart.
Overall Design
The Looper Deluxe from Donner is bigger than you might expect. It's 90 mm by 116 mm, making it about the same size as some larger stompboxes. However, the current draw is pretty standard–it has a 100 mA current draw and can be powered with a 9V, center-negative power supply.
As for looks, the Deluxe Looper isn't all that remarkable–it's an off-white color with black text. But even though the design may be a little dull, the controls are clearly marked, making it simple for even new guitarists to play. If you want to get a closer look at this pedal, check out this helpful video demo.
Additionally, the Deluxe Looper can be run in stereo. If you already play in stereo, you can probably integrate this pedal into your rig fairly easily. If you're thinking of playing in stereo, you'll need two amps. Of course, you can also play in mono. A USB port on the side can be used to connect to Donner's looper software (discussed below).
Onboard Effects
If you've already been shopping for loop pedals, you probably have seen that your options range from basic, nano-sized pedals to full-on loop stations with effects.
Loop time — This pedal lets you record and playback phrases up to 10 minutes long, which is long enough for just about any performance. Additionally, you can overdub as many times as you want.
USB import — This feature lets you load tracks from your computer onto the pedal. Playback is at a high-quality 44.1 kHz, 24-bit rate, so even pre-recorded loops will sound natural. This function is especially useful if you have recorded tracks on a DAW and want to experiment with track layering.
Speed — If you want to alter the speed of a recorded phrase, this pedal has an easy option to speed up or slow down playback. Not every guitarist needs this effect, but it can be useful for creating new and unexpected sounds.
Reverse — Similarly to the speed control, you can adjust the sound of played-back loops by playing them in reverse. This effect is kind of like playing with a reverse reverb, and it may help you create meaningful and distinctive tracks.
One of the great things about looper pedals is their ability to help you create music in different ways. If you're new to loopers and want some tips for getting started, check out this brief video lesson on using loop pedals. Donner's Deluxe Looper guitar effect is bigger than some, but it has plenty of valuable effects for practice or the stage.
Donner Looper Software
Though some players have noted that the Donner looper manual is written in somewhat broken English (and thus can be tough to follow), most players will be able to figure out this looper with a bit of experimentation. However, it's a good idea to hang onto the manual that comes with the pedal since it has instructions for using Donner's looper software. If you do misplace the original manual, you can find information on it on Donner's website.
This software lets you upload loops to your PC (or download pre-recorded loops onto your pedal). If you come up with a catchy loop during practice and want to record it for future reference, this feature makes it especially easy to do so.
Given the fact that plenty of effects companies sell loopers without this capability for much higher prices, the inclusion of Donner's looper software is pretty remarkable.
That said, some players complain about extra digital noise when doing overdubs. That's a possibility, and if you want a looper that's perfectly quiet, you might want to look elsewhere. However, we think this pedal delivers plenty of value for the price. You can see it in action in this video demo.
Social Proof
If you can, it's a good idea to try out a guitar effect pedal before you buy. However, this isn't always possible, especially if you're buying online. Many companies like Donner make affordable pedals that aren't carried in most brick-and-mortar stores. If you aren't able to try out the Deluxe Looper in person, reading reviews may help you decide whether it's right for you. Here are a few reviews we found online: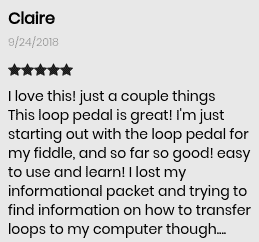 This helpful review illustrates the fact that the Deluxe Looper can be used for more than just guitar–this player has found success using it with a fiddle.
This review is surprisingly detailed, and it covers some of this looper's potential issues. While the sound quality is quite good, the instruction manual can be hard to follow.

This person was impressed with the pedal's overall quality. However, they note that no power supply is included, which is useful to know. It doesn't have the option of being battery-powered, so you'll need to make sure you have a power supply.
Hopefully, our Donner Deluxe Looper review has helped answer your questions about this remarkable pedal. With an easy-to-use interface, 10 minutes of looping time, and onboard effects, the Deluxe Looper is a great option if you need a looper but don't have a lot to spend. Click above to check it out!