Noise gates are essential for some guitarists, especially those who deal with a lot of experimental effects in their chain that could produce unwanted signals or those who use heavy distortion effects in their playing. Noise gates clean up and attenuate any unwanted sounds such as humming or hissing but don't offer much in terms of actual "effects."
Because of this, most guitarists prefer a smaller noise gate pedal to maximize the space on their pedalboards to make room for many other effects such as distortion, reverb, boost, and chorus pedals.
The Donner Noise Killer is a reliable noise gate mini pedal that allows for more space for other pedals at a very affordable price. Most cheap pedals don't offer much in terms of quality and performance, but the Donner Noise Killer offers excellent noise reduction with just the perfect amount of control, such as mode selection and threshold adjustment.
It shares many price, appearance, controls, and effectiveness similarities with its competitors, such as the Mooer Noise Gate, Rowin Noise Gate, and Joyo Noise Gate. Despite this, the Donner Noise Killer guitar pedal still dominates in terms of popularity and reliability when it comes to low-cost noise suppression.
Donner is a Chinese brand that has manufactured a variety of affordable yet effective guitar effect pedals. The Noise Killer is the brand's only noise gate pedal variant, and while it does not compete well with higher-end noise gates, the product does a great job at suppressing unwanted sounds from your signal to clean up your tone.
For the budget-friendly price, Donner does a great job of providing guitarists with an easy-to-use noise gate that does its job right out of the box. This review of Donner's pedal, Noise Killer, will provide you with everything you need to know about the product.
Things To Consider Before Buying A Noise Pedal
A noise gate pedal is essential for guitarists using heavy distortion and effects chains that may produce soft noise, and the Donner Noise Killer is the perfect choice for those on a budget. Those with pickup issues may also find the pedal useful for cleaning up their tone and is a more affordable solution compared to getting new pickups. If you're looking for a simple yet effective pedal that you can easily fit on your pedalboard, the Donner Noise Killer is for you.
PRO's & CON's of Donner Noise Killer
Before we dive into our review, let's look at some of the pros and cons of the Donner Noise Killer:
Pros
Affordable price for a reliable pedal.
Small size to make room for other pedals on a pedalboard.
Intuitive and easy operation of the threshold parameter.
Toggle switch for two modes.
True bypass circuitry does not interfere with the guitar's tone.
Cons
Audible clicking sound when the pedal is engaged.
Adds a little color to your guitar's tone when engaged.
Donner Noise Killer
Noise Gate Pedal
If you play around with a lot of effects engaged at once or distortion effects that may cause unwanted sounds, getting a noise gate for your pedalboard is an excellent investment. Luckily, you won't have to shell out on high-end ones just to be able to suppress unpleasant sounds.
Features
The Donner Noise Killer guitar pedal prides itself on its reliability and effectiveness out of simplicity. Especially for a noise gate pedal, this is great because guitarists tend to favor intuitive pedals that are easy to use without all the various confusing parameter knobs. It is a very compact pedal and does what it is supposed to do without any gimmicks or flaws.
For a pedal that pretty much everyone can afford, it is easy to use, compact, simple, and effective. If these are the things you would want from a pedal, Noise Killer is a great choice. I know for a fact that if I knew about the Noise Killer, I would have gotten myself one of these back when I needed a more compact noise gate for my board that offers great sound suppression.
Its case is made with aluminum alloy, meaning you won't have to worry about stomping on this tiny pedal during a gig. It's durable enough to last you countless performances. By the time it wears out and breaks, which is going to be a long time, you probably would have enough money for another one due to its affordability, or maybe even upgrade to a higher-end noise suppression pedal.
The internals and electronics also feature great wiring and decent components, making the Noise Killer so effective. It has a range that plays between -70dB and +10dB, which is more than enough for a noise reduction pedal and is rare at this price range.
The pedal also features true bypass circuitry, meaning you won't have to worry about this stompbox messing with your guitar tone while disengaged like most other cheap guitar pedals. Additionally, the Donner Noise Killer has a DC power supply port conveniently located on the front end.
Controls
As mentioned earlier, the Donner Noise Killer guitar pedal has only the essential controls due to its small size, and this is not a problem at all as it offers ease of use and simplicity. It allows users to easily shape their sound by reducing noise and the versatility in the mode of doing so. Effective stompboxes are not easy to produce at low costs, so the presence of controls in this guitar pedal adds to the great the product is.
The pedal's threshold knob where users can play between -70dB and +10dB. Dialing in a value lets you decide where the effect kicks in. The effect closes below the selected value and opens up at the dB values greater than the setting.
The toggle switch also allows you to select between 2 modes: soft mode and hard mode. The hard mode makes the pedal operate like a traditional noise gate and abruptly engages noise reduction; the soft mode slows down the gate's operation for a more natural sound reduction. These modes add versatility to their function and give you more freedom in choosing how you want its effect to engage.
Sound
The Noise Killer performs way better than you would expect from something at the price range. It does not affect the dynamics in your playing as long as the right settings are dialed in and gives you the power to clean up your signal easily. It may add a little color to your tone, but this is very insignificant and is not a dealbreaker. It's an excellent way to refine your distorted tone and perform jaw-dropping riffs without worrying about sound issues.
You may need to take some time to find the sweet spot in the parameters before truly appreciating this pedal, but that should be no problem and take no longer than an hour due to its simple controls. With the wide spectrum of possible threshold values and the two modes you can choose from, finding the perfect noise suppression for any guitar playing is attainable with the Noise Killer.
For a demonstration of the guitar pedal, refer to the video below:
Social Proof
While writing this review, I scoured the internet for customer reviews, and most of the reviews I came across were positive, barring a few exceptions. Here are a few notable ones that I wanted to include.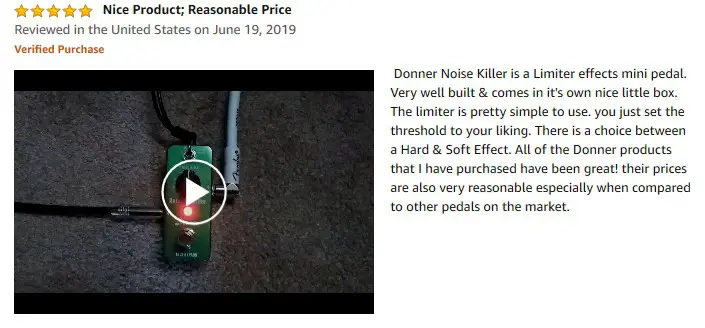 This player is satisfied with the performance of all the Donner Pedals that he has purchased. The Donner Products have a much more reasonable price tag compared to other products in the market in spite of giving a very decent level of performance.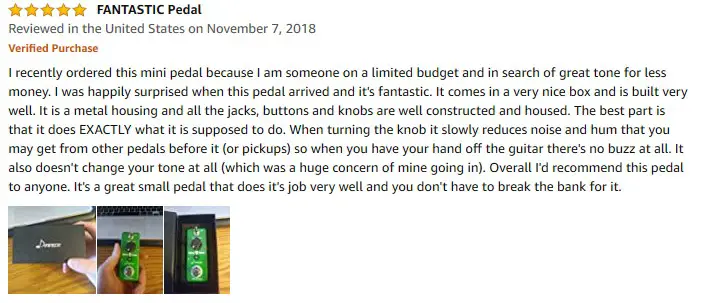 Like many other users with budget constraints, this reviewer wanted a great tone on a very limited budget. So, he selected Donner Noise Killer and praised the pedal for its size, construction, and noise reduction capabilities. More importantly for him, the pedal does not change the feel of his guitar tone.

The above review is exceptionally thorough, where the player tested the performance of the pedal noise by putting it in front of the Overdrive and Distortion pedals, with good results. The pedal does effect sustain at higher settings and does not come with a 9V battery or power supply adapter. Notwithstanding these, he still finds it a good purchase at the given price level.
If an affordable noise gate is what you're after, the Donner Noise Killer guitar pedal is one of the most reliable and effective ones you can find. It has simple and intuitive controls with a wide range of parameters and does its job flawlessly without any gimmicks or useless features. When it comes to a noise gate pedal, best or ideal features include compactness and reliability – which the Noise Killer offers for only $30.
If you play around with a lot of effects engaged at once or distortion effects that may cause unwanted sounds, getting a noise gate for your pedalboard is a great investment. Luckily, you won't have to shell out on high-end ones just to be able to suppress unpleasant sounds. If you want a reliable, durable, effective, and very affordable guitar pedal, Noise Killer from Donner is a perfect choice.
You can check it out on Amazon and get one for yourself through this link: