Few acoustic guitars offer the power of a jumbo. And among jumbos, the Gibson SJ-200 is a legend. But if you're looking for a more affordable version the Epiphone EJ-200SCE just might be right for you. Today, we'll walk through some of its key features.
Things to Consider Before Buying a Jumbo Acoustic Guitar
Jumbo guitars are a mainstay when it comes to country and rock -- they've been played by the likes of Elvis Presley, Emmylou Harris, and Jimmy Page. They also sit surprisingly well in just about any mix. Here's what to consider before buying a jumbo:
At A Glance: Epiphone EJ-200SCE & Its Alternatives
Quick Comparison: Epiphone EJ-200SCE & Its Alternatives
IMAGE
PRODUCT

Our Top Pick

Solid sruce top for excellent excellent
Slim Taper D Neck and cutaway body for better playability
Gibson like aesthetics

VIEW ON SWEETWATER →VIEW ON AMAZON →

Alternate Choice 1

Also with solid spruce top
Comes with natural finish, abalone rosette and fretboard inlays
Slightly more expensive than Epiphone EJ-200SCE

VIEW ON SWEETWATER →VIEW ON AMAZON →

Alternate Choice 2

Solid spruce top with scalloped bracing
Mahogany neck instead of maple for little warmer response
Electronics not as high end.

VIEW ON SWEETWATER →VIEW ON AMAZON →

Alternate Choice 3

All-laminate flame maple top and catalpa back and sides
Unique dual-output pickup
Significantly less expensive than Spiphone EJ-200SCE

VIEW ON SWEETWATER →VIEW ON AMAZON →
Our Picks for Review
epiphone eJ-200SCE
PRO's & CON's of Epiphone EJ-200SCE
But before we really dive into our Epiphone EJ-200SCE review, let's take a look at some pros and cons: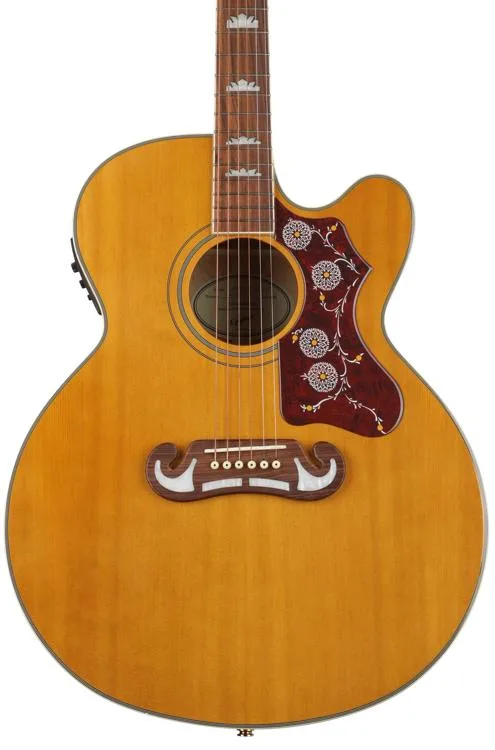 Features and Benefits
Is the EJ-200SCE the right guitar for you? Let's take a look at some of its most important features to find out.
Tonewoods and Body Style
As a jumbo acoustic guitar, the EJ-200SCE brings a loud, bold voice to any song. And like many of the world's most legendary jumbos, it has maple back and sides. Maple is unmatched when it comes to projection, but there's more than that -- it imparts beautiful focus and clarity, especially compared to warmer woods like mahogany.
The top is solid spruce, a classic choice. Its sound is often referred to as being "sparkling." When paired with maple, it creates a tone that's both delicate and powerful -- perfect for playing leads of flatpicking a rhythm.
A jumbo body probably isn't the best choice for fingerpicking, but it excels as a lead, flatpicked,
or strummed guitar
. To learn more about jumbo acoustics and how they compare to other body styles, check out this informative video.
Playability and Sound Quality
The larger jumbo body can be a little cumbersome for some players. But the EJ-200SCE has some key playability features that make it easy to manage. The smooth Venetian cutaway gives you comfortable access to upper frets.
The neck profile is also worth mentioning -- it's a SlimTaper D profile neck. That means you get the classic feel of a D-profile neck, but it's tapered enough for fast playability. This video (below left) covers the wide variety of neck shapes and who they're most suitable for.
It's worth mentioning that the EJ-200SCE has a maple neck -- an unusual choice for an acoustic. After all, you most commonly see maple necks on electric guitars,
especially Fenders
. In this case, the maple neck imparts some extra clarity to the tone. And since maple is an especially hard and dense wood, it isn't prone to warping and other issues over time. The neck is capped with a pau ferro fingerboard which makes for comfortable and fast playability, too.
In terms of sound quality, though, the EJ-200SCE offers more than would be expected for the price. It's bright with a strong and focused fundamental, but there's enough in terms of harmonics and overtones to make it sound remarkably rich and full.
Flatpicking really highlights its powerful bass response, while strumming brings out its truly lovely sparkle. And when played as a lead guitar, its tone really cuts through without becoming overpowering. When you play it (or even listen to a demo), you'll see why so many guitarists have said it sounds remarkably close to the sound of a Gibson.
This unboxing video (above right) shows off its sound right out of the box. And remember, as the solid spruce top opens up, it will sound even better with time.
Electronics
When it comes to electronics, the EJ-200SCE stands out compared to other guitars in its price range. It has a Fishman Presys preamp with a convenient built-in tuner. The Presys is essentially an upgraded version of the Sonitone, as it offers far more tone-shaping possibilities.
The preamp has a three-band EQ, while many similarly-priced guitars have a two-band EQ or even no EQ at all. And of course, the volume knob comes in handy when you're plugged in.
One of the most valuable features of the preamp is the phase switch. A phase switch helps you control how two sets of soundwaves interact. When you're playing plugged in, soundwaves sometimes become out of phase. This leads to a thin sound that's underwhelming -- it robs you of your guitar's full sound. Engaging the phase switch stops the issue and makes your plugged-in sound especially rich.
Of course, the pickup is an undersaddle piezo. Many experienced guitarists will tell you that these pickups can have some issues -- namely, there's the piezo "quack" sound that you'll notice with some instruments. These pickups also sometimes produce uneven amplification, where one or more strings end up sounding louder than the others. Still, the pickup is higher quality than most more affordable Fishman pickups. This video demo lets you hear it for yourself.
Finish and Appointments
The finish on a guitar isn't (or probably shouldn't be) the deciding factor in a purchase decision. But especially if you're a performer, it makes a major difference in your appeal to your audience. Each of these guitars comes with a pickguard modeled in the style of a Gibson SJ-200 pickguard.
Some players have noted that this pickguard looks cheap in comparison, but it's easy enough to upgrade. Similarly, the nut and saddle are PVC, but they can be upgraded easily, too. This video shows you how to replace your guitar's nut.
The EJ-200SCE is an otherwise beautifully appointed instrument. Its tuners are top-notch Grover Rotomatics, and they're finished in gold for some extra sparkle. And like the original SJ-200, it has striking crown inlays on the fretboard. Its pau ferro mustache-style bridge also has beautiful inlays to match, but a simple rosette stops it from looking overly gaudy.
In terms of finishes, the SJ-200SCE offers you more choices than you might think. The Vintage Sunburst finish offers classic appeal, and even the neck is finished in sunburst. If you want the look of an aged acoustic, you may want to go for the rustic-looking Antique Natural.
And if you want a modern, darker aesthetic, the Black finish may be more your style. Ultimately, the EJ-200SCE has a beautiful tone and three beautiful finishes to match.
Social Proof of the Guitar
Buying a guitar online poses one main challenge: you can't try it out before you buy. To make your decision a little easier, here are some Epiphone EJ-200SCE review snapshots we found:
This review helps assure guitarists who might be concerned that this guitar's affordability means its sound isn't ideal. Even though it's priced as a midrange guitar, the EJ-200SCE punches well above its weight when it comes to tone.
This realistic review points out the one relatively minor flaw in the guitar -- the pickguard. Thankfully, it's an easy fix -- the inexpensive pickguard can be removed if you'd like, and you can either replace it or just leave the guitar as-is.
This review offers high praise for the EJ-200SCE -- even though it's made by Gibson's budget brand, it still offers a sound that rivals that of a Gibson costing many times the price.
Alternatives to Epiphone EJ-200SCE
If you're purchasing a guitar in a shop, you'd probably try more than one instrument before making your selection. Of course, you can't try out a guitar online, but you can check out some similar models to make sure you're making the right choice. Here are three potential alternatives to the EJ-200SCE:
Takamine GJ72CE-NAT
How it Compares to Epiphone EJ-200SCE
Review
Takamine offers similarly-priced guitars to Epiphone, and this jumbo has a similar build with a slightly different aesthetic. It has a solid spruce top with striking flame maple back and sides and the Takamine TK-40D pickup delivers excellent sound, especially for the guitar's relatively affordable price.
If you're looking for a great-sounding cutaway jumbo and have a little more to spend, make sure you check this one out!
Guild F-250CE Deluxe
How It Compares To Epiphone EJ-200SCE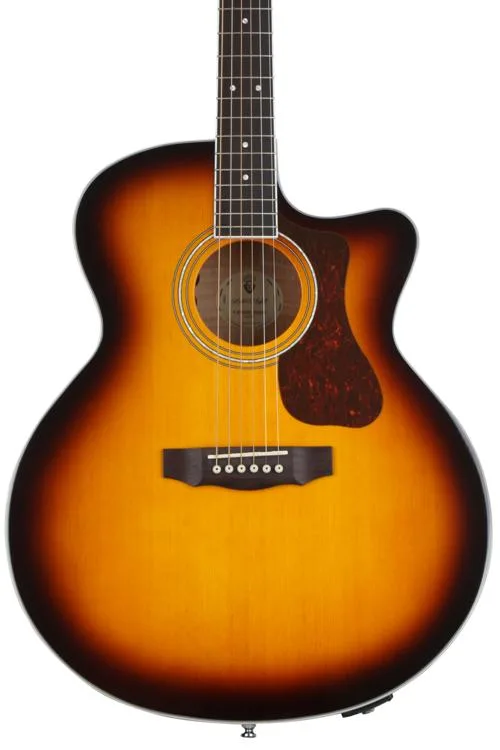 Review
Need an even bigger jumbo sound? This arch-back jumbo from Guild offers great value and an even bigger body cavity for lots of low-end and impressive overtones. Like the EJ-200SCE, it has a solid spruce top and maple back and sides, and it also has a cutaway for excellent fret access.
If you want a quality jumbo from a legendary manufacturer of acoustic guitars, this one is worth a look!
Washburn Festival EA15
How It Compares To Epiphone EJ-200SCE
Review
Especially if you're a smaller player, a full-size jumbo can become a bit unwieldy. This mini jumbo offers a jumbo-style tone in a smaller package, and it's very affordable, too! Its laminate flame maple top looks especially striking in an Ice Tea Burst finish.
If you're looking for a smaller and more affordable instrument, make sure you check this one out!
In Conclusion
In closing, even though it's an excellent value, the Epiphone EJ-200SCE also sounds like a much more expensive guitar than it is. With a Gibson-like aesthetic, outstanding playability, and reliable electronics for live performance, it's a great choice for the working musician or even the casual player looking for jumbo sound. Click here to check it out!