Do you want to learn how to sing but aren't sure how to start? The good news is that, to an extent, you can learn to be a decent vocalist. And if you already sing, you might be interested in doing what you can to expand your range.
If so, try checking out Singorama. This remarkable online program has many features like expertly-designed lessons, exercises, and more. It Includes studio software that lets you record practice sessions to assess your progress, and there's even a module to introduce you to songwriting.
But is this course all it's cracked up to be? In this review, I'll take you through key features, benefits, and more to help you decide if this unique program is right for you.
Things to Consider Before Signing Up for an Online Singing Course
While we certainly don't want to bash in-person, traditional vocal coaching, we understand that in-person lessons aren't right for everybody. Learning online lets you go at your own pace, and with this program, you get bonus exercises, workbooks, and other resources you may not have access to in every vocal program.
If you're considering other online singing programs as well, here are a few things to ask yourself:
Do you need a dedicated coach? While this program has plenty of resources to help you succeed, you don't get a dedicated vocal coach. For some people, communication with an instructor is a crucial part of the learning experience.
How important are exercises? If you've already been singing for some time, you may be well versed in vocal warm-ups. In this case, you may not need to be guided through vocal exercises.
What are your goals as a singer? This program primarily focuses on improving vocal tone by combining your head voice and chest voice, and it also focuses on expanding your range. Depending on your goals, this may or may not be ideal for you.
How much time do you have per day to practice? This program allows you to go at your own pace, so it's a good choice for busy people or those with variable schedules.
Do you want guidance on songwriting? As an added bonus, this course has a few modules on reading music and songwriting. For those who want to purely focus on singing, these might not be necessary.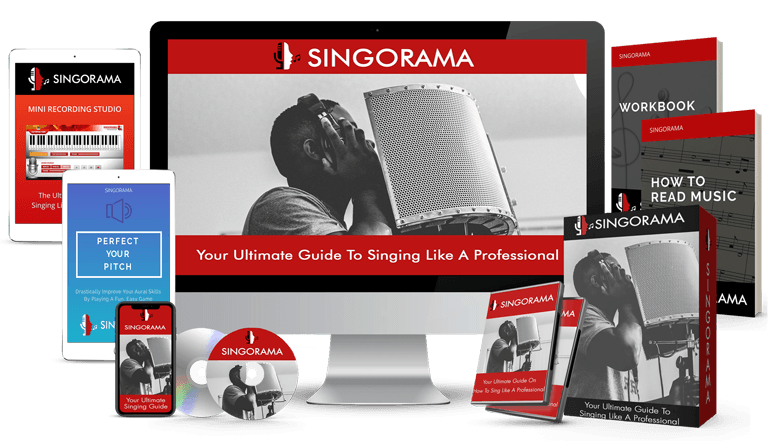 Learn To Sing – Singorama
PRO's & CON's of Singorama
In this section, we'll look at some of this course's pros and cons for people who want to improve as singers.
Pros
It's a progressive program that is simple enough, even for those without any experience.
Its multifaceted approach combines exercises, worksheets, and step-by-step instruction.
You get the option of recording software to use to monitor your progress and/or record songs you write.
You can hone your craft from your home's comfort, and the self-paced course lets you practice at any time.
Cons
The course website has a redundant layout and oddly phrased information, which doesn't exactly inspire confidence.
If you want the actual physical software set, you'll need to pay more than you would for just computer access.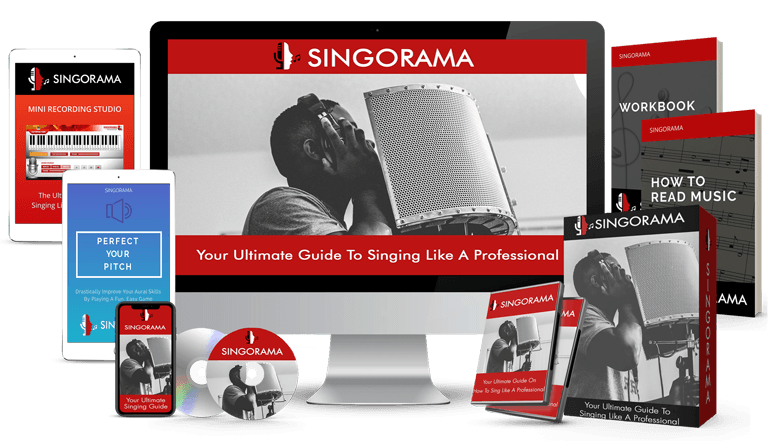 In this section, we'll take a closer look at this, learn to sing computer programs, and examine how this course might be able to improve your singing.
Brand Story
This course was created by Melanie Alexander, a singer who was part of the band Girlfriend. When she was touring, Melanie Alexander received training from some of the top vocal coaches at the time. She saw how her voice improved, and she used a bit of what she learned from each vocal coach to create this course.
The course website includes a much more thorough brand story. We think it's important to include at least a little background here–there are plenty of has-been performers just trying to make a quick buck on the internet, but we were impressed with Melanie Alexander's explanation of this course.
She doesn't make any outlandish promises, and she clarifies that the course won't magically turn you into Mariah Carey. She simply says that taking the time to learn and apply yourself will help you improve as a singer, whether you have experience or not.
Singorama 2.0 Course Structure
The entire Singorama 2.0 main interactive course is divided into 28 lessons, in the form of audio tutorials, spread over 6 modules. Each of these lessons has goals associated with it and deals with a different topic associated with developing your singing skills and bringing professionalism to your singing.
The average duration of each Singorama Singing lesson is approximately 30 minutes depending on the content covered, the number of exercises, and the time spent on these exercises by you outside the lesson.
Module 1 Audio Lessons – Getting Started As A Singer
The first module of Singorama will facilitate you to get started as a singer, make you familiar with your own voice, lay down your goals as a singer, start with the warming-up exercises and strengthen the set of muscles that defines your singing voice. The module consists of three lessons as detailed below.
Lesson 01: Understanding Your Own Voice
Lesson 02: Warmups & Strengthening the Voice
Lesson 03: Breathing & Posture
Vocal Exercises
One of the cornerstone methods of this course is the inclusion of vocal exercises. These exercises and warmups can help you expand your range and really get comfortable singing. One exercise offered on the course website is the "ng siren." With this exercise, you move through a scale while making an "ng" sound.
This exercise and others included in the Singorama course can help you to master the subtle movements needed to enunciate when singing. As you progress, having a strong foundation in these areas will help you to reach your full potential as a singer.
Module 2 – Vocal Technique
The second set of five Singorama lessons, as listed below, focus on the vocal techniques for improving the tone, page, different types of voices, and extending the range. For some aspiring singers, it can be a real challenge to master the basics, as the role of the techniques to make a better song may not be that obvious.
The module also has an audio lesson to enlighten you about the bad habits that many budding singers develop, which may affect their ability to sing properly.
Lesson 04: Vocal Tone
Lesson 05: Pitch: Staying in Tune
Lesson 06: Head and Chest Voice
Lesson 07: Bad Habits to Avoid
Lesson 08: Extending Your Range: Part I of I
Pitch Training
With Singorama, you just might achieve the perfect pitch. The singing software includes audio lessons designed to train your ear. While this training will obviously help your singing, it's also useful if you play an instrument or want to.
The pitch training included in this Singorama course will also help you to sing higher. Plenty of singers, both those new to the art and those experienced in it, would love to expand on their existing range.
Of course, you'll need to stay on the pitch when singing higher. If you dedicate the necessary time to the pitch exercises included in the course, your efforts will pay off–you'll almost certainly expand your range.
Improving Vocal Tone
Part of improving your singing involves improving the tone of your voice. One of the key principles that Melanie Alexander managed to include was learning to combine your head voice and your chest voice. This combination lets you achieve a rich, full tone for a voice that really stands out.
Achieving this combined voice is also essential if you want to switch from your chest voice to your head voice without vocal breaking. It may help to think of your voice as being a spectrum that extends from your lowest possible pitch to the highest you can sing.
If you're performing a song that uses your full range, you don't want an obvious break in the middle of that spectrum. By teaching you to become comfortable using both your head voice and chest voice at once, this course will help you expand your vocal abilities.
Expanding Vocal Range
If you're like many singers, you might envy those with impressive vocal range. It might surprise you to know that singers are rarely born possessing an expansive range. For almost everyone, expanding vocal range takes time, patience, and lots of practice. If you have a narrow range, don't be discouraged–this course is designed to help just about anyone expand their range.
This is one of the areas where it really matters that the course is self-paced. You can take as much time as you need on each module. If you find yourself hitting a sticking point, it might take a bit of extra practice. This is perfectly fine–every voice needs time to grow.
Module 3 – The Technical Stuff
The third module of the Singorama 2.0 contains three lessons and focuses on music theory essentials. These lessons will provide you with an easy-to-learn system to improve your ability to sight-read music as well as your singing ability. In this Singorama module, you will learn about tempo, key signatures, time signatures, musical intervals, major and minor keys, and a system called Solfege. Knowledge of these concepts of music theory will go a long way in helping you to learn new songs and write some of your own songs.
Lesson 09: Time Signatures, Key Signatures, and Rhythm
Lesson 10: Pitch: Major & Minor Keys and the Solfege System
Lesson 11: Intervals and the Solfege System
Module 4 – Singing Style
The fourth Singorama 2.0 module, again consisting of three audio lessons, will introduce you to the different singing styles, along with the associated cultural and performance aspects. After going through the audio files of the section, you will be able to produce different sounds, effects, and shapes, and manipulate your voice to suit different music genres and styles of music.
You will also learn important aspects about harmonizing that will allow you to sing properly in a band or a choir. Very few books on singing courses talk about the essentials of Harmony. Singorama has dedicated an entire audio lesson – (singing styles lesson thirteen) to cover this in some level of detail.
Lesson 12: Different Styles of Music
Lesson 13: Pitch: Harmony
Lesson 14: Different Genres of Music
Module 5 – Learn Entire Songs
In the previous modules of Singorama 2.0, you have learned all that it takes to produce a great-sounding professional singing voice right from the breathing, voice strengthening lesson, pitch lesson, music theory, time signatures lesson, progressive intervals lesson to the different singing styles lesson.
In Singorama module five, having five audio lessons, you will use all this knowledge to learn to sing an entire song. To become a professional singer, you should be a complete package that can produce a great performance on any given song.
To do this, you must understand the song itself including the song's meaning, comprehension, lyrics, tone, emotions, and the message it must convey to the listener. Each song tells a story, which you must present in your own individual way. You have to put your personality into the song to make the song your own.
Lesson 15: Understanding the Meaning of a Song: Part I on Lyrics and Tone
Lesson 16: Pitch: Understanding the Meaning of a Song: Part II on Emotions and Personality
Lesson 17: Making a Song Your Own
Lesson 18: Learning a Full Song: Part I of II
Lesson 19: Learning a Full Song: Part II of II
Module 6 – Your Future As A Singer
The final section of Singorama 2.0, has nine lessons and talks about your singing career, and tells you to introspect if you have been able to achieve your goals from the program. If you feel, you have become an intermediate singer or an advanced singer, you can start thinking about auditions and performances.
The common problem solutions lesson, as is evident from the name itself, lists some of the issues encountered by almost every new singer and their solutions. Other lessons include an audio lesson each on singing with a band, a stage fright lesson, performance anxiety, and extending your range.
However, the "first songwriting lesson" is usually the most popular with the course participants. People tend to write songs about a particular tune or lyric they have in their mind.
The section ends with an audio lesson on things covered in the Singorama course and highlights the most important things to remember for your singing success.
Lesson 20: Solutions to Common Problems shifts
Lesson 21: Your Future as a Singer
Lesson 22: Extending Your Range- Part II of II
Lesson 23: Performance Tips
Lesson 24: Auditions
Lesson 25: Pitch: Writing Your First Song
Lesson 26: Singing with a Band
Lesson 27: Performance Anxiety
Lesson 28: Final Overview
Fighting Stage Fright
Just about every singer has had to face stage fright at some point. An audio lesson in this very module includes tips and tricks for overcoming stage fright.
If you've ever tried to sing when anxious, you already know that tension can result in wavering pitch and wrong notes. But with the program's tips, you can grow more confident in your abilities and actually look forward to performing.
Songwriting
One of the things we really like about this course is the fact that it extends beyond what you might normally expect from vocal courses. It includes a lesson on writing songs, which is especially helpful if you want to get into writing music but don't know where to start.
There's also a unit on reading music, which is a useful skill for any singer, even those who don't play an instrument.
Other Features Of Singorama 2.0
Mini Recording Studio
One of the features of this software is the inclusion of a virtual mini recording studio. This mini recording studio is essentially a stripped-down version of conventional recording software. This lets you record and playback your voice, which is crucial if you want to improve.
It's worth mentioning that, while the software will work with your computer's built-in microphone, a higher-quality microphone meant for singing will help you to better hear the nuance in your voice. You don't need to go out and buy something incredibly expensive, but pairing the software with a real microphone is likely to help you improve.
Product Options
One of the most impressive features of this software is the 60-day money-back guarantee. With the money-back guarantee, you can buy with confidence–if you decide you don't like the package after the 60-day trial period, you can simply send an email and receive a full refund for the singing course.
While the full course has been our main focus here, we also wanted to touch on some of the other products offered by the makers of this course. If you don't want to commit to the full software package, you can download a free singing mini-course.
If songwriting is your main focus, you might be interested in the Superior Songwriting software package. And if you want an enhanced version of the package, the pay-by-the-month Platinum Inner Circle grants you an all-access pass with plenty of bonus features to help you reach your full potential.
Social Proof of the Course
When it comes to any online singing course (or really any online course at all), reviews and testimonials can be a great (and free) way to see whether the course is right for you.
That said, reliable reviews can be hard to find. We've scoured the web to look for reviews and testimonials that offer some information about this course. Our search found reviews that were almost entirely positive–most users seem very satisfied with the system. Here are three helpful reviews we found:

This brief testimonial emphasizes how easy (and quick) it is to set up the software. Even if you're not exactly a computer guru, you should be able to have this course up and running in minutes.

For this user, success came reasonably easily. John's story shows that even if you aren't young anymore, it isn't too late to start improving your voice.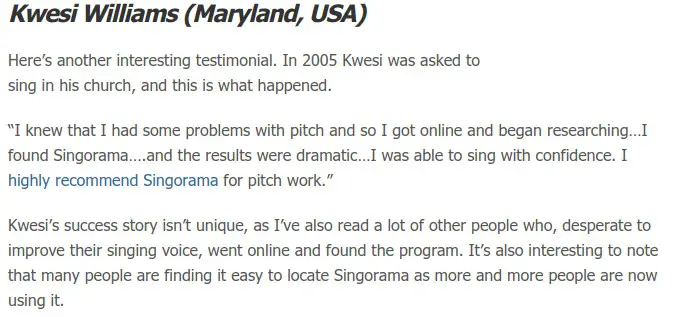 If you have ever been told you can't sing, you may suffer from pitch issues like Kwesi. But even if you have significant problems achieving the right pitch, you're almost certain to improve with guided practice.
In conclusion, even though the website desperately needs an overhaul, we think this is a worthwhile package. Thanks to its multifaceted approach and beginner-friendly design, we believe this self-paced course can help just about anyone to improve as a singer. It's also much more thorough than any other self-paced singing course we were able to find. Click here to check it out!