The Martin DRS1 is an interesting beast of a guitar. First, it's an affordable Martin -- while this company's guitars are legendary, they're also outside of the price range of many potential buyers. If you've browsed most high-end manufacturers' affordable offerings, you may have realized that many affordable models are made entirely of laminated wood.
However, with the DRS1, you get an all-solid instrument for far less than you might expect. While the DRS1 itself is discontinued, it has been re-released as the D-10E, part of Martin's affordable, durable, and versatile Road Series.
At A Glance: Our Top Picks For Martin DRS1 & Its Alternatives
Things to Consider Before Buying an Acoustic-Electric Guitar
When buying a guitar like the DRS1, most of your decision should come down to choosing the guitar that sounds the best to you. One thing that is especially important to consider is how much having an all-solid instrument matters to you. While a guitar made of all solid wood is generally a good thing, the wood used for the soundboard is most important.
If you prefer the brighter sound of a spruce top, you might prefer the updated D-10E over this guitar, as sapele has a mellower sound similar to mahogany. Essentially, it's a good idea to make sure you don't think that a guitar with a solid top back and sides is the most important feature. That said, if you prefer the sound of sapele, this all-solid option is a great value.
Quick Comparison: Martin DRS1 & Its Alternatives
IMAGE
PRODUCT

Our Top Pick

It's made entirely of solid wood, giving it a fuller, generally better-sounding tone than guitars made with laminates
Sapele, the tonewood used to build the DRS1, sounds similar to mahogany while remaining more affordable
It's made with non-scalloped X bracing for an even tonal response

VIEW ON SWEETWATER →VIEW ON AMAZON →

Alternate Choice 1

It's also a dreadnought, so you get full-bodied and versatile tone
Solid Sitka spruce top is responsive and brighter than sapele
Layered walnut back and sides may not have the same full-bodied sound as solid sapele

VIEW ON SWEETWATER →VIEW ON AMAZON →

Alternate Choice 2

Solid spruce and mahogany build gives you classic acoustic tone, and many players prefer this over sapele
Slim neck is comparable to the neck of the DRS1
It has a timeless, vintage-inspired look that will appeal to many players

VIEW ON AMAZON →

Alternate Choice 3

The solid Sitka spruce top offers brightness and a more traditional acoustic sound than the sapele top of the DRS1
Tapered neck and Venetian cutaway make it a highly playable instrument
It also includes Fishman Sonitone electronics, making it easy to plug in and play live

VIEW ON AMAZON →
Our Picks for Review
Martin D-10E Guitar
PRO's & CON's of Martin D-10E
Before we dive into our Martin DRS1 review, let's look at some of the pros and cons of this interesting model.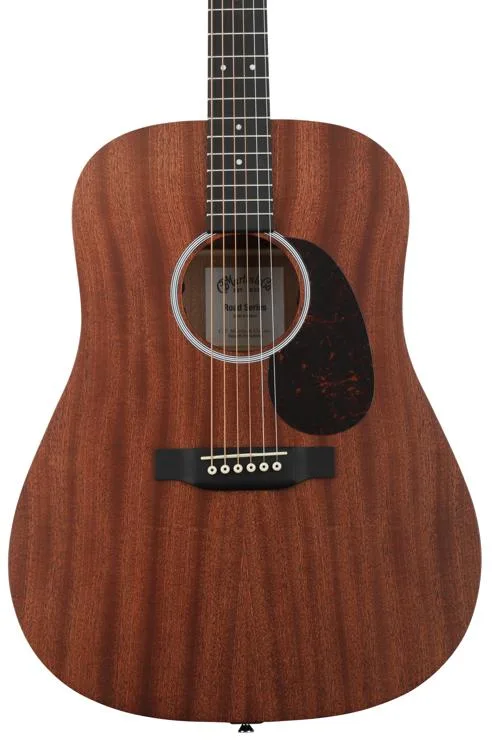 Features and Benefits
In this section, we'll break down some of the features of this Martin Acoustic guitar to help you evaluate whether or not it meets your needs as a player. Of course, when choosing a guitar, it's important to keep in mind that a guitar at this price range likely won't sound the same as an instrument that costs thousands of dollars. Still, we think that this affordable option stands out in its price range, but we'll let you decide for yourself.
Neck
We'll start with discussing the neck of this guitar, largely because the Martin terminology around neck shape is a little confusing. The DRS1 has a Performing Artist neck shape, which is very similar to their modified low oval shape. The Performing Artist shape is slightly wider at the 12th fret than the modified low oval design, making it a great balance between substance and playability.
The taper of the neck of a Martin guitar describes the fingerboard width throughout. The DRS1 has a high-performance taper, which makes it easier to quickly play up and down the neck if needed.
The DRS1 has a black Richlite fingerboard. Rihlite is a sustainable material that has many of the good qualities of a wooden fingerboard without all of the upkeep. Black Richlite looks a lot like ebony, but as ebony becomes harder to source, many instrumentalists think Richlite is the responsible choice. This video goes into detail on why Martin chooses Richlite over ebony on many of their instruments.
Tonewoods
Many guitarists know that the tonewoods used to build an instrument are one of the most important things to consider when buying. The DRS1 is made of solid sapele. This tonewood is one of the newer mahogany alternatives, and it's both sustainable and easy to source. It's often used on the back and sides of less expensive guitars, but it's hard to find instruments with sapele tops.
Sapele is a dense wood that has more high-end than mahogany. And like mahogany, it doesn't have the same clarity as spruce. This isn't a bad thing, and many players who primarily strum or play fingerstyle prefer the mellow qualities of woods like this. If you want to hear what a sapele guitar sounds like, this DRS1 demo lets you hear it for yourself.
Electronics
If you frequently play live or hope to, an acoustic-electric guitar is usually a good choice. This guitar comes equipped with Fishman Sonitone, an undersaddle piezo that is often found on more affordable instruments. Piezo pickups like this one are good if you're on a budget, but they don't have the same natural sound as higher-end electronics. Realistically, though, in an all-solid guitar at this price point, you likely aren't going to find world-class electronics.
Still, the Fishman Sonitone system produces decent sound that will serve the needs of many gigging musicians. This video demo lets you hear the pickup in action.
Other Appointments
Even though it's fairly affordable compared to many Martin offerings, this guitar still has quality appointments. It comes with a corian nut and Tusq saddle. Corian is a dense, specialized plastic that has surprisingly good tonal qualities, and it's found even on very high-end instruments. This video compares the tonal properties of corian and Tusq, which is a composite material designed to sound similar to ivory.
The DRS1 also comes with chrome enclosed-gear tuners for reliable tuning stability and a modern aesthetic. This guitar also has a satin finish. While finish aesthetics likely won't make or break any buyer's decision, a satin-finished neck is usually faster and easier to play than a gloss-finished neck.
Social Proof of the Guitar
Whether you're certain you want a guitar from Martin or are just exploring the options right now, it's often helpful to see what other players have to say about a given instrument. We've found a few reviews of this Martin guitar to help you decide whether the DRS1 is right for you.
This helpful Martin DRS1 review was written by someone who largely uses Gibson guitars. Like many players likely are, they weren't certain whether the DRS1 could hold its own against more expensive instruments. However, at least for this player, the sapele build was impressive enough that they chose it over a more expensive Gibson.
Just like the previous reviewer, this person has experience playing more expensive models, including the renowned Martin D-28. Despite having owned a Martin legend, this person calls the DRS1 the best guitar they have owned.
For this reviewer, the DRS1 didn't quite stand up to a higher-end Martin like the D-28. However, one of the main selling points of this guitar is its incredible value, and this guitarist says that it has remarkable sound for the price.
Alternatives to Martin Road Series D-10E
Any time you buy a guitar, it's wise to compare a few models before settling on one. In this section, we've found three other models you may want to consider alongside the Martin DRS1.
Taylor 110E
How it Compares to Martin D-10E
Review
If you're considering the DRS1, you may also be looking into more affordable models from other large guitar manufacturers. Taylor's 110E is very close in price to the DRS1, but it has a brighter-sounding solid Sitka spruce top and layered walnut back and sides. It also comes with Taylor's natural-sounding Expression System 2 electronics. If you want a fairly affordable guitar and prefer the brightness of spruce, make sure you check this one out!
Blueridge BR-140
How it Compares to Martin D-10E
Review
Plenty of players value having an all-solid acoustic guitar. And if you don't need the electronics that come with the DRS1, the Blueridge BR-140 offers all-solid dreadnought construction with spruce and mahogany. The BR-140 is part of the Historic Series, meaning that its build is similar to that of older dreadnoughts.
This guitar has a slim, easy-playing neck that's similar to the Performing Artist taper found on Martin guitars like the DRS1. If you prefer the sound of spruce and mahogany and don't need to plug in to play, make sure you give this guitar a look!
Martin DCX1RAE
How it Compares to Martin D-10E
Review
Like the Road Series, the Martin X Series offers players quality instruments for a surprisingly affordable price. This guitar is slightly less expensive, but it offers great playability features and a modern aesthetic that many players will love.
Like the DRS1, it has a Performing Artist tapered neck for easy playability. It also features Fishman Sonitone electronics. If you're on a budget but still want a Martin with a solid top and electronics, this guitar is worth checking out.
In Conclusion
If you had previously thought that a guitar with a solid top back and sides was out of your price range, the DRS1 is a welcome surprise. You get Martin's renowned craftsmanship, Fishman Sonitone electronics, and a guitar that's as beautiful to look at as it is to play. Whether you choose the original DRS1 or opt for the newer D-10E Road Series model, this guitar is one you'll almost certainly be happy with. Click here to check it out!