In recent years, online piano learning platforms have emerged as effective alternatives to in-person piano lessons. With the right learning app, you can learn at your own pace without leaving your home. This Simply Piano Review will help you figure out if it's the right app for you.
Things to Consider Before Buying
Generally speaking, this app is best for those who want to get familiar with piano basics. Here are some things to ask yourself before you make a purchase:
What are your goals as a pianist? With this app, you can learn the basics of playing as a solo pianist, an accompanist, or both relatively quickly.
Are you looking for a program that will take you through advanced concepts? While this app teaches beginner and intermediate concepts, it doesn't include material for advanced learners.
Do you want to learn piano but aren't sure where to start? This piano course guides you through both learning and practicing beginner concepts and techniques.
Are you interested in pop music, classical music, or both? Most songs in the song library are pop songs, and there are a few optional courses in classical music.
Are there other people in your family who want to learn piano? With one subscription to the app, you can add up to five separate user profiles.
Do you want to develop a solid foundation as a musician? The app introduces you to many of the skills you'll need to play piano successfully, but it doesn't go into theory as thoroughly as some other learning programs.
Do you intend to learn to read and play from sheet music? This app offers printable sheet music, something that not many competitors do.
Simply Piano Overview
Simply Piano is a piano learning app by Simply (formerly JoyTunes), the development company behind Piano Dust Buster and Piano Maestro. It's won awards, including Best App from Google Play, the Editor's Choice Award from Apple, EMI's Innovation Challenge, a Parents' Choice Award, and a World Summit Award given by the United Nations.
Simply is based in Israel and was founded in 2010. The company's various music learning apps use MusicSense, an interactive listening system that can evaluate how well a student plays piano, guitar, or another instrument.
The app is designed to help new pianists learn piano quickly and easily. It's one of the most popular piano-learning apps. It doesn't lean into the gamified learning concept as much as Playground Sessions, and it doesn't have as many customizable learning features as Skoove. Still, it's a well-designed program that's great for getting beginners started. And since it's child-friendly and beginner-friendly, it's a suitable piano app for the whole family.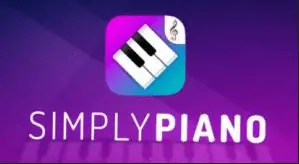 PRO's & CON's Of Simply Piano
Pros:
You start out learning to read sheet music right away.
The app is compatible with both acoustic and digital pianos.
You can't move on until you play a lesson correctly, so the app holds you accountable and encourages practice.
It teaches chords and music theory concepts in the context of songs, so you're more likely to remember them.
Cons:
You usually can't set your tempo when learning songs or split up the parts for your right and left hands.
It only covers beginner and intermediate piano concepts.
It doesn't cover music theory very extensively.
Let's check out some of the most important features of this learning app.
Courses and Learning Plans
Before you select a site for piano lessons, it's especially critical to understand the curriculum. Here's a quick rundown of the available courses on the app.
Intro Courses
Before you move on to more advanced piano topics, this app takes you through two courses: "Piano Basics" and "Essentials I." In these, you'll learn finger numbers, how to place your hands on the keyboard, and how to play a few notes with each hand. You'll also learn a few easy chords and a couple of simplified songs. Essentially, it's a beginner sampler platter to get you started.
Once you complete the intro courses, you can choose between two paths: Soloist and Chords. You can also complete them both, which is the best choice if you want to be a well-rounded player.
Chords Path
If you want your piano learning to be primarily focused on playing chords to accompany the melody of any song, you'll likely be most interested in the chord path. This path teaches music theory and piano techniques using pop, jazz, and rock songs. It takes you through what you need to know with a logical progression of courses:
You'll start out this path with Pop Chords I, II, and II. The Pop Chords courses show you some of the most commonly used chords in pop, including C, D, G, Em, F, Dm, E, A, and Bm. The courses help you learn and practice the chords in the context of popular songs, so you'll be more likely to remember them!
Then you'll move on to Chord Styling I, II, and III. Here, you'll learn how to apply the chords you've learned in different genres. These courses also encourage you to start developing your own musical style—a great feature if you're hoping to write your own music.
From there, you'll start learning some of the chords you often see in other genres. Blues Chords I covers dominant seventh chords and the classic 12-bar blues progression. In Jazz Chords I and II, you'll learn minor seventh and diminished chords. You'll also learn some of the music theory behind chord progressions.
The last course, Slash Chords, will do wonders for your musical style. In addition to slash chords, you'll learn about chord inversions, moving bass, and pedal bass.
Soloist Path
This path will take you through more advanced concepts. It's especially useful for those interested in classical piano, as it delves into music history in addition to teaching you important music theory and skills.
The first courses in this path, Essentials II and III build on the introductory courses. These courses show you the C and F positions on the keyboard. You'll learn more notes on the piano (including accidentals), and you'll learn the C major scale over one octave.
This path also includes Classical I and II, two optional courses. You'll get a brief lesson on the history of classical music, and you'll also get to try playing easy versions of historically-important pieces. You can also take two optional Taste of Bach courses where you'll learn a few easy Bach excerpts.
The real core of the Soloist path is in the Intermediate I, II, III, and IV courses. These courses take you through various essential intermediate skills, including additional scales.
Toward the end of this path, you can take a couple of Pre-Advanced courses. You'll learn about key signatures and 16th notes. If you want to progress further after this, you'll be ready to move on to an advanced learning platform.
The Soloist path also includes two song lessons: you can learn the iconic tracks "The Entertainer" (Scott Joplin) and "Bohemian Rhapsody" (Queen).
Five-Minute Workouts
New pianists tend to progress fast when they play often. But if you don't have time for a full lesson, Simply Piano offers "five-minute workouts." If you choose this option, the site will give you a quick piano workout based on your current level. These workouts will help reinforce what you've learned, and some even focus on sight reading. They're a great feature that you don't usually see on online learning programs.
If you want to get a look at how the lessons work, check out this video overview!
User Experience
The most fun music apps for piano learning offer an intuitive and helpful user interface. Simply Piano offers a great interface that helps you learn step by step. You can see scrolling sheet music as well as illuminated keys on the on-screen keyboard. The app also offers printable sheet music to practice with, which is a huge bonus!
The app gives you instant feedback, an invaluable learning tool. The app can "listen" to an acoustic piano or connect to a digital keyboard or electric piano. As you play along, correct notes turn blue and incorrect ones turn red. If you play slowly, the next note will turn yellow, and you'll get a hint. It's worth noting that, especially if you use an acoustic piano, the app's listening feature may not always be 100% accurate.
If you make too many mistakes while playing through a lesson, the learning interface reverts to "practice mode," where you play with a metronome at a slower tempo. This video shows you what it's like to play in practice mode.
Lastly, you can also practice in "touch mode" by touching an on-screen keyboard. This is definitely not a long-term solution, but it's great for trying out the app or practicing on the go.
Song Library
Lots of people want to learn piano so they can play their favorite songs. So naturally, you probably want an app with popular music and other fun songs to learn. Like many fun music apps, this one has a large song library of hundreds of songs. Most are pop music, but you can also find some classical music.
The songs in the library are categorized by level. You can sort them by level, but you can't filter by genre. Although that's a bit of a downside, the song lessons more than makeup for it. Each song lesson teaches you a few bars at a time until you build up to playing along with a backing track. The app will even rate your performance at the end!
To get a sense of what it's like to learn to play songs with the app, check out this song lesson from the Simply Piano YouTube channel.
Device Compatibility and Cost
Before choosing an app to help you play the piano, make sure it's compatible with your devices and your piano! This program works on Apple and Android devices, but it's important to realize it can't be used on computers. That feature is somewhat inconvenient, as many learners prefer reading sheet music and watching tutorials on a larger screen. Especially if you want to use the on-screen keyboard, learning on a tablet will usually be easier than learning on the phone.
To get real-time feedback on your playing, you can choose to connect a digital piano or keyboard via USB or MIDI. The app can also use the device's microphone to listen to you play. You can use any type of piano with Simply Piano, but you'll generally get more accurate feedback with a USB or MIDI connection. This tutorial shows you how to easily connect a MIDI keyboard to your tablet!
Cost is also an important consideration for most people. If you'd like to try Simply Piano before you spring for a full-access membership, you can try the app's seven-day full-access free trial. After that, you can choose from three recurring subscriptions: $149.99 for one year, $89.99 for six months, and $59.99 for three months. While the app is pricier than some alternatives, it's important to note that you can have up to five learning profiles per account.
Social Proof of the Course
Before deciding, it's good to see what other app users think of the platform. We've scoured the internet to find a few informative reviews! Most users seem to find the app useful, but some mention running into issues with the app's listening feature.

If you're interested in learning piano quickly but aren't sure how to start, Simply Piano is a great tool. It starts you out learning notes and reading sheet music right away, and it even offers a choice of learning paths so you can focus on learning what you love. From there, you'll learn step by step until you become a solid intermediate pianist. Click here to check it out!