Plenty of guitarists dream of owning a Taylor. This brand combines handmade craftsmanship with state-of-the-art electronics to create great-sounding guitars for the stage, studio, or home.
Today, we'll be looking at a scaled down design based on Taylor's popular Grand Symphony (GS) body shape. The Taylor GS Mini E koa acoustic electric guitar is perfect for players who want the signature sound (and beautiful grain) of koa without the high price tag.
Things to Consider Before Buying a Mini Guitar
Whether you just want something to play around the house or need a portable guitar to take to gigs, a guitar like the Taylor GS Mini koa can be a worthwhile investment. However, before you buy, you may want to ask yourself the following:
Our Picks for Review
| | | | | |
| --- | --- | --- | --- | --- |
| | | | | Cell |
| | | Safari Starry Night Travel | | Cell |
| | | | | |
| | | Redlands Acoustic-Electric | | Cell |
Features and Benefits
Now we'll take a closer look at some of the features of the GS Mini E koa. We've been impressed, and we think you will be, too.
Tonewoods
This Taylor GS Mini takes the road less traveled when it comes to tonewood construction. The top is made of solid Hawaiian koa, which has a truly stunning grain. However, koa is also sonically complex and beautiful. You get a warm, full midrange like you would with mahogany, but you also get a clear, bright high end like you would with maple.
The back and sides are made of layered koa. Taylor uses layered woods instead of traditional laminate. Layering is a bit of a step up, as many laminates consist largely of resin and plywood. The layered back and sides of course don't have the same sound as solid wood, but they keep the guitar affordable without sacrificing much in the way of tone.
The neck is made of sapele, a lightweight wood that actually sounds (and looks) a good bit like the mahogany. The fingerboard is made of ebony, which is extraordinarily comfortable to play. As a bonus, the ebony provides a striking contrast against koa's complex grain.
If you want to get a closer look at this Taylor GS Mini, check out this review and sound demo.
Electronics
Not all electronics are created equal, but we think that Taylor's Expression System B (ES-B) pickup is one of the best in the business. This is because the piezo design is drastically different from that of most undersaddle piezos -- the ES-B uses a behind-the-saddle pickup design. Undersaddle piezos tend to not capture the full resonance of your guitar, but the ES-B electronics are some of the most natural-sounding that we've heard.
This system also includes an onboard preamp with a built-in chromatic tuner, which is a great thing to have when playing gigs. You also have onboard tone and volume controls, which are especially useful when trying to dial in the right sound for each venue.
It's worth noting that the cutting-edge electronics are a big part of why this little guitar costs as much as it does. If you don't need to plug in, you may want to purchase another of Taylor's Mini models. But if you want to learn more about Taylor's Expression System, check out this informative video.
Additional Appointments
While the koa grain is arguably the most noticeable thing about the GS Mini E koa, this guitar has several other notable features:
Social Proof of the Guitar
If you can't try out the Taylor GS Mini E koa before you buy, the next best thing is reading reviews by players who have tried or purchased it. Here are some useful reviews we've found:
This review may seem overly glowing, but many reviews of the GS Mini E koa were similar. For this person, the GS Mini sounded equally good played acoustically or plugged in. Sometimes, smaller guitars come with cheap electronics, which is very disappointing if you want to play live.
This Taylor GS Mini koa review offers some insight into the playability of the GS Mini E koa. The neck is narrow and shorter than that of a standard guitar, so it's easier to play for someone with small hands or shorter arms. This person also points out that it's nearly impossible to find a negative review of this guitar, which has been our experience as well.
This last review is a brief one, but it offers a pretty apt characterization of this guitar's sound.
Alternatives to Taylor GS Mini Koa
Before you take a look at the GS MIni E koa and click "add to cart," you may want to take a look at some alternatives. Here are three other smaller guitars you may want to consider:
Luna Safari Starry Night Travel Guitar
How it Compares to Taylor GS Mini Koa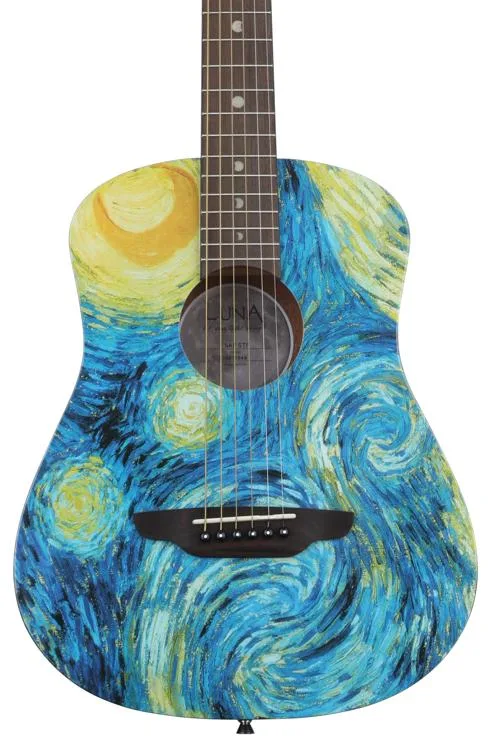 Review
This one is more of a statement piece -- the guitar is covered with a graphic of Van Gogh's "Starry Night." This is in line with a lot of Luna guitars -- they're designed to be visually striking while still remaining affordable. This one is much more affordable travel guitar, although it doesn't have the same sound as the Taylor GS Mini E.
If you want a fun travel guitar that's very affordable, make sure you check this one out!
Taylor Baby BT2 Mahogany
How It Compares To Taylor GS Mini Koa
Review
If you want a travel guitar but prefer dreadnoughts and traditional tonewood combinations, the Taylor Baby BT2 is a great option. This little guitar has a solid mahogany top with layered sapele back and sides, and it's also an affordable alternative to the GS Mini E koa.
If you want a highly-playable little dreadnought, make sure you give this one a look!
Traveler Guitar Redlands Concert Acoustic-Electric
How It Compares To Taylor GS Mini Koa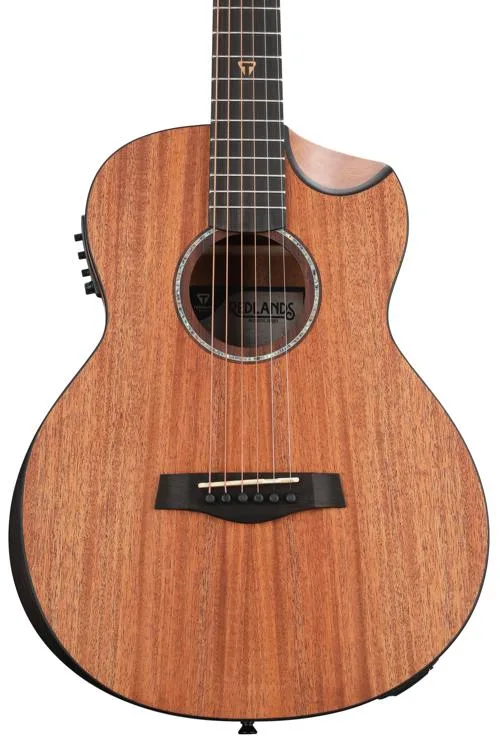 Review
If you feed an affordable travel guitar with onboard electronics, this comfortable concert-body with a cutaway is worth a look. The body is made of laminated mahogany, and the beveled armrest helps create a comfortable playing experience.
If you want a travel guitar that's great-looking yet affordable, make sure you look at this one.
In Conclusion
If you're shopping for a good travel guitar, you likely already know that it's a challenge to find something that's both well-built and equipped with quality electronics. And while we realize that the GS Mini E koa is expensive compared to other options, we think that its incredible sound quality (both plugged in and unplugged) makes it worth it. Plus, it's made of koa, which is both visually stunning and sonically beautiful. Click here to check it out!