Blues music has a timeless appeal, and it's no wonder that many contemporary guitarists want to learn to play blues classics or write their songs in a similar style.
And while many acoustic guitars are versatile enough to handle just about any playing, you may be interested in finding an acoustic guitar that's capable of producing the vibrant, punchy blues sound that many of us have come to know and love. Here, we'll help you find the best acoustic guitar for blues.
Our Picks For Best Blues Acoustic Guitar
In this section, we'll outline our top five picks for blues acoustic guitars, as well as the key features of each one. Our list contains recommendations for almost any budget, so you'll likely find a guitar that works for you.
| | | | | |
| --- | --- | --- | --- | --- |
| | G9200 Roundneck | | | Cell |
| | 00-15M | | | Cell |
| | | | | Cell |
| | | | | Cell |
| | | | | Cell |
Gretsch G9200 Roundneck
Important Features
Pros & Cons
Brief Review & Star Rating
Review
This resonator guitar has inspired decades of blues guitar tradition. While the distinctly metallic sound of a resonator isn't for everyone, it's a unique sound that's ideal for blues-style playing.

Plus, while many resonators are very expensive, this one is relatively affordable, and it comes from a reputable manufacturer. The all-mahogany construction provides a rich tone that emphasizes midrange, and the f-holes and Pearloid-overlaid headstock give it a truly distinctive look.
Our Star Rating
Of all the guitars on the list, this one is best for producing authentic blues tone. Because of its unique tone and its distinctive design, we give it a four-star rating out of five. A solid wood (as opposed to laminate) construction would likely give it an improved tone, but given its relatively affordable price, we still think it's a great buy.
Martin 00-15M
Important Features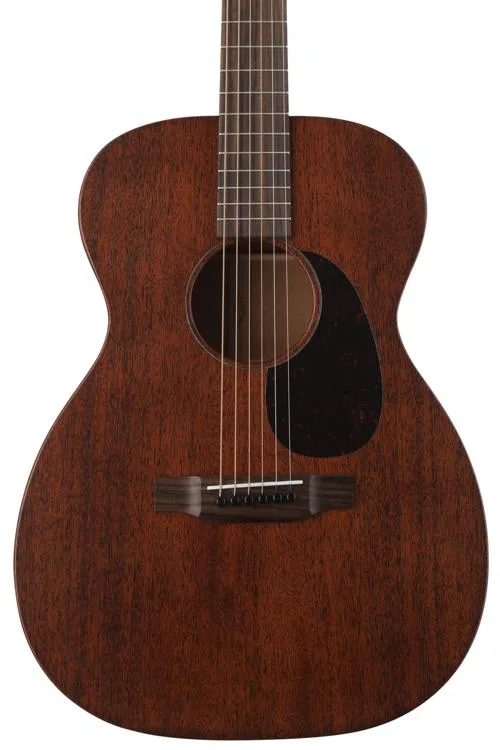 Pros & Cons
Brief Review & Star Rating
Review
Martin is a mainstay when it comes to both blues and bluegrass instruments, and this all-solid mahogany guitar is an excellent choice for blues.
The auditorium body makes it an excellent choice for fingerpicking, and it's also an excellent choice for someone who wants something other than a classic dreadnought. Plus, you can also find the 0015M in a StreetMaster version, which is a distressed finish that's reminiscent of older blues guitars.
Our Star Rating
We give this guitar five out of five stars. It's relatively expensive, so it may not be the best choice for everyone. However, it has the best quality build of any guitar on the list. If you have the money to spare, this is a guitar that will only improve with age.
Gretsch G9201 Honey Dipper -- Best for Slides
Important Features
Pros & Cons
Brief Review & Star Rating
Review
If you close your eyes and listen to a skilled player using a slide on the Honey Dipper, you might swear you were listening to an old blues recording. If you want to get into slide guitar and prefer an instrument that sounds like the real thing, the Honey Dipper might just be the right choice.
This resonator stands out largely because of its build -- the entire body is made of brass that's made to look weathered. Combined with the Gretsch Ampli-Sonic biscuit cone resonator, the brass body creates a tone that's resonant, twangy, and midrange-heavy -- perfect for classic blues (and especially for playing with a slide). As you might expect, the brass body does make it heavier than most acoustic guitars. The Honey Dipper weighs around eight pounds, and most acoustics weigh around four.
This guitar is still comfortable to play with -- the mahogany neck has a V-shaped profile that's comfortable in your hand. It has a padauk fretboard that looks a bit like rosewood, and its abalone dots add just a little glitter. Whether you want to play blues classics or add some vintage sound to newer arrangements, this is a great guitar to choose.
Our Star Rating
We think the Honey Dipper's authentic Delta bluestone makes it the best choice for playing slide guitar. We give it five out of five stars.
Gibson Acoustic 60's J-45 Original -- Best High-End Guitar
Important Features
Pros & Cons
Brief Review & Star Rating
Review
If you've done any digging into the history of blues, you probably know that many of the greatest blues recordings were made on inexpensive guitars. The 60's J-45 original isn't an inexpensive guitar, but it's an excellent option for blues players wanting a more modern sound or a guitar with more resonance.
This particular version of the J-45 is especially visually striking -- you can choose Ebony or Wine Red finish, and each one comes with a contrasting white pickguard. But both are built to 60's specifications for a vintage-inspired sound. The spruce top with mahogany back and sides is a great combination for blues music, and the scalloped X bracing gives you a great balance between resonance and sustain. The bone nut and saddle create a smooth tone, too. It's important to note that, unlike many Gibson Acoustic guitars, this one does not come with any electronics.
It's also a comfortably playable instrument -- it has a slightly narrower 1.687" nut width that makes fretting notes and chords easier, and the rounded neck profile is close to that of vintage instruments. The rosewood fretboard is long-lasting and easy on your fingers.
This guitar may not be what you think of when you imagine a blues instrument -- after all, it's not a very small or very shallow acoustic guitar. But if you want an all-around acoustic that can also deliver mean blues sound, the 60's J-45 Original is great.
Our Star Rating
We think that this remarkable instrument is the best high-end guitar on the list, and we give it four out of five stars.
Gibson L-00 Standard -- Best for Studio Recording
Important Features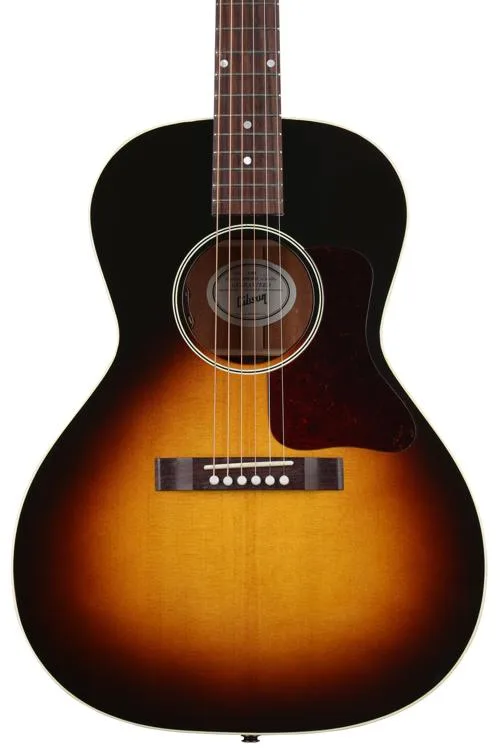 Pros & Cons
Brief Review & Star Rating
Review
Many of Gibson's smaller acoustic guitars are very well suited to playing blues and folk. And while you might associate the L-00 with fingerpicking, this small instrument is perfect for the solo blues performer too. One of its most notable features is the thermally aged Sitka spruce top -- this feature makes it sound like a played-in, vintage instrument right out of the box.
The smaller 00 body style is ideal for blues, too -- as you likely already know, many of the best blues boxes have smaller bodies that project well. Add in the warm, focused midrange of the L-00 Standard to the mix, and you have a guitar that's perfect for solo blues performers.
Since this guitar's tone strikes the perfect balance between warmth, focus, and resonance, it's an ideal instrument for recording -- simply placing a quality condenser mic at the 12th fret accurately captures its sound, which has enough presence to assert its place in any mix.
But the L-00 Standard isn't just a blues powerhouse in the studio -- it's also outstanding when plugged in. Like many of Gibson's high-end acoustics, this one comes with LR Baggs VTC electronics. The pickup itself has a small preamp that's mounted in the soundhole so it doesn't mar the instrument's finish.
Our Star Rating
We think that this little instrument is the best blues acoustic guitar for studio recording on the list, and we give it four out of five stars.
Epiphone AJ-220S -- Best for Playing in Groups
Important Features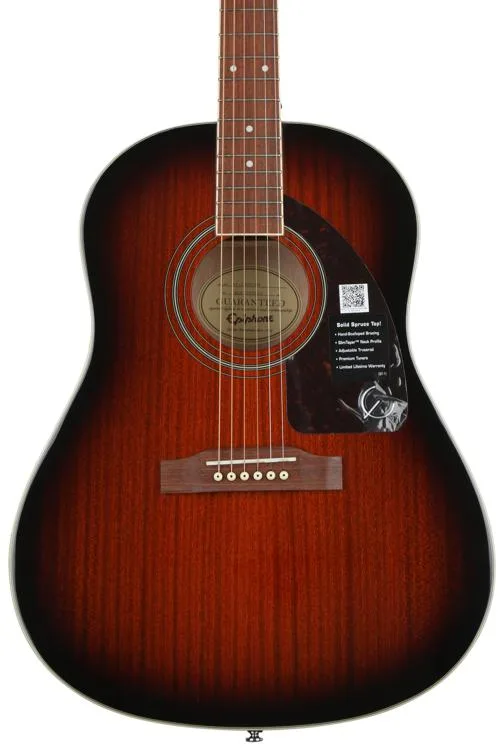 Pros & Cons
Brief Review & Star Rating
Review
You're probably at least mildly familiar with Gibson's Advanced Jumbo acoustic guitars. The Epiphone AJ-220S is a much more affordable version -- many Epiphone starter guitars are somewhat expensive, but this one's solid Sitka spruce top and relatively low price make it a real standout.
As you likely already know, if you're looking for a quality instrument that's still affordable, solid-top acoustics that is relatively visually simple tend to be the best way to go. Of course, part of this instrument's low price comes from the fact that it does not have electronics. If you wish, you can always select a good-quality pickup and install it after purchase.
The AJ-220S has laminated mahogany back and sides and a mahogany neck for a warmer, somewhat dark sound. The neck is attached via a glued dovetail joint. This joint maximizes the transfer of string vibrations to the body, which results in a full, authentic sound. A SlimTaper D-shaped neck profile and rosewood fretboard make it fun and easy to play.
It's an ideal choice if you like the presence of a dreadnought but prefer a more focused sound. Thanks to its more rounded upper bout, the Advanced Jumbo body shape cuts out some of the overtones and boominess you sometimes get with a square-shoulder dreadnought. This guitar also comes in more colors than most -- you can find it in Vintage Sunburst, Natural, Mahogany Burst, and some retailers even offer it in striking Trans Blue finish!
Our Star Rating
We think this one is the best blues acoustic guitar for playing in groups. We give it four stars out of five.
Gretsch G9520E Gin Rickey -- Best Acoustic-Electric Blues Guitar
Important Features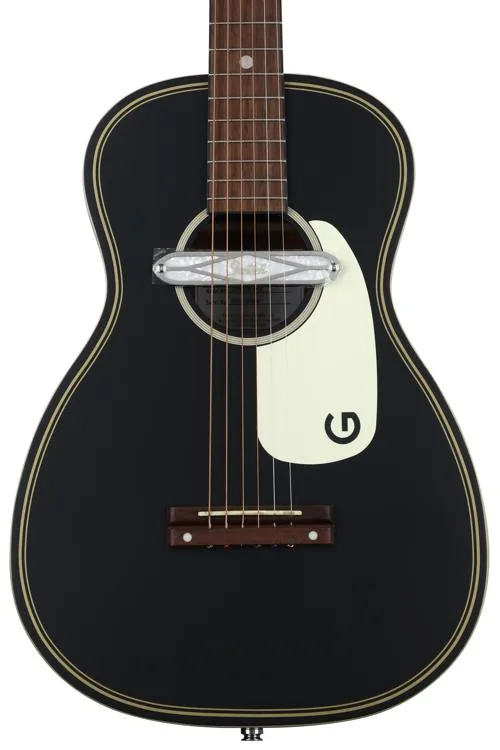 Pros & Cons
Brief Review & Star Rating
Review
This unique little parlor guitar can both play the blues and look the part. While its all-basswood body might not be all that appealing to most players, its unique pickup is what really sets it apart. The Gin Rickey has a Gretsch Deltoluxe soundhole pickup that delivers a vintage-tinged bluestone. This pickup adds just enough grit to your plugged-in tone, approximating the sound of old blues records. A synthetic bone nut and saddle help support its authentic vintage tone.
The relatively shallow, X-braced parlor-style body also has the projection ability that you absolutely need in a blues box. And its head-turning Smokestack Black finish, vintage nickel frets, and classic open-geared tuners keep it looking authentic, too. The Gin Rickey is also part of Gretsch's Roots collection. This collection of instruments is modeled after some of the company's oldest guitars. And best of all, despite their authentic tone, instruments in this series are usually very affordable.
Though the Gin Rickey does well as a blues guitar, its small size and playable neck also make it a great instrument for kids, smaller adults, or people just learning to play guitar.
Our Star Rating
We think that the Gin Rickey is the best guitar to get if you want authentic amplified bluestone, and we give it four out of five stars.
Martin 000-17E -- Best Electronics
Important Features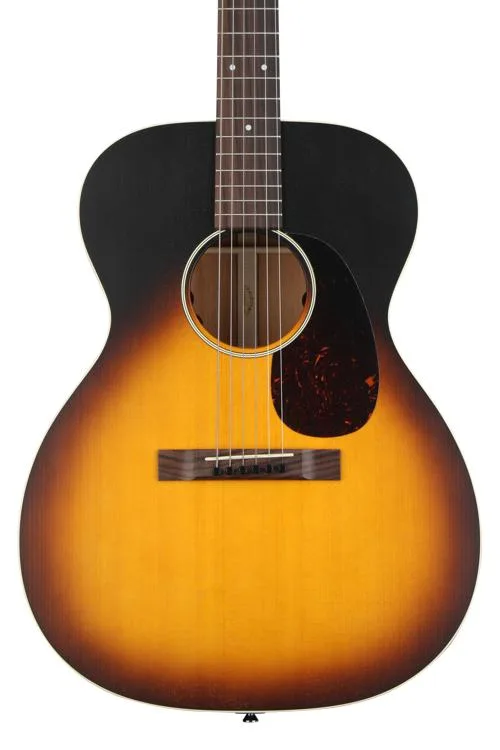 Pros & Cons
Brief Review & Star Rating
Review
Most of us associate Martin more with folk and bluegrass than with blues. But these classics, beautifully made instruments can certainly hold their own in the genre. And this Martin offers the look of a pre-war instrument but offers the cutting-edge sound of contemporary electronics. The 000-17E looks immediately unique -- unlike many guitars used for blues, it has an auditorium body style. This build allows for plenty of tonal detail as well as resonance, and its X-bracing gives it the ability to project.
The 000-17E is equipped with the Fishman Matrix VT Enhance electronic system. This unique system combines the output of an undersaddle pickup with an Enhance element. The Enhance element amplifies more of the sounds coming from the guitar's soundboard, especially percussive techniques.
The 000-17E's vintage appointments make it a joy to look at -- from the bone nut to the grained ivoroid binding to the Golden Age Relic Nickel tuners. It also has a beautiful rosewood fingerboard and bridge, and a compensated Tusq saddle supports excellent intonation. Its simple, classic look makes it fit in with the aesthetic of traditional blues guitars. You can choose it in a lovely Whiskey Sunset or Black Smoke finish.
Our Star Rating
We think the proprietary electronics on the 000-17E are the best on the list, and we give this guitar four out of five stars.
Taylor Big Baby
Important Features
Pros & Cons
Brief Review & Star Rating
Review
Generally speaking, Taylor guitars aren't associated with blues music--most have a bright, airy tone that's more suited to other styles of music. However, the Big Baby's smaller size (it's a 15/16 size dreadnought) means that its tone is likely to work well with blues-style playing.

It has a solid Sitka spruce top that balances nicely with the Sapele back and sides. Sapele is an inexpensive tonewood, but its tonal properties are similar to mahogany. Sapele is also solid wood, making this guitar great for travel.
Our Star Rating
We give this guitar four out of five stars. It's a well-built smaller instrument, but its construction may not be ideal for playing blues. That said, we chose the Big Baby because it's the best smaller guitar on the list, and its Sapele back and sides make it an excellent choice for travel.
Fender CP-60S
Important Features
Pros & Cons
Brief Review & Star Rating
Review
The parlor guitar is a staple when it comes to blues and folk music, and this little guitar will add a vintage vibe to any blues song. Its smaller body projects beautifully and limits sustain.
This balances out the fact that the top is solid spruce--spruce tops are sometimes too bright for blues playing, but the top of the CP-60S adds just enough sustain to this guitar's small body. Its back and sides are made of laminated mahogany, which further emphasizes midrange and adds some warmth to the tone.
Our Star Rating
Even though it's very affordably priced, we give this guitar four out of five stars. Although the build quality may not be as good as some of the more expensive guitars on the list, the smaller body and choice of tonewoods make it uniquely suited to blues playing. We chose this guitar because it's the best entry-level-priced guitar on the list.
Yamaha APXT2EW -- Best 3/4 Guitar
Important Features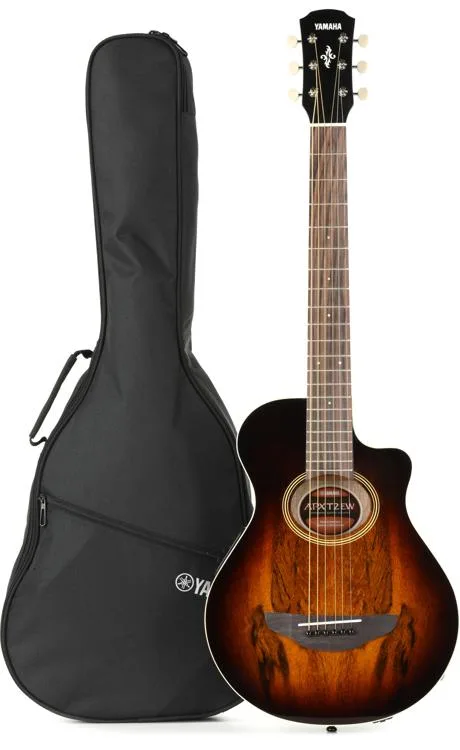 Pros & Cons
Brief Review & Star Rating
Review
Most of us don't always associate Yamaha with blues instruments. But this guitar is an affordable and effective, if nontraditional, blues box. It's a 3/4-size instrument -- ideal for shorter players or kids just learning guitar. And its shallow body gives it the focus and projection that you need in a blues guitar. Plus, it comes equipped with a System 68TR pickup that includes an onboard tuner as well as EQ, volume, and tone controls.
As a smaller guitar, this one has a shorter 22.81" scale length. It also has a slender neck with a rosewood fingerboard for easy playability. It was made to be a smaller version of the APX500, a very popular Yamaha acoustic-electric. Covered chrome tuners with white buttons, a tasteful rosette, and understated dot inlays make it aesthetically pleasing without breaking the bank.
Of course, the Yamaha APXT2EW is an economical choice, but it isn't made with the best tonewoods -- Yamaha simply says the back and sides are made of "tropical tonewoods," and the top is made of meranti. Meranti is a very inexpensive wood that's used more for strength than for tonal qualities. However, it does have a beautiful mango wood veneer that makes it a real stage standout. Whether you choose the natural or sunburst finish, you can be sure that you'll turn heads with this guitar.
Our Star Rating
This guitar is great for kids and smaller players, and we think it's the best 3/4-size guitar on the list. We give it three and a half out of five stars.
Fender CD-60S
Important Features
Pros & Cons
Brief Review & Star Rating
Review
This guitar is a standard-sized dreadnought, but its all-mahogany construction makes it a good choice for blues players. Though its top is solid and the back and sides are laminate, it still produces a quality, rich tone that isn't overly bright.
It's also a very affordable guitar, making it great for beginners who want to play blues or for players on a budget. Like the CP-60S, this guitar features Fender's slim Easy-to-Play neck, making rapid chord changes effortless.
Because it isn't necessarily a blues-specific design, this guitar may be a good choice for people who want to play in a variety of styles while still producing authentic blues tone.
Our Star Rating
Because it has a great build quality considering the price, we give this guitar three and a half out of five stars. While it isn't necessarily blues-specific, we chose it because it's the best guitar on the list for those who are also interested in playing other genres.
What Should You Look For When Buying An Acoustic Guitar For Blues?
Blues music is a genre that's uniquely equipped to connect to people experiencing hardship, and you don't necessarily need a top-dollar instrument to create blues-style melodies or cover legendary blues hits.
Plus, blues is a far-reaching genre in itself. "Blues" covers everything from the saxophone driven, up-tempo ump blues to the nuanced fingerpicking of the piedmont blues from the eastern United States.
That said, most sub-genres of blues music sound best when played on a guitar with a "punchy" tone. To get this type of tone, you'll want to look for an acoustic that isn't overly bright in tone, as well as one with decent projection (especially if you don't want to play or perform with an amplifier).
Paying Attention To Tone
As you probably already know, tonewoods are vitally important to consider when buying a guitar. Many (if not most) acoustic guitars are made with spruce tops. Spruce is a very versatile tonewood--it has a balanced tone with just enough brightness, and it also pairs well with virtually any type of wood used to make a guitar's back and sides.
It's certainly not impossible to find a good blues guitar with a spruce top (and some of our top choices are made with spruce, too). But if you want to find something with a little less brightness, looking for an instrument made with a wood that favors more midrange is an option. Mahogany is an excellent wood for blues--it has a sound that's warm without the extra top end of spruce, and it's great for producing the punchier sounds that many blues guitarists are after.
And if you're looking for something more affordable, African mahogany is worth looking into. This sustainable wood is comparatively less expensive, but it has many of the tonal properties of mahogany. It's lightweight and strong, and it's even used in some high-end guitars.
While it's less common, birch is also a decent tonewood for blues. It has a sound similar to maple, and it was used in many older guitars because it was an inexpensive and abundant wood. Several blues legends from long ago, including Charlie Patton and Blind Blake, chose birch-bodied acoustics.
The bottom line is to choose a tonewood that sounds good to you and that suits your style of playing. Since blues music has more to do with technique than it does with guitar types, you can play music with any type of acoustic. And if you're looking for a little more tone dampening, flatwound strings (which have traditionally been used in blues music) are an effective and affordable way to do so.
Choosing A Body Style
Just like with tonewood selection, when it comes to choosing the best acoustic guitar for blues, it's possible to make any body style work. However, since sustain matters less when it comes to blues, smaller body styles are a workable and popular choice.
Most acoustic guitars are dreadnoughts for a reason--this large, resonant body goes well with just about any music style. But since the impressive sustain offered by most dreadnoughts isn't an absolute necessity, you don't need to feel as though this is the only body style you can choose.
The slope-shouldered dreadnought body of the legendary Gibson J-45 is a great choice for playing blues--the sloped shoulders limit sustain somewhat, and the popularity of the J-45 with blues players means you're in good company if you choose a slope-shouldered dreadnought.
While they come in a few body styles, resonator guitars are another great option, especially if your playing style is similar to that of Delta blues players. Resonator guitars have built-in metal cones that amplify the sound of the guitar, and they add a distinctly metallic flavor. If you look for one of these, make sure you check to see whether it's a square-neck or round-neck instrument. Resonators with square necks are played while lying across your lap, while round-neck versions can be played like a regular guitar.
Parlor guitars and similar small-body styles are well-suited to blues playing too, although some blues musicians have even performed with jumbo acoustics. There's no single body style that works.
Considering Amplification
One last thing to consider when shopping for a good blues acoustic is whether or not you want to be able to plug in and play. And you frequently play live (or if you want to eventually), investing in a guitar with quality onboard electronics is a wise choice.
Of course, if you want to convert an acoustic into an acoustic-electric, you can always select a pickup and have it installed down the line. But since this process can be a hassle (and you'll need to purchase a pickup as well as pay to have it installed), it's often easier and less time-consuming to buy a guitar with electronics already installed. Many acoustic-electric guitars on the market also have an onboard preamp, which lets you adjust your tone while onstage.
In Conclusion
There's no single best blues acoustic guitar, but we think this list gives you a great place to start. We think the Gretsch G9200 is the winner of the roundup--if you want real blues tone, a resonator offers that. And when paired with mahogany, it produces a sound that's born for blues. On top of that, this guitar is fairly affordable at a midrange price.
However, every guitar on the list has its merits. We give the Martin 0015M a runner-up--although it's expensive, it's made with the highest-quality woods, and it also comes from a legendary acoustic guitar manufacturer. You can't go wrong with any instrument on the list--listen to sound demos, do your own research, and you'll be well on your way to choosing the best blues guitar for you.