Few guitar types have the rich history of the parlor guitar. This smaller-bodied instrument rose to prominence in the late 1800s and early 1900s. It produced before the dreadnought, which is in many ways the current standard body shape for acoustic guitars, even existed. Parlor guitars were used as a method of entertainment by all members of the family.
Because of their small size and reduced sustain, parlor guitars remain an excellent choice for both folk and blues music. Their small size means they have less resonance than larger-bodied guitars, and they also tend to be very midrange-focused. Choosing the best parlor guitar can be a challenge, but it's best to choose one whose construction and style pairs best with you and your playing style. We've brought together seven quality parlor guitars for just about every budget.
Our Top 7 Picks For Best Parlor Guitar
| | | | | |
| --- | --- | --- | --- | --- |
| Washburn | Vintage R314KK | | | Cell |
| | | | | Cell |
| | | | | Cell |
| | CSF3M TBS | | | Cell |
| | | | | Cell |
| | AP66ESHB | | | Cell |
| Gretsch | G5021WPE | | | Cell |
Review of our Top Picks
Washburn Vintage R314KK - Best Vintage Design
Important Features
Pros & Cons
Brief Review & Star Rating
Review
Washburn may not be the most prominent acoustic instrument manufacturer, but they have been making quality guitars since the 1880s. This vintage-series parlor guitar looks, at first glance, like a genuine vintage instrument--its distressed finish, D'Addario EXP-16 light set phospher bronze steel strings and tuners give it the vibe of a 100-year-old guitar that has aged well.
While it has more modern bracing and a quality build style, it has some of the hard-to-find features of older instruments. One is the V-shaped neck, which makes it easier to use your thumb to play bass notes.
It also has unique, vintage-style inlays to let you stand out in any crowd. It features a spruce top for bright tone, and the back and sides are trembesi. This Indonesian tonewood looks a lot like mahogany, but its tone is similar to the slightly brighter, nuanced tone of rosewood.
Our Star Rating
We think this is a good-looking guitar, and its vintage looks make it an excellent choice for folk or blues players. We give it four out of five stars.
Alvarez MPA66 - Best Acoustics
Important Features
Pros & Cons
Brief Review & Star Rating
Review
Alvarez has long been known as a manufacturer who crafts quality acoustic guitars for affordable prices, and this Masterworks Series parlor guitar is no exception. For starters, it's made with solid African mahogany, giving it a rich, midrange-favoring tone that's ideal for a smaller guitar. It also has forward-shifted bracing, which can improve the bass response.

Since parlor guitars lack the heavier bass response of larger guitars, this is a good bracing choice for players who want to emulate the more balanced tone of something larger. Its binding and rosette feature abalone and mother of pearl purfling and its die-cast gold tuners with ebony buttons round out its unique look. This guitar also has a real bone nut and saddle, which help preserve tuning stability and create a beautiful tone.
Our Star Rating
We think this is a beautifully distinctive guitar that's also surprisingly affordable. We Give it five out of five stars.
Blueridge BR-371 - Best High-End Model
Important Features
Pros & Cons
Brief Review & Star Rating
Review
Blueridge is a lesser-known guitar manufacturer, but they have been making quality replicas of traditional designs for over 35 years. This model is part of the Historical Series. The Design stands out among all other Classical Guitars. It's somewhat expensive for a smaller guitar, but its excellent build quality justifies the price.
This guitar has a solid Sitka spruce top and solid Indian rosewood back and sides, giving it a high-sustain sound that leans toward the bright side. Like many reproduction parlor guitars, its neck has a slight V shape, and its abalone purfling and snowflake fingerboard inlays give it a distinctive look.
Our Star Rating
This is a beautiful guitar with exquisite tone. We give it four out of five stars.
Yamaha CSF3M TBS - Best Acoustic-Electric
Important Features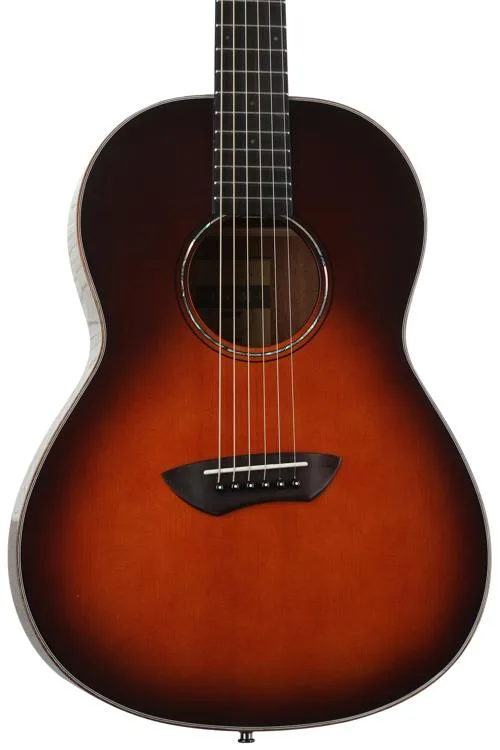 Pros & Cons
Brief Review & Star Rating
Review
While Yamaha may not enjoy the reputation of Gibson or Taylor when it comes to manufacturing acoustic instruments, it nonetheless is known for offering quality guitars, many of them made of all solid wood, for surprisingly affordable prices.

While this model is a parlor guitar, its scale length is only 34mm shorter than that of a full-sized instrument. This gives it tone that's closer to that of full-sized instruments while remaining small enough to handle and play comfortably.

It's made of solid Sitka spruce and solid mahogany, giving it complex, rich tone that's fairly balanced. It also features a passive pickup, which lets you plug in and play in live situations.
Our Star Rating
We think this is a great all-around guitar, and we give it four out of five stars.
Fender CP-60S - Best Budget Option
Important Features
Pros & Cons
Brief Review & Star Rating
Review
If you're one of the many guitarists on a budget, it can be challenging to find a quality instrument that's still affordable. The Fender CP-60S is an easy-playing, well-made parlor guitar that won't break the bank.

It has a solid spruce top, which is hard to find on guitars at this price point. Its back and sides are laminated mahogany that offers a warm, mellow quality to your sound. It also features chrome die-cast tuners, which help you avoid the tuning stability issues that plague many inexpensive guitars.

The CP-60S has the look of old-style parlor guitars with simple dot inlays and a walnut sunburst finish. It also has Fender's EasyPlay slim-profile neck, making fretting easy even if you have small hands.
Our Star Rating
We think this guitar is an excellent buy for the price. We give it four out of five stars.
Alvarez AP66ESHB - Best Live-Performance Guitar
Important Features
Pros & Cons
Brief Review & Star Rating
Review
This guitar from the Alvarez Artist Series features classic good looks and a state-of-the-art pickup system. It has a solid African mahogany top finished in stunning shadow burst gloss, and its back and sides are made of laminated mahogany.
While the laminate back and sides don't give it quite the tonal richness of an all-solid guitar, this is a guitar that is primarily designed for live performance. It comes with an L.R. Baggs Element pickup, along with the StagePro EQ to help you dial in just the right tone.
L.R. Baggs is the maker of some of the world's best pickups, and they are frequently found on very high-end acoustic-electric instruments. Like many Alvarez parlor guitars, this one also has forward-shifted scalloped bracing to add a little more low end to your tone. It has a sleek and minimalist design with a single 12th-fret inlay, making it aesthetically suitable for just about every genre.
Our Star Rating
We think this is a guitar with excellent build quality and the best electronics on the list. We give it five out of five stars.
Gretsch 
G5021WPE

Rancher Penguin - Best Non Traditional Design
Important Features
Pros & Cons
Brief Review & Star Rating
Review
If you want a parlor guitar that stands out, the Rancher Penguin guitar might be the right choice for you. This guitar has a stunning white body with gold sparkle binding and gold pickguard.

It also has Gretsch's uniquely ornate "vertical wing" headstock, which adds to the distinctive design of the guitar. It has a solid spruce top for sustain and resonance, and the laminate maple back and sides offer clear articulation and projection ability. It has a U-shaped neck, which provides more room to grip.

The U-shaped neck makes it an excellent choice for those with larger hands, but players with tiny hands may find it challenging to play. It's also a superb parlor guitar for playing live--it comes with the Fishman Isys III pickup and preamp for creating just the right sound for any stage.

This guitar also has Gretsch's signature rounded triangle soundhole -- it doesn't have much of a tonal difference compared to traditional round soundholes. Still, it does add to the guitar's highly unusual look.
Our Star Rating
We think this guitar is a great choice for artists who want to make a statement. We give it four out of five stars.
Buying Guide: What Should You Look For When Buying A Parlor Guitar?
The non-traditional body shapes and sizes of parlor guitars mean they have a tone different from that of a dreadnought or other larger guitar. The tone is something you will need to account for as you shop around for the best parlor guitar for you.
Tonewoods
Generall speaking, parlor guitars have a sound that's very midrange-focused, and their smaller bodies mean they don't offer as much sustain or as many overtones as larger guitars. Depending on your playing style, this may be ideal--this is precisely the tonal profile that many blues musicians seek. However, you may want a parlor guitar with slightly more resonance. In this case, an all-solid wood guitar may be the best choice.
Before you buy, it's wise to think about how different tonewoods shape the sound of a parlor guitar. Here are some of the woods seen on this list, as well as what they mean for tone:
Neck Shape
The neck shape is a concern when you buy any guitar. However, many parlor guitars made after historic designs have a unique V-shape neck. Here's what you need to know about each neck type:
V-Shape
Older V-shape necks (and modern historical models of some guitars) have a very sharp V, which can be a challenge for some players. However, this shape does have a notable advantage: it makes it easier to hang your thumb over the fretboard to hit bass notes. The V-shape neck also comes in a more rounded version, which is a lot like a deeper C-shape neck. However, if you want the sleek, fast playability of many modern guitars, you may be more interested in the C-shape neck.
C-Shape
This shape is seen on most modern guitars, both acoustics and electrics. Its slimmer profile makes it easier to move your hand quickly along the neck, and it also makes playing easier if you have small hands. If you want an even faster, more comfortable to play neck, you might want to look for a "modern C-shape" neck. This type is essentially a flattened C-shape, resulting in an even thinner neck.
U-Shape Neck
Many players prefer to keep their thumbs on the back of the neck. However, if you have larger hands, this is a challenge with most traditional neck shapes. A U-shaped neck is very deep, meaning it takes up more of your hand. The U-shaped neck can be great for players with large hands, but if your hands are especially small, this neck shape is likely to be challenging to play.
Electronics
If you want to use a parlor guitar the way it was used in its early days-- like a smaller guitar to play at home--you may not need a guitar with electronics. However, if you're a performer, electronics may be helpful. Be sure to pay attention to the quality of electronics used. You could have the world's best-sounding parlor guitar, but if it's amplified with cheap electronics, your audience won't be able to hear it in all of its glory. An onboard preamp is also helpful to have, as it lets you adjust your EQ to control your amplified sound better.
Scale Length
There isn't a standard scale length for parlour guitar, but they are shorter in scale than traditional guitars. The shorter scale length reduces string tension and makes retting chords and notes more manageable. However, if you want a parlor guitar that sounds more like a larger instrument, look for one whose scale length is closer to that of a full-sized guitar.
In Conclusion
Whether you want a parlor guitar to be your main instrument or want something alternative to play on, there's an impressive range of modern and vintage-styled instruments to choose from. That said, we think the Alvarez MPA66 is the best parlor guitar on the list. It's made of all-solid wood, has a stunning finish, and remains surprisingly affordable.
However, if you're a performer, we think the Alvarez AP66ESHB is the ideal choice. Its solid top and forward-shifted bracing offer quality tone, and its world-class L.R. Baggs electronics mean you can play live with confidence.
Whichever guitar you choose, be sure to research your options carefully, and you'll be on your way to selecting a quality parlor guitar that can grow with you.