If you have any experience with classical guitar, chances are good that you're familiar with Cordoba. This renowned brand makes classical guitars that balance traditional classical sensibilities and modern touches.
Today, we'll take a look at the Cordoba C10, a high-end guitar perfect for serious performer. As is the case with many high-end Cordoba guitars, this one can come with a European spruce top for a brighter tone or with a Canadian cedar top for enhanced warmth and plenty of overtones.
Cordoba C10 High End Classical Guitar
PRO's & CON's Of Cordoba C10
But before we get too far into our Cordoba C10 review, let's look at some pros and cons:
Pros
An all-solid build is ideal for players who want the most nuanced tone possible.
Traditional classical fan bracing offers powerful tone and projection.
A comfortable neck profile and low action make it incredibly playable.
Each guitar is made with great attention to detail.
Cons
In some cases, these guitars have arrived with fret height issues.
Despite its relatively high price, the C10 has a polyfoam case instead of a hardshell one.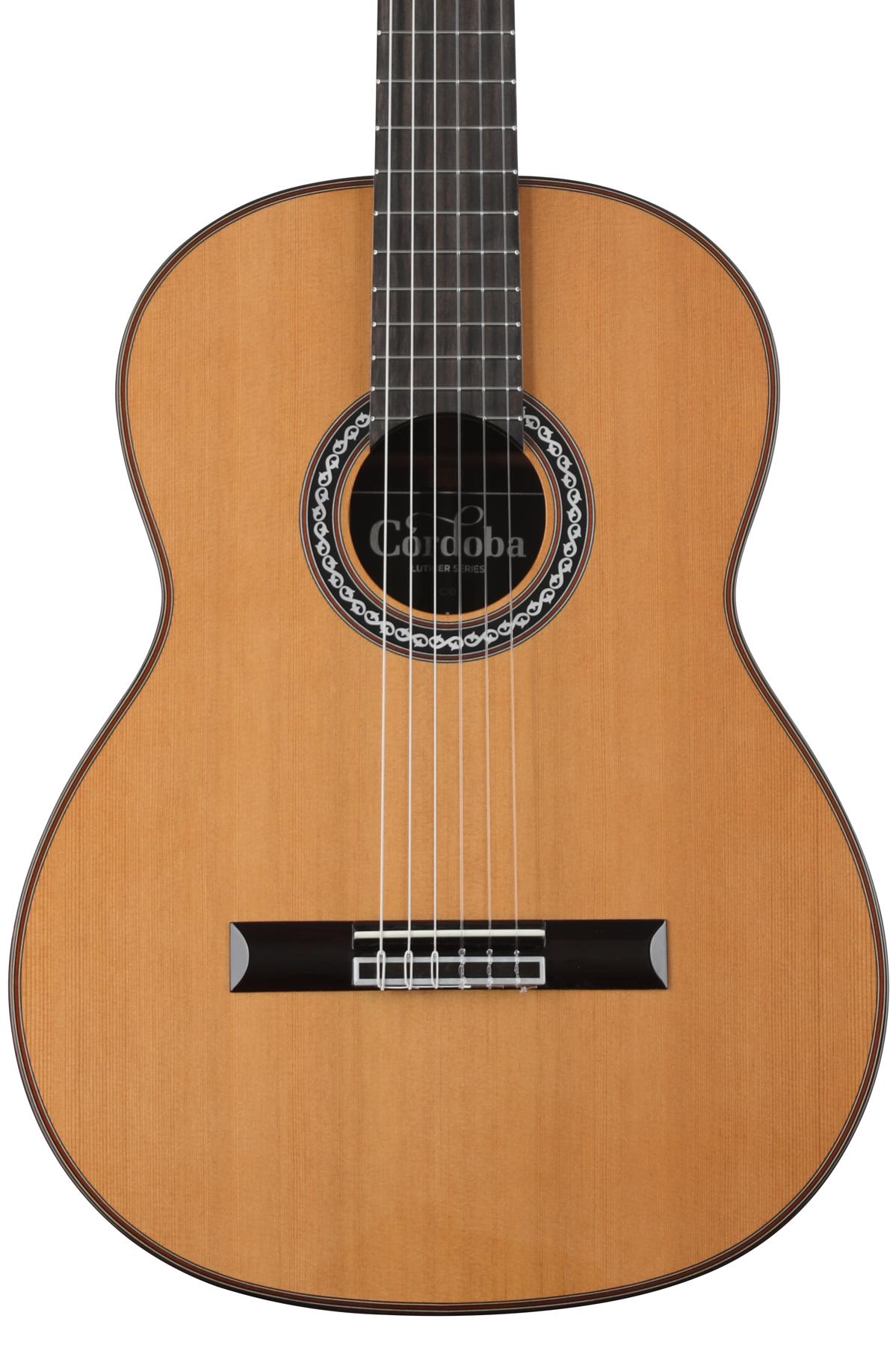 Cordoba C10
High End Classical Guitar
Options of Solid European Spruce or Canadian Cedar Top.
Solid Indian Rosewood back and sides.
Fan Bracing
Now, let's dig into some of the features of the Cordoba C10.
Bracing And Tonewoods
When it comes to classical bracing, there are a few different options to consider. Two major ones are lattice bracing and fan bracing. Fan bracing, which you'll find on the Cordoba C10, is very commonly used on both classical and flamenco guitars. (So, if you play both classical and flamenco, the C10 is a good versatile choice).
It offers enough support to enhance sustain but not so much that it gets in the way of allowing the soundboard to vibrate. To hear a comparison of fan bracing and lattice bracing, check out this interesting video demo.
Of course, bracing matters a lot when considering the sound of a guitar. But tonewoods also play a major part. The Cordoba C10 can come in one of two variations — one has a solid Canadian cedar top, while the other has a solid European spruce top.
The cedar top guitar has an overtone-rich sound that's fairly warm, with a little mahogany-like punchiness. The spruce top guitar has a slightly brighter sound. Either is suitable for classical music — it just depends on which suits your personal playing style. (We'll discuss the sound quality of both models in more depth below.)

Both Cordoba C10 models have solid Indian rosewood back and sides. While Brazilian rosewood may be considered the gold standard for guitars, its scarcity has led solid Indian rosewood to take its place in all but the most expensive guitars.
The Indian rosewood back creates full yet tight lows, sparkling highs, and detailed mids, offering just enough overtones. Considering its affordable price, it's remarkable that the C10 is made with such great tonewood.
Neck And Playability
The Cordoba C10, like most classical guitars, has a traditional neck profile. This profile is generally comfortable for most guitarists, although those with very small hands may find it somewhat challenging. (If you like the C10 but want something with a slimmer neck, you may want to check out the C10 Crossover. This guitar is just like the C10, but it has a slimmer neck profile that some guitarists prefer.)
The C10 has an African mahogany neck. African mahogany is a dense wood that both looks and sounds a lot like mahogany. It adds some extra warmth to the sound, and it isn't prone to warping. But if you do run into neck issues, the C10 is equipped with a two-way truss rod.
Traditionally, classical guitars do not have truss rods — their strings exert much less tension on the neck than steel strings would, so some builders and players see truss rods as unnecessary. However, having a two-way truss rod means you can easily adjust the neck as needed (without visiting a repair shop).
The Cordoba C10 is one of the most playable classical guitars we've encountered. With a nut width of 2.04″, players have enough space to comfortably fret notes and chords. The C10 also features an ebony fingerboard. Ebony has long been known as one of the best fingerboard materials for both acoustic and, less commonly, electric guitars.
It's smooth and slick and gives a guitar's tone a certain crispness that many acoustic guitar players love. The C10 comes strung with Savarez Cristal Corum High Tension 500CJ strings. These all-nylon strings are designed to produce a tone with plenty of nuances and fast response. If you want to hear how these Savarez strings sound compared to D'Addario nylon strings, check out this video.
Sound Quality
We briefly touched on the tone of the Cordoba C10 earlier, but we'll take a closer look here. The video demo (below left) from Cordoba shows off the cedar C10. While there's a definite warmth, the highs don't sound like they're muffled or overshadowed by the midrange. 
Every frequency is well-defined, although the mids come to the forefront when the guitar is strummed. The highs on this Cordoba C10 can sound almost piano-like, as evidenced by the performance video (top right) using a C10. Altogether, we like that this model offers warmth without sacrificing clarity.
The spruce C10 is made with a tonewood combination that you often see on steel-string guitars. At the first part of the Cordoba demo (below left) of the spruce C10, we thought the fingerpicking sounded a lot like fingerpicking a steel string.
This guitar has a more high-end presence than the cedar version, and this was especially evident when strumming. But like the other C10, this one offers excellent clarity and enough overtones to excel as a classical instrument. The video review (below right) of the spruce C10 lets you get a closer look.
Ultimately, neither one of these guitars is necessarily better than the other. Consider your playing style and your own tone preferences, and you'll be able to select the best one for you. It is important to note that this guitar does not come with electronics.
This is because most classical performances and recordings are done with high-quality microphones rather than undersaddle or similar pickups. However, if you prefer a nylon string guitar that you can plug in to play, you can always purchase a pickup and have it installed after purchase.
Finish And Appointments
Even though it isn't in the highest price range Cordoba offers, the Cordoba C10 is a very well-appointed guitar. Both the bridge and the binding are made of Indian rosewood. Wood binding like this (and especially binding using such a rare tonewood) is fairly uncommon, even in this price range. The darkness of the rosewood nicely frames the soundboard, giving the C10 a look of subtle elegance.
Both the nut and saddle of the C10 are made of bone. While it's common to see Tusq, NuBone, and other modern composites on steel-string guitars, many classical manufacturers prefer the more vintage sound of bone.
Even the smaller details of this guitar are elegant –the tuning machines are Cordoba premium gold tuning machines. Unlike the tuning machines on most classical instruments, these have black buttons instead of white. In keeping with the rest of the guitar's aesthetic, the tuners have a look that's quality yet understated.
In terms of inlays, this guitar isn't overly gaudy. Like most classical instruments, it has no fingerboard inlays, and the headstock is only adorned with a trio of mother-of-pearl wedges. The Cordoba C10's "Esteso" mother-of-pearl rosette is a tribute to Domingo Esteso, one of the most renowned Spanish luthiers of the 20th century.
The rosette is black, white, and brown, and it adds some visual interest without overtaking the look of the guitar. The high gloss finish on the C10 looks great under stage lights, too. These guitars are finished with high gloss polyurethane. It's thick enough to resist chipping and other issues but not so thick that it gets in the way of tone or stops the soundboard from vibrating freely. To get a closer look at this guitar and its appointments, check out this video review.
It's worth mentioning that while you'd expect a guitar in this price range to come with a hardshell case, the C10 does not. Instead, it has a polyfoam case, which is essentially a cross between a hard case and a gig bag.
This might be a disappointment for some buyers, but we don't think it really takes away from the guitar's great value. If you do want to preserve your guitar's tone and reduce the risk of cracking or other issues, it's a good idea to invest in a hardshell case with a humidifier.
Social Proof of the Guitar
For some people, buying an acoustic guitar without playing it is a bit of a gamble. However, it doesn't have to be. If you look carefully at what other buyers have said about a given guitar and research specs and sound quality, you can get a pretty good idea of whether a certain guitar is right for you. Here are some reviews of the Cordoba C10 to help you decide.

This Cordoba C10 review does a good job of characterizing the tone of the C10 — each frequency stands out, which makes it an ideal choice for playing even complex classical pieces. Plus, the perfect intonation means it's ready to play right out of the box.

This review is especially useful because the reviewer has experience with many other classical guitar brands. However, even though this isn't the most expensive guitar Cordoba offers, this person still thinks the Cordoba C10 is an especially impressive instrument.

For this person, the two-way truss rod on the Cordoba C10 is an important feature. Thanks to the truss rod, you can make neck adjustments yourself without needing to spend large amounts of money.
If you're looking for an all-solid classical guitar from one of the best manufacturers out there, we think that you'll really like the Cordoba C10.
Its solid Indian rosewood back and sides offer both brilliantly detailed tones and high-end aesthetics, and your choice of spruce or cedar for the top material lets you select the best soundboard for your playing style. An ebony fingerboard and bone nut and saddle offer traditional touches. If you're ready for an outstanding new classical guitar, click here to check it out!