If you're at all familiar with the Ibanez Artwood series, you probably know that this series is a great way to get an affordable acoustic guitar that's made with high-quality tonewoods. The Ibanez AC240 Artwood acoustic guitar has a solid mahogany top in a stunning open pore natural finish. While it has a high-end look, the AC240 is shockingly affordable. But before we get into the details, let's check out some pros and cons:
PRO's & CON's Of Ibanez AC240
But before we get into the details, let's check out some pros and cons:
Pros
Ibanez respected the rich tradition of the orchestra guitar in making this one, so it offers a warm, vintage tone.
For a guitar with a solid mahogany top, it is incredibly affordable.
The grand concert body offers excellent projection and is comfortable to hold and play with.
High-end touches like Advantage bridge pins, a bone nut and saddle, and an abalone rosette make it an excellent value.
Cons
It does not come with a case, which can be disappointing to some buyers.
Like many affordable acoustic guitar options, it sometimes arrives with very high action.
Ibanez AC240
An Affordable Artwood Series Guitar
This affordable guitar is made up of high-quality tonewoods.
It has a bone nut and saddle, Advantage bridge pins, and an abalone rosette.
Its grand concert body has an excellent projection
As modern guitar technology moves forward, it becomes easier to find well-appointed instruments that still manage to be affordable. The AC240 is one of those. Let's take a closer look at what it has to offer.
Tonewoods And Body Style
Often, acoustic guitars marketed to new players are made of cheaper tonewoods to keep costs down. But the AC240 has a solid mahogany top for a warm, full sound. It also comes with laminated mahogany back and sides. This is pretty common on a guitar in this price range.

The grand concert body of the AC240 is also very important to its sound. The smaller grand concert body was designed for fingerstyle players. Smaller guitars like this one are known for their projection, and they are very comfortable to play sitting or standing. This body style has fewer overtones than a dreadnought, making it a good choice for players who prefer a more focused sound.

All in all, we're impressed with the construction of this guitar. The mahogany top and mahogany back and sides give you a warmer, mellower sound than you'd get with spruce, and the grain of mahogany makes each AC240 Artwood unique. To get a good look at the smaller body and the mahogany back and sides, check out this video demo of the AC240.
Sound Quality And Playability
When evaluating any affordable acoustic guitar, make sure you aren't expecting the ultimate in guitar tone. A budget-focused instrument can't compare to a high-end guitar, but it's still possible to find one (like the AC240) that sounds a lot more expensive than it is.

The solid mahogany top contributes a lot to the sound of this guitar. (The mahogany back and sides contribute somewhat, but they don't offer as much detail as solid back and sides would.) The mahogany neck helps round out the AC240's mellow sound. It can best be described as warm and articulate. There's a surprising amount of low end, and the sound definitely has fewer overtones than a larger-bodied instrument.
In this video, one player even compares the sound to an older Martin acoustic. And when you add in the look of the open pore natural finish, the AC240 almost looks like an older Martin, too.
Like most small-bodied guitars, the AC240 has a certain "punchiness" to its tone. This, combined with its smaller body, makes it a great choice for blues musicians. And of course, the grand concert body shape makes it a nice option for fingerpickers as well.

Playability-wise, we also think this guitar stands out. The mahogany neck is wider than that of most acoustics. This gives you more space to fret notes on the ovangkol fingerboard, but if your hands are very small, it may make playing more challenging. The AC240 has a shorter scale length of 24.9″, which can be an advantage. On a shorter-scale guitar, the lowered string tension means it's a lot easier to bend notes.

The dovetail neck joint of the AC240 is worth mentioning. Combined with the mahogany neck, this secure joint maximizes the transfer of string vibrations to your guitar body. The neck joint makes it so you can feel the notes you play. It isn't technically a playability feature, but we think it makes playing a lot more fun — the guitar almost seems alive.

We think it's important to note that, unlike many Ibanez acoustics, the AC240 does not come with electronics. This helps keep the cost low, and it also makes it an ideal first guitar, as most learners aren't quite ready to plug in and play. Of course, you can always purchase a quality pickup and have it installed later. We think the AC240's great sound is worth amplifying if you do want to perform.
Finish And Appointments
In the world of guitar craftsmanship, you'll find ornately decorated guitars as well as those with a more rustic look. The AC240 strikes a delicate balance between the two. The mahogany top has an open pore finish for a distinctive and rustic appearance. With an open pore finish, the pores of the wood are not sealed over before the finish is applied. This lets you see the woodgrain more easily.

Though the top is a bit rustic, the AC240 Artwood has just a touch of sparkle. A beautiful abalone rosette adorns the sound hole. After all, the Ibanez Artwood series was crafted to offer both playability and distinctive finishes to any player looking for an affordable instrument. But the glitter of the abalone doesn't take over — the fretboard has simple dot inlays.

The bridge (and, of course, the fretboard) is made of ovangkol. Ovangkol is marketed as a rosewood alternative, and it does have a beautiful grain that looks nice with mahogany. Like most Ibanez acoustics, the AC240 Artwood comes with Advantage bridge pins. These pins are easier to remove and replace than traditional bridge pins. If you're a beginner just learning to change strings, you'll probably appreciate this feature.

Perhaps one of the most high-end touches on the AC240 Artwood is the set of chrome Grover tuners. These tuners are some of the best ones out there, and they'll keep you in tune reliably.

Lastly, this acoustic guitar comes with a bone nut and saddle. This is another fairly high-end touch. Bone nuts and saddles support greater sustain, and they're hard enough that they won't develop nicks from the strings themselves. Most guitar options in this price range come with a plastic nut and saddle. And while plastic is fairly easy to upgrade for more established guitarists, it can be hard to do if you've just started learning to play. If you'd like a closer look at this guitar, check out this video review of the AC240.
In crafting the AC240 Artwood, Ibanez has respected the rich tradition of the smaller guitar while adding modern touches. It's a well-appointed guitar, and it's excellent to learn on or to use as a backup.
Social Proof Of The Guitar
Often, when buying an acoustic guitar, newer players simply order online. There's nothing wrong with that. But since you can't try out online guitar orders in person, it's a good idea to see what other buyers have had to say. Here are some helpful AC240 reviews we've found:
This useful review points out some functional and aesthetic advantages of the AC240. After all, the Artwood series was crafted in order to create quality acoustic guitar options in an affordable price range. The Grover tuners will hold tune much better than the cheaper tuners often found on affordable acoustic guitars.
It was almost impossible to find a negative review of the AC240. Many reviews of this acoustic guitar were like this one — they couldn't believe how good it sounded (and looked) for the price. You probably can't expect an affordable acoustic guitar like this one to offer the ultimate in the guitar tone, but lots of reviewers state that it stands up against guitars many times its price.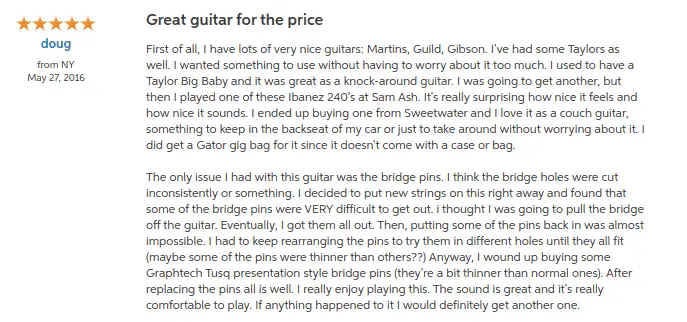 This review is a positive one, but in the world of guitar craftsmanship, less expensive guitars sometimes come with quality control issues. For this buyer, the bridge pins were difficult to remove and presented some problems. Still, this person thought the AC240 was a worthwhile purchase.
Shopping for an acoustic guitar around the $300 price range can be a minefield, and it's tough to tell quality instruments from cheaply made ones when you buy online. But we've found that the Ibanez AC240 is a great-sounding guitar and an excellent value.
With its solid top, Grover tuners, and beautiful aesthetics, this guitar delivers more than you paid for. As modern guitar technology moves forward, it's possible to get great-sounding guitars at affordable prices, and the AC240 is a shining example of that. Click here to check it out!