When you think about acoustic guitars, you probably think of some of the major brands like Gibson, Martin, and Taylor. However, if you're someone on a budget, many of these brands are out of reach. That doesn't mean that you can't find and purchase a decent guitar, though. Ibanez has been manufacturing acoustic guitars since the 1930s. And while plenty of people are familiar with their electric guitars, Ibanez acoustics have less of a following.
At A Glance: Our Top 5 Picks For Ibanez Acoustic Guitars
This doesn't mean they're poor quality guitars, though. Ibanez acoustics are marked by innovative design, uniquely eye-catching finishes, and quality electronics on acoustic-electrics. They're definitely guitars worth looking at, especially if you value guitar design that stands out. In this Ibanez acoustic guitars review, we've gathered together our top five choices.
Quick Comparison: Our Top Picks For Ibanez Acoustic Guitars
IMAGE
PRODUCT

Artwood Series

Solid top improves tone
Unique finish gives it a distinctive look
It's very affordable, especially for a solid-top instrument

VIEW ON AMAZON →

Transparent Sunburst

Beautiful finish is truly unique
Quality electronics are great for playing live
Maple construction is uncommon, which means a unique tone

VIEW ON SWEETWATER →VIEW ON AMAZON →

Included pickup makes it easy to play plugged or unplugged
Spruce and mahogany construction for balanced, versatile tone
Very affordable

VIEW ON SWEETWATER →VIEW ON AMAZON →

Acoustic-Electric

Mahogany construction is beautiful and creates a warm, dark tone
Cutaway contributes to easy playability
Includes electronics to make playing live easier

VIEW ON AMAZON →

Acoustic-Electric

Easy to carry and play
Unique tonewood configuration produces distinctive tone
Electronics with onboard tuner

VIEW ON AMAZON →
Review of our Top Picks
Ibanez AC240 OPN: Artwood Series
Important Features
Pros & Cons
Brief Review & Star Rating
Review
If you value an old-fashioned guitar with modern functionality, this guitar is a great choice. It's a grand concert body, which makes it easier to hold and carry than a bigger guitar like a dreadnought or a southern jumbo.
The AC2400PN is part of the Artwood Series, a series marked by unique-looking tonewoods. This model has a solid mahogany top that's open-pore. This helps it absorb stain and gives it a distinctive, almost rustic look. It features high-quality appointments like Grover tuners and a bone nut and saddle for well-rounded tone.
Our Star Rating
Given the quality of its construction, this guitar is fairly affordable. Because of its overall value, we give this guitar five out of five stars.
Ibanez AEWC400: Transparent Black Sunburst
Important Features
Pros & Cons
Brief Review & Star Rating
Review
If you like dark-colored guitar with figured finishes, this guitar is worth a look. The figured appearance comes from the flame maple top, back, and sides, and the transparent black finish makes this guitar stand out from most.
This acoustic-electric model comes with a high-quality Fishman Sonicore pickup and an Ibanez preamp for getting just the tone you need. The mahogany neck supports a balanced tone. While this guitar is all laminate, it still has an impressive sound and a truly breathtaking appearance. Learn about Ibanez AEWC 400 series from the below video
Our Star Rating
While this is a beautiful guitar, its maple laminate construction likely means the tone isn't as balanced or sustained as that of some other guitars on the list. We give this one four out of five stars.
Ibanez AEG1812II
Important Features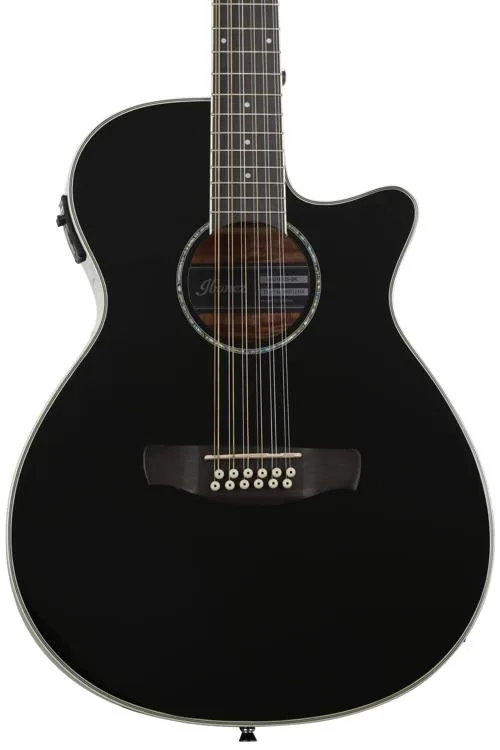 Pros & Cons
Brief Review & Star Rating
Review
If you value a rich, chorus-like tone, the AEG1812II 12-string is a great choice. If you're not familiar with 12-string guitars, they're played just like a six-string, but each note has two strings. This leads to a more filled-out sound, similar to running an electric guitar through a chorus pedal.
However, 12 strings aren't all this guitar has to offer. Aesthetically, it's beautifully made--the dark sunburst contrasts with ivory body binding, and the Venetian cutaway looks nice while also allowing you to access higher frets. Tonally, it has great balance--the brightness of the spruce top is balanced out by the mahogany back and sides. It includes a Fishman Sonicore pickup for high-quality live sound.
Our Star Rating
This is a beautiful guitar with a distinctive tone. However, a 12-string isn't for everyone, and if you're a beginner, it may be difficult to play. We give this guitar three and a half out of five stars.
Ibanez AEG12IINT: Acoustic-Electric
Important Features
Pros & Cons
Brief Review & Star Rating
Review
This is a guitar that finds the perfect middle ground between elaborate and understated. Its natural-finish mahogany construction offers a mellow tone and sleek good looks, and the distinctive fretboard inlays and rosette add a glamorous touch.
This grand-concert style guitar is also very well-suited to live performance. It has a Fishman Sonicore pickup and Ibanez AEQ-SP1 preamp. There's also an onboard tuner, making it easy to tune up, even in loud environments. This guitar also has a Venetian cutaway, making it possible to easily access higher frets.
Our Star Rating
While it's made of all laminate, this guitar is still made from quality tonewoods. Combined with good-quality electronics and an attractive appearance, this makes it a good value, even at an affordable price. We give this one four out of five stars.
Ibanez AEG19II: Acoustic-Electric
Important Features
Pros & Cons
Brief Review & Star Rating
Review
Ibanez is known for stunning finishes in unique colors, and this guitar is no exception. It's crowned with an attractive flame maple top and finished in ocean blue burst. Like many Ibanez guitars, this one is an acoustic-electric with an AEQ-SP1 preamp and Fishman Sonicore pickup.
It's also a grand concert body, which is lightweight and easy to play, especially while standing. It has a sapele back and sides. Since sapele is similar to mahogany, it helps add some sustain and balance out the brightness of the maple top.
Our Star Rating
This is a stunning guitar with a distinct tone and great playability. We give it four out of five stars
Buying Guide: How Can You Choose The Right Ibanez Acoustic?
Plenty of Ibanez acoustic guitars have breathtaking finishes. And while this is something to consider when shopping, be careful to not let the finish sway you too much. Here are some of the factors to think about before you make your purchase.
Tonewoods And Build Quality
Since Ibanez guitars tend to be very affordable, many of them are made with all-laminate construction. This doesn't necessarily produce a bad tone, but as a general rule, a solid-top guitar will have a richer, more resonant tone. Even in laminate guitars, the type of tonewoods used are important. Here are some of the woods often seen in Ibanez acoustics.
Mahogany
Many Ibanez guitars are made at least in part with mahogany. Mahogany is durable and long-lasting, and it's known for a warm, somewhat dark tone that's midrange-heavy. It isn't as bright as spruce, and it has great sustain, making it especially suited to flatpicking.
Sapele
Some less expensive Ibanez acoustics use sapele in their backs and sides. Sapele is a cheaper tonewood that's similar to mahogany in terms of both looks and tone. However, it places a little more emphasis on the higher end.
Maple
Many Ibanez guitars are also made with maple, and especially flame maple. Flame maple has a stunning appearance, and Ibanez often finishes it in a transparent color to let players appreciate its beauty. Tonally, it's unusual, which is why it isn't often seen on acoustic guitars. When you play a maple guitar, you'll probably notice that notes seem to decay rapidly and that the guitar doesn't have much sustain.
Maple is bright and somewhat loud, and it also lets you clearly hear each note in a strummed chord. This tonal profile isn't for everyone, but if you think its properties match your playing style, it may be wise to invest in a maple (or maple top) guitar.
Electronics
Ibanez tends to be better known for electric guitars, which may be part of why many of their acoustics are equipped with electronics. Most use Fishman Sonicore pickups. Fishman is renowned in the world of acoustic instrument amplification. And while the Sonicore pickup isn't particularly high-end, it's backed by Fishman and provides faithful amplification.
That said, if you don't intend to play live, it may be best to choose an Ibanez without electronics. Ibanez guitars without electronics often have solid tops and better features (like bone nuts and saddles), making them sound richer and fuller. Often, you can find an Ibanez acoustic with a solid top for about the same price as an all-laminate acoustic-electric. Plus, if you change your mind and decide you want to play live, it's possible to have a pickup and preamp installed later on.
In Conclusion
If you're looking for a relatively affordable guitar that's also very playable, you can't go wrong with any guitar on this list. That said, our top pick of the guitars listed in this Ibanez acoustic guitars review is the AC240OPN. While this isn't an acoustic-electric, it has the best build quality of any guitar on the list--the solid mahogany top, bone nut and saddle, and Grover tuners are all features found on more expensive guitars.
That said, if you want an acoustic-electric, we think the AEG12IINT is a great runner-up. This all-mahogany guitar has a warm, slightly dark tone and comes equipped with quality electronics for when it comes time to play live. If you do your research, choose the features you want, and consider your choice carefully, you'll find an Ibanez you can happily play for years.