If you're familiar with Ibanez at all, you know that this is a major guitar brand known for its stunning acoustic and electric guitars. And some acoustic models like the one we'll be looking at today are designed to offer acoustic tones with electric playability. The AEWC400 acoustic-electric guitar combines ingenious contouring and design elements to help players from all walks of life feel right at home.
PRO's & CON's Of Ibanez AEWC400
Let's take a closer look to see if the Ibanez AEWC400 is the right guitar for you:
Pros
The highly contoured body is easy to play with.
The flamed maple sides and back make it beautiful to look at.
The cutaway makes it easier to reach every fret.
The Fishman Sonicore pickup and Ibanez AEQ-SP2 preamp let you easily plug in and play live.
Cons
The maple top, back, and sides are all laminate, which is surprising on a guitar in this price range.
The included Fishman Sonicore pickup doesn't provide the same natural sound as higher-end pickups do.
Highlights Of Our Featured Guitar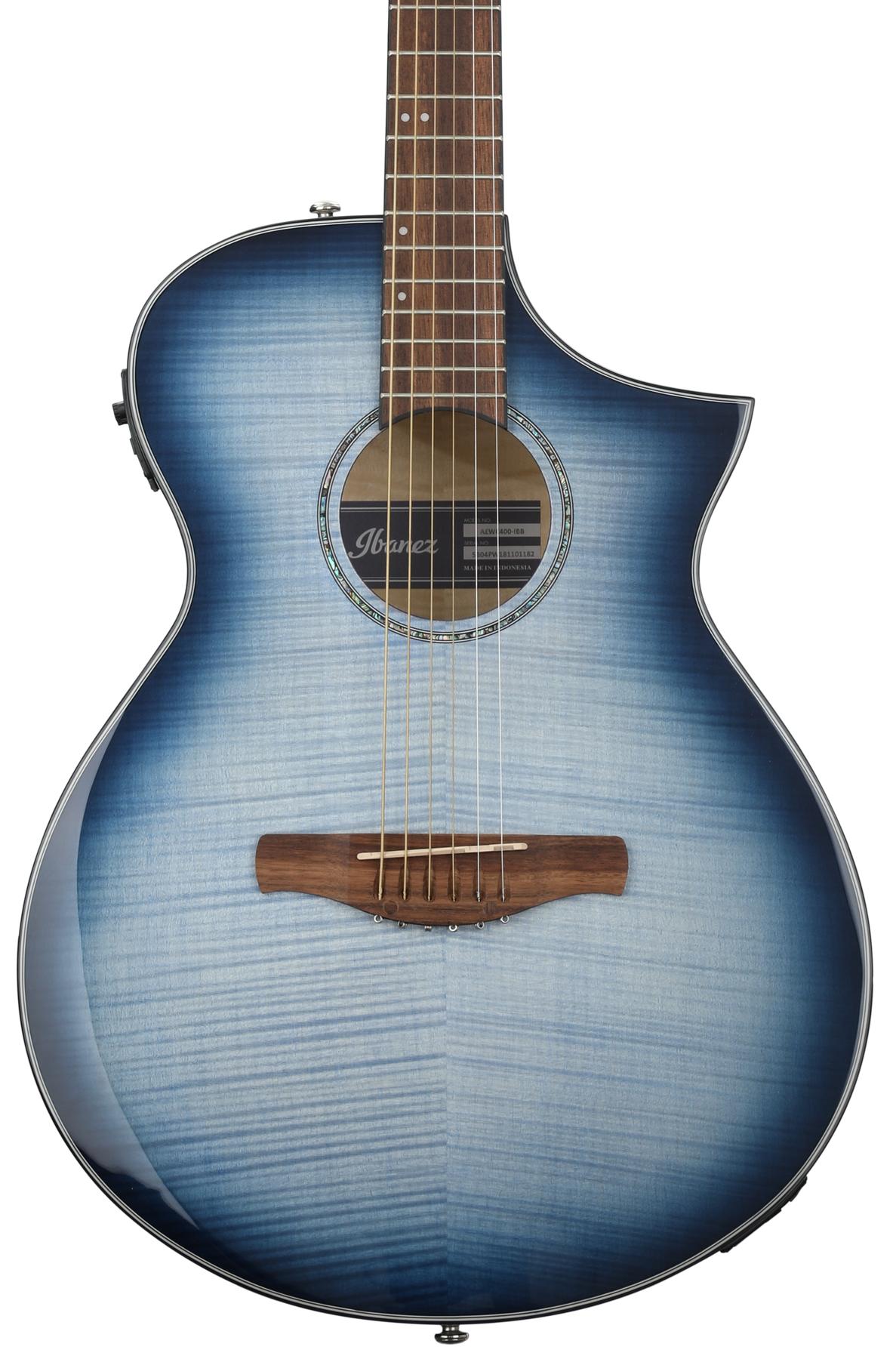 Ibanez AEWC 400
A Jumbo Acoustic Electric Guitar
All-solid construction gives you a complex, rich acoustic tone.
The combination of Sitka spruce and rosewood offers a crisp, detailed tone that is a departure from many jumbos.
Included LR Baggs VTC electronics give you effortless live sound
Whether you're a performer looking for a comfortable acoustic-electric guitar to gig with, a beginner who wants to learn on something highly playable, or even just someone who likes beautiful guitars, the AEWC400 is worth looking into. Here are some of its standout features
Body Style And Tonewoods
One of the first things you'll notice about the AEWC400 acoustic-electric guitar is its unusual body shape. The AEWC400 is extremely contoured, which makes the playing experience much more ergonomic and comfortable. An ergonomic guitar can help you avoid common injuries that guitarists face. And if you're a beginner, the contoured body helps make your adjustment to the guitar that much smoother.
The AEWC400 has contours in two key places. The contouring in the front is at the top of the lower bout. Often, the edge where the soundboard meets the sides, an acoustic guitar can cut into your arm. But the AEWC400 has an armrest-like contour here to serve as an armrest if needed.
The other contour is around the Florentine cutaway. On its own, a cutaway offers great fret access. But this guitar takes it a bit further — there's a contour on the neck joint and in the back of the body, too. This feature is designed to offer easy access to all frets. It's an uncommon feature, but it's one we really appreciate.
The body shape, AEWC (as it's called by Ibanez), is a lot like a grand concert guitar. It's small enough the feedback shouldn't be a concern when playing plugged-in. It's significantly less deep than your standard dreadnought. And if you prefer a tight, focused sound as opposed to a boomy one, you'll probably like this guitar, too.
Of course, the contouring of the body is an important feature, but you'll need to consider the tonewoods alongside the features the AEWC body offers. The top, front, and back are all made from flamed maple, with the flamed maple top highlighted beautifully by either an Indigo Blue Burst finish or a Transparent Black Sunburst high gloss finish.
Flamed maple has a stunning grain. And sonically speaking, it produces a bright, crisp sound that's sometimes described as being "bell-like." It also projects well, making it well-suited to smaller-bodied guitars. However, somewhat surprisingly, the AEWC400 acoustic-electric guitar is made of all laminated wood. 
That's something you usually expect with inexpensive guitars, but in this price range, you'd usually expect the flamed maple top to be solid. Overall, though, the AEWC400 has a well-made body that's nice to look at, too. If you want to get a closer look at the AEWC400's unique body, check out this helpful video review.
Neck And Playability
We already mentioned that the contouring on the back and sides helps make the AEWC400 acoustic-electric guitar highly playable. However, the asymmetric neck makes playing easier on your hands, too. This unusual neck design is meant to make it easier to play bass notes.
The neck is also finished in satin, which is an important feature. For the guitarist looking to feel as though they can play even the most up-tempo pieces with ease, a satin-finished neck is an outstanding feature to have.
The neck is made of nyatoh, a fairly inexpensive wood that's a little like mahogany. The walnut fingerboard is comfortable to play with and has a beautiful grain. This acoustic-electric guitar also has large frets as opposed to the more typical medium jumbo frets.
The larger frets, combined with the improved access to bass notes, help make the AEWC400 acoustic-electric guitar a joy to play. If you want to learn more about asymmetrical necks and how they can take you to new levels of guitar playability, check out this useful video.
Sound Quality And Electronics
Thanks to the flamed maple top, back, and sides, the tone of the AEWC400 leans a little toward the bright side. And while the uniquely contoured design does a lot for playability, you may wonder how it shapes the sound. Unplugged, we do find that the AEWC400 can sound a little tinny — there isn't always enough low end to fully balance it out (this video review) shows a little of what we mean.
However, this guitar comes with an Ibanez AEQ-SP2 preamp and Fishman Sonicore pickup. Both give you an excellent plugged-in tone that's a little fuller. The preamp has more features than you often see on entry-level guitars. A volume knob and two-band EQ (bass and treble) make it easy to sculpt your sound in a second. Along with its onboard tuner, the AEQ-SP2 onboard preamp provides an all-in-one way to control your tone whether you're recording, performing, or just playing plugged in at home.
To hear what the AEWC400 acoustic-electric guitar sounds like plugged in, check out this video demo.
Finish And Appointments
Like a lot of Ibanez acoustic-electric models, the AEWC is built to be eye-catching, and its unique aesthetics are beyond what you usually see in entry-level and mid-range guitars. It comes in two beautiful finishes — you can choose from Indigo Blue Burst and Transparent Black Sunburst high gloss. Both finishes show off the flamed maple grain on the front and back of the guitar.
Both the Indigo Blue Burst and the Transparent Black Sunburst high gloss AEWC400 also have some tasteful ornamentation in the form of an abalone rosette and modern-looking offset dot inlays on the fretboard. The darker color of the body is framed beautifully in white binding.
Ibanez tends to make their guitars beginner-friendly, and this one is no exception. It comes with a special AEWC top-loading bridge. This walnut bridge is effectively a string-through bridge, and it eliminates many of the frustrations that new players get while dealing with bridge pins. The tuners are the standard die-cast chrome that you get with most Ibanez acoustics, and they seem to work well. If you'd like a closer look at this guitar's great appointments, check out this video review.
Social Proof Of The Guitar
With so many guitar retailers offering online purchase options, more and more people are purchasing their guitars online. But before you decide whether this is the acoustic-electric guitar for you, you should check out some online reviews.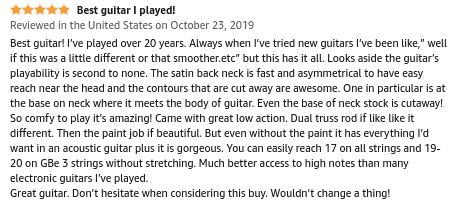 This detailed review highlights some of the playability features of the AEWC400 acoustic-electric. This person notes that even the neck joint is carved as part of the cutaway, which makes reaching those higher frets more comfortable than ever. The satin-back neck also makes it a very fast-playing guitar, especially for the price.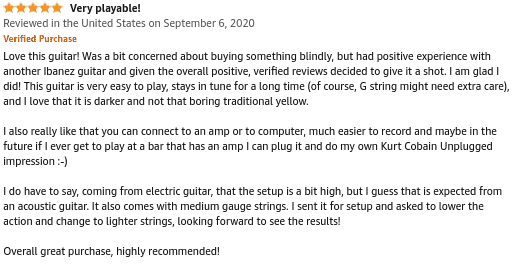 This review comes from someone who is coming from playing primarily electric guitar. But thanks to this model's slim and uniquely contoured body, it's a great solution if you're used to electric playability. However, as some other players have noticed, the action is a little high on this guitar when it first arrives. This is something that can be corrected by a simple setup, though.

This last review praises the sound quality of this guitar. Like many other acoustics made of maple, this one has a crisp, defined sound that many players like. And this reviewer is correct that the AEWC400 is a significant upgrade compared to many other Ibanez acoustic guitars. Ibanez is known for making budget guitars that offer great value for the price, but this one shows that the brand makes respectable midrange guitars, too.
All in all, we think the Ibanez AEWC400 is well worth buying. While we wish it has a solid top, it still offers a surprisingly decent, crisp sound that projects well. But its greatest feature is its playability. You don't often see a contoured acoustic, even at the highest levels of guitar manufacturing. But the AEWC400 specifically-designed comfort body makes it a worthwhile companion for even the longest of sets. Click here to check it out!