If you're in the market for an acoustic-electric guitar, you might be debating whether to get a steel or nylon-string instrument. If you want the warmth of a classical guitar with a modern twist, the Ibanez AEG10NII nylon string just might be right for you. This single-cutaway guitar has a slim, comfortable body and onboard electronics, making it a great, affordable performer's guitar.
But before we get into our review, let's look at some pros and cons:
Pros
The slim neck and slim body offer easy playability.
Unlike most classical guitar models, it has a single cutaway for easy fret access.
Onboard Fishman Sonicore pickup and Ibanez AEQ SP1 preamp let you effortlessly sculpt your sound onstage.
Gold classical tuners and an abalone rosette make it an aesthetically pleasing instrument.
Cons
The slim body gives you a thin sound unplugged — it's not as rich as a full-bodied guitar.
The pickup (Fishman Sonicore) is typically used in inexpensive guitars and doesn't have a particularly natural sound.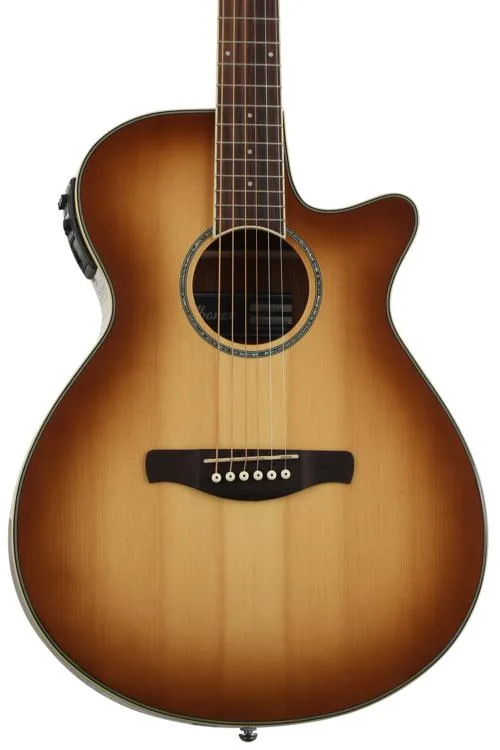 Ibanez AEG10NII
A Nylon String Acousitc Electric Guitar
Part of AEG series, slim body, single cutaway Acoustic Electric guitar.
This Nylon string guitar has an all-laminated construction.
Ibanez AEQ SP1 preamp includes an onboard tuner.
The AEG10NII is one of the more unique acoustic-electric guitars we've come across — it's essentially a modernized classical guitar. Let's take a look at what makes it stand out.
Tonewoods And Body Style
While this is a nylon-string guitar, it's a little different from your typical classical body. Ibanez calls this an AEG body, as the AEG10NII is a part of the AEG series. This series is made of slim-body, single-cutaway acoustic-electric guitars.
Essentially, it has a similar shape to a classical guitar, but the body is a lot shallower. Notably, unlike most classical guitars, this one has a Venetian cutaway. If you find yourself frequently playing further down the neck or playing leads, this is a useful feature to have.

Of course, the tonewoods used in any guitar are important to its sound. The AEG10NII nylon string is made of all laminated wood, so you won't get quite the complexity of sound that you'd get with a solid-top guitar. It comes with a classic tonewood combination — a spruce top and mahogany back and sides.
The spruce top adds some brightness and responsiveness to its sound, and the warmth of mahogany helps balance it out. The solid mahogany neck further warms up its sound. If you want to get a look at this guitar(in a black finish), check out this unboxing video.
Sound Quality
As we noted above, the spruce top with mahogany back and sides is a classic tonewood combination that gives you a balanced sound. If you've ever heard high-end spruce and mahogany classical guitar being played, you know just how beautiful this combination can be.

Of course, since this guitar has a laminated top, back, and sides, you can't expect the same tonal nuance, but that doesn't mean the AEG10NII sounds bad. Thankfully, it manages to mostly avoid the ukulele-like sound that you sometimes get with shallower-body guitars.
However, while the slim body is outstanding when it comes to playing comfortably, it does impact the unplugged sound. The AEG10NII sounds a little thin when played unplugged — you don't get the rich tone you'd have with a standard-sized guitar. You can hear the unplugged sound in this video demo.
The unplugged sound of the AEG10NII leaves something to be desired, but the plugged-in sound is better. This guitar comes equipped with a Fishman Sonicore pickup, which is a basic under-saddle piezo pickup. The Fishman Sonicore pickup isn't one of the company's top-notch pickups, but it sounds surprisingly good here.
You also get an Ibanez AEQ SP1 preamp. The preamp includes an onboard tuner, which is especially useful (especially if you tend to misplace your tuner). When the onboard tuner on the Ibanez AEQ SP1 preamp is engaged, the guitar's output to the amp is silenced, which is a great convenience feature to have.

While we know that the shallower body on the AEG10NII hampers its unplugged tone, it's an asset when you're playing plugged in. Shallower guitars tend to have fewer issues with feedback while you're playing plugged in. In the rare instance that you do experience feedback when plugged in, a quick adjustment of the AEQ SP1 preamp is often all you need to resolve it.
Playability
This guitar really shines when it comes to playability. Like many Ibanez guitars, this one has a slim neck that makes it especially fast. And remarkably, it even has a satin-finished neck, as seen in this video. 
Satin necks help you avoid the stickiness sometimes found with gloss necks, although you rarely see satin necks on more affordable guitars. Of course, the thinner body makes the AEG10NII nylon string quite comfortable to hold and play with, even through long sets. And if you play the lead, the cutaway makes that easier too.
The AEG10NII has a scale length of 25.6″, which is fairly standard if a little longer than average. It comes with Ibanez-coated classical nylon strings. The coating is nice, as it extends the life of the strings. It also can make the strings a little less irritating to your fingers, which is helpful if you're just starting to learn guitar.
Appointments And Finish
While some Ibanez acoustics seem to prioritize flashy finishes and exotic woods overtone, this tastefully-appointed acoustic-electric strikes a nice balance between the two. The spruce top is graced by a simple abalone rosette, and the gold classical tuners give it a little bit of extra sparkle. The fretboard has simple dot inlays, and the white binding contrasts beautifully against the body.

While the AEG10NII is one of Ibanez's more affordable models, it does have some high-end appointments. Somewhat surprisingly, it comes with a rosewood fingerboard and rosewood bridge. The beautiful grain of the rosewood bridge looks great against spruce, and the rosewood's hardness means it isn't prone to pitting and other issues when used as a fretboard.
This guitar also comes equipped with a truss rod. That usually wouldn't be notable, but classical guitars typically don't have truss rods because the strings exert less tension on the neck. The truss rod makes it much easier to adjust the neck and the action as needed.

Ibanez has also equipped the AEG10NII with a quality nut and saddle. Both are made of Ivorex II. Ivorex II is a composite made by Ibanez, and the company claims it's even harder than bone, leading to improved sustain and incredible durability. It's at least a step up from the plastic nuts and saddles you usually see in this price range.
Overall, we think the appointments on the AEG10NII make it an excellent value. If you'd like to get a closer look at this beautiful and affordable guitar, check out this video demo.
The finish on a guitar probably isn't the most important thing you consider, but it's worth noting that you can find this guitar in two finishes — black and tangerine. The tangerine finish is great if you like the look of classic acoustic guitars– it looks a bit like an aged natural finish. If you play rock music or just want a modern look, the sleek black finish might be preferable.

We think it's worth mentioning that Ibanez does not include a case or a gig bag with the AEG10NII. This is important to note, especially if you're a first-time guitar buyer. It's a little inconvenient that this guitar doesn't even come with a gig bag, but that does enable Ibanez to keep costs down.
Social Proof Of The Guitar
Before you purchase an acoustic-electric guitar, it's a good idea to check out some helpful reviews, especially if you can't try out each guitar in person. In our search for helpful reviews of the AEG10NII, it was very difficult to find anything negative.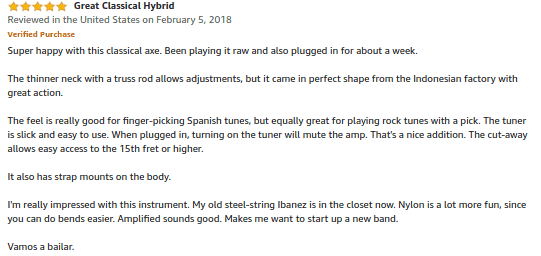 This reviewer mentions using the AEG10NII to play classical guitar music. We also found this review helpful because this acoustic-electric guitar comes with a truss rod for easy adjustments as needed.
When purchasing an acoustic-electric guitar, it's a good idea to make sure that you like the sound both plugged in and unplugged. We found this review helpful because it highlights the fact that the slim body causes almost no feedback when plugged in.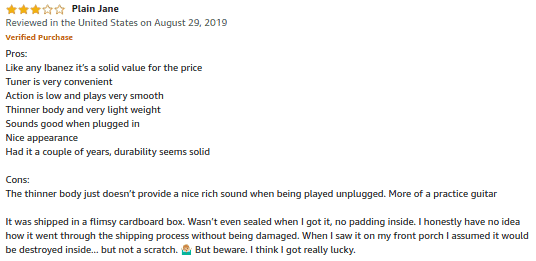 We found this review helpful because it outlines some of the major pluses and minuses of this guitar. This person found the onboard tuner helpful, and the plugged-in sound is remarkably good. However, as this review points out, the thinner body of this guitar means it doesn't have great sound unplugged.
Hopefully, you found our Ibanez AEG10NII review helpful. If you have a limited budget and are looking for a nylon-string acoustic-electric guitar that offers easy playability, great plugged-in sound, and good looks, we think the Ibanez AEG10NII just might be the guitar for you. Click here to check it out!