Cordoba is a company known for high-quality classical guitars at just about every price range. And while their value models sound great for the price, their higher-end instruments offer incredible tone. Today, we'll be taking a look at the Cordoba C12, an outstanding instrument that is available with either a cedar top or a spruce top.
Cordoba C12 Classical Guitar
PRO's & CON's Of Cordoba C12
Before we jump into our Cordoba C12 review, let's look at some pros and cons:
Pros
Solid Indian rosewood back and sides offer an exceptionally detailed tone.
You have a choice of Canadian cedar or European spruce for the soundboard.
The raised fingerboard makes it exceptionally easy and comfortable to play.
Modern lattice bracing increases projection and sustain.
Cons
Some players may prefer fan bracing to lattice bracing.
The price of the C12 may be too high for some guitarists.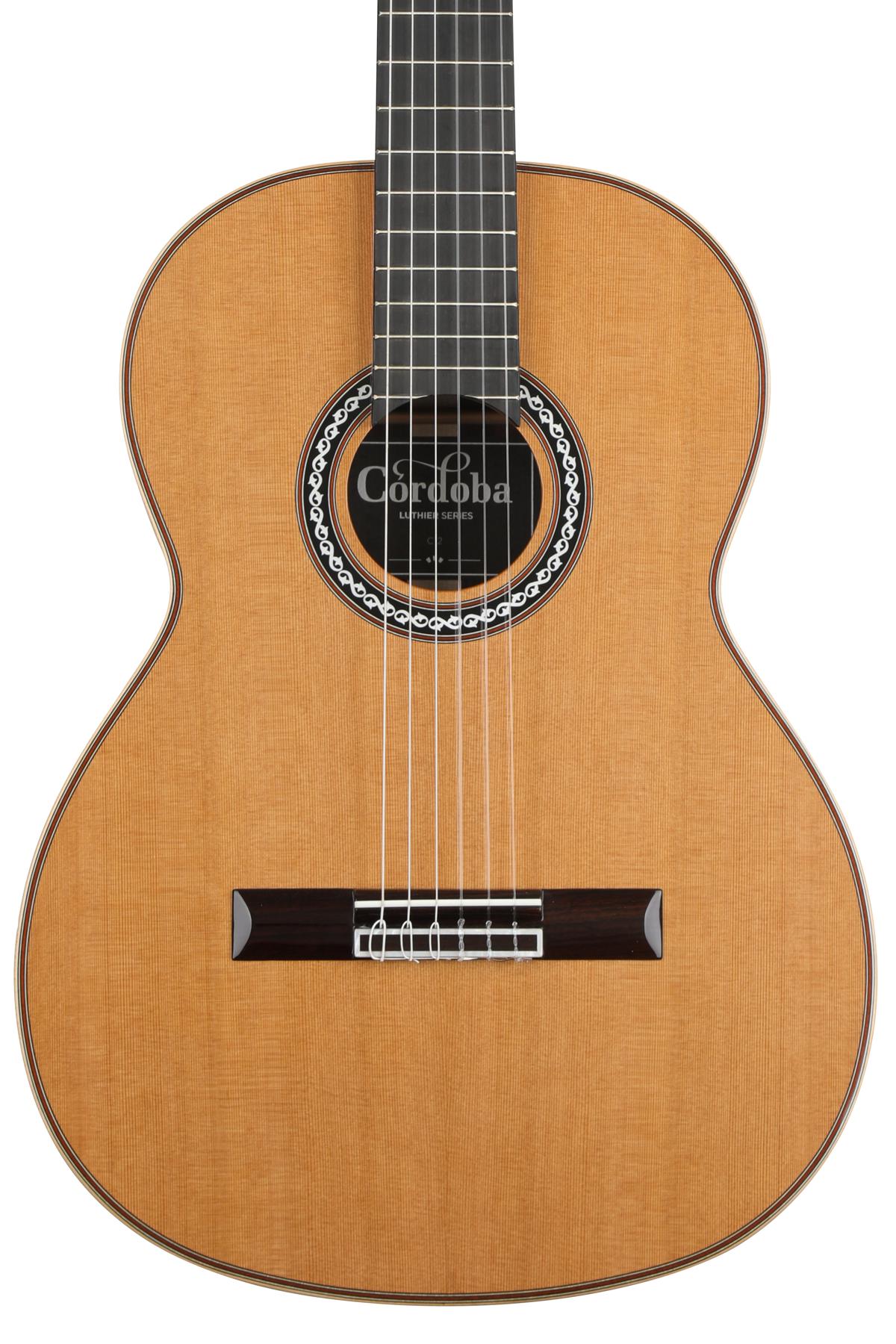 Cordoba C12
A High End Classical Guitar
Choice of Canadian Cedar or European Spruce for the soundboard.
Solid Indian Rosewood back and sides.
Lattice Bracing.
We think the Cordoba C12 is an excellent classical guitar — its features are beyond what you'd typically expect for a classical guitar in this price range. And true to Cordoba's vision, this guitar offers a blend of traditional design and modern playability.
Tonewoods And Body Style
The C12 is built using the traditional classical guitar body shape, which is similar to a concert-style steel string. The only thing setting apart the C12 cedar and the C12 spruce is the solid wood used for the soundboard. The cedar version has a solid Canadian cedar top.
Cedar offers a sound that is both warm and rich, with plenty of overtones. If you prefer a sound that isn't as bright as that of spruce, the C12 cedar top may be right for you. The C12 spruce has a European spruce top. This wood offers a sound that is a bit brighter than that of cedar, but it's still incredibly responsive.

Both models have solid Indian rosewood back and sides. You might associate solid Indian rosewood back and sides with steel-string guitars, but this high-quality tonewood does very well when incorporated into classical designs. Rosewood has a tight low end, sparkling highs, and incredible tonal detail — all things that enhance any performance on the classical guitar.

However, the solid Indian rosewood back has another detail that both enhances the tone and adds some visual zing — there's a center wedge of flamed maple. Maple enhances projection, which can add some life to your live performances. Each model has a solid mahogany neck which adds some warmth to the sound.

The bracing on these guitars is worth talking about, too. The Cordoba C12 is made with lattice bracing, a relatively new development in the world of classical guitar building. While this bracing style incorporates solid wood struts, much of its design involves a latticed framework of balsa wood and carbon fiber. The result is a top that is incredibly free to vibrate.
This leads to both fullness of sound and incredible clarity. Of course, the bracing you choose will depend on your own preferences. But if you want something different from traditional fan bracing, this is worth a look. If you want to hear a comparison of lattice vs fan bracing, check out this interesting video.
Sound Quality And Playability
If you're considering a guitar at this price point, you probably expect a good tone. We think this Cordoba offers a better tone than plenty of more expensive instruments. The solid Indian rosewood back and sides add plenty of depth and detail.
The Canadian cedar top model delivers an overtone-rich sound that's a little darker, while the spruce top model has a clearer, more focused sound. If you want to hear a comparison, this video does a good job of illustrating the difference between the two.
Of course, playability is vitally important, especially if you play highly technical pieces. The C12, like many Cordoba models, combines both classic and modern features for an outstanding playing experience. One especially useful feature is the raised fingerboard, which is made of ebony. Since most classical guitars don't have a cutaway, access to the upper frets can be very difficult.
With a raised fingerboard, the upper frets become much easier to reach. If you haven't yet tried a guitar with a raised fingerboard, it's a good idea to try one out. Some people try a raised fingerboard for the first time and never look back.

The ebony fingerboard itself supports playability as well — ebony stays naturally slick, which makes it ideal for players who need to move up and down the neck quickly. Plus, an ebony fingerboard gives any guitar a look of classic quality. The nut width of 2.04″ gives players enough space to comfortable finger notes and chords.

While it isn't technically a playability feature, the truss rod on this Cordoba model is a great feature. Over time, it's easy for a guitar neck to get warped or bowed. If this is the case (or if you just want to adjust the action), a truss rod will make adjustments easier. Most nylon-string guitar models do not have a truss rod, as the strings exert less tension on the neck. But on a high-end guitar like this one, the adjustability a truss rod affords is great.

Like most classical guitars, this one does not come with electronics. This is because classical performances traditionally do not involve plugging in to play. But if you want to use the C12 to record, simply place a high-quality condenser microphone at the 12th fret and record in a treated room.
Appointments, Fit, And Finish
Most guitars in this price range are very well-appointed, and this Cordoba is no exception. It comes with Cordoba premium gold tuning machines. These gold tuning machines hold tune incredibly well, and they are open-geared. The contrast between the gold tuning machines themselves and their ebony buttons gives the C12 a look that's very different from that of other guitars.

As a side note, it's important to realize that the C12 does not come with strap buttons. If you want to play with a strap, you will need to install your own strap buttons.

This guitar also has a hand-inlaid mother-of-pearl "Esteso" rosette. Mother of pearl makes for an especially high-quality rosette — cheaper guitars often have rosettes that are simply screen-printed. Because it is hand-inlaid, it has incredible detail that most people will appreciate.

You might expect to see an ebony bridge to match the ebony fingerboard, but the Cordoba C12 has a bridge of solid Indian rosewood. The nut and saddle are made of bone, a traditional material that many players regard as better than virtually every other material.

The natural high-gloss finish lets you see the natural beauty of the wood, and the subtle detail of maple binding is sure to please most players. This high-gloss finish is thin enough not to interfere with the tone, and over time, it allows the top wood to mature and reach its full potential.

Cordoba also ships this guitar in a special humidified case. The Humicase is designed to offer continuous humidification when your guitar is in its case. Humidifying your guitar reduces the risk of cracking, warping, or shrinking. These things typically happen if a guitar is subjected to changes in temperature and humidity. If you're a gigging musician, having a case like this one is a must.

If you want to get a closer look at the C12, check out this video of a moving acoustic performance.
Social Proof of the Guitar
When purchasing a classical guitar in this price range, it's sometimes a good idea to try playing it in person. However, not all music stores carry the Cordoba C12, so it may be hard to find nearby. Instead, you may want to check out some helpful customer reviews written by people who already play this acoustic nylon string guitar. Here are some helpful reviews we've found on our search.
For this buyer, this Cordoba model sounds like a much more expensive instrument. This reviewer also mentions the uniqueness of the humidified case, which helps keep the guitar in top playing condition.

This person was especially impressed with the C12's playability. Having a raised fretboard makes it much easier to play farther down the neck. Its incredible responsiveness also makes it an ideal instrument for the serious classical player.

This Cordoba C12 review highlights the guitar's incredible clarity, as well as the fact that it's suitable for genres beyond classical. And just like many other customer reviews, this one praises the Humicase and its ability to preserve the guitar.
Whether you prefer the darker warmth of Canadian cedar or the relative brightness of European spruce, we think you'll love the sound of this classical guitar. The Cordoba C12 incorporates elements of traditional Spanish guitars, but it also adds modern touches for stunning tone and unbelievable playability. If you're ready for a classical guitar that will revolutionize your sound, click here to check it out!