Whether you want a high-quality first guitar or a great instrument that won't break the bank, Cordoba is a great brand to check out. Though Cordoba was only founded in 1997, it's quickly become one of the market leaders when it comes to nylon-string guitars for both students and master players. Today, we'll be taking a look at the Cordoba C7, a classical guitar with a beautifully mellow solid cedar top.
Things To Consider Before Buying A Nylon-String Guitar
Before buying any guitar, it's a good idea to think carefully — the right instrument can provide hours of enjoyment and help take your playing to the next level. On the other hand, the wrong instrument can be frustrating to play and derail your progress. Here's what to think about:
What genre are you playing? – Many nylon-string guitars, including the C7, are classical guitars. These guitars tend to have slightly higher action and lower string tension. Flamenco guitars are also made with nylon strings, but they tend to have higher action and higher string tension for the quick tempo of flamenco. While you can technically use nylon-string instruments as either classical or flamenco guitars, it's a good idea to get one optimized for your chosen style of music.
What bracing style? – Traditionally, classical guitars are made with fan bracing. This is good to choose if you want a classic Spanish guitar sound. Some "crossover" models (guitars with characteristics of both steel and nylon-string guitars) have X-bracing or other patterns commonly found in steel-string acoustics.
What tonewoods? – Most classical guitars have tops of either solid spruce or solid cedar. Spruce has a brighter, very responsive sound, and cedar has a darker, warmer tone. Neither is necessarily better than the other — it just depends on what you prefer.
Cordoba C7 Classical Guitar
PRO's & CON's Of Cordoba C7
Before we dive into our Cordoba C7 review, let's check out some pros and cons:
Pros
Solid Canadian red cedar top delivers a warm, mellow tone.
Spanish-style fan bracing supports great projection and plenty of nuances.
Laminated rosewood back and sides support a detailed tone while keeping costs low.
Indian rosewood binding, inlaid rosette, and gold tuners give it a high-end look.
Cons
Laminated back and sides don't deliver the same tonal quality as solid wood.
It often arrives with high action and is in need of a setup.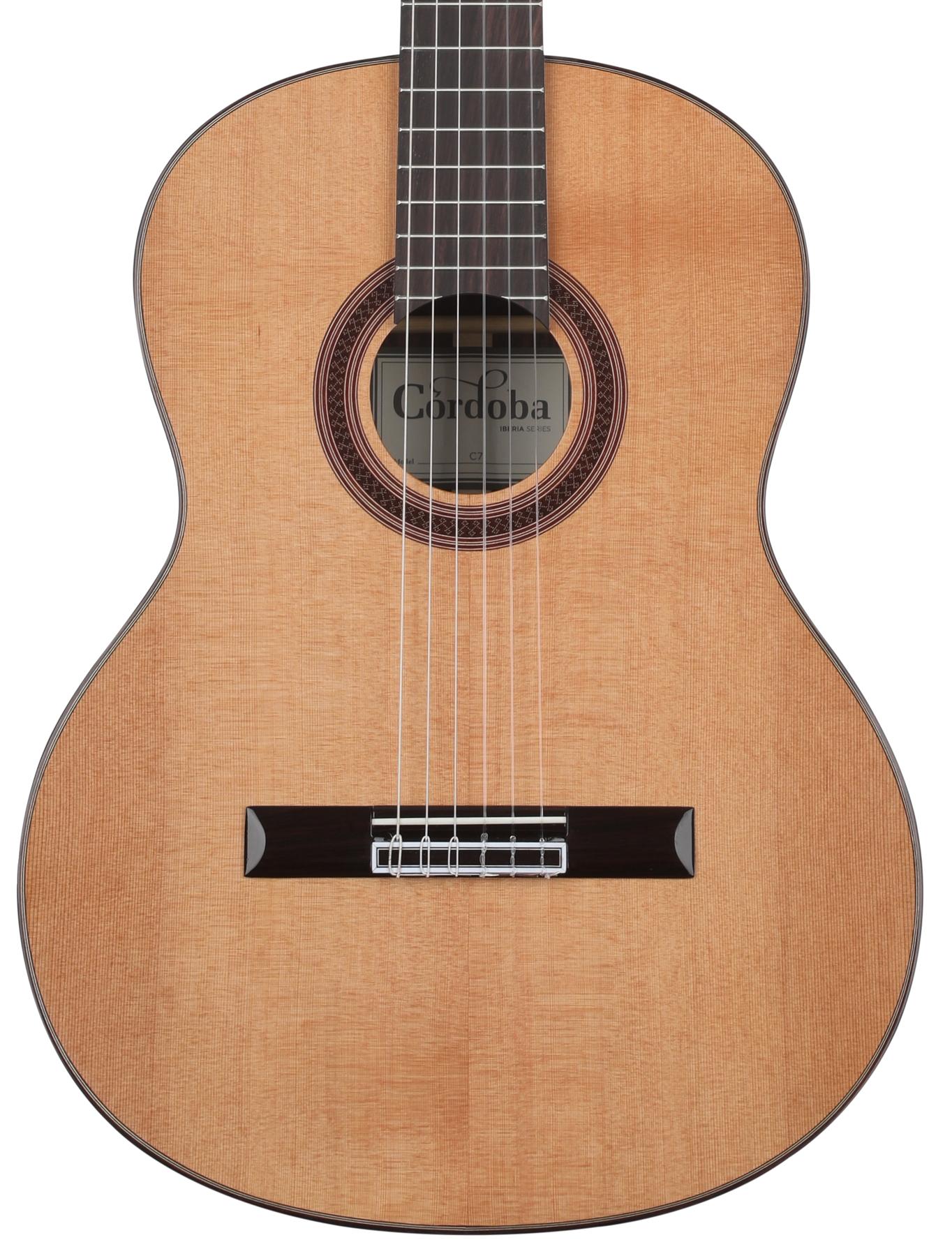 Cordoba C7
A Nylon-String Guitar
Solid Canadian Red Cedar Top.
Rosewood Laminated back and Sides.
Fan Bracing.
Dual-action truss rod
As part of the Cordoba Iberia Series, the C7 is designed to offer outstanding value while still managing to be affordable. Here are some of its best features.
Tonewoods And Sound Quality
For the price, the Cordoba C7 has excellent build quality. The top is made of solid Canadian cedar. Specifically, it's made of red cedar. This tonewood is ideal for players with a very light touch. It has a powerful attack followed by plenty of resonance. This is an ideal combination — it makes sure each note you play is defined, but it also ensures a warm tone. It's a little more midrange-heavy than spruce.
It's remarkable to find an entry-level guitar with a solid top for a low price, and it would be unreasonable to expect the Indian rosewood back and sides on the C7 to be solid. Nonetheless, laminated Indian rosewood does have some of the characteristics of solid wood — a tight low end, defined highs, and plenty of overtones. Indian rosewood also has a chocolatey, distinctive grain that is especially beautiful.
Just like many other Cordoba guitars, the C7 has a solid mahogany neck. When used as a neck material, mahogany helps shape the tone to make it darker and warmer. That's because the neck transfers the energy from the strings to the guitar body. Mahogany is also a fairly dense wood that isn't prone to warping and other issues.
Put all together, and these woods create the tone of the Cordoba C7-CD — dark and warm yet defined. To hear it for yourself, check out this helpful video demo. As you can likely tell from the demo, the C7 is also a good guitar for flamenco music.
Body Style And Bracing
While tonewoods have a major impact on the sound of an acoustic guitar, the bracing pattern, as well as the body style, helps shape the sound, too. This classical guitar is, as expected, built in the traditional classical guitar body shape. If you're unfamiliar with the build, it's very similar to a grand concert steel-string acoustic guitar. The smaller body strikes an impressive balance between clarity, warmth, projection, and resonance.
Bracing-wise, the Cordoba C7 is made with fan bracing, the type used on most contemporary classical guitar models. Fan bracing is more stable than ladder bracing (the previous most common classical guitar bracing type), and it also allows for impressive projection and volume.
If you find learning about guitar bracing to be interesting and want to know more about it, you might find this video useful. It offers a thorough breakdown of the differences between ladder, fan, and X (the type often found on steel-string guitars) bracing.
Playability
On any classical guitar, the tone is highly important. But if your guitar isn't playable, you'll likely become very frustrated. And in looking for guitars for beginners and intermediate players, you're likely to find many that have significant issues with playability.
You aren't likely to find similar issues with the Cordoba C7. To start, the C-shaped neck is comfortable and a little slimmer than many classical guitar necks. The wide Indian rosewood fretboard is easy on your fingers, and it's also tough enough to resist being worn down over time.
Like most similar guitars, the C7 does not have a cutaway, so access to frets further down the neck can sometimes be difficult. Classical guitar bodies traditionally do not have a cutaway, although Cordoba does make cutaway models for players who want easy fret access.
However, although the Cordoba C7 is a highly playable guitar, it doesn't always arrive that way. Some players have noted that the guitar arrived with high action. It isn't too difficult to adjust the action to your liking. But if you aren't sure how to do it, it's well worth it to take your guitar in for a professional setup. Plus, the setup will give you a chance to select new strings that suit your playing style.
Appointments And Finish
You'd be hard-pressed to find another classical guitar that's a better value than the Cordoba C7. While its solid Canadian cedar top alone makes it a great deal, this guitar is also especially well-appointed.
Especially notable is the fact that the Cordoba C7 has a truss rod. Traditional nylon-string guitars are made without truss rods due to low string tension. However, if the neck starts to experience issues, it's extremely difficult to fix. Since the Cordoba C7 has a dual-action truss rod, you can adjust the neck in either direction if need be.
This guitar also has a bone nut and bone saddle. This classic material helps increase the harmonic content of open strings, and it also increases sustain. The Indian rosewood fingerboard and bridge give this guitar a high-end look, and they're also more likely to last. The C7 also has a rosewood binding, which creates a stunning contrast with the top. Many guitars in this price range have simple plastic binding, so this is a great feature to have.
The tuners are Cordoba-made gold tuners with black buttons. They have a sleek, understated look that you usually see on more expensive guitars. And lastly, the stunning inlaid rosette and a high-gloss finish make it a head-turner.
If you want to get a closer look at the Cordoba C7 and its appointments, check out this video — it goes through many of the guitars in the Iberia Series, including the C7.
Social Proof of the Guitar
As is the case with most Cordoba guitars, the C7 has received overwhelmingly positive reviews from players. Here are some helpful reviews we've found that we think will help you make your decision:

This helpful Cordoba C7 review from an older player illustrates why the Cordoba C7 CD is such a great guitar for learning players. When you love the sound of your instrument, you'll be much more inclined to continue playing.

This is another review praising this guitar's lovely sound. Cheaper instruments don't always have the same sustain and sweet tone as more expensive guitars, but despite their low price, the Cordoba C7 CD has a noticeably beautiful sound.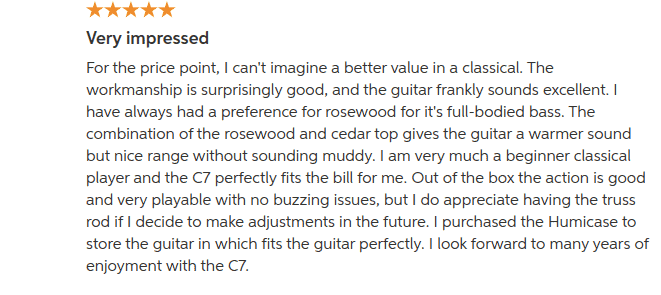 This last review snapshot highlights the best thing about the C7 — its excellent value. It also points out its tonal clarity. Sometimes, guitars that sound warmer can start to sound "muddy" or indistinct, but the C7 doesn't seem to have this issue.
Alternatives To Cordoba C7
We've been very impressed with the Cordoba C7 CD. But before you make the decision to buy any guitar, it's wise to consider other options. Here are three other classical guitars you might want to think about:
How It Compares To Cordoba C7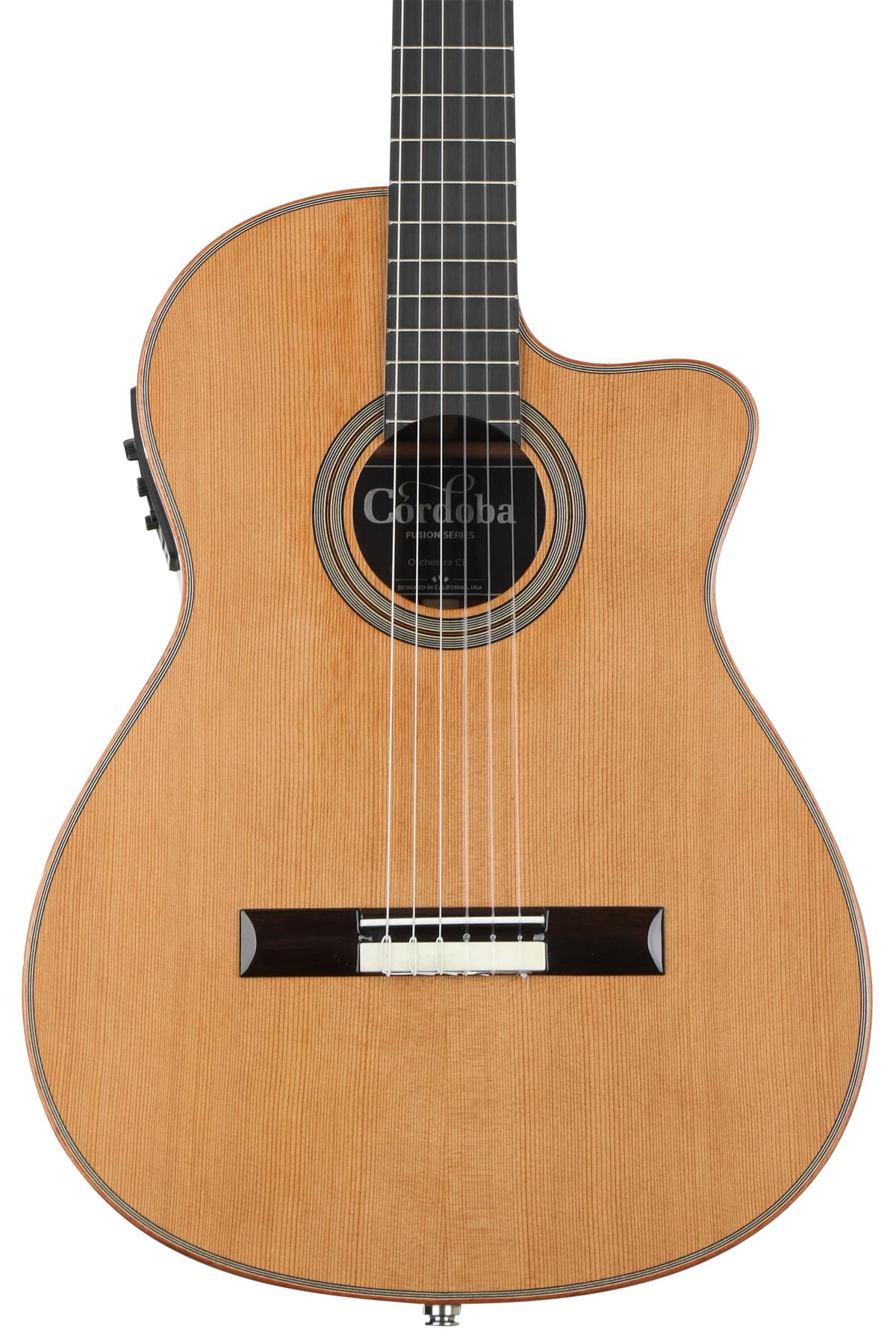 Solid Canadian cedar top offers a similarly warm, rich sound.
A narrower neck and slimmer body make it a little easier to play.
Fishman electronics make it easy to plug in and play at a gig.
It's a few hundred dollars more expensive.
Review
If you like the sound of a classical guitar but don't want to miss out on the easy playability of your steel string, Cordoba's Fusion Series may just be for you. The Fusion 12 is a "crossover" guitar, meaning that it's effectively a cross between a classical and a steel string. This guitar has nylon strings and the warm sound of a cedar top, but it will feel a lot more familiar if you're used to traditional acoustic guitars. 
If you want the best of both the classical and steel-string worlds, make sure you check this one out!
How It Compares To Cordoba C7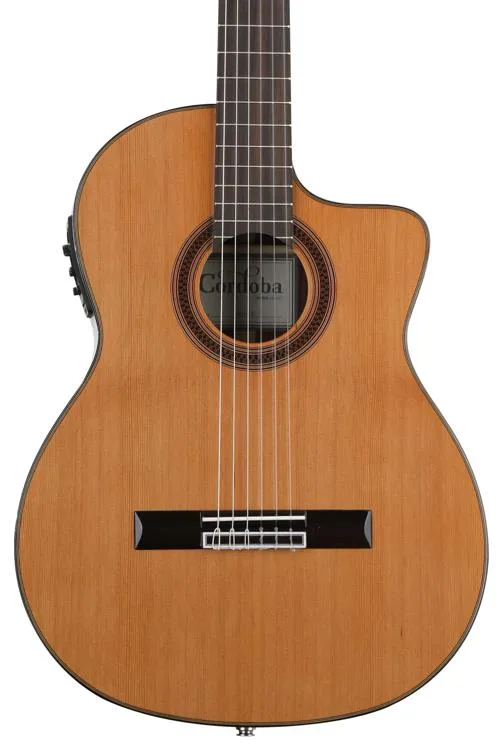 It also has a solid Canadian red cedar top for a beautifully warm tone.
Fishman Presys Blend electronics combine the outputs of an internal mic and a piezo pickup for customizable sound.
Like the C7, it has traditional fan bracing for a classic tone.
It's only slightly more expensive.
Review
If you like the Cordoba C7 but wish it came with electronics, the C7-CE is a great option. This is essentially the acoustic-electric version of the C7, although it also has a cutaway to make fret access easier.
If you want a gig-ready nylon string, make sure you take a look at this one!
How It Compares To Cordoba C7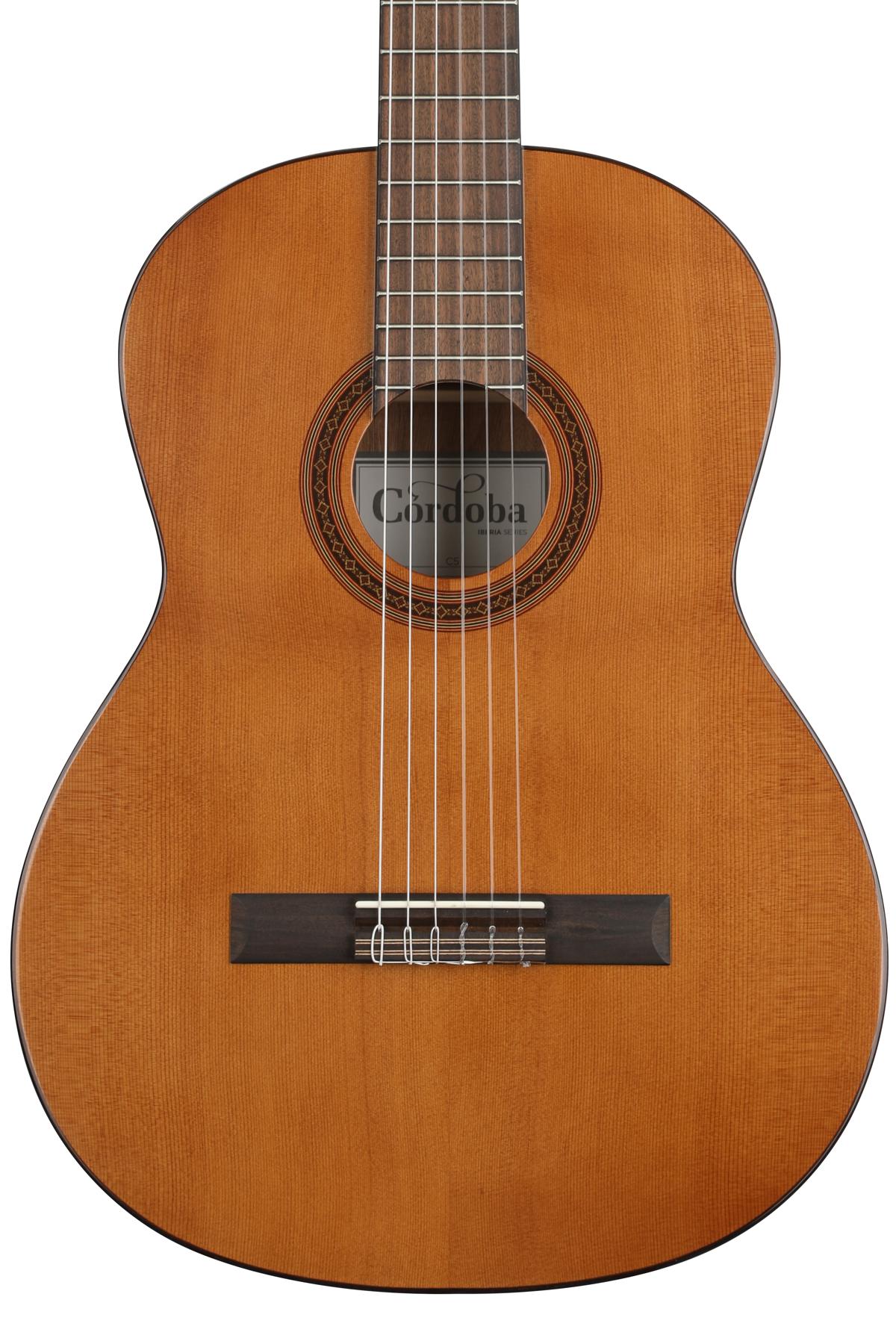 It also has a solid top for perfect sustain and resonance.
Laminated mahogany back and sides still offer decent tonal support.
It also has a rosewood fingerboard and bridge.
It's a couple of hundred dollars cheaper than the C7.
Review
If you've been looking into the C7, you may have already discovered that it's effectively an upgrade from the C5. But if you're looking for an especially affordable guitar that sounds great, you'll probably like the C5. Though it's much cheaper than the C7, the C5 also has a solid Canadian cedar top.
If you want one of the best-value classical guitar options out there, make sure to check out the C5!
Finding a classical guitar that is both affordable and great-sounding can be a real challenge, but the Cordoba C7 CD is the ideal solution. Its solid top, highly playable rosewood fretboard, and warm, intricate tone make it an outstanding starter guitar. But its sound quality is good enough to make it a respectable instrument for intermediate and advanced players, too. Click here to check it out!