Overview of the Product 
Cordoba C9 is one of the best all-solid, Spanish style, Nylon Stringed Classical Guitar available in the sub $1000 range. Use of solid wood results in better tone, resonance, sustain and overall sound.
Cordoba was founded in the 1990s by Tim Miklaucic to revive Classical guitars, which were getting overshadowed by steel string Acoustic and Electric guitars. In a short span of two decades, Cordoba has made a considerable influence in the world of Classical Instruments.
Cordoba instruments range from beginner/entry-level to professional-grade ones for expert players. The quality of their instruments is widely respected and provides real value for money.
C9 is one of the oldest & lauded models belonging to the Luthier series by the manufacturer. The Luthier series is a perfect mix of traditional hand artistry and modern technology. Cordoba manufactures it in China.
Other models in the series are C12, C10, and GK. Although the series has beginner/student-level guitars, these instruments are concert ready.
In the Cordoba model numbering system, the higher the number associated with any model, the more advanced or sophisticated the model. So C9 is the least expensive in the Luthier series.
The full-size traditional CD / MH version has a solid Canadian cedar top and solid Mahogany back and sides. Some of the variations of C9 include
Full-Size traditional SP / MH model has a solid European Spruce top.
Parlor guitar with 7/8 size and 50 mm nut width

Full-size Crossover model with slimmer neck profile, fingerboard with more radius, and 48 mm nut width.
PRO's & CON's Of Cordoba C9
In our Cordoba C9 review, we'll take you through some of the specifics of this model to help you decide whether you want to add it to your collection or choose it as a first guitar. First, though, let's look at some pros and cons.
Pros
Use of exceptional all solid tonewoods.
The guitars are high-quality, concert-ready guitars with attractive aesthetics.
The guitar is lightweight, easy to handle, great sounding with rich overtones, and beginner-friendly.
Includes quality strings.
Cons
It might be considered expensive for beginners.
Does not feature an elevated fingerboard.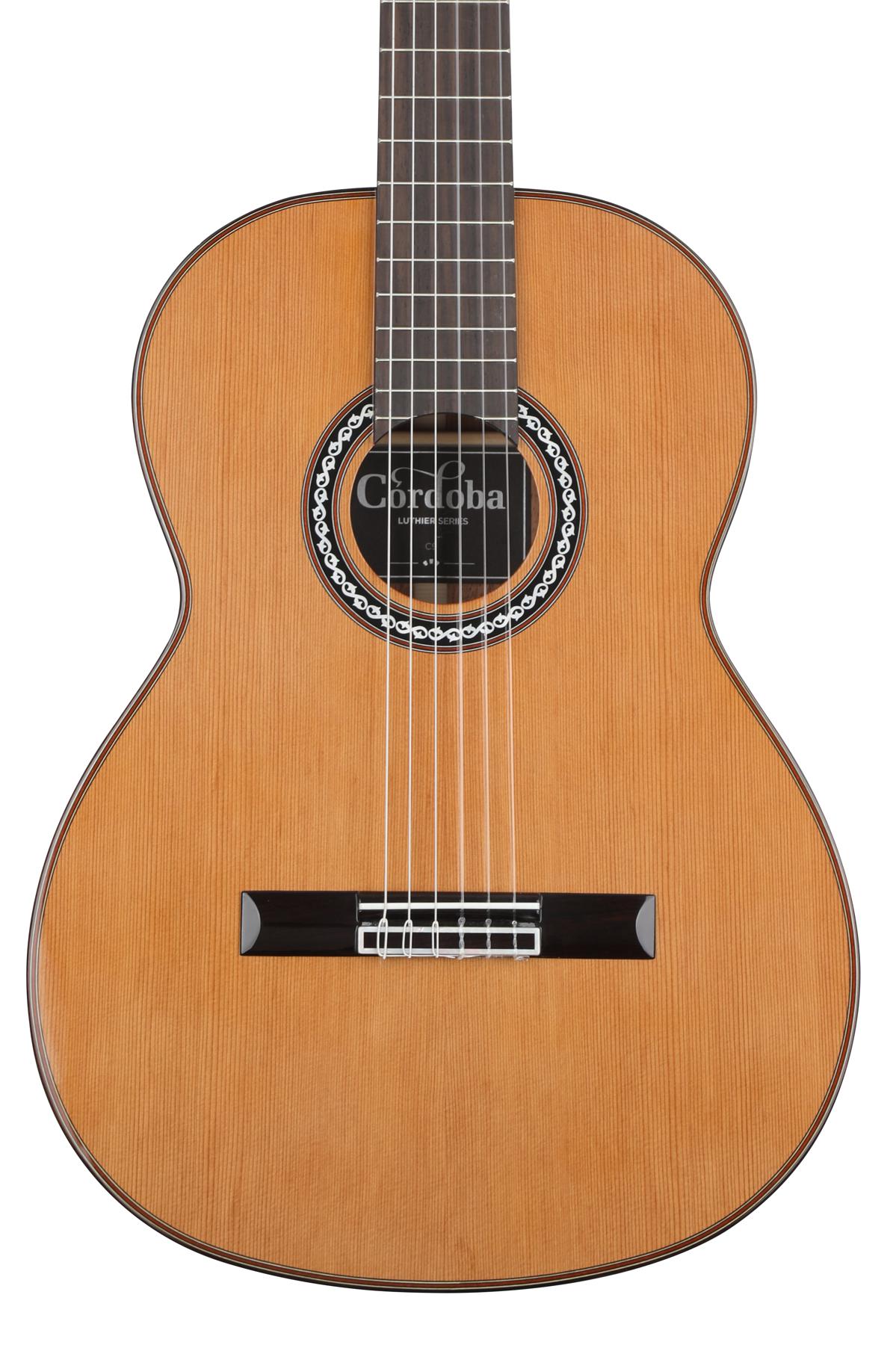 Cordoba C9
A Solidbody Classical Guitar
An all-solid tonewood guitar with a Sitka Spruce or Cedar top and mahogany back & sides.
Hand-inlaid mother-of-pearl weave rosette and purfling.
It has fan bracing, commonly used for classical guitars.
Things to consider before buying a Nylon String Acoustic guitar
Some of the crucial things to consider are 
Solid wood top resulting in the most significant improvement in sound quality over the laminates.

Cedar and Spruce for Tops.

The back and sides should be harder woods like Indian rosewood or Mahogany. Indian Rosewood is expensive.
Fretboards are made from Rosewood or Ebony. Ebony feels better but is more

expensive.

Guitars with binding and purfling sound better.
Tension and made of nylon strings. 
Finishes and aesthetic features.
Features & Benefits Of Cordoba C9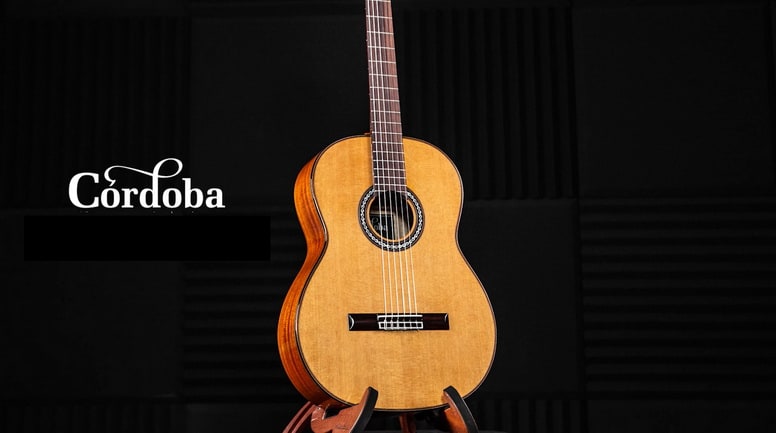 Constructional Features Of C9
C9 retains the traditional classical guitar style but has many premium and aesthetic features which makes it look gorgeous. These features include 
Hand inlaid mother of pearl weave rosette around the soundhole, inspired by Esteso's guitar design of the 1920s. 
C9 comes with purfling, which adds to the beauty of the guitars. The purfling is a common feature of all Luthier series guitars. C9 has 6-ply painted wood top purfling and 3-ply maple and ebony purfling on the back and sides.
The guitar has a high gloss PolyUrethane (PU) finish. PU finish does not crack easily on impact. C10 and above guitars in the Luthier series have a Nitrocellulose finish, which is better in appearance but more prone to impacts and rough handling.
Fan Bracing

:
In the body of the C9, you will find the fan bracing, which is characteristic of most classical guitars. Fan bracing is preferred over Lattice bracing for classical guitars as it allows instruments to vibrate more freely resulting in an evenly balanced tone.
Spanish manufacturer Antonio Torres developed the system of seven main fans in the bracing system. This system gets its name because all braces fan out towards the edges of the soundboard.
Fan bracing works well with Nylon strings as the tension is 70 pounds against 150 pounds in steel strings. Fan bracing in larger body guitars with thinner tops produces instruments with a warm sound, more projection, and enhanced bass response.
Fan bracing allows the guitar to vibrate more freely. Fan-braced instruments are lighter and provide sufficient volume for almost all situations.
Spanish Heel:
All the instruments in the series are made with Spanish heel construction. In this system, instead of building the body and then adding the neck, the neck is fixed first, and then the guitar is built around it. This method results in more stability and durability of the instrument.
Woods Used:
Cordoba C9 has Indian Rosewood Binding. Fingerboard and strings are anchored to the body with an East Indian Rosewood bridge.
C9 has a Mahogany neck with 650 mm (25.6 inches) scale length with 19 frets in total and 12 frets up to the body. It has a fret marker inlays at the fifth, seventh and ninth fret for easier visual identification.
Mahogany is frequently used for Guitar necks and looks good in finished and unfinished forms. It is a dense and sturdy wood that ensures durability. The neck has a comfortable C shape with a flat fretboard made of rosewood.
Hardware used in Cordoba C9
Tuning Machines
C9 features Cordoba's Premium Etched Gold Tuning Machines with black ebony-style buttons. Gold tuners have a gear ratio of 14:1. The tuners are easy to turn.
Savarez Cristal Corum High Tension 500CJ strings : 
Savarez nylon guitar strings are preferred worldwide for their quality, feel and reliability for over two and a half centuries. These high-tension strings have Corum polished and silver round-wound bass strings and Cristal Nylon treble strings.
Relief Adjustment :
Cordoba C9 comes with a

lightweight adjustable 4mm, Dual-action truss rod. With the rod, you can adjust the relief or natural bow in your guitar neck. This feature is particularly useful in areas where climatic fluctuations over the year are enormous and causes an increase in the neck's curvature

. 

With the dual-action truss rod, you can add or reduce relief. Some beginners find the tension in the strings of Cordoba C9 high due to Savarez strings and try to adjust it to reduce it. It is advised not to use the truss rod to reduce tension.
Cordoba Polyfoam Case –
Due to polyfoam, the case is light. It has a 600D polyester exterior, which makes it sturdy and suitable for heavy use. It has a plush interior, which makes the guitar well-cushioned and safe.
Sound
Cordoba C9 CD/MH is a versatile, concert-ready classical guitar at an affordable price. Canadian Cedar is a very popular tonewood resulting in resonant, warm & full sound with excellent definition and projection. Cedar top guitars are suitable for playing in various conditions, particularly for small, intimate gatherings. 
A Cedar top guitar is particularly preferred for beginners due to its ability to cover up faulty notes. Cedar is equally liked by the experts also. Cedar is a very flexible tonewood that sounds great with whatever wood it is paired with for backs and sides.
A guitar with a Mahogany back and sides have a full-bodied frequency response. The Mahogany back and sides allow many playing and music styles. Mahogany is also a better choice for beginners. Another great feature of Mahogany is its ability to work with any top and give a unique sound.
Cedar and Mahogany combine perfectly for a well-rounded warm tone. This tone is perfectly balanced from low to high registers with rich bass and treble. 
Cordoba C9, with a solid Spruce top, has an entirely different sound and feel. Against the warm and dark sound of Cedar, Spruce produces its characteristic bell-like sound, which lacks the fullness of Cedar.
With Spruce, it is possible to hear all chord notes distinctly and clearly. Spruce has better sustain than Cedar but is less flexible.
Conclusion From Our Cordoba C9 Review
Cordoba C9 may appear a little expensive compared to other beginner-level classical guitars. However, because it is made from all solid quality tonewoods including back and sides and is concert ready, it more than justifies the price tag.
It has gorgeous looks featuring inlays, Indian rosewood binding, premium gold tuners with Ebony buttons, Savarez strings and glossy PolyUrethane (PU) finish.
It has been designed with playability in mind with a rounded, warm and balanced tone.