Purchasing an entry-level acoustic guitar is a balancing act: you want something reliable enough to learn on, but you likely don't want to spend a lot in case you decide you don't want to continue playing.
The Fender FA100 is a promising entry-level guitar for new players–it's made by fender, which is one of the oldest and most reputable manufacturers around. Founded in 1946, the fender is now the world's largest manufacturer, and its instruments continue to find their way into the hands of beginners and professionals alike.
Granted, the fender isn't a guitar you'll see on the professional stage. But with fender's rich history and years of craftsmanship behind it, it's a robust instrument to get any beginner guitarist started. Plus, if you buy it as a beginner package, it comes with all the accessories you need to start.
Things To Consider Before Buying An Entry-Level Guitar
When evaluating the Fender or any other entry guitar, the most central consideration is value. If you're in the market for an entry-level guitar, you likely aren't looking for a top-of-the-line instrument; you are probably looking for something that 'sounds good'.
That said, be sure to pay attention to the type of wood used to construct the guitar. Solid (as opposed to laminate) tops will produce better sound, and many manufacturers save money by using poor-quality wood for the sides and the back.
Additionally, many beginner guitars come with some accessories. You may only need a gig bag, but if you'd prefer an all-inclusive package, many manufacturers offer beginner guitar packs, too.
PRO's & CON's Of Fender FA100
Before we delve into this Fender FA-100 review, here are some of the pros and cons of this guitar:
Pros
It's very affordable, even for an entry-level guitar.
It includes a padded gig bag.
Spruce and basswood construction give it a decent sound, given the price point.
It's made with X bracing, which helps improve the sound.
It's a full-size guitar (not a 3/4 size, as many beginner guitars are).
Cons
A laminate spruce top means the sound isn't as rich as that of a solid-top
The setup it comes with may not be ideal, and you may need to take it to a music store for a professional setup to make playing more comfortable.
Fender FA100
An Entry-Level Guitar
Entry-level affordable guitar.
Laminated Spruce top and Basswood back and sides.
X Bracing.
Padded gig bag.
Here, we'll dig into the fender and look at each of its features in detail. The information will help you make an educated decision and determine whether or not the fender is the right guitar for you.
Construction And Tonewoods
The construction of a novice guitar won't ever be spectacular, but given its price point, the acoustic guitar does reasonably well. Fender FA-100 has a laminated spruce top, which means that the construction of the top involves multiple pieces of spruce pressed together.
A solid top will give you better sound quality, but on guitars of this price, it's nearly impossible to find a solid top. The construction of the back & sides of the guitar is basswood. Basswood is an affordable tonewood, but it is also sometimes used on higher-end guitars with some success.
Because many entry-level guitars use inferior-quality wood on the sides and the back, the construction of this one isn't bad. X bracing, a building technique that often increases sound quality (and that isn't usually found on cheaper guitars) is always a bonus.
In a beginner guitar, most players aren't overly concerned about neck materials. However, Fender FA-100 has a C-shaped neck in glossy maple. Maple is a reasonably standard neck material, even in more expensive guitars.
However, the glossy neck, while it looks nice, may put you at a slight disadvantage. Glossy necks tend to be "slower," meaning it's harder to move your hand quickly up and down the neck.
Granted, if you aren't playing up-tempo riffs, this might not be a significant concern. But as you learn (and especially if your playing style requires a lot of moving up and down the neck), you might want to invest in something with a faster neck later on.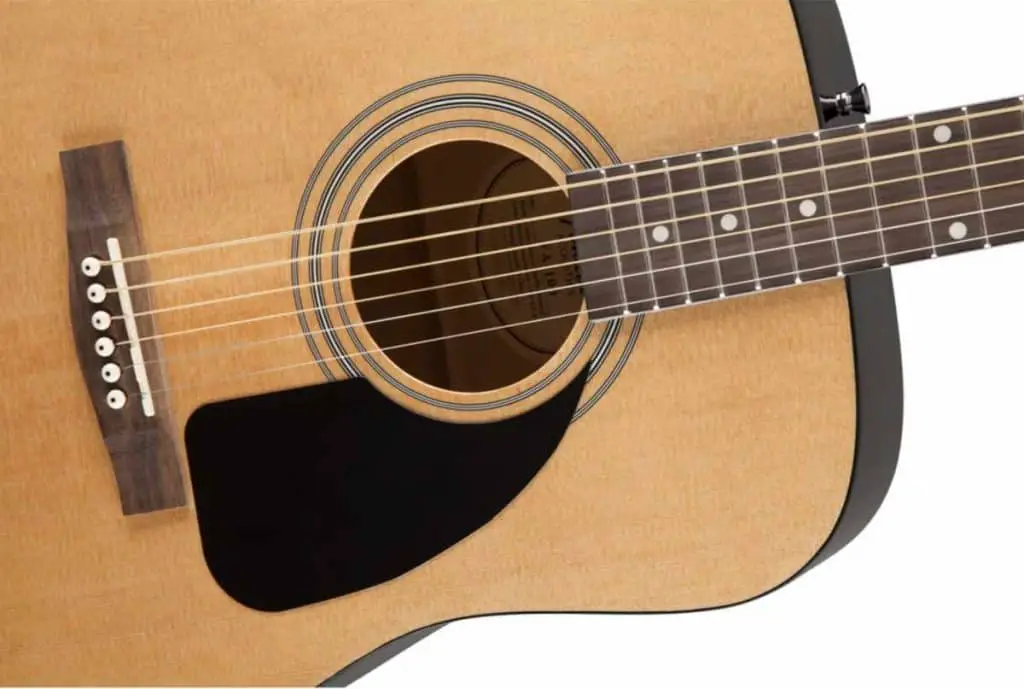 Setup And Sound Quality
Given the bracing and tonewood selection, the fender is capable of producing a more vibrant, fuller sound than many guitars at this price point. However, tonewoods and bracing aren't the only things that matter when it comes to sound.
If you buy a higher-end guitar, most dealers will include a professional setup with your purchase. A setup adjusts the action (height of the strings relative to the neck) and other elements that shape the playing experience.
Mass-produced instruments like these often have inconsistencies in the setup before you start playing them. While the guitar will arrive with the strings on, some players report that the action is too high, while others say that it's too low.
Inconsistencies are typical with beginner guitars, so the fact that this one will have to be set up isn't necessarily a negative. If your guitar has an action that is too high, fretting notes and chords may prove to be complicated.
If the action is too low, you may experience fret buzz. Especially if you're new to playing, investing in a professional setup means you'll be able to have a pleasant playing experience.
Hardware, Strings, And More
Especially considering its price, the hardware is decent. One stellar feature is the construction of the nut and saddle. While these pieces look insignificant, they have a significant impact on tone.
Most acoustic guitars have a saddle and nut made of cheap plastic, which dulls the sound. However, the instrument has a nut and saddle of synthetic bone.
Bone is a commonly-chosen upgrade material, as it increases sustainability and improves sound quality. And while the nut and saddle on this guitar aren't made of actual bone, fender's synthetic approximation comes close to the exact thing.
Another place where many acoustic guitars tend to cut corners is on tuners. However, fender's set of sealed in-house tuners is of surprisingly high quality. Cheap tuners can cause considerable frustration to new players, as it's hard to learn on a guitar that won't hold a tune.
Lastly, the Fender FA-100 acoustic guitar comes with strings that are of decent quality. Granted, strings are easy to change, but when you're just learning to play, you probably aren't ready to start changing strings.
This guitar comes equipped with Fender's DuraTone strings. These strings are coated, which extends life and stops them from developing a dull tone from a buildup of dirt and oils. With these strings, you can go longer between string changes, which is ideal for beginners.
Included Accessories
You can purchase the acoustic in two options: on its own with a padded Fender gig bag or as part of a novice guitar package. Some new guitarists prefer to select their picks, strap, and other accessories. But if you want an easy all-in-one, the package option saves time.
Package Option Of Fender
Padded gig bag — This lets you quickly and safely transport your guitar, and it includes a zippered pouch for picks and other accessories.
Electronic tuner — This is a must, especially when you're just starting. It clips to the headstock, letting you accurately tune even in noisy environments.
Guitar strap — A strap helps keep your guitar in the right position as you play, and it's indispensable if you play standing up.
Social Proof of the Guitar
When writing this Fender FA-100 review, I wanted to see what actual buyers have said about this acoustic and accessories package. I scoured the internet for reviews, and most of what I found was positive. Here are three notable user reviews I wanted to include: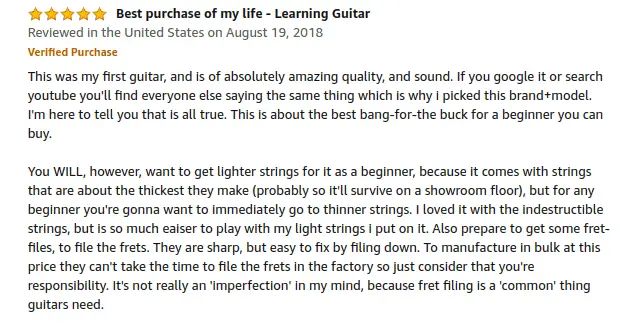 The above review is a very thorough one, and it addresses the guitar's excellent quality for being an entry-level acoustic guitar. However, this knowledgeable buyer points out that you may need to make a few adjustments to get the most out of this instrument.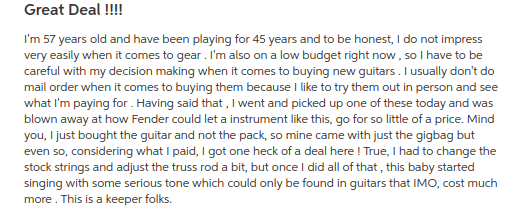 This review, from an experienced player, praises the FA-100 for being a high-quality instrument, given the price. Since many reviews of entry-level guitars are from inexperienced players, it helps to hear from someone with playing experience.

This review, also from an experienced player, echoes what many reviewers have been saying–that the fender is a beginner instrument with fantastic quality for the price.
Alternatives To Fender FA100
As you shop for an instrument for beginners, you likely will come across several potential alternatives. Below are three comparable beginner instruments that you may wish to consider alongside the Fender FA-100 acoustic.
Donner DAG 1-C Beginner Acoustic Guitar
How It Compares To Fender FA100
The accessory bundle also includes a capo, which makes it easier to play with different keys.
The guitar's sides & back are made of better tonewoods.
As a manufacturer, Donner isn't as established or respected as a Fender.
The Sitka top is solid as opposed to laminate, leading to superior sound quality.
Review
Donner has recently established a reputation for providing decent-quality instruments and accessories for affordable prices. This beginner bundle is similar to the FA-100–it includes plenty of accessories along with a full-sized guitar.
However, it does have a couple of advantages–the guitar has a cutaway, making it easier to access frets further down the neck. It has a Sitka top like the Fender FA-100, but its sides and back are made of mahogany, which is warmer-sounding and generally superior tonewood to basswood.
If you want to evaluate your options before choosing a beginner guitar package, be sure to give this one a look.
Ibanez Six-String Acoustic Guitar Pack
How It Compares To Fender FA100
The back and sides are made of poorer-quality tonewood.
Pack includes a gig bag, strap, tuner, and pouch for accessories.
As the FA-100, this is a full-sized guitar.
Review
Like Fender, Ibanez is a long-standing and respectable guitar manufacturer. Though they're best known for making electric guitars, Ibanez has an impressive collection of acoustic instruments, many of which are made with unique tonewoods.
This pack is similar to the Fender FA-100, although this guitar appears to be made with poorer-quality woods. While it has a laminate spruce top like the Fender FA-100 acoustic, its sides and back are made of agathis, a cheaper tonewood that is usually only used in beginner instruments.
However, this is a very affordable beginner package, and it's less expensive than the FA-100. For those looking for an especially affordable beginner package from an established manufacturer, give this offering from Ibanez a look.
Yamaha Gigmaker Acoustic Guitar Pack
How It Compares To Fender FA100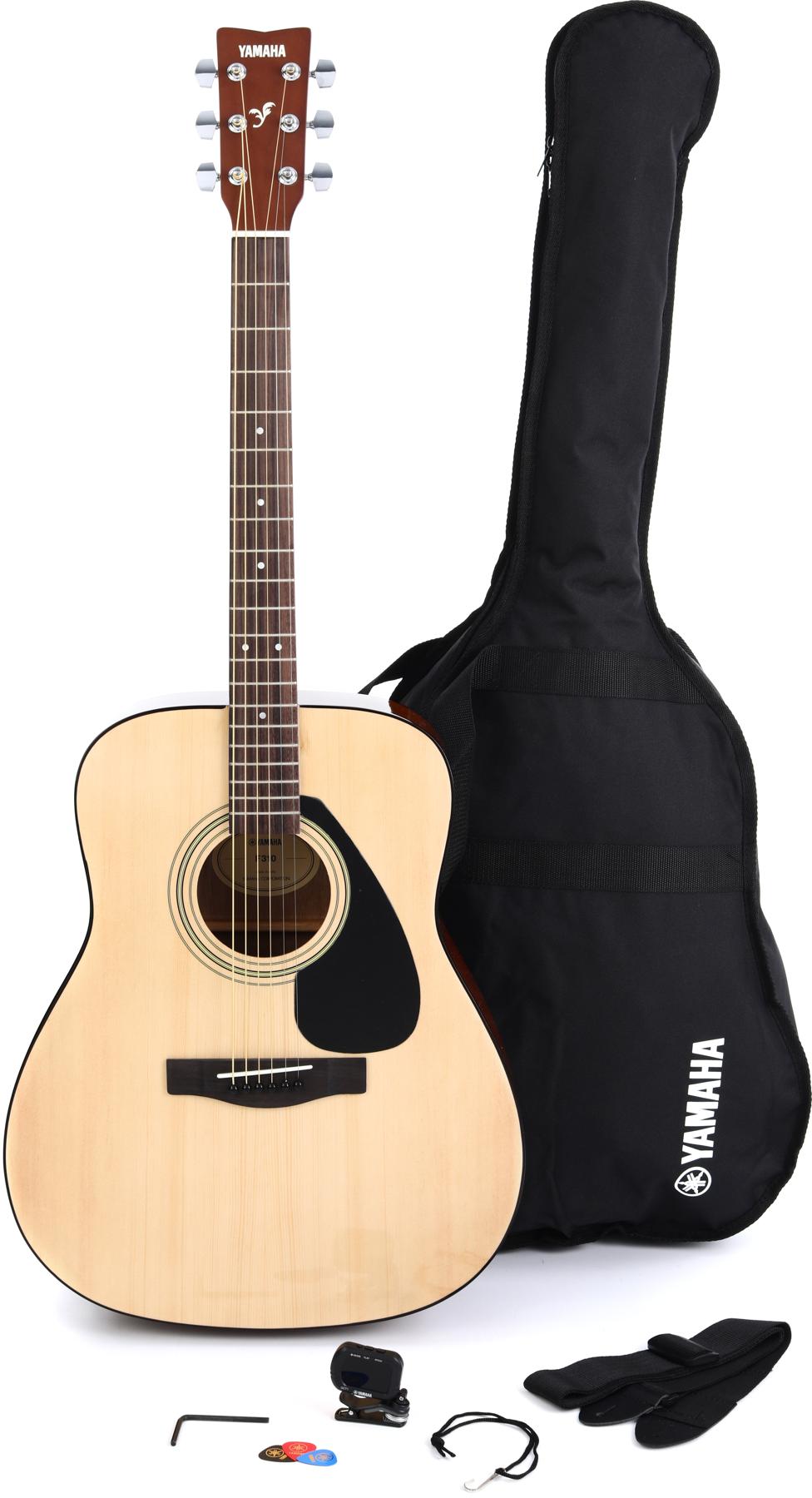 Guitar construction and tonewoods aren't likely to sound as full as the FA-100.
It includes a DVD of free lessons, which is a great way to help you get started.
The package consists of a gig bag, strap, tuner, extra strings, and picks.
Review
While Yamaha is perhaps best known for its pianos, it also makes a line of respectable acoustic instruments. This guitar, as the others mentioned, has a dreadnought body. It also has a beautiful sunburst finish.
The guitar itself has a laminated spruce top, with a back and sides made of meranti. Meranti isn't a high-quality tonewood, and it's chosen more for strength than sound. If you want to start playing the guitar and want the benefit of a lesson DVD to help you start, check this one out.
In summation, the Fender FA-100 acoustic guitar is an excellent and affordable choice for just about any new guitarist. And while finding an affordable novice guitar that is still of excellent quality can be delicate, this well-made guitar solves that problem.
Considering it's made of quality tonewoods for the price while including a pack of every accessory you need to begin playing. This model & package is an ideal choice if you want to learn guitar but don't want to pay a fortune to do it. Click here to check it out!