As guitar manufacturers go, Seagull guitars are a relatively new one. Founded in a small Canadian village in 1982, this company hand-makes quality guitars from sustainably-sourced woods. And since part of the company's ethos is to make affordable guitars with features found in more expensive models, a Seagull acoustic guitar will often perform above its pay grade.
In particular, the award-winning Seagull S6 original is a dreadnought acoustic guitar model that, while affordable, exceeds the expectations of just about anyone looking for a beginner guitar. It's more expensive than your standard starter acoustic guitar, and its price and features classify it solidly as a mid-range instrument.
In this Seagull S6 original review, we'll look at its features in-depth, as well as what other buyers have said about it.
Things To Consider Before Buying A Mid-Range Acoustic Guitar
Seagull Guitars have been designed to be a step up from beginner instruments, but they aren't likely to have all the premium features of a high-end instrument. One of the challenges of buying in this price range is choosing which features are most important, as well as the quality you get for your money spent.
For instance, many renowned manufacturers offer guitars at this price point (around $400-$500). However, in some cases, you end up paying more for the name on the headstock than you do for the guitar's original features. In a mid-range guitar, you should, at the very least, expect something with a solid cedar top.
When you evaluate a seagull S6 or similar guitar, look for the smaller differences that can make a significant impact on the sound. What are the saddle and nut made of? Does the guitar have excellent tuning stability? Does the action make it easier to play in your preferred style?
Paying attention to the tonewoods used is also essential–just about every beginner guitar has a spruce top and back and sides of a cheaper laminate. Mid-range guitars often have more woods to choose from–reading about the qualities of tonewoods and listening to demos can help you make the right choice.
Seagull S6 Original Guitar
PRO's & CON's Of Seagull S6
First, let's look at a brief overview of some of its pros and cons:
Pros
Solid top means it has clearer, better sound quality than most beginner and mid-range instruments.
The unique combination of tonewoods creates a memorable, warm sound.
It comes in four beautiful finishes.
It has higher-end features (like a Tusq nut) not usually found on guitars at this price point.
Cons
A wide neck may make chording difficult for those with smaller hands.
The Cedar top is prone to scratching.
The back and sides are laminate as opposed to solid.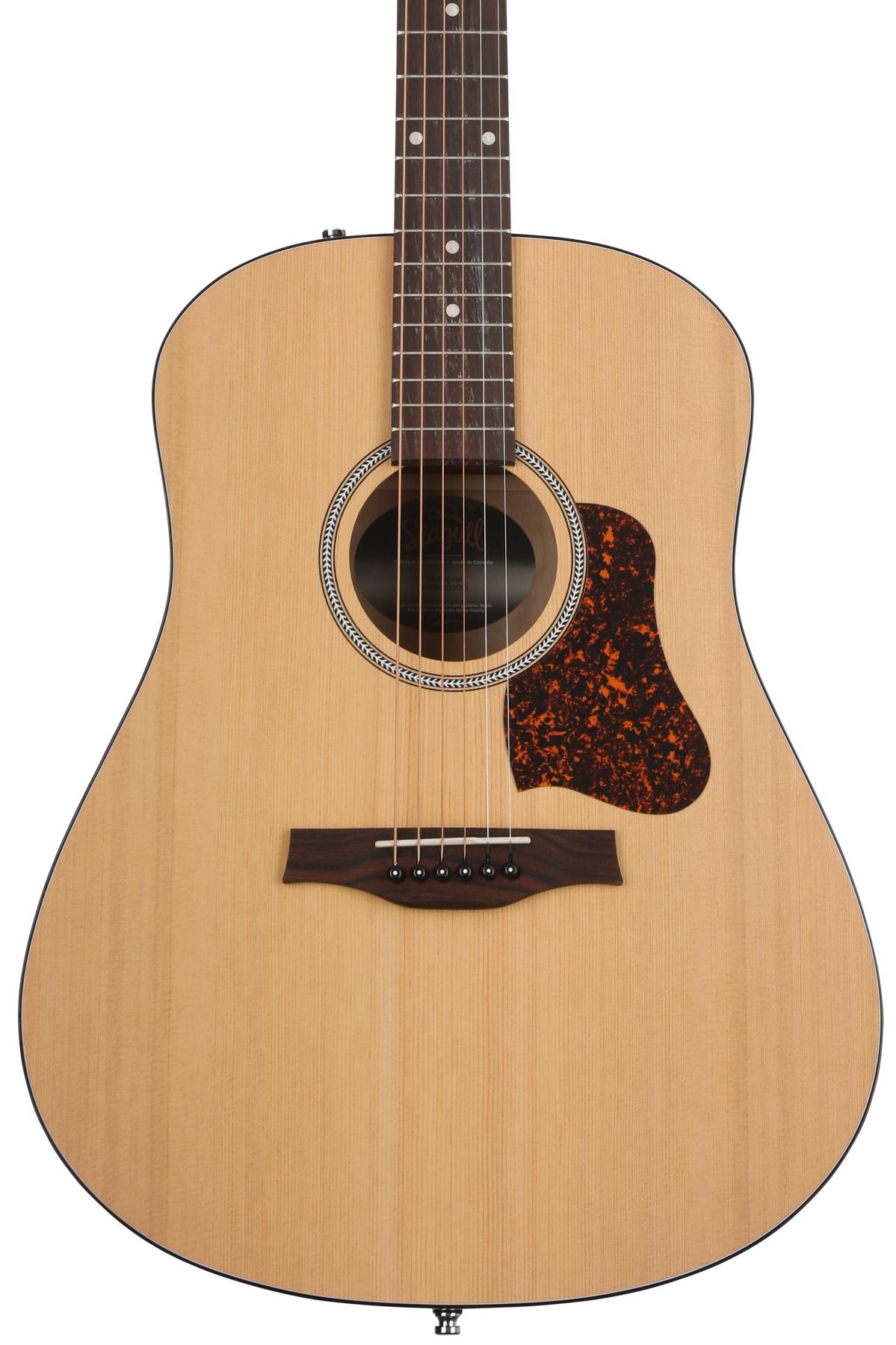 Seagull S6
Mid-Range Acoustic Guitar
A Solid Cedar top.
Wild Cherry back and sides to favor mid-range.
An option with Godin QIT electronics.
One of the most important things to consider when purchasing a seagull guitar is its unique features–many people are drawn in by the manufacturer's name and reputation, and they neglect to look into the instrument itself before buying. In this section, we'll look into what makes up the Seagull S6.
Tonewoods And Construction
The woods used to construct an acoustic guitar are some of the most vital considerations. And if you're looking for a classic spruce-top acoustic, this model may not be for you. The S6 has a genuinely unique construction–it has a solid cedar top, which offers a rich sound.
On their own, Solid cedar top aren't particularly rare. But cedar doesn't take as long as spruce does to break in, meaning an S6 will develop its best tone sooner rather than later with the Solid Cedar Top.
However, Seagull's choice of wild cherry as a material for the back and sides is decidedly unusual, especially in an affordable model. Wild cherry is a tonewood that favors midrange tones, and it's also very projective, meaning that it's much easier for the Seagull's tone to carry.
And while the wild cherry back and sides are laminated, it's essential to address what Seagull means by "laminate." In many cases, and especially when it comes to cheap guitars, laminate wood means that plywood is pressed between layers of hardwood.
However, Seagull uses multiple hardwood layers pressed together. While this may not create the same tone as a solid slab of wood would produce, it's a purer, clearer sound than a laminate consisting mostly of plywood can create.
Essentially, the tonewoods used to create the seagull guitars result in a balanced sound that favors midrange, has an impressive sustain, and isn't overly bright. For many acoustic players, this type of sound profile is ideal.
Sound Quality And Playability
While the tonewoods shape the sound quality to an impressive degree, playability is a concern for most buyers. The S6 comes out of the box with appropriately low action-it's easy-to-fret notes and chords, but the action isn't so low as to cause buzzing issues.
The only real playability concern comes from the neck size. When it comes to construction, the neck is ideal–it's made of Silverleaf maple and has a rosewood fretboard, which is reasonably common among acoustic guitars.
The Silverleaf maple neck of the S6 is somewhat thick compared to many acoustic guitars. Granted, for those with larger hands, this isn't likely to be an issue. But if you have short fingers or small hands, it may make playing a little more complicated.
If you're able to handle playing an instrument with a thicker neck, though, the overall sound quality of the S6 is impressive, especially given the price range. The S6 is a very versatile guitar, and it can handle playing just about any genre you can think of.
In particular, the left video illustrates the guitar's rich, chorus-like sound while being strummed. The right one gives you a sense of the guitar's incredible resonance, even when picking individual notes.
Other Notable Features
On the S6 (and on most other Seagull acoustics), one of the first things you'll probably notice is the tapered headstock. This design is more than just an aesthetic choice. The headstock creates a straight pull on each string, as opposed to the angled pull that most headstock designs exert.
This type of pull helps to preserve tuning stability, even with very vigorous playing. And if you're someone who plays live, this type of stability is crucial. Also, if you play at home, you likely will appreciate not having to stop to re-tune every hour or so.
Additionally, the S6 features a Tusq (made by Graph Tech) nut and saddle. This patented material is made to mimic the sound of ivory. It increases sustain and gives you a more evident, more resonant sound quality. This feature is very rarely seen on guitars in this price range.
Color Choices
Usually, color choices are an afterthought in a guitar purchase. But the S6 comes in four separate and stunning color choices:
Natural — This semi-gloss finish is suitable for those who prefer the look of a classical acoustic guitar.
Tennessee Red — This deep cherry finish with the contrasting white pickguard is a stunning, offbeat look.
Faded Blue — This limited-edition look features a deep blue finish that is almost black.
Flat Black — Perfect for players who prefer black acoustic guitars, this finish features a Pearloid white pickguard.
Electronics
On its own, the S6 comes as a standard acoustic guitar. However, you can purchase an option with Godin QIT electronics for only a small additional cost. The Godin QIT is a proprietary design made especially for this guitar. And as is the case with most Seagull features, the electronics perform much better than the price point would lead you to believe. If you're looking for an S6 equipped with electronics, this model is sold as a Seagull S6 QIT.
More: Best Left-Handed Acoustic Guitar
Social Proof of the Guitar
If you're like most guitarists, you want to hear what other players have to say about a guitar before you rush out to buy it. I've explored the internet to find reviews by players who have purchased the S6. Here are three standout Seagull S6 review snapshots from actual buyers that may help you as you make your decision.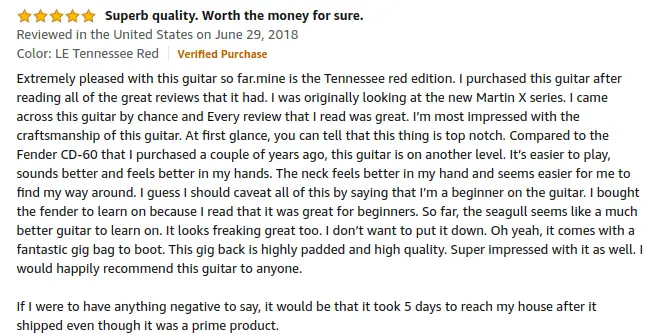 The above review is from someone who is somewhat new to guitar. I've included it because this person can compare the S6 to a lower-end guitar, and it clearly outlines the differences.

This review is succinct and captures why so many people love the S6–despite its low price point, it delivers sound quality that rivals that of higher-priced instruments.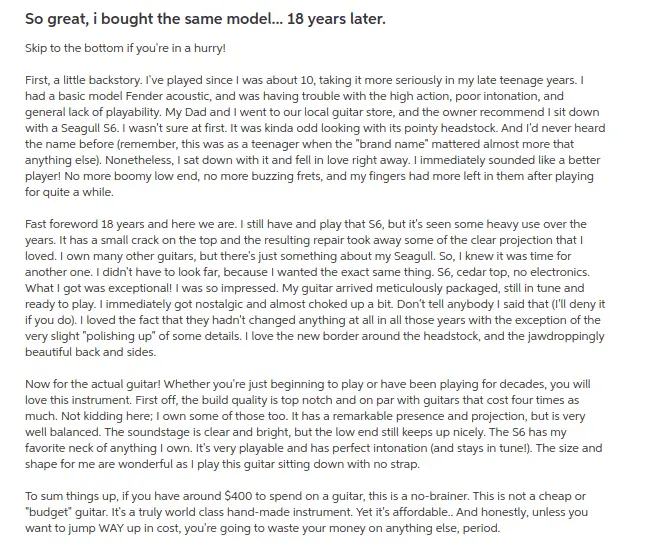 While the above assessment is a long one, it comes from the wisdom of someone who has played for years. And better yet, it confirms many other reviewers' assertions that this guitar stands up to those that cost three or four times as much.
Alternatives To Seagull S6
As you shop for your next (or first) guitar, you likely want to compare the S6 to similar models before making a decision. Here are three comparable models to weigh it against.
Breedlove Solo Dreadnought
How It Compares To Seagull S6
Mahogany back and sides offer a warm sound.
Cutaway gives better access to higher frets.
Has a unique monitor side hole that lets players hear the music more clearly.
Review
Breedlove is a classic and reputable manufacturer of acoustic guitars, and this model, while slightly more expensive than the S6, is a viable alternative. It's made of a solid spruce top and laminate mahogany back and sides.
It also has a Venetian cutaway for easier access to frets further down the neck. The Solo also has an L.R. Baggs bridge pickup. If you want a similar guitar to the S6 that's been designed with songwriters in mind, make sure you check this one out.
How It Compares To Seagull S6
All-solid wood construction may give you better sound quality.
Fishman-designed electronics are ideal if you play live.
It comes from a long-standing guitar manufacturer.
Review
Even non-players have likely heard of Fender, which is now the world's largest guitar manufacturer. The PM-1 is a little more expensive than the S6, but it delivers comparable performance.
With a grade-A Sitka spruce top, the sound is likely to be brighter. It also comes with a Fishman preamp, and it's made with all-solid woods for a premium tone. If you're looking for an all-solid mid-range guitar, this offering from Fender is worth a look.
How It Compares To Seagull S6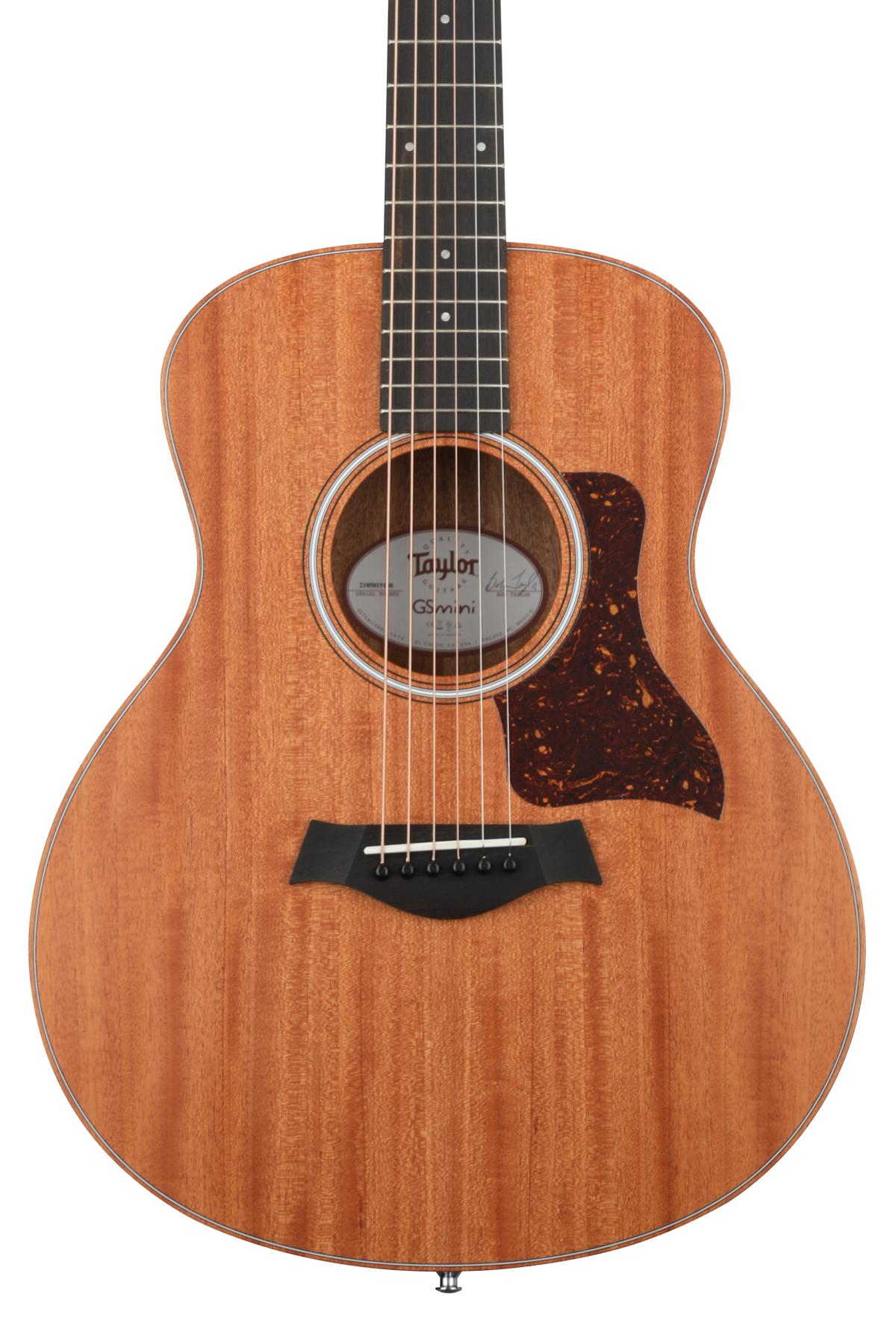 The parlor guitar design makes it more portable.
Its short scale makes it easier to play for children or smaller people.
Its manufacturer is one of the foremost acoustic guitar makers.
Solid spruce top delivers a big sound despite its small size.
Review
If you're someone who wants a solid mid-range guitar with a scaled-down size, the GS Mini offers you a great, portable option. It has a solid Sitka spruce top with laminate Sapele back and sides–Sapele gives it a decent tone without adding much to the price.
It also features an ES-GO pickup if you need to perform with it. If you want a quality guitar that's easier to play with smaller hands, make sure you check this one out.
Finding a mid-range guitar that delivers impressive tone is a feat, but the Seagull S6 is a mid-range model that's likely to surprise you. From its unique combination of tonewoods to its narrow, tune-keeping headstock, the S6's design is one that's suitable for everyone, from beginners to experienced players. Plus, it's a guitar whose tone only improves with age.
Its rich and nuanced sound supports both fingerstyles playing and strumming, and it's a guitar you can be proud to perform with. Plus, its range of possible finishes means there's one to suit every aesthetic. If you're ready to take a step up from your starter guitar or if you want a world-class instrument you can grow into, check out the S6 here!