If you're a left-handed guitarist, you may be frustrated with your purchase options when it comes to buying a new instrument. Often, music stores only offer left-handed models on a select few guitars.
If you're looking for a new acoustic guitar, you've come to the right place. We've gathered seven of the best left-handed acoustic guitars, both acoustic and acoustic-electric. We chose these guitars because they have great tonal quality and playability. And since we know many musicians are on a budget, our list places a special emphasis on getting a great instrument for the price.
12 Best Left Handed Acoustic Guitars
| | | | | |
| --- | --- | --- | --- | --- |
| | | | | Cell |
| | | | | |
| | | | | Cell |
| | AW54LCE | | | |
| | | | | |
| | | | | |
| | DAG-1CL | | | Cell |
Fender CD-60S - Best Playability
Important Features
Pros & Cons
Brief Review & Star Rating
Specifications
Review
Fender's CD-60S is a guitar known for affordability and great value. This version makes it an option for left-handed players, too. It has a solid spruce top and a laminate mahogany body for a balanced tone. 
But perhaps its best feature -- especially for newer players -- is its uniquely easy to play neck, which rolls at the fretboard for added comfort. This guitar is in the classic and popular dreadnought shape, giving it impressive volume and a nuanced tone.
Our Star Rating
This is a well-built left-handed acoustic guitar whose neck makes playing easier than ever. We give it four out of five stars.
Martin LX1 Little Martin - Best Smaller Guitar
Important Features
Pros & Cons
Brief Review & Star Rating
Specifications
Review
Legendary manufacturer Martin has been a favorite of many players for centuries. The Little Martin, with scaled-down dreadnought body, is a popular choice for those needing a travel guitar, as well as for smaller players. It belongs to the Martin X series range of acoustic guitars.
And since it can be very difficult to find short-scale left handed acoustic guitars, the quality build of this one is somewhat surprising. This version has a solid spruce top for quality tone, and the back and sides are made of Martin's own lightweight high-pressure laminate (HPL). A Tusq saddle and quality tuners help round out this impressive-sounding smaller guitar.
Our Star Rating
As scaled-down guitars go, this acoustic guitar is of excellent quality. We give it four out of five stars.
Seagull S6: Best Midrange Guitar
Important Features
Pros & Cons
Brief Review & Star Rating
Review
Seagull is a Canadian-based manufacturer known for producing high-quality guitars for impressively low prices. The S6 is one of their more popular models, and this one has a solid cedar top that's pressure tested for added durability.
Its wild-cherry sides add in a little brightness, making this guitar very tonally versatile. The S6 has Seagull's unique tapered headstock design, which is designed to improve tuning stability. It also comes with a padded gig bag.
Our Star Rating
Even though its back and sides are laminate, this is a fantastic guitar for the price. We give it five out of five stars.
Gibson J-45 Standard -- Best Tone
Important Features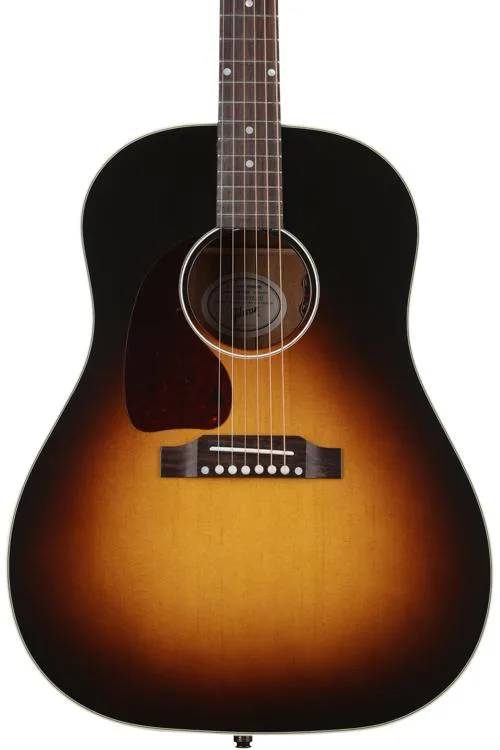 Pros & Cons
Brief Review & Star Rating
Review
Gibson's classic J-45 is a guitar that has been dubbed "The Workhorse" for a reason -- its rich, deep tone has featured on countless legendary songs. If you're a lefty looking for an incredible-sounding acoustic, this one is a great choice. The J-45 Standard has a solid Sitka spruce top with solid mahogany back and sides. Those tonewoods, combined with hand-scalloped X bracing, create the warm, smooth, earthy tone the J-45 is known for.
But it doesn't just sound great -- this is a guitar that is highly playable as well. Gibson's SlimTaper mahogany neck is capped with a premium rosewood fretboard. The fretboard edges are rolled over the neck and very slightly beveled, creating a beautiful playing experience. And if you're a performer, you'll likely appreciate the onboard LR Baggs VTC active undersaddle transducer.
The pickup's preamp and volume control are both mounted inside the soundhole -- there's no bulky plastic disrupting the surface of your guitar. The J-45 Standard is a fairly expensive instrument, but if you have the money to spare, it's an heirloom-quality instrument you can enjoy for years.
Our Star Rating
We think that the J-45 has the best tone -- whether unplugged or amplified -- and we give it five out of five stars.
Yamaha FG820: Best Value
Important Features
Pros & Cons
Brief Review & Star Rating
Review
Yamaha guitars have been known for quality construction for decades, and the FG series is no exception. These guitars are made with scalloped X-bracing, which enhances sound and emphasizes low-end and midrange frequencies.
This acoustic guitar is made with a solid Sitka spruce top, laminate mahogany back and sides as well as rosewood fingerboard. It comes in natural finishes as well as unique colors like turquoise and red.
Our Star Rating
This acoustic guitar offers quality tone for a fair price, and it has a dreadnought body, the shape chosen by a majority of guitarists. We give it five out of five stars.
Ibanez AW54LCE: Best Live-Performance Guitar
Important Features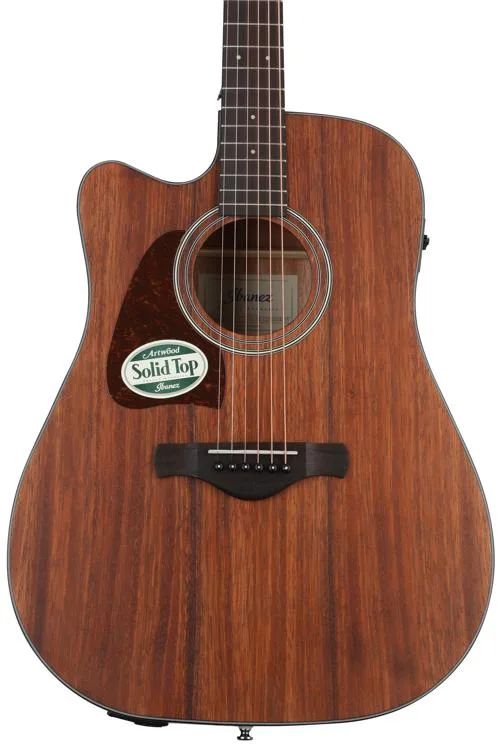 Pros & Cons
Brief Review & Star Rating
Review
Ibanez is known for making quality acoustic guitars and offering them at fair prices. This one is no exception. It has a solid mahogany - top that's made with a beautiful and unique open-pore finish.
The back and sides are made of okuome, an affordable tonewood that is somewhat similar to maple. This is a left handed dreadnought acoustic electric with a cutaway, so it has a rich, overtone-heavy sound while still being easy to play. It comes equipped with Ibanez electronics, making it a great instrument to play live.
Our Star Rating
The quality build and value for price makes this an outstanding acoustic-electric guitar for the money. We give this one five out of five stars.
Taylor American Dream AD27e -- Best Rustic Look
Important Features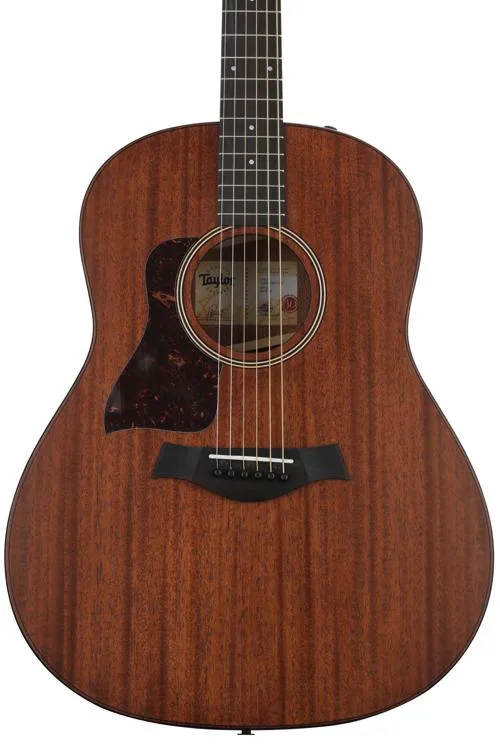 Pros & Cons
Brief Review & Star Rating
Review
Many of Taylor's most famous acoustics are bright-sounding and flashy-looking. But the AD27E's more rugged looks make it more reminiscent of the J-45 than of most other Taylors. This all-solid acoustic-electric is made of a highly unusual tonewood combination.
A solid mahogany top contributes a dark warmth to the sound while solid sapele back and sides add a hint of shimmer. Taylor even selects pieces of mahogany with minor cosmetic flaws to add some character to each instrument.
Like many of Taylor's new, high-end guitars, this one has the brand's groundbreaking V-class bracing. This design -- a new alternative to X bracing -- creates extra stiffness down the center of the soundboard while allowing the sides to vibrate more freely. The result is an increase in both sustain and resonance. And of course, the AD27e comes with Taylor's Expression System II electronics.
This behind-the-saddle design is controlled by a master volume knob and two tone controls. Though it isn't a cheap guitar, the American Dream AD27e offers many of the features that you only otherwise see on Taylors that cost thousands more.
Our Star Rating
This great-sounding, rugged guitar has the best rustic look on the list, and we give it 4.5 out of five stars.
Taylor 414CE-R: Best High-End Guitar
Important Features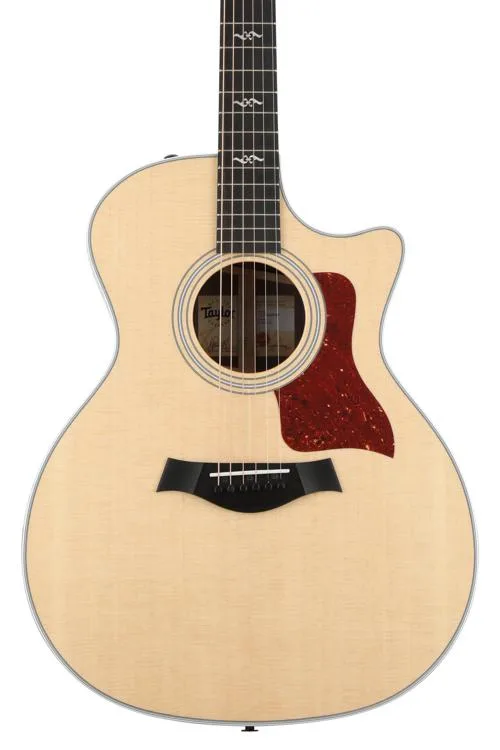 Pros & Cons
Brief Review & Star Rating
Review
If you're a left-handed player who wants a world-class instrument, Taylor's 414CE-R is a fantastic choice. It's made with Taylor's recently developed V-Class bracing, which many players view as superior to the traditional X-bracing used in most acoustic guitars.
It's made of all-solid wood, with a Sitka spruce top and beautiful East Indian rosewood back and sides. This grand auditorium acoustic-electric guitar with a cutaway is easy to handle and play, and it comes equipped with Taylor's incredible Expression System 2 electronics.
Our Star Rating
This is an outstanding instrument, but it may not be affordable for most players. We give it four out of five stars
Cordoba GK Studio Negra -- Best for Flamenco
Important Features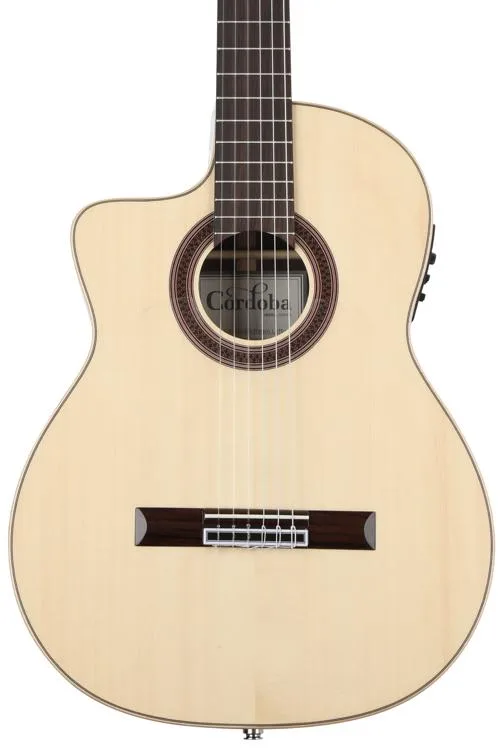 Pros & Cons
Brief Review & Star Rating
Review
Many of the best left handed acoustic guitars on our list are traditional steel-string acoustics. But what if you prefer nylon strings? Whether you're a flamenco player or just like the mellower sound of nylon strings, the GK Studio Negra is a solid option. This instrument is a more affordable version of the Gipsy Kings signature guitar, and it's fast-playing enough for even electric guitar players to appreciate.
This beautifully designed guitar combines a solid European spruce top with rosewood back and sides for a clean sound with a prominent low end. Like most flamenco guitars, it has fan bracing for increased resonance.
The hand-inlaid wooden rosette, bone nut and saddle, and Cordoba gold tuners with black buttons are all characteristic of appointments you'd find on guitars that are much more expensive. Best of all, the Fishman Presys Blend system lets you combine the outputs of a piezo pickup and an internal microphone for a lively, natural amplified tone.
Our Star Rating
We think this great-looking guitar is easily the best for flamenco on the list, and we give it four out of five stars.
Fender Redondo Player -- Best for Small Hands
Important Features
Pros & Cons
Brief Review & Star Rating
Review
You likely already know that the available selections for left-handed guitars tend to be somewhat limited. And if you're a lefty with small hands, it can be incredibly tough to find the right instrument. The Redondo Player is a relatively affordable acoustic-electric that you'll probably find easy to play -- the slim-C neck feels just like that of a Strat.
However, the Redondo Player's sound is all acoustic. the solid Sitka spruce top is supported by scalloped X bracing for a beautiful balance of sustain and resonance. The body shape is close to that of a cutaway dreadnought, so you can count on plenty of overtones and present bass response.
And while the back and sides are laminated mahogany, they still add just enough warmth to the Redondo player's delightfully smooth tone. This guitar is part of Fender's colorful Calfornia Series, so it has a painted black finish with contrasting aged white binding and a sparkling gold pickguard. Its aesthetics might be unusual, but it's a guitar that's sure to turn heads.
Our Star Rating
We think this unique guitar is the best one for small hands on the list, and we give it four out of five stars
Ibanez AEG70L -- Best Finish
Important Features
Pros & Cons
Brief Review & Star Rating
Review
If you're like most people, the first thing you'll notice about this remarkable instrument is its stunning finish. The Ibanez AEG70L has a laminated flame maple top and laminated sapele back and sides and the Tiger Burst finish highlights each detail in the woodgrain. But this guitar is more than just something nice to look at -- it's an extremely comfortable, fun instrument to play.
The walnut-capped nyatoh neck has a satin finish for fast playability, while a Venetian cutaway grants easy access to the upper frets. The shallow body has two purposes-- it makes handling easier, but it also reduces your risk of feedback when playing live.
The AEG70L is a great first acoustic-electric for new performers, but it also could be a worthy backup guitar for the seasoned player. The simple Ibanez AEQ-TTS preamp has volume control, tone control, and an onboard tuner.
The affordable T-Bar II undersaddle pickup delivers decent plugged-in sound, too. Though it's pricey for an all-laminate guitar, the AEG70L resists changes in temperature and humidity -- it's a great choice for players who travel a good bit.
Our Star Rating
We think this stunning instrument has the best finish on the list, and we give it three and a half out of five stars.
Donner DAG-1CL: Best Beginner Bundle
Important Features
Pros & Cons
Brief Review & Star Rating
Review
Donner isn't as established as some guitar manufacturers, but they've quickly made a name for themselves in the guitar effects industry by producing affordable pedals that sound great. Now, Donner also manufactures entry-level guitars, and one of their beginner bundles features a full-sized spruce and mahogany dreadnought with a cutaway.
This guitar is all laminate, but it features sealed tuners and a highly playable neck that make it a great guitar to start learning on. It also comes with a gig bag, tuner, picks, strap, capo, polishing cloth, extra strings, and pickguard.
Our Star Rating
We think this guitar has an interesting design that's great for those who want to blend different musical styles. We give it three and a half out of five stars.
Buying Guide: What Should You Look For When Buying A Left Handed Acoustic Guitar?
Shopping for left handed acoustic guitars is just like shopping for a right-handed guitar. However, it does have one unfortunate caveat -- left-handed offerings tend to be fewer and farther in between.
This can make your search frustrating, but it's important to not let frustration get the better of you. When shopping, don't just choose the first left-handed instrument you find; it's still important to carefully evaluate specs to make sure you're choosing the right guitar for you. Here's what to look for as you evaluate potential guitars.
Solid Vs. Laminate
Especially if you're just starting out, it can be tempting to purchase the most affordable guitar you can find. However, one of the most important things to consider is buying a guitar with a solid-top. This is often one of the most important factors in shaping a guitar's tone.
Guitars made of all solid wood often sound the best, but you can still get a great tone from a guitar with a solid-top and laminate back and sides. Since laminate is made of many thin layers of wood pressed together, the sound won't be as good as sound from solid wood. However, the top matters more than back and sides when it comes to tone.
Bracing
Bracing is the internal structure of a guitar. And while it's hidden, it has a major impact on a guitar's sound. Most modern guitars are made with X-bracing, a sturdy bracing style that emphasizes projection. However, there are some variants of X-bracing--some guitars are made with scalloped X-bracing, which tends to amplify bass and midrange notes. This isn't something that all guitarists prefer, but depending on your playing style, it may be worth investigating. This video helps explain the differences between the bracing styles.
Lastly, if your budget is a bit higher, you may be interested in Taylor's V-Class bracing. This new bracing style is meant to be an improvement over X-bracing, and may also improve projection and individual note voicing.
Tonewood Types
While bracing and build quality are also important to consider, the types of wood used to make a guitar are also important. Here are some of the tonewoods used on the guitars on our list:
Spruce
Spruce is commonly used as the material for guitar tops (or soundboards). It has a bright, balanced tone, and it tends to improve with age.
Mahogany
This warm-sounding wood is often used for guitar tops as well as bodies. It doesn't have all the brightness of spruce, making it great for fingerpicking and mellower playing.
Wild Cherry
This unusual tonewood has a beautiful color, and it's tonally like maple. While it has a more rapid decay than some woods, it's excellent when it comes to clarity and projection.
Okuome
This affordable tonewood is used in many budget and midrange instruments. Like maple, it's bright and clear, but it doesn't quite have the resonance of mahogany or spruce.
Electronics
If you plan on playing live, an acoustic-electric is often a wise investment. That said, if you find your ideal guitar and it does not come with electronics, this isn't the end of the world--you can always choose your own electronics and have them installed. However, in many cases, it's easier to choose a guitar with a built-in pickup.
Be sure to pay attention to the pickup quality--poor-quality electronics won't do your guitar's sound justice. If you can't try out a guitar before buying, you can always listen to a sound demo to get a feel for what the instrument sounds like both plugged and unplugged.
In Conclusion
Each of the left-handed guitars on the list is a great choice in its own right. But of our list of the best left handed acoustic guitars, we think the Seagull S6 is the top choice. Seagull is a brand known for its excellent value, and the S6 is an affordable instrument that can be enjoyed by new guitarists and pros alike. The S6 has the unusual combination of a warm, mellow cedar top and bright-sounding wild cherry back and sides.
If you have a bit more to spend, we think that the Gibson J-45 Standard left-handed is a prime selection as well. The Gibson J-45 is legendary for its full, earthy sound. And since the J-45 is made of all solid woods, that sound only improves with time. Plus, it comes with top-notch LR Baggs VTC Active electronics for effortless live sound.