The Little Martin guitars has been one of the most popular smaller-scale guitars for decades. And whether you want an extra small guitar to take on vacation or just need a comfortable instrument to hold while songwriting on the couch, the Martin LX1 Little Martin is an affordable and great-sounding choice.
The Little Martin has been made in several different styles, but this one's solid Sitka spruce top makes it a cut above the rest. When looking for LX1 reviews, it can sometimes be challenging to make sure you're reading about the right Little Martin, but in this review, we'll go over all the details of the instrument to help you decide whether this is the right guitar for you.
Things To Consider Before Buying A Small Guitar
Smaller-scale guitars are a great addition to any guitar collection, and if you're a smaller-bodied person, you might even want one as your main instrument. But before you make a purchase, one of the most important things to remember is the fact that all smaller guitars aren't created equally.
Make sure you aren't swayed by the brand name--plenty of people buy a smaller acoustic guitar from a significant manufacturer without checking specifications, and they end up with something that plays more like a toy than an actual guitar.
Generally, though, shopping for a smaller guitar is just like buying a full-sized instrument--you'll want to pay attention to tonewoods, bracing style, and appointments.
Our Picks for Review
Features and Benefits
We mentioned that paying attention to the features and specifications of any acoustic guitar is essential. In this section, we'll look into all the features of the Martin LX1 Little Martin
Overall Sound Quality
Often, a concern with buying smaller guitars is that they won't sound nearly as good as full-sized instruments. This concern is a logical one--without the deep body of a larger instrument, you won't have a whole lot of resonance. That said, the LX1 has a truly remarkable sound, and many reviewers have said it sounds uncannily like a larger guitar (some of the reviews we'll quote in a minute address this). Watch this demo and decide for yourself whether the LX1 has the sound you need.
Tonewoods
This guitar has a solid Sitka spruce top. As you likely know, the top (or soundboard) of a guitar is the most important thing when it comes to sound. The rest of the guitar is made from various types of laminate--the back and sides are made from Martin's High-Pressure Laminate or HPL. The neck is made of rust birch laminate, and the bridge and fingerboard are both made of Richlite, which is a resin-infused paper that looks a lot like ebony.
The use of laminate on this guitar makes it lightweight, and it also has another benefit--the tone is less likely to change with exposure to different temperatures and humidity levels. And since the LX1 is made to be a travel guitar, the inclusion of laminate may be a plus. Another plus is that some of the parts on the LX1 are Sustainable Wood Certified, so choosing it is an environmentally conscious decision.
Bracing and Body Style
The LX1 is made with non-scalloped X bracing. X bracing is essentially the standard for an acoustic guitar, as it provides just enough support for the soundboard while still letting it vibrate freely. Soundboard vibration is critical, as it enables the guitar to respond naturally and quickly to your playing. non-scalloped bracing also tends to create a balanced and natural sound. non-scalloped bracing often creates a more focused, clear sound, which is ideal when playing alongside other instruments.
In terms of body style, the LX1 is a dreadnought, although it's a much smaller dreadnought. Since the dreadnought is known for creating plenty of overtones and ample bass, this may partially explain why this guitar has the bass response that it does.
Nut, Saddle, and Tuners
The LX1 is a little pricier than some travel-sized guitars, but that price increase usually means you end up with an instrument that has nicer appointments than your standard scaled-down guitar. One of these nicer appointments is the Tusq saddle. Tusq is a composite that is designed to improve the harmonics of your guitar, and it also increases sustain.
You might expect a guitar with a Tusq saddle to have a Tusq nut, too, but this Little martin acoustic guitar has a Corian nut. While Corian was initially developed to be used as a kitchen counter material, it was soon discovered that it had sonic properties that made it a right choice as a nut for many guitars. And unlike Tusq, Corian doesn't turn yellow with age--it will stay bright white over time. Gibson also uses this material on most of their instruments, so that indicates that it must have some excellent sonic properties.
This guitar's tuners are in-house, closed-gear chrome tuners. Because this is a higher-quality smaller guitar, you are unlikely to run into issues with tuning stability. While most of us don't look at tuners first when shopping for a guitar, it's essential to avoid very cheap tuners--these tend not to hold tune well. And as any guitarist knows, having to stop to constantly re-tune is a significant inconvenience.
Special Features
The LX1 has a couple of unique features worth mentioning. The Martin LX1 little martin is sometimes advertised as being only a right-handed guitar, but it's also left-handed compatible. The body is symmetrical, and when looking at pictures, you'll see that it has no pickguard. If you're left-handed, you can merely re-string the instrument with the strings in reverse order. Regardless of handedness, you can always install your pickguard--these are very inexpensive, and you can choose a colour that suits your style.
Another feature is the gig bag--each LX1 comes with a padded, backpack-style gig bag. The padding on this bag offers much more cushion than most gig bags do, which is a good idea for a travel guitar. The inclusion of the gig bag is a great extra, as it means that the LX1 will be ready to pack up and take along as soon as you open the box.
Social Proof of the Guitar
Before buying, it's a good idea to check out some of the many reviews online--these reviews let you get a sense of whether this is a guitar that may fit your lifestyle. We've gathered a few helpful reviews from around the web:
The above review is a useful one because the buyer purchased the LX1 for the same reason that many people choose it--it's small, portable, and easy to take with you. It's also useful to hear that the instrument sounds like a genuine Martin.
This review is a brief one, but it provides valuable commentary on this guitar's tone. Often, smaller guitars simply don't have the body depth required to create deep bass notes, but according to this reviewer, the LX1 produces a decent amount of bass.
This humorous review also addresses this guitar's impressive ability to deliver booming bass despite its small size.
This review addresses one of the potential uses for this guitar--smaller people (and especially those with small hands) can find full-sized guitars challenging to play, but the smaller LX1 is much easier to handle.
Alternatives to Martin LX1
Before committing to buying a smaller instrument, it's a good idea to check out some of the available alternatives. We've found three potential alternatives you may be interested in:
Gretsch G9500 Jim Dandy Flat Top
How it Compares to Martin LX1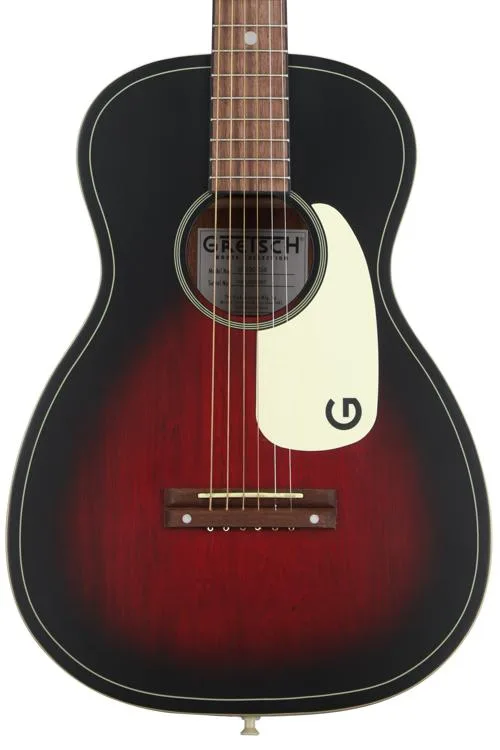 Review
Gretsch is a manufacturer known for imaginative guitar design, and this unique mini guitar is a striking choice.
This small guitar is inspired by older parlor guitars, and it's made of lightweight basswood, an inexpensive tonewood that nonetheless has a very resonant sound. It has white-patterned binding and rosette to add a distinctive aesthetic touch. If you want an inexpensive smaller guitar that makes a visual statement, be sure to give this one a look.
Cordoba Mini II
How it Compares to Martin LX1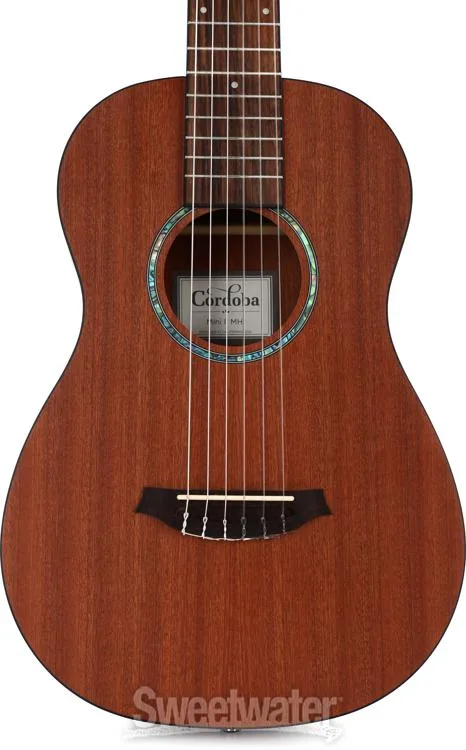 Review
Cordoba is known for making beautiful, playable, and affordable acoustic instruments, and this is an excellent choice if you want a mini instrument with nylon strings. The Cordoba Mini II is made of laminated mahogany, and it has a quality composite nut and saddle.
Notably, it has fan bracing instead of the traditional X bracing. This style, used often in classical guitars, creates a warm and balanced tone. It has a subtle abalone rosette for an extra cosmetic touch. The Cordoba Mini II is the least expensive guitar on the list, and it's a great choice for those who would prefer a classical mini guitar. Make sure you check this one out.
Martin LX Black
How it Compares to Martin LX1
Review
This guitar is essentially one small step down from the LX1. While the LX1 has a solid top, this Martin guitar is made of all high-pressure laminate. It's very lightweight and robust, making it a great choice as a travel guitar or as a student instrument.
This guitar is otherwise very similar to the LX1--it has the same Gotoh nickel small-knob tuners, and both guitars are made with Martin's renowned Mortise/Tenon neck joint. If you want a genuine Martin on a tighter budget, be sure to give this beautiful little guitar a look.
In Conclusion
In conclusion, we think that this is a well-built smaller guitar from Martin that is well worth the money. Many smaller guitars don't have a solid top, but the solid Sitka spruce top on the LX1 helps create a tone that comes close to that of full-size Martins.
This guitar is also uniquely portable, and the combination of quality tone and easy portability makes it an excellent choice for someone who wants a guitar to take with them on every adventure. Click here to check it out!