The Gretsch Jim Dandy is a classic parlor guitar styled after the company's "Rex" parlor guitars made just under a century ago. The Jim Dandy combines classic Gretsch looks with modern playability and crisp, bright tone. It's also an excellent value.
Things to Consider Before Buying a Parlor Guitar
Parlor guitars have a rich history and a signature tone, but depending on your playing style, they may or may not be right for you. Here are a few things to keep in mind as you shop:
Our Picks for Review
Gretsch Jim Dandy Review
PRO's & CON's of Gretsch 9500 Jim Dandy
Before we jump into our Gretsch Jim Dandy review, though, let's check out some of this little guitar's pros and cons: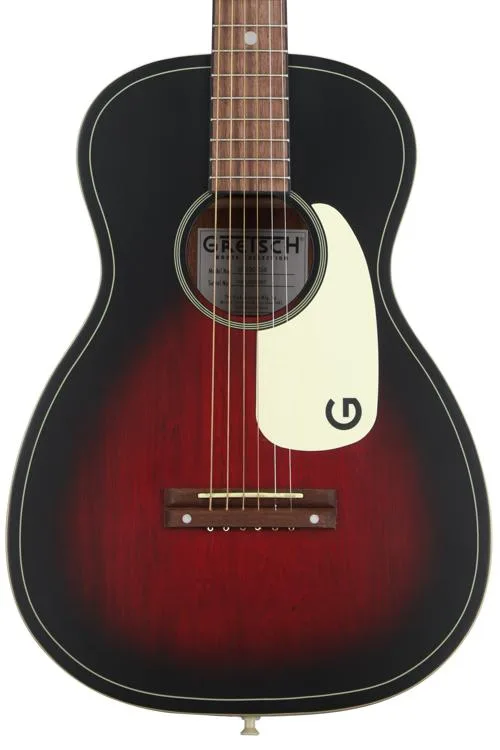 Features and Benefits
In this section, we'll take you through some of the key features of the Gretsch G9500 Jim Dandy. However, it's important to note that on a guitar at this price range, companies need to cut corners somewhere--you can't realistically expect a sub-$200 parlor guitar to have all the bells and whistles of a guitar ten times the price. With that said, let's take a look:
Tonewoods
Seeing as the Gretsch G9500 Jim Dandy is at a low price point already, you'd probably expect the tonewoods used to not be great. The top, back, and sides are all made from laminated basswood. This is a cheap tonewood that's more commonly seen as the body wood for less-expensive acoustic-electrics, and it's especially rare to see it used as a top wood on an acoustic. While plenty of people who have played the Gretsch G9500 has said that it sounds great, basswood doesn't have a great reputation as a tonewood. This interesting video discussion offers one guitarist's opinion on basswood guitars.
Neck and Playability
The G9500 has a Nato neck, which is more common for guitars in this price range. Nato is tough and durable, and it's also lightweight, making it an optimal choice for travel guitars. The neck of this guitar is also a C shape, which sets it apart from some other parlor guitars. Many of them, especially those modeled after historical models, have a chunkier V-shaped neck. This profile can be harder for people with smaller hands to play, but the C shape neck is slim and fast-playing. This video demo shows one player's experience with the G9500.
The shorter scale also impacts the playability of the Gretsch G9500 Jim Dandy. The 24 scale length means you'll have an easier time bending strings, and the lowered tension might make playing more comfortable for those who are new to the instrument. However, some buyers seem to note that the action is a little high, so this is a guitar that could benefit from a professional set-up.
Finish and Appointments
The appointments on the Gretsch G9500 Jim Dandy are nothing to write home about, although that's to be expected with a budget-priced guitar. It's got a walnut bridge and fingerboard. Walnut isn't a bad bridge/fingerboard wood by any means, but it's primarily used as a cheaper rosewood alternative.
However, this guitar also has a nut and saddle of synthetic bone. Since many guitars at this price point have cheap plastic nuts and saddles, it's a welcome surprise.
The finish is where things get a bit tricky. In photos, the red vintage sunburst finish looks high-end, especially paired with white binding. However, many buyers have noted that the finish appears cheap, and one review below mentions that the "binding" was just paint. The finish may be one of the corners Gretsch had to cut in making the G9500 Jim Dandy, but better that than sound quality. This video demo lets you see the finish up close.
Social Proof of the Guitar
Buying a guitar--even one that's relatively inexpensive--is an investment in your future as a player. As such, it's wise to take some time to evaluate what other players have said about a given instrument before you buy. In order to help you do that, we've gathered a few Gretsch Jim Dandy review snapshots from around the internet:
This detailed, informative review covers some of the main strengths and weaknesses of the Gretsch G9500 Jim Dandy. Like many reviewers, this person was surprised by its quality tone given the price. However, they observed that the finish leaves something to be desired.
Like many reviewers, this buyer seems pleased with the Jim Dandy. Their edit also gives you an idea of some potential upgrades you can make in order to improve the sound a bit.
This brief yet positive review mentions that the Gretsch G9500 Jim Dandy could make a great first guitar. A player's first guitar often shapes their playing style, and a comfortable guitar like this one can also keep players motivated.
Alternatives to Gretsch Jim Dandy
The flat top parlor guitar may not be as popular as it once was, but you can still find plenty of affordable, great-sounding parlor guitars on the market. We've found a few guitars you may want to consider along with the Gretsch G9500 Jim Dandy.
Gretsch Rancher Penguin G5021WPE
How it Compares to Gretsch Jim Dandy
Review
The Rancher Penguin is essentially an upgraded version of Gretsch's parlor guitar design. This one has a solid spruce top for richer sound and better responsiveness. The back and sides are made of maple, which helps promote detailed, bright tone. In terms of aesthetics, the Rancher Penguin is even more of a standout than the Jim Dandy--this particular color option is bright white with gold pickguard and binding. It also comes with a Fishman Isys III pickup system to make it easy to play live. If you want a distinctive parlor guitar that's easy to play at gigs, make sure you check this one out!
Ibanez Performance PN1MHOPN
How It Compares To Gretsch Jim Dandy
Review
This parlor guitar is slightly less expensive than the Jim Dandy, making it a great option for those on a budget. It has a spruce top and mahogany back and sides, although it's all laminated. The mahogany neck warms up the sound a bit, and the beautiful open-pore natural finish is highlighted by contrasting herringbone purfling. A rosewood bridge and fingerboard round out the package. If you're looking for a parlor guitar that is both beautiful and inexpensive, make sure you take a look at this guitar.
Fender CP-60S
How It Compares To Gretsch Jim Dandy
Review
You probably already know that Fender produces some quality yet affordable acoustic guitars, and the CP-60S is one of only a few parlor guitars the company offers. This one has a solid spruce top with laminated mahogany back and sides. Its mahogany neck is in Fender's Easy-to-Play shape, and its rolled fingerboard edges are something that's usually only found on higher-end instruments. A rosewood bridge and walnut fingerboard give it an attractive look, especially considering the low price--it's only slightly more expensive than the Gretsch G9500 Jim Dandy. If you're looking for a vintage-style, affordable parlor guitar with a solid top, make sure you check this one out!
In Conclusion
Though it may have a few quality issues, we still think the G9500 Jim Dandy flat top is a great deal. Its sound may surprise you, especially given the fact that it's made from a relatively cheap tonewood. And while the finish may have some issues when inspected up close, this guitar is definitely a visual standout that's perfect for those who prefer unique instruments. And at less than $200, it's a great addition to almost any collection. Click here to check out the Gretsch G9500 Jim Dandy today!