Takamine guitars are named after Japan's Takamine mountains. And just like mountains, they have an enduring (and inspirational) appeal. In true Takamine tradition, the Takamine GD20 NS offers impressive sound and superb build quality for an astonishingly affordable price. This might be the right acoustic for you if you want classic dreadnought sound for a price that won't break the bank.
Things To Think About Before Buying A Dreadnought Acoustic Guitar
Though this option from Takamine is an affordable guitar and a great option for many, it may or may not suit your needs. Before you buy the Takamine GD20 (or any other acoustic), here are some things to ask yourself:
What soundboard wood do I need? Spruce is the most common wood used for the tops of acoustic guitars. However, cedar and mahogany are also readily available alternatives, and both have a more midrange-focused, warmer sound.
Which body style do I need? Dreadnoughts are a popular choice because they offer balanced, complex sound with plenty of overtones. However, smaller-bodied guitars often offer powerful projection and tight, focused sound.
Do I need electronics? If you perform live (or plan to), an acoustic-electric guitar may be the best option. However, if you purchase an acoustic guitar with no electronics, you can always install a pickup later.
PRO's & CON's Of Takamine GD20 NS
Before we delve further into our Takamine review, let's take a look at some of the pros and cons of the Takamine GD20 NS:
Pros
A solid cedar top offers a warm tone that's not overly bright.
Laminated mahogany back and sides offer a mellow tone and keep costs low.
Quartersawn X bracing enhances resonance and improves your sound.
Especially when price-compared to guitars with similar features, the GD20 is an excellent bargain.
Cons
Laminated back and sides don't offer the same tone as solid wood (though at this price, expecting an all-solid guitar is unrealistic)
It does not come with electronics, making live performances more difficult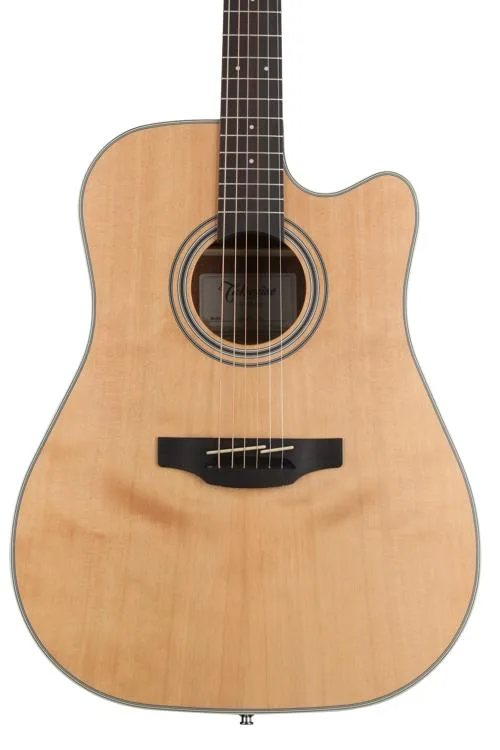 Takamine GD20NS
A Dreadnought Acoutic Guitar
This dreadnought guitar provides a great build quality and an impressive sound at an astonishingly affordable price, thereby providing an excellent value for your money.
In this section, we'll take a look at what sets this guitar apart from other similarly-priced models. While you can't expect a guitar this affordable to check all the boxes that a much more expensive instrument does, we think that this is an instrument that exceeds expectations.
Body And Bracing
Dreadnoughts are known for their ability to create complex soundscapes, and this guitar is able to do just that. The tonewood configuration of the GD20 is notable because the top is made of solid cedar. Many guitars (and especially affordable guitars) come with spruce tops. Cedar gives you a darker, warmer tone (more on that in the next section), which is preferable to some players.
As expected for the price range, the GD20 has laminated mahogany back and sides. Laminated guitars don't generally sound as full as all-solid instruments, but as you likely already know, a solid soundboard is much more important than a solid back and sides. This guitar also has a mahogany neck, which further warms up its tone. Since mahogany is a strong wood, a mahogany neck will also resist warping and damage over time. The bracing on this guitar is also worth mentioning, as it's quartersawn X bracing.
Quartersawn wood tends to have a smoother face due to the way it's cut, and it also isn't easily influenced by humidity and temperature fluctuations. The result is reliable and full sound from your instrument. If you're curious about the differences between quartersawn and non-quartersawn bracing, this video gets into some of the differences.
Sound Quality
The tone of bright acoustic guitars is often described as "sparkling." And we think that the tone of the Takamine GD20-NS could be described as "glowing."
It's articulate without being overly crisp, and the warmth of the cedar top creates soft overtones that fill out your sound. This is a guitar that would be especially suited for folk music, and it seems to work equally well for strumming or picking. This video demo lets you hear it in action.
Appointments
When guitar manufacturers develop value-priced instruments, corners need to be cut somewhere. In this case, one of those corners seems to be bridge and fingerboard materials. While rosewood is often used for fingerboards and bridges, this one is made with ovangkol, a less-expensive wood that's sometimes used as a mahogany alternative. Though it's inexpensive, it's a wood with a beautiful grain, which helps give this guitar its beautiful aesthetic. The fingerboard is marked with pearloid dot inlays. Pearloid dot inlays aren't extravagant, but you can find them even on very expensive guitars.
Luckily, Takamine didn't seem to cut corners on nut and saddle material. The GD20 has a synthetic bone nut and saddle. A synthetic bone nut is usually made from a composite that mimics bone's tonal properties. Many less-expensive guitars come with cheap plastic nuts and saddles, so this detail helps elevate the GD20 over some of its competition.
Tuners are also important appointments to consider. This guitar comes with chrome die-cast tuners. Cheaper, inferior tuners that are often used on less expensive guitars can cause issues with tuning stability, but these chrome die-cast tuners seem to hold tuning in place even with aggressive strumming.
Lastly, the satin finish is worth mentioning.
While some players like the look of a thick lacquer finish, a thick finish has a negative impact on your guitar's resonance (the video below helps explain why). However, the thin satin finish used here lets the soundboard vibrate freely and creates a memorable tone. Plus, the satin finish on the neck makes it easy to move up and down the neck–there's no sticky lacquer to get in the way.
More: Best Fingerstyle Guitar
Social Proof
If you won't be able to try out the GD20-NS in person before you buy, we've gathered a few of the next best things–reviews written by those who have played it. Here are a few reviews from around the internet:

This review might be a bit dramatic, but the writer has played and owned several higher-priced instruments and was still impressed by this one.

This helpful review was written by someone who hadn't previously played or bought a Takamine. Even though this guitar is one of the manufacturer's lower-end models, it still manages to impress.

Like the first reviewer, this buyer also has played and owned several more expensive guitars, but they're consistently impressed with this one.
Alternatives To Takamine GD20 NS
The Takamine GD20-NS is an excellent value when it comes to acoustic guitars, but there are several similarly-priced alternatives for those who want an acoustic guitar that is great-sounding yet affordable. Here are three you may want to consider alongside the GD20:
How It Compares To Takamine GD20 NS
Seagull's signature tapered headstock is good for alternate tunings and for maintaining tuning stability
The solid cedar top and laminated cherry back and sides offer a balanced and responsive tone
Tusq nut and compensated saddle enhance both sound and sustain
It's just about the same price as the Takamine, making it a possible alternative
Review
Like Takamine, Seagull is a company known for affordable acoustics that comes with many high-end features. The S6 Original is one of their best-selling instruments, and like the GD20, it also has a solid cedar top. The back and sides are laminated wild cherry, which results in a clearer, brighter sound than you get with mahogany back and sides.
The S6 comes with a Tusq nut and saddle for great sustain and increased tuning stability. It's almost exactly the same price as the Takamine GD-20NS. If you like cedar-top dreadnoughts but want to check out something different, make sure you look at the S6!
How It Compares To Takamine GD20 NS
A solid spruce top with rosewood sides and back gives it a traditional tonal profile
It comes equipped with a Takamine pickup with an onboard preamp for easy live sound
It's also a dreadnought, although it has a cutaway
It's only slightly more expensive than the Takamine GD20, and it's also an excellent value
Review
This guitar is a bit more expensive than the Takamine GD20-NS, but it comes equipped with Takamine electronics, making it an option if you're looking for an acoustic guitar to gig with. This one also has a traditional tonewood combination–the solid spruce top is balanced out by laminated rosewood back and sides and a slim mahogany neck gives your sound some added warmth. This guitar also has a Venetian cutaway, which makes it easier to access frets further down the neck.
If you like Takamine dreadnoughts but want one that's easier to gig with, make sure you check out this guitar!
How It Compares To Takamine GD20 NS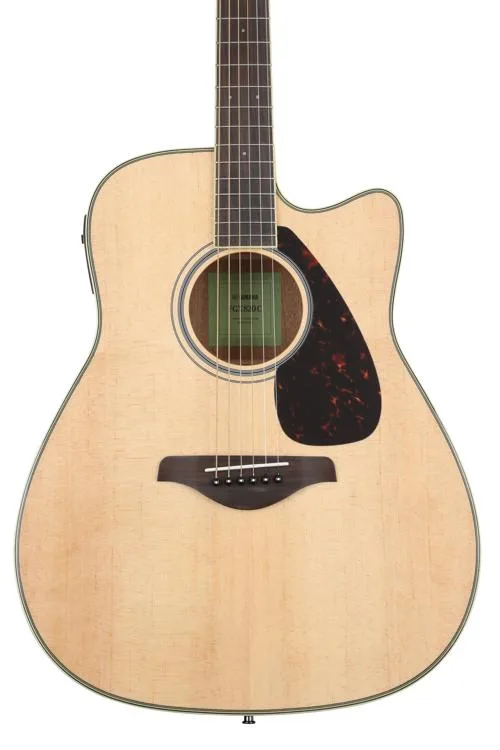 Spruce/mahogany build is a classic combination, and the Sitka spruce top has a brighter sound than cedar
Rosewood fingerboard and bridge are higher quality than the ovangkol fingerboard/bridge of the GD20
This guitar comes with electronics, making it a great choice for performers on a budget
It doesn't come with a synthetic bone nut and saddle
Review
Yamaha, like Takamine, is known for its excellent value when it comes to acoustic guitar production. This model is an acoustic-electric, and it's about the same price as the Takamine GD20-NS. However, it has a solid Sitka spruce top, laminated mahogany back, and sides. The result is an instrument that will likely sound a little brighter than the GD20. The FGX820C is also a dreadnought, although it comes with a Venetian cutaway.
If you need an acoustic guitar with reliable electronics at a low price, make sure you give this one a look!
We were thoroughly impressed with the Takamine GD20-NS, and we think it's an excellent value. As you may have discovered, finding an acoustic guitar that is both affordable and great-sounding can be quite a challenge, but this workhorse of a dreadnought outperforms many of its higher-priced counterparts. Plus, it offers an affordable (and beautiful) cedar-top option for players who prefer mellow warmth to sparkling brightness. We think you really can't go wrong with the GD20–click here to check it out!