While most guitarists like to have at least one full-size acoustic guitar, many turn to smaller, more portable acoustic guitars for travel or practice. The Martin LX1E Little Martin from Martin Guitars is the smallest guitar that the company offers, but it has surprisingly good tone given both its small size and its affordable price point. In our Martin LX1E review, we'll take you through the specifications of this remarkable little guitar.
Things to Consider Before Buying a Smaller Guitar
A smaller guitar can be a great investment, but as with buying any guitar, it's wise to consider your choice carefully. here are a few things to consider before making a purchase.
Our Picks for Review
| | | | | |
| --- | --- | --- | --- | --- |
| | | | | Cell |
| | | | | Cell |
| | | 30th Anniversary Navajoa 000RS25 | | Cell |
| | | | | Cell |
Features and Benefits
Tonewood Selection
If you've been playing guitar for a significant period of time, you likely have your preferences when it comes to the type of wood used to make the guitars you play. This one has a solid Sitka spruce top, which is one of the most common woods used to make the soundboards of Martin instruments. It's a light yet stiff wood that produces a rich tone that leans toward the bright side.
The back and sides, like those of many more affordable Martin guitars, are made of high-pressure laminate, or HPL. This dense material does have some advantages--it keeps the guitar lightweight, and unlike wood, it doesn't change with humidity fluctuations.
However, guitars made with laminate often don't have the same full tone as those made with solid wood. HPL is often more difficult to repair, although it can be done--the video below offers an example. HPL can be patterned to look like woodgrain, and the Martin LX1E is patterned to look like mahogany.
The neck is made of laminated birch, and the fretboard is made of Richlite, a composite that is sometimes used as an ebony substitute. Most guitarists prefer natural wood over laminate when it comes to sound, but these features help keep costs down.
While the neck may not be made of an ideal material, its highly comfortable modified low oval profile with Performing Artist taper makes it comfortable and easy to play, even for children or adults with smaller hands.
Bracing and Sound Quality
This guitar is a scaled-down dreadnought, so unsurprisingly, its bracing is similar to the bracing used in full-size dreadnought guitars. The Martin LX1E has non-scalloped X-bracing, which places less emphasis on highs and lows and produces a rich, even sound. This video explains the different bracing styles Martin uses, as well as the sonic differences between them.
Sonically, this little guitar is impressive. Due to its smaller size, it doesn't have quite the bass of a larger instrument, but it's remarkably close. If you're familiar with Fishman's line of acoustic guitar pickups, you may know that the Fishman Sonitone is a system designed for budget-priced instruments. That said, the Martin LX1E sounds great when plugged in. This video demo lets you check it out for yourself.
Other Appointments and Finish
If you've ever purchased an affordable guitar (especially one from a larger manufacturer), you may know that some of these guitars come with poor-quality tuners and cheap plastic nuts and saddles. Thankfully, this little instrument comes with high-end tuners that let it reliably hold tune, even with aggressive playing.
As for the nut and saddle, Martin has chosen a white Corian nut and a Tusq saddle. Both are great materials when it comes to both tuning stability and sound. Corian is a composite that's now used by Gibson even on its top-priced instruments, and Tusq is a self-lubricating material that sounds similar to ivory and stops strings from becoming "stuck" on the saddle.
If you're interested in hearing the difference between bone and synthetic nuts and saddles, this video offers an interesting comparison.
In terms of finish, this is a very nice-looking guitar, especially given its affordable price point. Martin's signature hand-rubbed finish means that you won't see any runs in the gloss, and it also helps show off the natural grain of the spruce top (as well as the remarkably realistic mahogany pattern on the HPL).
Social Proof of the Guitar
If you're unable to try out a guitar in person before making a purchase, reading online reviews may be able to help you make your decision. If you've been looking at the Martin LX1E (or its non-electric counterpart, the Martin LX1), these reviews may help you find out whether this little guitar is right for you.
This Martin LX1E review, like many others, praises this small guitar's surprisingly big sound. It's especially notable that this player found the plugged-in sound to be impressive, as Fishman Sonitone isn't one of Fishman's higher-end electronics systems.
This review points out that the smaller size of this guitar may be good for those with hand injuries or otherwise weak hands. Plus, like many others who have played this guitar, this reviewer likes the sound.
This Martin LX1E review also points out that the sound of this Little Martin rivals the sound of many larger guitars. This is a sentiment that has been echoed in almost every review we could find.
Alternatives to Martin LX1E
When shopping for a guitar, it's always a good idea to compare the ones you're considering to a few alternatives. We've found a few that you may want to compare alongside the LX1E.
Taylor GS Mini Mahogany
How it Compares to Martin LX1E
Review
You've likely heard of the Baby Taylor, but the GS Mini is another small guitar that some players might prefer. This one is a smaller version of Taylor's acclaimed grand auditorium body style, and it's a great choice for those who prefer the warmer sound of a mahogany-top guitar. This one has a top of solid mahogany, and the back and sides are layered sapele. A genuine African ebony fretboard keeps it highly playable and gives it a high-end look. If you want a warm-sounding little guitar with a different body shape, make sure you give this one a look!
Martin 30th Anniversary Navajoa 000RS25
How it Compares to Martin LX1E
Review
If you like both little guitars and limited editions, this might be a guitar worth considering. This 000-size instrument has a slightly longer scale length than the LX1E, and it has a solid Sitka spruce top and layered Sapele back and sides. This guitar has a solid East Indian Rosewood fretboard, and the soundboard is decorated with unique eagle art. This one also comes equipped with Fishman Sonitone electronics. If you'd prefer a limited-edition Martin, make sure you check out this guitar!
Martin 000-Jr. 10-E
How it Compares to Martin LX1E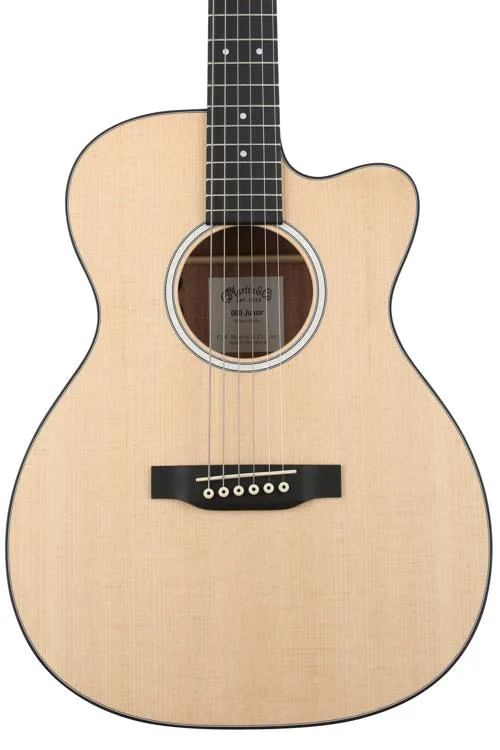 Review
This is another smaller guitar that's perfect for those who like the Little Martin but prefer a body style that is essentially a scaled-down grand auditorium. The 000-Jr. 10-E has a Venetian cutaway for easy fret access, and like the LX1E, it also has a solid spruce top and layered sapele back and sides. This guitar also comes equipped with Fishman electronics, and it has a sustainable Richlite fingerboard. If you're looking for a non-dreadnought guitar similar to a Little Martin, make sure you give this guitar a look!
In Conclusion
If you're in the market for a smaller instrument that comes with a solid top and electronics, the Martin LX1E is a great guitar to consider. With a solid top, respectable electronics, and great playability, it's a great option for impromptu gigs or playing at home. Plus, it's a very affordable instrument. Click here to check it out!