Though it may not enjoy quite the reputation of larger guitar manufacturers like Gibson or Fender, Washburn is nonetheless a maker of quality acoustic instruments, and it has been for some time. In particular, its Vintage Series of instruments offer reproductions of once-popular types of musical instruments for modern players. 
Washburn's truly unique-looking R320SWRK is a prime example of a vintage-styled parlor guitar--it's made of all solid wood, and its vintage-style construction and inlays make it a prime choice for any folk, country, or blues player looking to make a statement. 
Things To Consider Before Buying A Parlor Guitar
The parlor guitar was especially popular in the late 19th century & early 20th century--its small size made it perfect for playing in smaller entertainment rooms. Because the parlor guitar's body is small, you can't expect the same projection and sustain that you get from a larger dreadnought.
This relative lack of sustain makes them ideal for blues playing, but they're also a great addition to any folk musician's arsenal. When buying a parlor guitar, look for high-quality tonewoods and build quality--these will create the best tone you could ask for, and well-built guitars can last for decades.
Our Picks for Review
Features and Benefits
Before buying, it's always a good idea to delve into a given instrument's specs and decide whether it's ideal for you and the music you play. In this section, we'll look in depth at some of the features of this well-made guitar.
Overall Sound
This guitar has a surprisingly full sound for its small size. While it does have a pronounced midrange, the treble notes still sing. It doesn't have the bass presence of a larger guitar, but this is ideal for many styles of music. This video demo lets you hear the guitar played in a variety of styles, and it also offers a close-up look at the aesthetics.
Tonewoods
This guitar is made of all solid woods, which you don't often find on an instrument with this price point. The top is solid Sitka spruce--a classic when it comes to acoustic guitars. Sitka spruce is especially responsive, making it ideal for fingerstyle and blues.
You might expect most parlor guitars to be made with mahogany or a similar tonewood, since many "blues boxes" focus on the midrange. However, the solid rosewood back and sides of this guitar mean its tone is very well balanced. Rosewood has more low-end sound and more sparkling, nuanced highs than mahogany. And in a smaller-bodied instrument, it can produce sounds closer to that of a larger instrument.
Neck Shape And Construction
True to the older parlor guitars that this one is styled after, it has a V-shaped neck. This style is quite thick and somewhat angular. It's a great choice for those with larger hands since it takes up more of your hand on the backside of the neck. However, if you have smaller hands, it may make playing a little more difficult, especially as you move down the neck.
The neck itself is made of mahogany, which is especially strong and contributes to the guitar's warm tone. The fingerboard is made of ebony. Many players love ebony for its looks, but it has several functional qualities that make a difference when playing. Ebony helps the guitar sound clearer and crisper. The wood itself is tight-grained and fast-playing, making it easier to rapidly fret notes and chords alike.
Bracing
This guitar is made with quartersawn, scalloped X bracing. Quartersawn bracing is stiffer than flatsawn, which is a good thing for projection. Stiffer bracing is also usually stronger, which can help your guitar last for decades.
The fact that the bracing is scalloped is also important. Scalloped bracing removes some of the mass from the wood used in the guitar's bracing, which lets the soundboard vibrate more freely. This results in a more responsive sound that's ideal for dynamic playing styles.
Other Appointments
The aesthetics of a guitar aren't the most important part, but this instrument is unique due to its vintage looks. It has a finish that is often described as "relic'd," meaning it's made to look like a 100-year-old instrument that has been played but kept in good condition. The finish itself is deliberately distressed, but no so much that the guitar looks like it's in poor condition.
This guitar has an ebony bridge that truly stands out--it's carved in the style of many older guitars. Ebony is a beautiful wood that adds a lot to the guitar's aesthetics, but it does have some damping effect on the tone. This is sometimes a good thing--for blues and some other styles of music, you want some tone damping, as most blues boxes don't have a lot of sustain.
This guitar's inlays are also an important part of its look. Washburn calls the fretboard inlay a "Tree of Life" inlay. It has a distinctive, vintage look that you almost never see (and that is only often seen on guitars at higher price points). The patterned binding is a vintage white color that completes this parlor guitar's truly unique look.
Lastly, this guitar has a bone nut and saddle. Bone is a time-tested material that helps you transfer as much energy from the string to the soundboard. Often, mid-range and cheaper guitars come with cheaper plastic nuts and saddles. Though they are a small part of the guitar itself, bone saddles and nuts greatly improve sound quality, and they also add to tuning stability.
Social Proof of the Guitar
When choosing your parlor guitar, don't just rely on a single review (or worse, rely only on the manufacturer's description). It's a good idea to see what other guitarists have to say about the instrument. In this section, we've included a few reviews from buyers who have chosen the Washburn R320SWRK.
In some cases, reviews are written by people who have little playing experience, pick one guitar, and love it. However, this review of the Washburn R320SWRK is especially valuable because it's written by someone who is very picky about guitars and who has been consistently impressed with this one.
This detailed review covers some of the potential issues buyers may have with this guitar. While the tone is still impressive, this buyer observed a few cosmetic issues with the gloss and glue used. They also point out that the V-shaped neck can be a challenge to adapt to.
This useful review was written by someone who ended up not keeping this guitar. They point out that the inlay work is beautiful, but that, in their opinion, this guitar's tone was not up to par. They also point out that for some fingerstyle players, the bulkier V-shape neck makes playing down the neck more difficult.
Alternatives to Washburn R320SWRK
When shopping for any parlor guitar, it's a good idea to look into some alternatives. Here a few other parlor guitars you might want to check out before committing to this one.
Alvarez MPA66
How it Compares to Washburn R320SWRK
Review
Alvarez is a company known for affordable, well-built acoustics, and this guitar is no exception. It's slightly less expensive than the Washburn model, but it also is made of all solid wood.
This guitar is all African mahogany, meaning that it will have a warmer, more midrange-focused tone that's ideal for most types of folk or blues music. Its forward-shifted bracing helps bring out a little more bass for a tone similar to that of a larger guitar. 
If you want a beautiful parlor guitar with a more focused, balanced tone, be sure to check this one out.
Blueridge BR-341 Historic Series Parlor Guitar
How it Compares to Washburn R320SWRK
Review
Blueridge is a newer company known for its faithful historic reproductions. This guitar is more expensive than the Washburn, but it's a worthwhile investment if you want a parlor guitar with spruce and rosewood construction.
This guitar is made of all solid wood--its top is Sitka spruce, and the back and sides are made of mahogany. Notably, this guitar also has a slim-profile neck, which is difficult to find on a parlor guitar. If you have a little more money to spend and want a well-built parlor guitar, make sure you check this one out.
Yamaha CSF3M TBS
How it Compares to Washburn R320SWRK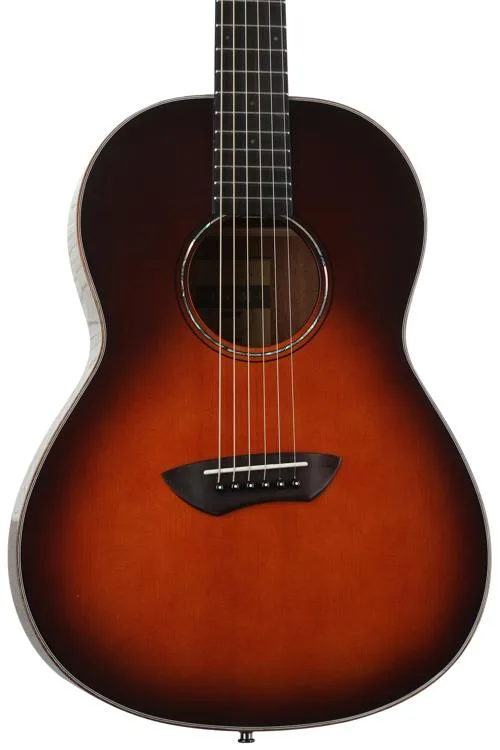 Review
Yamaha is a reliable manufacturer of all-solid wood guitars. This one has a scale length close to that of full-sized guitars, making it ideal for those who want a similar tone and string tension to that of larger instruments.
This guitar also comes with Yamaha's Zero Impact pickup system, making it a great choice for those who want to be able to play live. It's made with solid spruce and mahogany for well-balanced tone, and it's less expensive than the Washburn. If you want an all-solid, electronics-equipped parlor guitar on a budget, be sure to check this one out.
In Conclusion
The Washburn R320SWRK is a high-quality parlor guitar perfect for folk and blues players who want to make a statement. It's made to look like a much older parlor guitar, and its one-of-a-kind inlays are sure to turn heads.
We think it's an excellent value--it's made with all solid woods in the tradition of older parlor guitars, and it's designed to play beautifully right out of the box. Click here to check it out today!