When buying an acoustic guitar, many people opt for an instrument that will be useful for just about any genre. However, if you're someone who already knows what genre you want to play, you have the advantage of being able to choose a guitar that's suited to your playing style.
If you want to play folk music, FG720S guitar, belonging to FG Series of Yamaha, is a solid-top, high-quality instrument that still manages to be affordable, making it suitable for beginners and advanced guitarists alike. 
At A Glance: Our Top Picks For Yamaha FG720S & Its Alternatives
Things To Consider Before Buying A Guitar For Folk Music
Technically, you can play folk music on just about any style of acoustic guitar. But if you're setting out to buy an instrument specifically for folk, there are a few specific things to look for. Namely, if you want a guitar that sounds great and is responsive to your playing style, be sure to choose one with a solid top. Folk guitars tend to be a little smaller than a standard dreadnought, although there's no single body shape or style that's just right for all folk players. Essentially, you'll want to read specifications and listen to sound demos in order to choose a folk guitar that's right for you and the style of music you play.
Quick Comparison: Top Picks For Yamaha FG720S & Its Alternatives
IMAGE
PRODUCT

Our Top Pick

Solid Sitka spruce top for tone that opens up over time
Laminate mahogany back and sides add some warmth to your sound
Small, playable body with full-size depth for maximum resonance

VIEW ON AMAZON →

Alternate Choice 1

Rosewood laminate back and sides as opposed to nato laminate
Also has a solid Sitka spruce top
Is very affordable

VIEW ON SWEETWATER →VIEW ON AMAZON →

Alternate Choice 2

Same tonewood construction--solid Sitka spruce top and laminated nato back and sides
Has a Venetian cutaway to let you easily access frets further down the neck
Comes with electronics with onboard EQ and tuner

VIEW ON SWEETWATER →VIEW ON AMAZON →

Alternate Choice 3

Higher-quality nut and saddle
Solid spruce top for full, rich tone
Wild cherry back and sides for added brightness and clarity

VIEW ON SWEETWATER →VIEW ON AMAZON →
Our Picks for Review
Yamaha FG720S Guitar
PRO's & CON's of Yamaha FG720S
Before we dive into all the features of this remarkable guitar, here are some of its pros and cons:
Features and Benefits
The Yamaha FG720S is advertised specifically as a folk guitar, but this doesn't mean that you should simply take the manufacturer's word for it. In this section, we'll examine this guitar's many features to help you determine whether it's the right folk guitar for you.
Tonewoods And Body Style
You might think that the FG720S looks a little different than most dreadnoughts. That's because, while it is a dreadnought, it has a slightly smaller body, which is ideal for playing folk music. The smaller body is easier to handle when playing at home or on stage. However, it retains the full depth of a traditional dreadnought, meaning that the FG720S with faithfully reproduce each nuance and overtone in your playing.
Of course, body style isn't everything, and the top (also called the soundboard) of your guitar is arguably the most important factor when it comes to sound. The top of this guitar is made of solid Sitka spruce. Sitka is the most commonly-used spruce species when it comes to guitar tops, largely because it has a beautiful resonance and is highly responsive. It's also very strong, and its sound tends to "open up" and improve over time.
The back and sides of a guitar are less important when it comes to tone, but they still add something. The FG270S has back and sides of laminate Eastern mahogany. Laminated woods don't have the tonal depth or resonance of solid wood, but they can still sound very nice when paired with a solid top. Eastern mahogany is another name for nato, a strong yet affordable tonewood that is somewhat similar to mahogany when it comes to tone.
The wood of a guitar's neck isn't the most important for tone, but it still contributes something. This guitar's neck is also made of nato. Its strength may make warping over time less likely. The fingerboard is made of rosewood, which gives the guitar and classic, timeless look and gives some warmth to the tone.
Bracing
When shopping for guitars, many buyers (and especially newer guitarists) don't look at bracing. In the FG720S, Yamaha uses non-scalloped X bracing. X bracing is considered the standard for most acoustic guitars, and its strength holds up over decades. While many people consider the scalloped version of the X brace to be an advantage, this style favors treble and bass frequencies over the midrange.
Non-scalloped X bracing, on the other hand, tends to create more of a balanced tone, and in some cases, it favors the midrange. This makes it a great choice for fingerstyle and folk playing, as arpeggios will sound more connected, and your overall tone may sound more full.
Sound Quality
Many buyers and players have been amazed at the sound quality of this guitar considering its price point. It offers plenty of balance with sustained highs and balanced lows. To hear the guitar for yourself (and to learn a little more about it), check out this video demo.
Finish
We don't often think of a finish affecting the guitar's tone, but finish that is overly thick or poorly applied can dampen the vibrations of your guitar's top or soundboard, which ultimately dampens your tone. However, Yamaha uses very thin gloss on these guitars (usually around 0.25 mm or less), so you can rest assured that your guitar's tone will be unaffected or minimally affected.
Color also probably isn't the most important thing when it comes to buying a guitar. But especially if you perform, a guitar with the right look can enhance your aesthetic. The FG720S comes in more colors than most acoustic guitars:
Social Proof of the Guitar
If possible, it's always a good idea to ask other guitarists you know for opinions on a given model before you buy. In many cases, though, players may not know many other guitarists (or those guitarists may not be familiar with the model you want to buy). In order to help you make a decision about the FG720S, we've gathered a few online reviews from those who have bought and played this guitar.
The above review emphasizes one of this guitar's best features, which is its great value for the price. If you're a musician on a budget, you know that it can be quite a challenge to find a guitar that sounds great but isn't exceedingly expensive. As this reviewer points out, you can, of course, find guitars that sound better, but they are many times the price of this one.
This review is especially useful because it comes from someone who has played guitar for nearly 20 years. The reviewer points out that this is a guitar that is well-made enough to hold its own against much more expensive instruments.
This detailed review emphasizes the FG720S's ability to stand up to more expensive guitars. The reviewer ultimately chose this guitar because it sounded almost identical to a high-priced Guild, but it cost a fraction of the price.
Alternatives to Yamaha FG720s
Most people, before they buy a guitar, compare it to a few other models. If you can't physically play each guitar you hope to buy, it's at least a good idea to review specs and demos of possible alternatives. We've gathered three possible alternatives to the Yamaha FG720S:
Yamaha FG830
How it Compares to Yamaha FG720S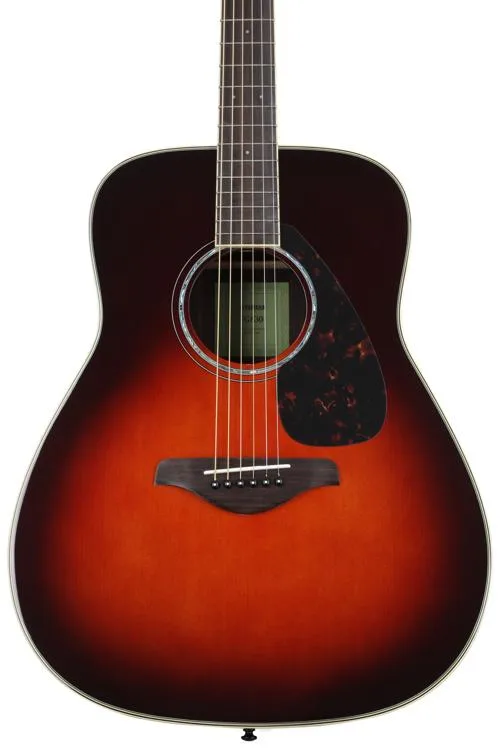 Review
This guitar is essentially a newer, slightly different version of the FG720S. It's also part of the FG Series, which has proven to be enormously popular over the years.
This guitar also has a solid Sitka spruce top like many of other Yamaha acoustic guitars, but the sides are rosewood laminate instead of Nato. Rosewood is a quality choice for the back and sides of a guitar, and it has a slightly different tone--it has a more pronounced low end and a little more depth than Nato. If you're looking for an updated version of the FG720S for an affordable price, be sure to give this beautiful guitar a look.
Yamaha FGX800C
How it Compares to Yamaha FG720S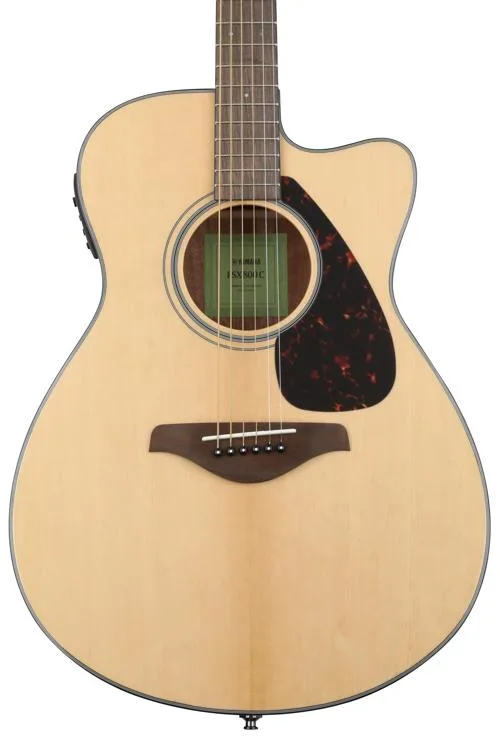 Review
Plenty of players, even if they don't currently play live, would like the option to do so. This offering from Yamaha is a lot like the FG720S, but it has some added features that improve live playability.
It comes equipped with Yamaha's System 66 electronics--this system has an undersaddle piezo pickup and a three-band EQ. It also has a specialized mid-range frequency control to help you tailor your perfect sound on stage. It also has an onboard tuner.
Structurally speaking, this guitar is a lot like the FG720S--it has a solid Sitka spruce top and laminate nato back and sides, but it also has a cutaway for easier fret access. If you like the FG720S but wish you could find one with electronics and a cutaway, be sure to check out this other great guitar from Yamaha.
Seagull Coastline S6
How it Compares to Yamaha FG720S
Review
Seagull is a manufacturer known for quality, affordable acoustic guitars, much like Yamaha. The Coastline S6 has a solid spruce top and laminated wild cherry back and sides for a brighter, punchier tone.
It also comes with a Tusq nut and saddle--this is a feature seldom seen on less-expensive acoustics, and it helps improve intonation and tuning stability. If you want a quality acoustic and are willing to spend a little more, this is a great option. If you want an acoustic guitar with upgraded features, be sure to give this beautiful guitar a look.
In Conclusion
On the whole, we think the Yamaha FG720S is an excellent guitar for the money, and it's a great choice for beginners or intermediate players who want a guitar they can grow with.
The solid top gives it a sound that can compete with instruments many times its price, and its slightly smaller dreadnought body makes it an ideal guitar for folk music. Click here to check it out!