Buying an acoustic guitar is often a significant decision and choosing an instrument with some of its concerns. For the beginning guitarist, the Yamaha classical guitar C40 offers a great value. It's an affordable but decent-sounding instrument, and you have the option to purchase it as part of a guitar bundle, which gives you everything you need to start playing.
But is this guitar all that the manufacturer claims it is? In this Yamaha C40 review, we'll go through the specs of this guitar in detail and see how it stacks up against alternatives. 
Things To Consider Before Buying A Beginner Classical Guitar
Most people wouldn't suggest buying a very high-end instrument if you're just starting on a classical guitar. The decision to not purchase a high-end instrument is especially true if you aren't sure guitar is something you want to stick with. However, many people believe that a classical guitar is more comfortable to learn on--this is because the nylon strings aren't as tough on your hands, and the string tension is lower than that of most steel string instruments.
Essentially, before buying, you'll need to consider the type of guitar you want as well as the quality. You don't need to buy an especially expensive classical guitar, but you probably want something with decent sound and playability. Many beginner guitars use cheap, all-laminate tonewoods, which won't sound as full and natural as guitars with solid tops. They also tend to use more inexpensive tuners, which don't hold tune well. The inability to hold tune well can become very frustrating, as you'll need to stop and re-tune frequently. 
Our Picks for Review
Features and Benefits
One of the most important things to look at when purchasing an acoustic guitar is the individual instrument's product specifications. Before we dive into the specs of the Yamaha C40, it's important to note that a nylon-string guitar is often an excellent choice for your first guitar. The nylon-string guitar is easier on your fingers--the strings are softer, and tension is lower than on a steel-string instrument.
However, nylon strings shouldn't be all you consider when buying an acoustic guitar. Here are some of the features and benefits to think about before making a final purchase decision.
Sound Quality
For most people, an acoustic guitar with excellent sound quality is enough to motivate them to continue playing. After all, the sound of a poorly-made guitar or one that goes out of tune frequently is often uninspiring.
You, of course, can't compare the tone of this guitar to a professional-quality classical instrument, but we think this guitar has an impressive sound quality for its price range. This video lets you hear the guitar's sound for yourself.
Tonewoods
This guitar, like many acoustics, has a spruce top. Spruce is a versatile tonewood, and it's especially good at producing a balanced sound that leans to the bright side. That said, a disadvantage of the C40 is that it's made of all laminate. As you may already know, all-laminate guitars don't tend to have the richness of the tone that an all-solid (or even solid-top) guitar has. However, it's unlikely for a guitar under $300 to be anything less than all laminate, so the C40's construction is about what you would expect for the price.
The back and sides are made of meranti. The meranti is a tonewood that may be unfamiliar to many. While its grain looks a bit like mahogany, this is a wood primarily used for its strength, and it is often viewed as being somewhat lacking when it comes to tonal characteristics. However, if you are buying a guitar for a younger child and are worried about durability, meranti may be a right tonewood choice.
The C40's neck is made of nato, which is often seen as a cheaper alternative to mahogany. Unlike meranti, nato is somewhat tonally similar to mahogany. It's also durable. The durability is especially important, given the fact that this guitar does not have a truss rod.
You may not think of fretboard wood as being especially noteworthy. However, the type of wood used can have a significant impact on the sound. This guitar's fretboard is made of rosewood. The rosewood is a common fretboard material, and for a good reason--it has a warm, rich tone that's suitable for many musical styles.
Durability
Especially if you're buying this instrument intending to use it to learn for years, you probably are concerned with durability. While this instrument is made of stronger woods, it's essential to consider the fact that, due to its laminate top, this guitar's tone is unlikely to improve with time. Solid-top guitars tend to "open up" to a more productive, fuller sound over time, but laminates do not.
That said, if you plan to upgrade in a year or two, this may not be a concern. But if you're looking for an instrument you can grow with; a solid-top classical might be the right choice.
That said, the laminate meranti back and sides and the nato neck are solid woods (some would argue that they're durable at the expense of right tone). If you're buying classroom guitars, these may be a good choice due to their impressive durability.
Tuners, Nut, And Saddle
When buying the instrument, many people focus only on tonewoods and neglect what may seem like small details. However, the tuners, nut, and saddle of a guitar shape the tone significantly.
Yamaha makes this guitar's tuners, and in true classical guitar tradition, they are open-gear. Many reviewers have stated that the tuners on this instrument are of surprisingly high quality. The tuners is important, as poor-quality tuners make it difficult or impossible to play in tune. And if you've ever played an instrument with bad tuners, you know just how frustrating that can be.
The nut and saddle of this guitar are, somewhat predictably, made with inexpensive plastic. The price is quite common for guitars at this price range. However, it's worth noting that, if you want a way to improve the tone and tuning stability, you can reasonably easily upgrade your nut and saddle. Bone, synthetic bone, or composites that mimic the tonal properties of ivory (like Graph Tech's Tusq composite) are all excellent choices.
While the nut material on this instrument is sub-par, it's worth noting that, like all true classical guitars, the C40 has a nut width of just above 2". While this means a wider neck, it lets players practice in the tradition of the classical guitars. If you've plated steel-string instruments before, the wider traditional neck may be an adjustment. However, it makes playing complex fingerings much easier.
As a final (and somewhat trivial) note, some reviewers have pointed out that this guitar lacks strap buttons. Most classical guitarists play without straps. However, if you aren't playing true classical guitar or just want to be able to play standing up, you may want to install your strap buttons. The installation is a relatively straightforward process, but you'll want to make sure you consult a guide if you aren't sure where to place your buttons.
Social Proof of the Guitar
Before purchasing an instrument, it's wise to see what other buyers and players say about it. We've gathered a few classical guitar reviews from around the internet to help you make your decision.
The above Yamaha C40 review is a useful one, largely because it outlines several relatively easy ways to improve this guitar. If you're a player in a budget, who wants to quickly turn this guitar into the equivalent of something more expensive, replacing the nut, saddle, and tuners is a smart way to go.
This Yamaha C40 review, written by a professional guitarist, offers a few reasons why this guitar is an excellent choice for those just starting.
This review provides some insight into how the C40 may perform over time. As is the case with some less expensive guitars, the C40 doesn't have a truss rod, so there is no way to adjust the neck easily. Thus, this guitar may not last as long as some instruments with the better build quality.
Alternatives to Yamaha C40
Before buying a beginner guitar, it's wise to see what options are available. In this section, we've found three alternatives--some are slightly more expensive than the Yamaha C40, but all are suitable for new guitarists.
Takamine GC-1
How it Compares to Yamaha C40
Review
Takamine is a respected manufacturer of acoustic guitars, and their intro instrument is similar to the C40 with a few improvements. It also is slightly more expensive.
While this guitar is made of laminated woods, its spruce top and mahogany laminate body provides a richer tone than the meranti back and sides of the C40. This guitar also has a synthetic bone nut and saddle, which offer richer sustain and improved tuning stability. If you're on a budget but want a guitar with somewhat upgraded components, make sure you give Takamine's GC-1 a look.
Yamaha CG122MSH
How it Compares to Yamaha C40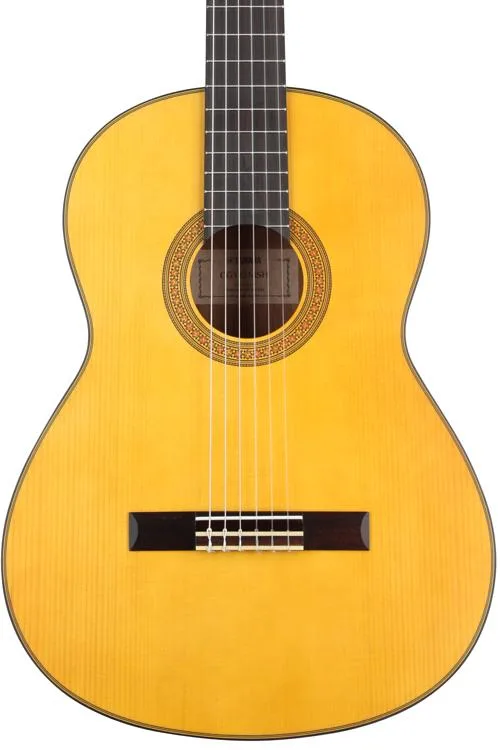 Review
This instrument, also from Yamaha, is an upgraded model for beginners who want a solid-top guitar. This one has a solid Engelmann spruce top, which is known for its projection abilities.
Any solid-top guitar also will sound better over time, making it a wise choice for those who want to continue playing. The Yamaha CG122MSH's back and sides are made of Nato, which still keeps it affordable, and its 2" nut width lets you practice with true classical guitar technique. If you want an upgraded beginner model with a solid top, be sure to give this remarkably affordable alternative a look.
Washburn C5CE
How it Compares to Yamaha C40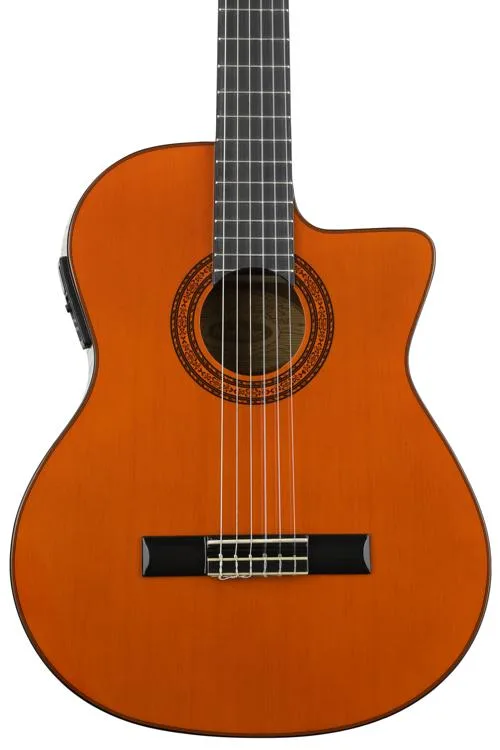 Review
This affordable guitar is only slightly more expensive than the C40, but it has a couple of features players may find useful. It has a cutaway, which makes accessing frets further down the neck more comfortable.
It also is an acoustic-electric model equipped with an EVT preamp. Like the C40, the Washburn C5CE is made with a laminate spruce top, and it also has laminate catalpa back and sides to keep it affordable. If you're starting on a classical guitar and want the versatility of a cutaway and electronics, be sure to give this guitar a look.
In Conclusion
When money is tight, finding a decent beginner instrument can be tough. However, the Yamaha C40 is a well-built guitar that can be bought on a budget.
While it may not last as long as a slightly more expensive guitar, the C40 has a mellow tone that gives you enough to get started. Click here to check it out!