Ibanez, as a brand, is known for producing affordable, nice-looking, and decent-sounding acoustic guitars. And in particular, their Artwood Series is known for offering exotic woods at affordable prices. Today, we'll be taking a look at the Ibanez AW54CE, a solid-top acoustic-electric guitar that offers incredible sound for a great price.
PRO's & CON's Of Ibanez AW54CE
But before we jump into our review, let's check out some pros and cons of the AW54CE
Pros
Solid okoume top with an open-pore finish gives you great sustain and a noticeable punch.
Most buyers have said that it's a great value, especially when it comes to tone.
It comes with Fishman Sonicore electronics and an onboard preamp.
The slim neck and single-cutaway body make it a highly playable instrument.
Cons
Many buyers say that it arrives with the action very high and that it takes a lot of adjustment to get it right.
The tuners don't hold tune particularly well, which is common on guitars in this price range.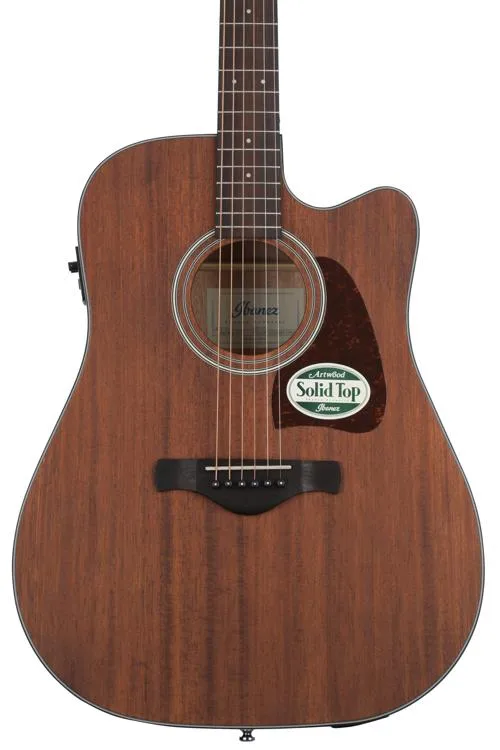 Ibanez AW54CE
Dreadnought Acoustic Electric Guitar
A Dreadnought Acoustic Electric guitar with an X – bracing.
It has a slim neck and a single cutaway body.
The back and sides are made up of laminated okoume.
Despite its relatively low price, we think that the AW54CE has a lot to offer. Let's take a look at its remarkable features.
Tonewoods And Body Style
The AW54CE has a dreadnought body made with X bracing. If you're a player looking for traditional and well-balanced sound, a dreadnought body is a great option. However, especially if you intend to play far down the neck, you may have found that non-cutaway dreadnoughts become difficult to play. The AW54CE features a single Venetian cutaway for easier fret access.

At first glance, you might think that the AW54CE is a guitar with all-mahogany construction. And while it looks like a guitar with a mahogany top and mahogany back and sides, it's actually made of a similar tonewood — okoume. This is a fairly inexpensive wood that has been used as a mahogany alternative for quite some time. 
It has a sound a lot like that of mahogany but with a little more high-end. Traditional guitarists may look askance at the AW54CE, but with the shortage of mahogany, most guitar manufacturers have had to look for alternatives.

The back and sides of the AW54CE are made of laminated okoume, which makes sense — it's just about impossible to find an acoustic guitar with a solid back and sides in this price range. The neck is nyatoh, an affordable but dense wood that resists warping over time. If you want to get a closer look at the AW54CE, check out this video demo and unboxing video.
Sound Quality And Playability
Even for a new player, sound quality in an acoustic-electric guitar is important. After all, if you don't like the sound of an instrument you play, you're less likely to want to continue playing. The AW54CE dreadnought has a very balanced sound — there's a very present low end, although the okoume is a little tighter than the low end of mahogany.
There's a distinctive high-end sparkle, and the midrange is slightly less present than what you'd get with a mahogany acoustic guitar. All in all, the AW54CE is very impressive for the price.

Of course, no discussion of an acoustic-electric guitar's tone and sound quality would be complete without mentioning the pickup system. The AW54CE comes with a Fishman Sonicore pickup system. The Fishman Sonicore pickup is a piezo system that you'll usually see on lower-end guitars.
It's not bad, but when you run into a direct interface, it's a little underwhelming. You notice a little of the "quack" that you sometimes get with an undersaddle piezo. However, if you play plugged in, adding a little reverb can help you remedy it.

The AW54CE comes with an Ibanez AEQ210TF preamp. The Ibanez AEQ preamp is usually found on their more affordable Artwood instruments. The preamp comes with controls for bass and treble (a 2-band EQ), and it also has a volume control.
And like other Ibanez AEQ preamps, this one has an onboard tuner. A preamp with an onboard tuner is a great asset, as it lets you tune up easily wherever you are.

To check out how the AW54CE sounds played with a mic and plugged in, check out this useful video demo.
Playability-wise, this acoustic guitar is an excellent option. The AW54CE guitar features a slim-profile neck that's highly playable even for players with smaller hands. A slimmer neck like this is also great for beginners who are just beginning to learn to fret notes and chords. The Venetian cutaway also improves your fret access. The scale length is 25.62″, which is fairly standard for an acoustic guitar.
Finish And Appointments
Most Ibanez guitars come fairly well-appointed. This is a relative rarity in this price range. However, the AW54CE comes with decent appointments. This, combined with the fact that it sounds a lot like a solid mahogany instrument, makes it a great value.
This acoustic-electric guitar comes with chrome die-cast tuners. They aren't bad, but if you would prefer something that holds tune a little better, upgrading your tuners to a higher-end chrome die-cast set is fairly easy. If you want to see how to do it, this video shows you how to upgrade your tuners.
Both the bridge and fretboard on the AW54CE guitar are made of ovangkol. Ovangkol is a relatively inexpensive wood marketed as a rosewood alternative, but its downside is that it's much softer. If you play a lot or are heavy-handed, this wood may be prone to pitting over time. Still, ovangkol has a nice grain, giving the AW54CE a higher-end appearance.

This dreadnought comes with a bone nut and saddle — an excellent choice. Bone is hard enough to avoid pitting under the strings, and it also supports sustain and rich tone. However, it's not so dense that it dampens certain frequencies and makes your playing sound flat.

As a side note, many buyers have said that the AW54CE comes with very high action. This makes it much harder to depress the strings as you play, and it can make any guitar almost unplayable as you move down the neck. Of course, a truss rod adjustment can help you fix this, but you may find that you need to sand down the saddle a little, too.
The AW54CE comes with coated D'Addario strings. These strings resist corrosion over time, making them a good choice for beginners. However, this Ibanez does not come with accessories (unless you count the onboard tuner) — you'll need to buy a case separately.

Lastly, the finish of the AW54CE is worth mentioning. Ibanez Artwood guitars are popular in part due to their unique finishes. This one has an open-pore natural finish. Open-pore natural finishes skip the step where a wood top is coated to fill in the pores on the wood.
The result is a finish that lets you more clearly see the grain of the wood, pores, and all. Most affordable guitars do not come with open-pore natural and similar finishes — these are usually found on more expensive acoustic guitar models. If you'd like an acoustic-electric guitar that looks a little more rustic than most, an open-pore natural one like the AW54CE is a good choice.
Social Proof of the Guitar
When you're buying a guitar for a newer player, chances are good that you're buying it online. And while purists may say that you shouldn't buy an acoustic guitar without trying it out first, you can get a good sense of a guitar's strengths and weaknesses by reading reviews and listening to sound demos. In our search, we found almost entirely positive reviews for the AW54CE. Here are a few that may help your decision.

This is an especially flattering review, as the reviewer compares the AW54CE favorably to both Martin and Eastman guitars. We also found that this was a trend in the reviews we looked at — there are lots of buyers who see parallels between this guitar and much more expensive brands.

Here's another great review of the AW54CE from a buyer who chose this guitar over a Martin. Like many people, this person can really hear the similarities between okoume and mahogany. And as they point out, the remarkable affordability of this guitar makes it a great option for many players.

This is another excellent review of the AW54CE. This person points out one of the advantages of its electronics — you can run it through distortion and other effects, either when you're playing live or when you're creating new sounds at home.
Whether you're a beginner looking for a great-sounding first guitar or a more experienced player looking for a reliable backup, we think the Ibanez AW54CE will suit you well. Its solid okoume top has a similar warmth and punchiness to solid mahogany, and the solid electronics make it an excellent choice for playing live, too.
And, of course, its beautiful open-pore finish makes it a standout, too. We don't think you'll be disappointed — click here to check it out!