If you're looking for a somewhat non-traditional acoustic guitar, the Gibson Dove Original just might be right for you. This stunning dreadnought — originally made in the 1960s — is essentially a combination of the Hummingbird and the SJ-200. It's a dreadnought with a Sitka spruce top and maple back and sides.
Things To Consider Before Buying A High-End Acoustic Guitar
Before you invest in a very high-end guitar, it's a good idea to make sure that the instrument you choose will be a perfect fit for your playing style and your music. Before you make a final selection, we'd suggest considering the following:
What playability features do you value? Maybe you prefer very slim profile necks because they're more comfortable to play with. Or perhaps you need very low action and high string tension (which comes naturally with a longer scale length)
What body shape do you need?  Square shoulder dreadnaughts like the Dove are popular because they're so tonally versatile. However, maybe you'd prefer a round-shoulder dreadnought like the J-45. You might find that you'd prefer a parlor guitar or a different body shape altogether.
What tonewoods are best?  Many players love the classic combination of spruce and rosewood, but there's a whole world of tonewoods to choose from.
What about electronics? If you don't ever intend to play plugged in, you may be able to save some money and purchase an acoustic without electronics. However, if you do want to play live, it's wise to choose higher-end electronics, as they will more faithfully amplify the sound of your guitar.
PRO's & CON's Of Gibson Dove
Our Gibson Dove review will hopefully help you decide whether this is the right guitar for you. But first, let's check out some pros and cons.
Pros
The beautiful aesthetic of the mother-of-pearl dove pickguard makes this acoustic guitar a visual standout.
Square shoulder dreadnought produces a classic, balanced tone.
A crisp, bold tone stands out in a mix or on stage.
L.R. Baggs VTC pickup provides a detailed, natural-sounding plugged-in tone.
Cons
Maple back and sides are somewhat unusual and may not be right for every player.
The Dove is much more expensive than many other acoustic guitars.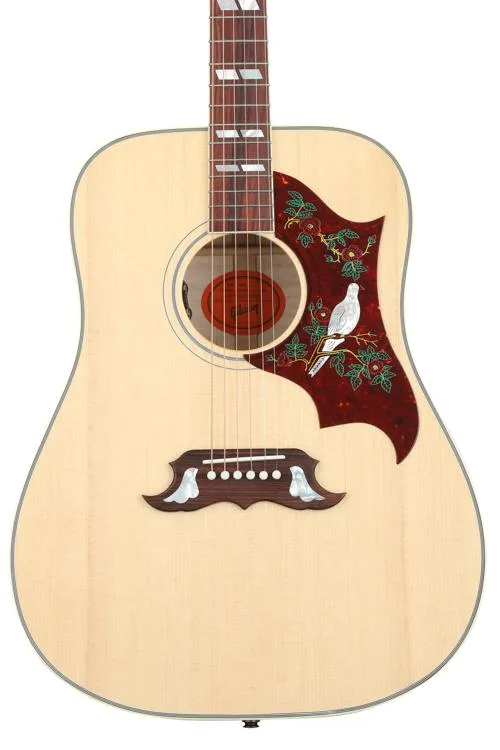 Gibson Dove
A High-End Acoustic Guitar
A high-end square shoulder dreadnought guitar.
Scalloped X Bracing.
L.R. Baggs VTC pickups.
Now let's take a closer look at some of Dove's most important features:
Tonewoods And Build Quality
When you first read the specs on the Dove Original, you may be surprised to see that the back and sides are flame maple. This isn't a common choice on an acoustic guitar, but maple imparts a certain crispness and clarity that makes the Dove stand out in a crowd.
Plus, flame maple has a distinctive appearance, which helps make the Dove especially visually striking. The top is solid spruce, and its resonance and sustain help balance out the maple.
Like most Gibson Acoustic models, this one is made with scalloped X bracing. This bracing type allows for more soundboard vibration, but it's still strong enough to reduce your risk of soundboard issues over time. The bridge and fingerboard are made of solid rosewood, which is a lovely complement to the guitar's finish.
If you want to get a closer look at the Dove Original, check out this video comparing it to the Gibson Hummingbird.
Sound Quality And Playability
Like most Gibson acoustics, the Dove is designed with playability in mind. The maple neck has a traditional rounded profile, although this may be a bit too thick for players who prefer slim-profile necks. Notably, this guitar has a longer scale length of 25.5 inches. This helps add extra clarity to the tone, and it also gives you more room on the fretboard.
When it comes to sound, the Dove Original is distinctive. You can hear each note in a chord, but you get enough overtone production to make the tone sound cohesive. A lot of this clarity comes from the flame maple back and sides. Maple is a tonewood that is known for its clarity and defined high-end.
Many acoustic guitars have back and sides made of mahogany or rosewood, so the Dove is a great choice for players looking for something a bit different. Of course, its square shoulder build means that you get excellent tonal balance and sustain.
If you want to evaluate Dove's tone for yourself, check out this video demo.
Electronics
No review of an acoustic-electric guitar would be complete without a mention of electronics. The Dove is made with the same pickup Gibson puts in most of its more expensive acoustics — the L.R. Baggs VTC.
This pickup is an under-saddle transducer, and it's known for its incredible natural live tone. The volume and tone controls are located right inside the soundhole so that you can avoid the sometimes-unsightly look of an onboard preamp.
If you want to hear what the L.R. Baggs VTC pickup sounds like, check out this video demo.
Finish And Appointments
As we mentioned before, the Dove is one of the most visually distinctive acoustic guitars we've seen. The tortoiseshell pickguard has a beautifully inlaid mother-of-pearl dove, and the rosewood fingerboard is graced with mother-of-pearl double parallelogram inlays.
The body features double-antiquated multi-ply binding — this contributes to the decidedly vintage look of the Dove. True to the original models, the nut and saddle are made of bone. The neck is maple, and it's topped with Grover Keystone tuners.
When it comes to finishing options, you have two to choose from. The first is perhaps the most famous Dove Original finish — antique natural. But if you want something different, you might like the vintage cherry sunburst finish. This is very similar to the heritage cherry sunburst found on the Gibson Hummingbird.
If you want to get a look at how Gibson guitars are finished with their nitrocellulose lacquer, check out this interesting video.
Social Proof of the Guitar
Often, with a guitar like the Dove, it's a good idea to try it in person before buying it. However, if you can't do that, the next best thing is to read online reviews from people who have played it. Here are three helpful reviews we found in the course of our research:

This flattering review details how the Dove stands up to other higher-end guitars, especially to this player's ear. This reviewer makes a good point about the Dove's articulation, too — thanks to the maple back and sides, this is an exceedingly articulate guitar.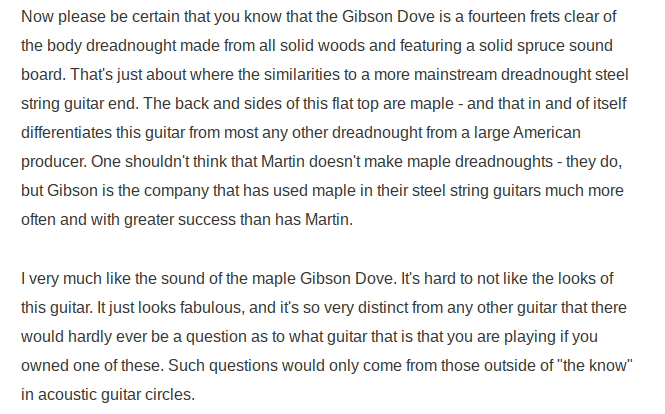 This review snapshot is an excerpt from the full review over at Spinditty. This reviewer outlines the Dove's uniqueness — it's a guitar that stands out for sure.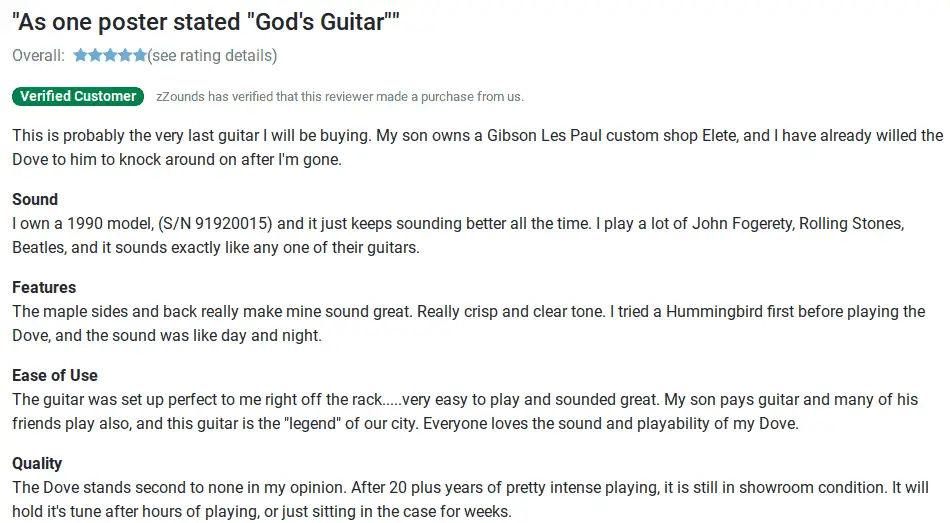 This last review is of an older Dove, but it's a testament to this guitar's longevity. A played-in Dove will have even greater sustain and responsiveness than a newer one.
Alternatives To Gibson Dove
Even by Gibson standards, the Dove is an expensive guitar. If you're considering it, you may want to look at other acoustic guitar models as well to make sure that the Dove is really the one you want. Here are three other options you may want to consider:
How It Compares To Gibson Dove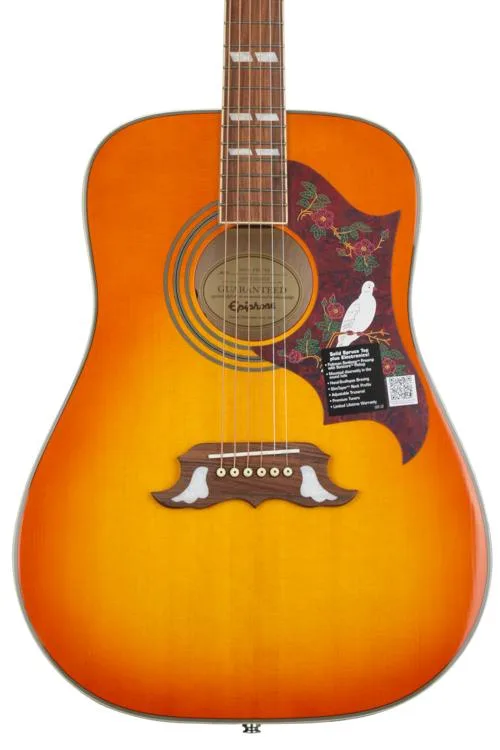 You get a spruce top and maple back and sides, just like you do with the Gibson model, but the sides are made of laminated wood.
It comes with the same distinctive Dove pickguard and double parallelogram inlays as the Gibson.
You get Fishman electronics instead of L.R. Baggs.
In terms of price, this guitar costs roughly a tenth of what the Gibson model does.
Review
Many people admire the Dove, but as we mentioned earlier, it's more expensive than most other acoustic guitars. If you like the Dove's look but want a lower price tag, the Epiphone Dove Pro is a great choice. Epiphone is Gibson's budget brand, and this guitar comes with a solid spruce top for tone that only improves over time.
If you like the traditional Dove but need something less expensive, make sure you check this one out!
Gibson SJ-200 Studio Rosewood
How It Compares To Gibson Dove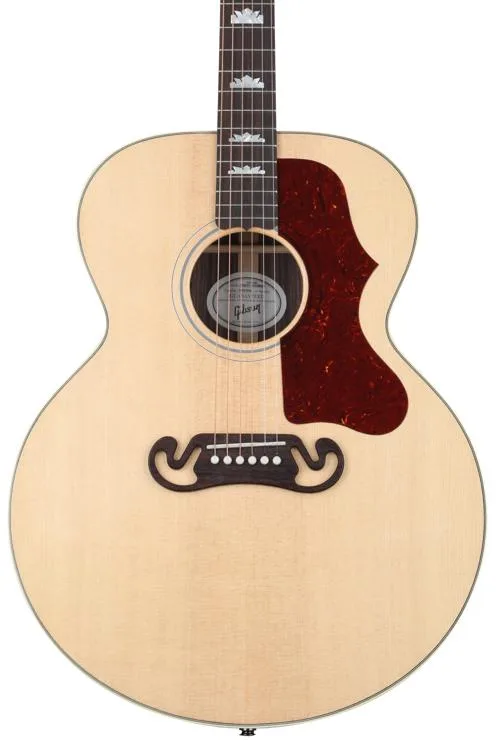 The Spruce and rosewood combination is more traditional than spruce and maple.
The Slim Super Jumbo body produces a distinctly different tone than the Dove.
It comes with Fishman Sonitone electronics instead of L.R. Baggs.
It's a little less expensive than the Dove, but it's still in the same general price range.
Review
If you'd prefer a slim-body Super Jumbo, this guitar might be an option. The SJ-200 comes with a solid Sitka spruce top and solid rosewood back and sides. Its distinctive shape has been popular with many rock artists who play acoustically.
If you want a Gibson acoustic guitar but think you might prefer a Super Jumbo, make sure to look at this one!
How It Compares To Gibson Dove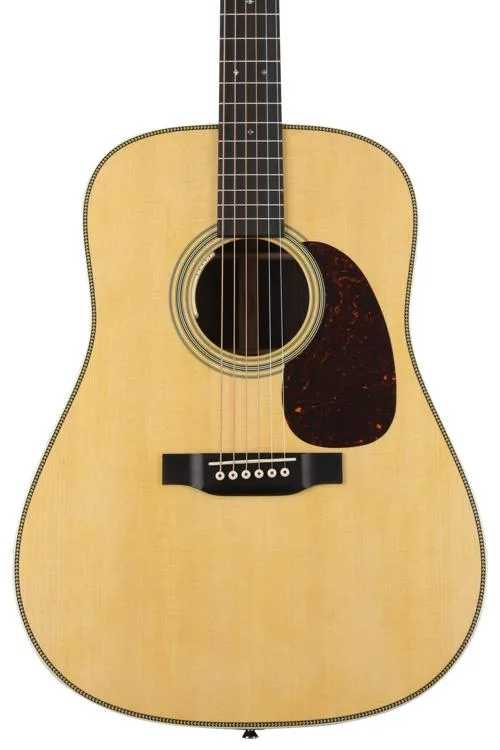 In terms of aesthetics, this one is more simple and classic-looking than the Dove.
The ebony fingerboard is slick and fast-playing, and it contrasts nicely with the guitar's natural finish.
L.R. Baggs Anthem electronics are slightly different than the VTC electronics in the Dove.
This guitar is slightly less expensive than the Dove, but it's in the same general price range.
Review
When it comes to making dreadnought guitars, Martin is one of Gibson's main rivals. The HD-28E is an acoustic-electric version with a spruce top, rosewood back and sides, and L.R. Baggs electronics. It's a very versatile acoustic guitar but has a distinctly deep bass response.
If you prefer the classic sound of a Martin, make sure you check this one out!
The Gibson Dove Original is truly a once-in-a-lifetime guitar. With stunning mother-of-pearl inlays and a room-filling tone that's all its own, this is an acoustic guitar that can really add something to your music. Plus, top-notch L.R. Baggs electronics make it a worthy stage companion, too. If you're ready to add the Dove to your collection, click here to check it out!